An In-Depth Review of the Staircase Method — Learn a Language through Story
---
What is Staircase Method?
The Staircase is a unique series of online French courses for all levels, where you learn by working through a story. You go through the story step-by-step, and with each step, you climb the Staircase and learn more French.
what it's for:

Vocabulary, memorising vocabulary, sentence structure, listening skills, pronunciation

---

languages:

French

---

level:

Beginner to Advanced
+ PROS
Uses the power of story to keep things interesting

Gets gradually more difficult, stretching learners to learn more

Covers all important languages skills 

Keeps motivation and enjoyment up 

No forced memorising

Great tutoring
- CONS
Not immediately obvious how to use 

Could benefit from more lessons
When asked try out The Staircase Method for a review, I was both curious and hesitant.
Why curious?
Partly because The Staircase Method was created by Léa, whose claim-to-fame is teaching internet polyglot Benny Lewis (founder of this website) for three years, getting him to C1 (advanced) level in French.
And partly because The Staircase teaches French through stories. I can't resist a good story!
Why hesitant?
Part of me wondered if I really needed another language learning app. I'm an intermediate French learner who has tried a lot of different language apps.
And part of me would like to give up language apps altogether. Yes, I've used plenty of apps in my language learning. But the truth is, I'm a bookworm.
I Like Big Books and I Cannot Lie.
I love to find a good story that pulls me in. I like to work through books in my target language slowly, letting the language seep in, looking up new words I don't know. I like stories that grab my attention and keep me excited to find out what happens next.
As I've said, I was excited to try The Staircase because of the story-magic mixed in.
But would The Staircase stories hold my attention? And would they really make me a better French learner?
I'll tell you in a moment! First, let's take a look at what's inside The Staircase.
The Staircase Method Review: What is The Staircase?
The Staircase is a unique series of online French courses for all levels, where you learn by working through a story. You go through the story step-by-step, and with each step, you climb the Staircase and learn more French.
With each step, you're pulled deeper into the story. It's designed to keep you wanting to come back for more, so your French keeps on getting better and better.
There are story-based lessons in The Staircase for beginner, intermediate and advanced students.
The Staircase focuses on six areas of learning:
Picking up new vocabulary
Making that new vocab stick in your memory
Learning new sentence structures
Building sentences yourself
Listening skills
Pronunciation
These six areas are a power combo that together make you ready to start using your new language skills in the real world. At least that's the theory!
You can work through the course yourself or with the support of a tutor who'll meet with you online once a week for a face-to-face lesson.
Who's Behind the Staircase Method?
The Staircase is created by Léa.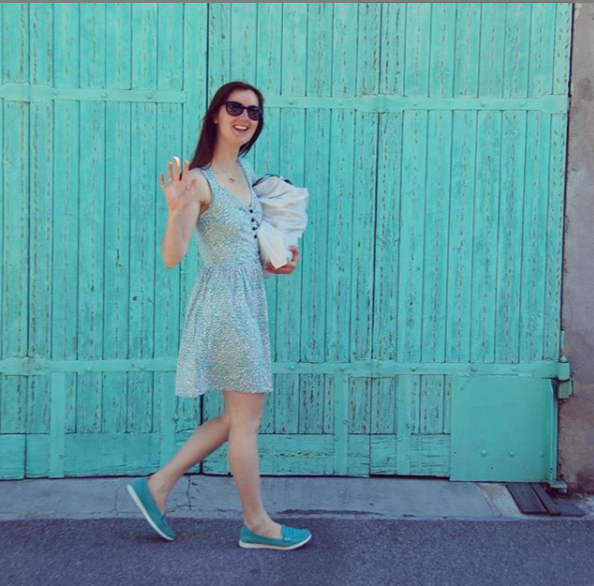 Léa is famous for being Benny's teacher who helped him reach C1 level in French. She's on Instagram and YouTube.
The story of how she created The Staircase Method is actually pretty interesting.
Léa started out as a language teacher six years ago, giving French lessons on Skype. Since then she's given 5,000+ one-to-one French lessons.
As she gave more and more French lessons, she started to notice a pattern.
Many of her students loved to learn with story-based courses. Léa's students especially liked courses that started with easy stories which gradually got more complex. As examples, Assimil and Duolingo Stories both do this.
Léa enjoyed teaching with these stories. But she noticed that while her students started out loving these story-based courses, almost no students finished the courses.
That's when Léa had a flash of insight: every story in these courses was a new storyline. Each story started with a new set of a characters and a new situation.
There was no overall story pulling readers in. There was no overall plot. There were no cliffhangers that kept students coming back.
That's where the idea of The Staircase was born. Léa decided to create a course using stories that got gradually more complex. But these would be big stories, broken down into chapters, so students could follow along with the plot, and get invested in the characters.
Her plan was to use the addictive power of soap operas and apply this to language learning.
It sounded to be an intriguing method. Let me tell you what it was like to actually use it.
How I Used the Staircase Method before Writing This Review
For this review, I committed to 15 hours using The Staircase Method during which time I tried all the available features and levels.
I also had three one-on-one lessons with Léa where she incorporated the Staircase course into our sessions.
The Staircase Method Review: My Starting Point
I used The Staircase Method to learn French — currently the only available language for The Staircase Method. There are plans to release it for more languages.
My French skills are overall at lower intermediate (B1) level. Let's break it down and look at what this means regarding the four core skills. I once tested at a C2 level (mastery level) for reading when I took a recent online proficiency test. My C2 reading level is due to passive vocabulary. That means I can recognize written words with ease. It's a product of reading every night in French. Sadly, I'm not able to produce those words when I speak.
But I don't speak or write at an advanced level. My writing is at lower-intermediate level.
My teachers tell me that my speech is very close to B2 (upper intermediate), which is a nice way of saying I'm high B1 when I stand on my tippy toes.
So how did I find The Staircase Method?
I Loved the Staircase Method!
I was apprehensive about trying The Staircase Method. And I wasn't sure whether it would work for me.
I wondered: would it just reinforce my passive vocabulary, which is already excellent, rather than help with the skills that I need to develop?
Before I started The Staircase, my French writing skills and speaking were relatively weak.
I wrote and talked about the same stuff every week. I only used simple sentence structures that were comfy to me.
I didn't even know how to start writing more complicated phrases.
This, for me, is where The Staircase shined.
In The Staircase, you're required to translate sentences from English to French. So, I could no longer write about the same subjects that I usually write about.
I also couldn't fall back on my makeshift sentences because I needed to use the same structure offered in English.
This is where I felt my French skills grew the most — in my ability to create sentences. The more I use The Staircase, the more French is making its way from my passive vocabulary and into my active vocabulary.
I'm no longer just reading advanced French. I'm actually using it!
I can't emphasize enough how powerful this is. Creating sentences is one of the things language learners struggle the most with, and The Staircase is what gave me the breakthrough in this area.
I'd like to share a bit more detail about why I found The Staircase Method so helpful.
The Staircase Method Review: What I Liked
There are six things I particularly liked about The Staircase.
1. The Power of Story ("Comprehensible Input")
One of my favorite language learning lectures is by Dr. Stephen Krashen. In his presentation, Dr. Krashen explains "comprehensible input".
In simple terms, this is about learning a language using stuff that interests you and that you can understand some of.
It could be YouTube videos. It could be podcasts. It could be books.
There are lots of options. The trick is finding something that's interesting, that you're able to understand, and that stretches your abilities.
Finding "comprehensible input" that fits all these criteria isn't easy — you can spend hours searching for the right content for you.
The Staircase Method solves this issue — because it uses the power of story to keep things interesting, and it gets gradually more difficult, stretching you to learn more.
As I worked through The Staircase, I became emotionally invested in the story of John and Lana. I wanted to know what would happen next. So much so that I learned French grammar without even realizing it.
The story hooked me into forming a French learning habit.
2. The Staircase is a "Full Body Workout" for Your Language Skills
I used the Staircase to improve four areas of my French:
Writing: The Staircase took me out of my writing "safe zone". The writing exercises pulled passive vocabulary into the active part of the brain. Left to my own devices, I would use the same words over and over again. Which is fine for the beginner stage but would never get me out of intermediate purgatory. This also helped with my spelling.
Grammar: With The Staircase, I found I just absorbed new sentence structures, rather than needing to study grammar. There are clues in the Staircase that explain important key concepts. Most of the grammar is taught while you are engaged in the story.
Pronunciation: The Staircase includes audio of a native speaker saying every sentence in the stories. I found myself playing the audio repeatedly to mimic the native speaker's pronunciation, tone and melody. I usually dislike the shadowing approach to learning pronunciation. But repeating one sentence doesn't give me a shadowing headache. I can easily pause in the middle of her phrase to break it into bite-size chunks.
Listening: You can practice dictation by listening to the sentence and writing what you hear.
You could also use the Staircase to improve your reading or speaking skills. It really is an all-around tool for language learning.
3. I Don't Want to Quit!
I usually change my language learning tools every 12 weeks. It's my way of preventing burn-out.
That said, there are one or two golden tools that are a permanent part of my routine. These are the tools I go back to for months or even years. They're always fresh, and they always push me to learn more.
I was surprised at how much I enjoyed learning with The Staircase Method. It's now become one of my golden tools. Each lesson has a different focus and keeps my interest in a new way.
For example, I needed to work on my pronunciation of -é versus -ait. Léa suggested I use the lesson dedicated to those sounds. Within a few hours, I could actually notice a difference between the two.
What's more, after my review I decided to I use The Staircase as my primary tool during the intensive language course Add1 (now the Fluent in 3 Months Challenge).
4. Vocab Just Sticks — No Forced Memorising
I found the vocabulary I learned using The Staircase stuck in my memory easily because I'd learned it in the context of a story.
One of the reasons The Staircase works so well is because there's a lot of repetition without it feeling like the same boring information again and again.
One exercise will ask me for a word I don't know. A few exercises later, I'm asked to recall that word again as it relates to the story. I have been known to pump the air with my fists in celebration when I learn, recall and actually write out a newly learned word.
It almost felt like I learned "accidentally" with The Staircase…
Now that is my kind of course!
5. Some of the Best French Tutoring I've Ever Had
Personal, one-on-one tutoring is an optional extra with The Staircase. These lessons are with Léa, or one of her team of approved Staircase tutors.
As for the lessons I had with Léa, they were some of the most profound lessons I've ever had.
I had never before experienced such an engaging lesson. And that's pretty heavy considering I've had well over 20 teachers in my language journey.
Working with Léa helped me make the most of The Staircase. She immediately picked up on the areas I needed to develop and gave me strategies to work on these.
I've already recommended her tutoring services to several learners along with the Staircase. Two students are still emailing me periodically to rave about her. Yup, she's that good.
6. There's No Single "Right" Answer
When you're translating a sentence from English into French with The Staircase, there's not just one right answer. There are several available.
These various answers to just one question are heaven sent. You have no idea how often I have muttered bitterly to my grammar book, "You think you're so smart, don't you? That's not the ONLY way to say that, tough guy."
It annoys me in a course when only one answer is given. Translation doesn't work like that! In all languages, there are numerous ways to convey an idea, so there are numerous possible translations.
Léa has solved that problem by adding a variety of correct answers given by Staircase students. A few of the answers I gave as a Staircase student are now part of The Staircase. That makes me proud!
The Staircase Method Review: What Needs Improvement
Not everything is perfect about the Staircase course. There are a couple of areas where it could be improved.
Downer #1: I Want More!
Even with 395 Staircase lessons in total, I want more!
I've not done all of them. However, I like The Staircase so much that I hope Léa will continue to develop it so I can use it for many years to come.
Downer #2: It's Not Immediately Obvious How to Use It
With Léa's support, I found the Staircase immensely powerful. But I definitely got more out of the course because she was guiding me through it.
A quick "How To" video would have been helpful. So, I made one:
How Do I Rate the Staircase Method?
I give The Staircase Method a solid 5 stars. The course is innovative and highly effective. It kept a delightfully bookish chick engaged and happy.
The Staircase Review: Final Thoughts
I finished my 15-hour commitment of The Staircase, and as I mentioned above it's now become one of my golden tools that I plan on using for many months, if not years.
I've found it shifted my French writing and speaking skills in a way that no other course has been able to do. I've seen drastic improvements.
My passive vocabulary is blossoming into active phrases that I can use every day.
Instead of itty-bitty beginner sentences, I'm creating big juicy upper intermediate phrases.
And all this happened without pain-inducing flashcards! I was simply playing an online game to find out what would happen next in the story.
Want to boost your French? Take a free Staircase Method course here. Give it a try today!