Amikumu Review: Will You Find Language Learners in Your Area?
---
What is Amikumu?
Amikumu is an app to help language learners find people learning the same language who live nearby.
what it's for:

Making friends and getting speaking practice

---

languages:

All languages

---

level:

Beginner - Advanced
+ PROS
Easy to connect with other language learners

Handy at language events and conferences

Engage in group or 1-1 conversations

Members are friendly and reply to messages
- CONS
Low membership makes it difficult to find local language learners

Main focus is Esperanto – so it's best if you're learning this language
Today I'm doing a review of Amikumu, which is an app for language learners. I'll share what I liked about Amikumu, and what could be better. I want to help you decide if it's right for you.
Now, many of us language learners like to travel. We travel to see new things, get an inside view of the local culture, and to practice the languages we're learning.
But where do you go if the language you're learning doesn't have a place where it's spoken? A language like Esperanto?
The answer?
Anywhere.
I'll touch on this more in a moment…
If you're anything like me, you're probably wondering where to find language exchange partners and what the best platforms are. You've probably tried at least one in the past.
I've signed up for more than a few language exchange platforms since I started learning languages on my own. And there's one thing that I've learned:
The platform itself may have a lot of useful features that make it easy to use, but the value of a language exchange platform is in its members.
Are the other members active? Do they speak your target language? Are they responsive to messages? Do they want to help other members as much as they want to be helped? All of these are questions to ask about the community on a language exchange platform.
What is Amikumu?
"Do the friend thing." That's what "amikumu" means in Esperanto and it's a true description of just what this tool helps you do.
Amikumu is a language exchange app and social network that helps you find language practice partners geographically close to you. It was originally designed to connect Esperanto speakers, but it now supports the world's 7,000+ languages, including 100+ sign languages.
The brainchild of Richard Delamore and Chuck Smith, the app first launched in 2017. Today, it has members from nearly 200 countries and it continues to grow.
Getting Started with Amikumu
After downloading Amikumu to your mobile device, setting up your account is easy and free. Upon opening the app, you're asked to select an interface language. This is the language the app will be in, so bonus points if you select a language you're learning. It's one quick way to create immersion at home.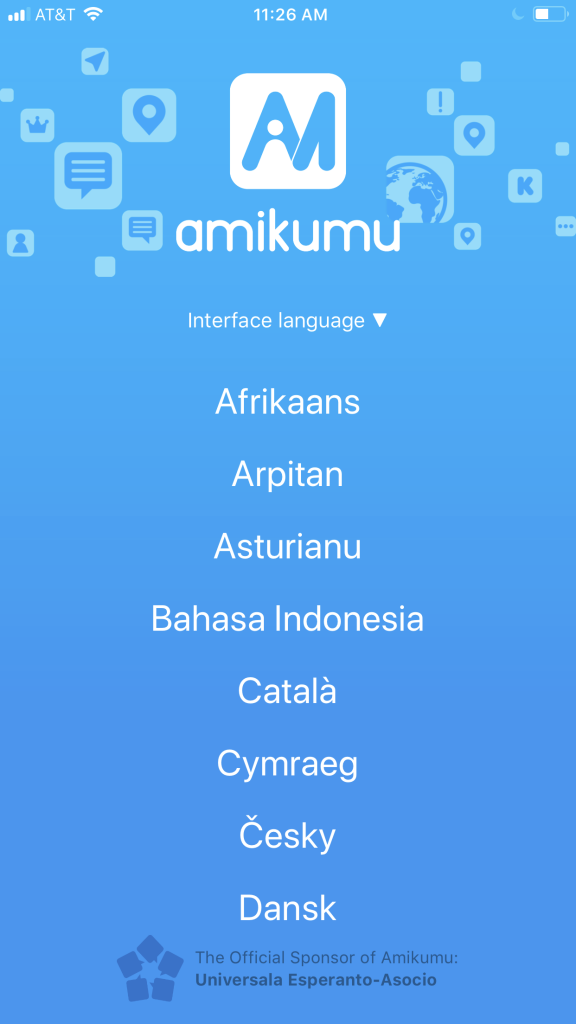 From there, you have the option to log in or register. When you choose to register, a popup appears on your screen reminding you that any information you share in your profile is public and visible by the Amikumu community. Because you're sharing your location, this is particularly important to note. For your safety, it's important to be very selective of the information you share and the fact that Amikumu reminds you of this is definitely a good thing. It's also worth noting that Amikumu does not show your exact location nor store it.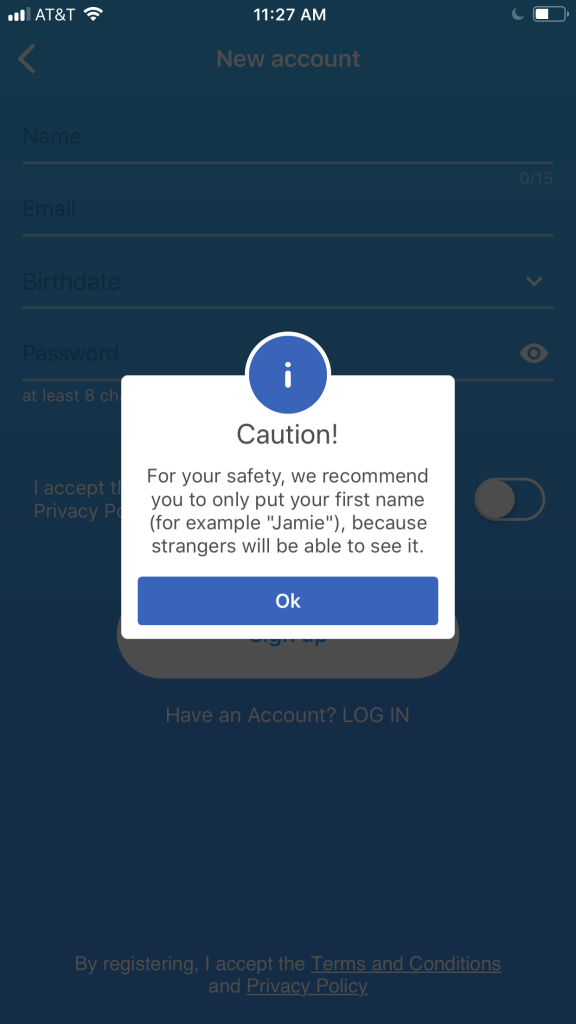 From there you enter your name, email, date of birth, and a password to create your account. Accept the terms and conditions and then tap "sign up." And don't worry — your birthdate isn't visible on your profile unless you opt for it to be!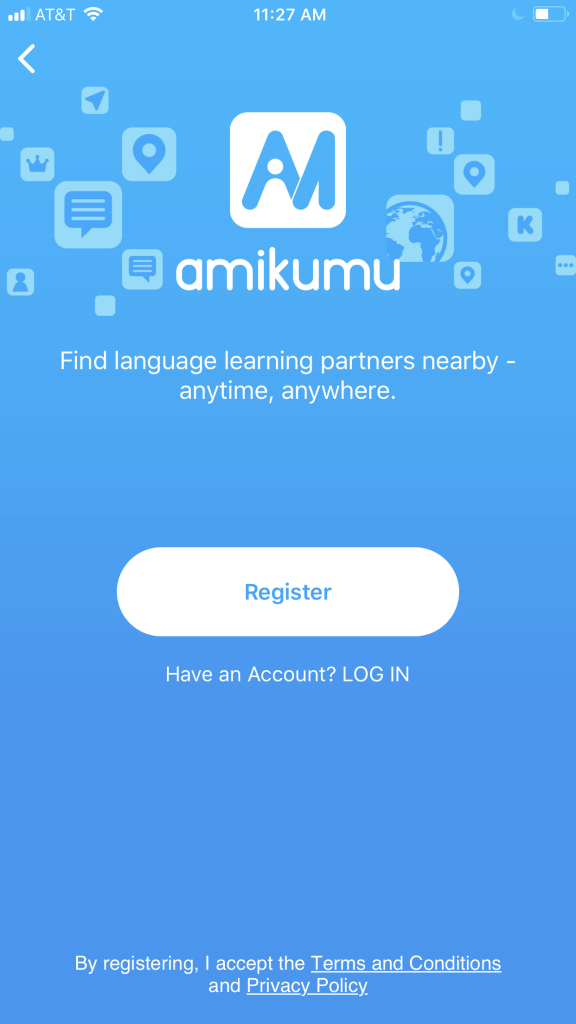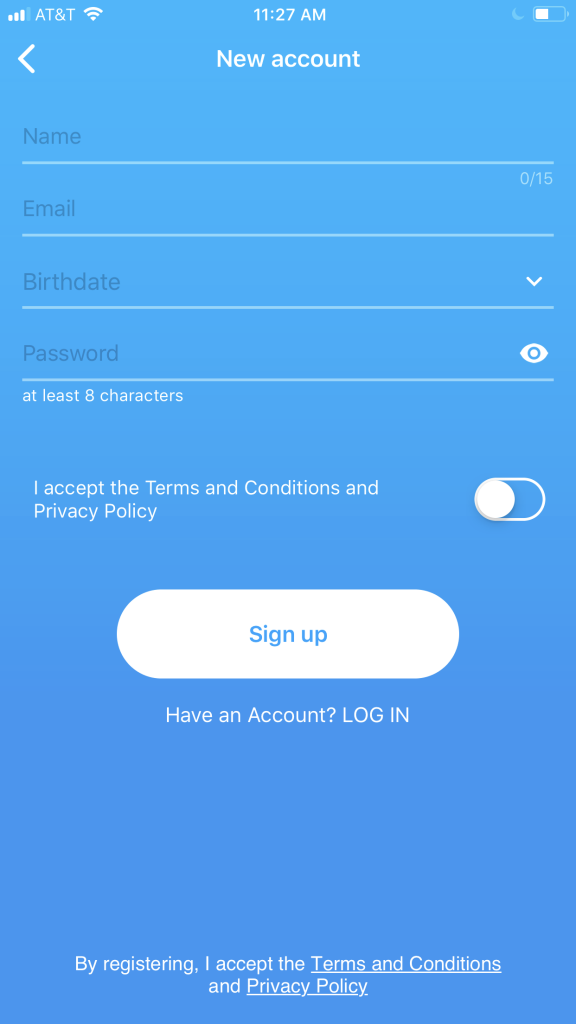 That's it! You're in.
Now that you're in, how do you use this social app?
Amikumu has a few different ways you can engage with the app. The first is called "Flow". This is essentially the social feed, showing updates from those closest to you who speak your selected language. Members can post questions or update their status and you can comment or "heart" anything displayed in your feed. It's a great place to get to know the other people using Amikumu in a public forum before moving your chat to a private 1-on-1.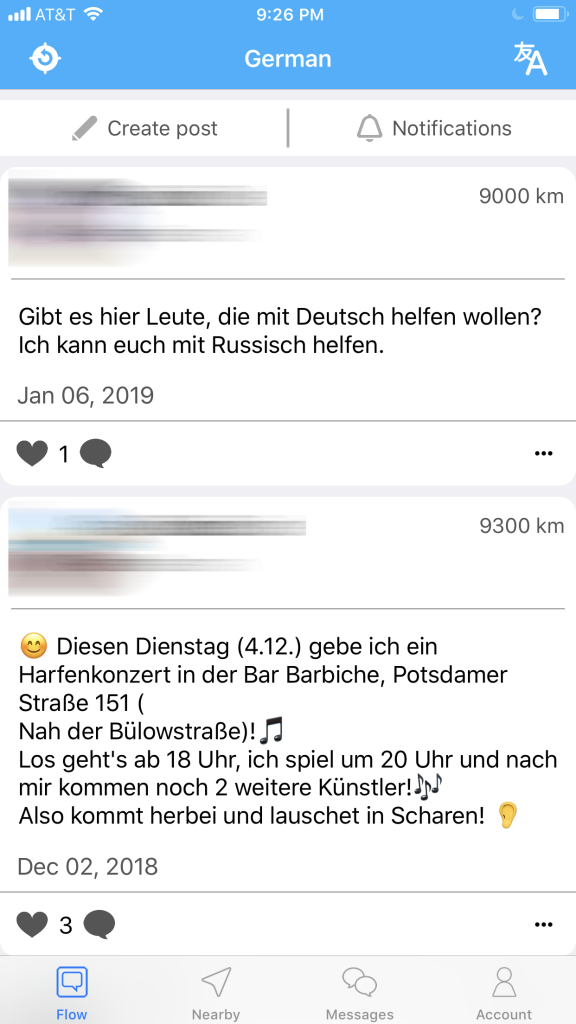 The next option is "Nearby" and it's where you can find other language learners near you. They're organized by distance from you. If you'd like to search from a different location — for example, if you wanted to arrange to meet up with someone on an upcoming trip — there's a location button up in the top left corner. If you'd like to change which language you're looking to practice, there's a small icon up in the top right corner you can use to change languages.
The third tab is where you'll find the conversations you've started with other Amikumu members. They're organized with the most recent at the top. Much like other chat platforms, Amikumu shows you a single checkmark when your message is sent and a double checkmark when your message is read.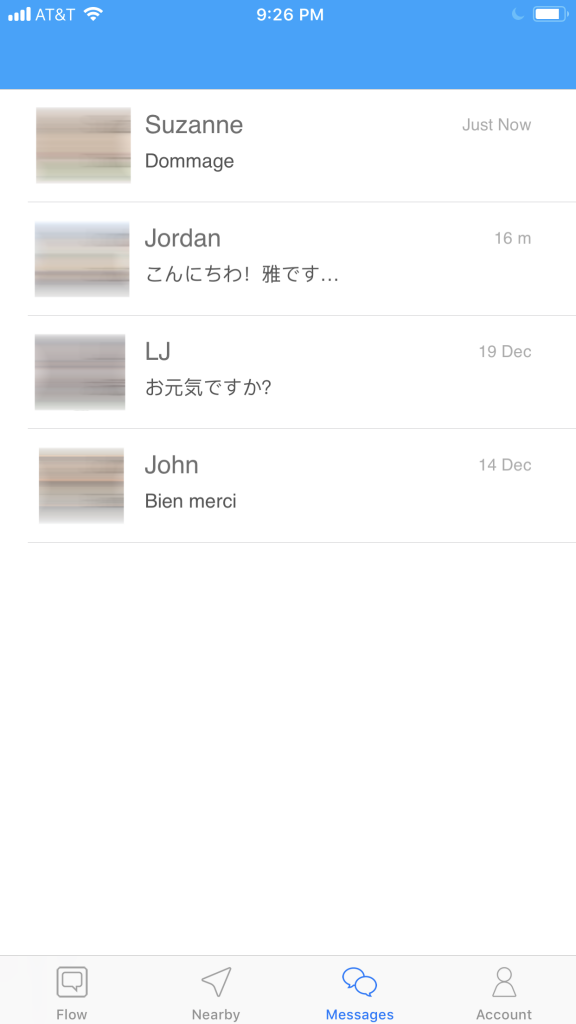 And finally, the fourth tab is where you'll find your profile and app settings. Here you can adjust your notifications, choose what information is shown on your profile, select your languages, and more. You can also choose to hide your profile so that other users cannot find and contact you if you prefer to make initial contact.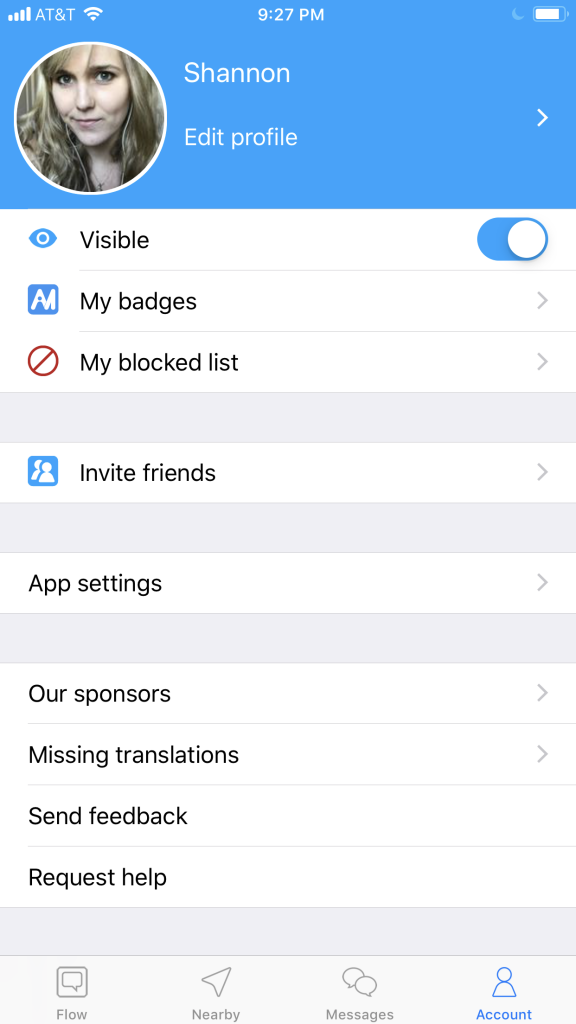 When editing your profile, you can create a separate profile for each of your languages. This is useful in a couple of ways:
Your expertise in each language may be slightly different, so you can create a bio that notes this. For example, I'm much better at talking about music in Japanese than Hungarian, but better at talking about tech in Hungarian than Japanese. By having separate profiles for each language, I can share what I like to talk about, what I'm good at talking about and what I'd like to improve in each language.
You can practice writing in each language. By writing a bio in each language, you get the chance to practice your writing and very me-specific vocabulary. Plus, other members who speak your language may offer corrections if you need them.
My Experience Using Amikumu: The Good
Amikumu is a fun way to chat with other people who share your passion for language learning. You can find other members both near and far with knowledge of tons of different languages. You can choose to meet up with other learners in person or keep your conversation in the app — it's flexible for you to use as you see fit.
And although I do not yet have any personal experience in this scenario, I've also heard that the app is an amazing tool to have on hand when attending language events like LangFest, the Polyglot Gathering or the Polyglot Conference. This is because it helps you connect with others who know your languages, something that can be surprisingly difficult to do even at a language event! You even get a badge added to your profile when you use the app at an event. I started using Amikumu just a few months after attending my last LangFest, so I'm a bit bummed I missed earning the badge!
But the badges aren't just a way to spruce up your profile, they're great conversation starters, too. How so? When I see someone who has a badge for an event that I've been to, that initial message is easy: "Hey, I saw you were at LangFest last year. I was, too! What was your favorite talk?" And even when I see a badge for an event that I haven't been to, I can ask: "I see you went to the Polyglot Conference. I couldn't make it this year. How was it?" In your new language, of course.
I also really liked that there was a public social feed. It gave me a place to test the waters contacting active members without having to create private 1-on-1 conversations right away. Plus, it gave me the ability to interact with more than one person at once, getting more language input from multiple speakers.
Finally, I mentioned earlier that the value of a language exchange platform is in its members. I found that the people I connected with using Amikumu responded well, and they seemed like engaged, motivated language learners (this isn't true for all language exchange platforms). I even found some folks from our 90-day language program, Add1 (now the Fluent in 3 Months Challenge).
There were some issues though…
My Experience Using Amikumu: What Could Be Better?
Amikumu is designed to help language learners not just connect on the app, but in-person. Unfortunately, for the languages I speak or am learning, there wasn't anyone I could meet with face-to-face in my area (Southern California). That isn't to say that there aren't people in my area on the app. In fact, there were several. The majority, however, were Esperanto learners and speakers. A language that I don't speak and am not currently learning.
Because the app was originally designed and marketed to the Esperanto community, the majority of their users (at least in my area) are a part of that demographic. If you're an Esperanto speaker, this is fantastic. If you're not, you may need to wait until more people begin using the platform to find someone who speaks your language(s) in your area. In the meantime, you can enjoy the chat feature and reach out to those who speak your language regardless of location.
Amikumu also requires that you have location turned on your phone in order to work. So if you just wanted to pop on to chat with other members in your languages without sharing your location, you're not able to do so. If privacy is a major concern for you, this may be a dealbreaker.
Will I Keep Using Amikumu?
Amikumu has the potential to be an excellent app whether you're looking to practice a language or connect with fellow language lovers in your area. The only way that can happen is if its user base continues to grow. It's designed by language learners for language learners, so the developers are attuned to your needs in order to continue to build Amikumu into an even better social language learning app than it already is.
Something to keep in mind is that Amikumu will not teach you a language. Instead, it's a platform where you can practice the language you're studying with other tools and resources.
At this time, I would give Amikumu 3 stars, but once it grows and membership increases, I would increase this to 4 stars without hesitation.
You can download Amikumu for iOS or Android devices.