French Uncovered Review — Does "Story Learning" Really Work for French?
---
What is French Uncovered?
French Uncovered in an online StoryLearning course from polyglot Olly Richards that promises to transform you from a complete beginner to an intermediate French speaker.
what it's for:

Approaching the language, basic vocabulary, basic grammar and conjugation, pronunciation

---

languages:

French

---

level:

Beginner - Lower Intermediate
+ PROS
Learn through a fun and engaging story

Well-rounded course for beginners

The activities change often and are varied

Speaking practice activities for language exchange partners and tutors provided in PDF format

Nifty bonus lectures

Chatbox option to engage with tutors
- CONS
Not for intermediate and advanced French learners
So, I'm guessing you're reading this article because you want a French Uncovered review, and you're wondering "is French Uncovered any good?"
In this article, I'll be reviewing French Uncovered. I will walk through the basics of the course, some of my favorite things and what didn't work for me. Keep reading to see insider screenshots and a video of me walking you through the material.
But first, so you can decide whether the course is a good fit for you based on my experience, here are a couple of lines about me and my experience as a French learner and French speaker.
How I Learned French (After 10 Language Fails!)
I remember my first "Aha!" moment in French. It was just days after reading an article by Fluent in 3 Months' Benny Lewis. In the article, he promised it was possible to learn a language on your own.
I was looking for a realistic method that would help me finally learn French after 10 language fails.
Through his website — the very one you are reading now — I discovered the art of self-taught language learning. And no, it does not mean that I sat in a dark room nine hours a day and taught myself French from the ether. Learning by osmosis would have made for a very interesting article. But that was not the case.
Learning a language took courage, routine and a solid resource. I read a mess of Fluent In 3 Month articles about the best language learning products. So, I'm happy to continue the tradition by trying products for you, my wonderful language buddies!
I'm sure you're as excited as I was to learn a language. Without further ado, let's examine French Uncovered. We've got a lot of exciting material to cover.
French Uncovered Review: What Is French Uncovered?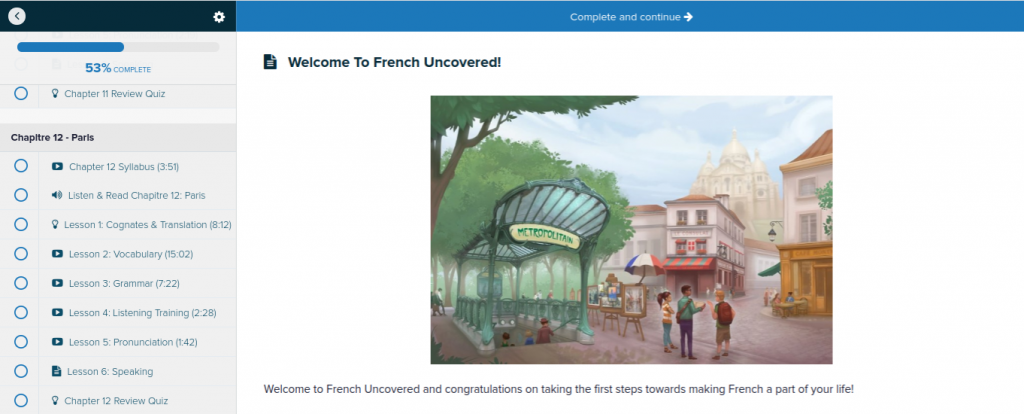 French Uncovered is a creative online course that teaches you French through story. You are immersed in the language by reading and listening to a tale completely in French!
There are currently five languages available in the Uncovered series: German, French, Spanish, Japanese and Italian.
Olly Richards created this course by first writing a short story in French. He then breaks down each chapter into a course section.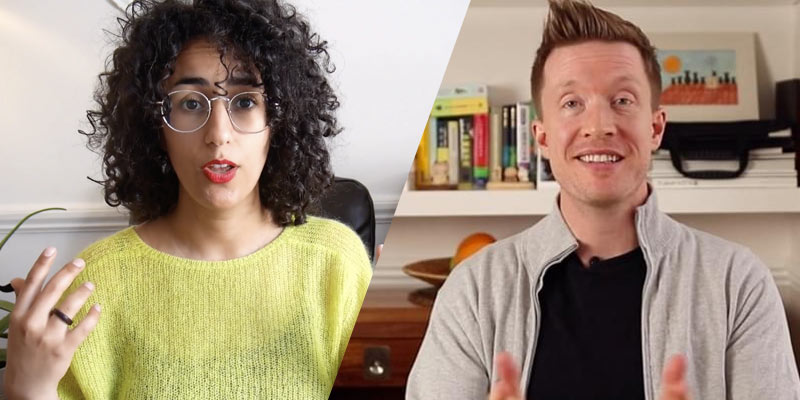 The sections consist of a diverse offering of tools. You can see some of them in this video I made. In it, I show you some of my favorite pieces:
For all you list-lovers out there, here's a breakdown of the individual sections.
Every Section of French Uncovered Includes:
Chapter of Olly's story written completely in French with an English translation
Audio file of the chapter read by a native speaker
Video lesson on cognates and how to work with them
Discussion area where you can ask questions, receive answers and learn from others
Video lesson focusing on the vocabulary in that chapter
Another discussion area for vocabulary questions
Printable workbook with vocabulary exercises and additional course material
Video lesson explaining key grammar concepts
Third discussion area for grammar
Workbook with grammar exercises and additional grammar explanations
Practice document to share with your tutor or language exchange partner
Video lesson on pronunciation with a native speaker
Discussion area for pronunciation help
Chapter quiz to measure your progress
All lectures are shown with an electronic whiteboard. This allows you to see each sentence discussed.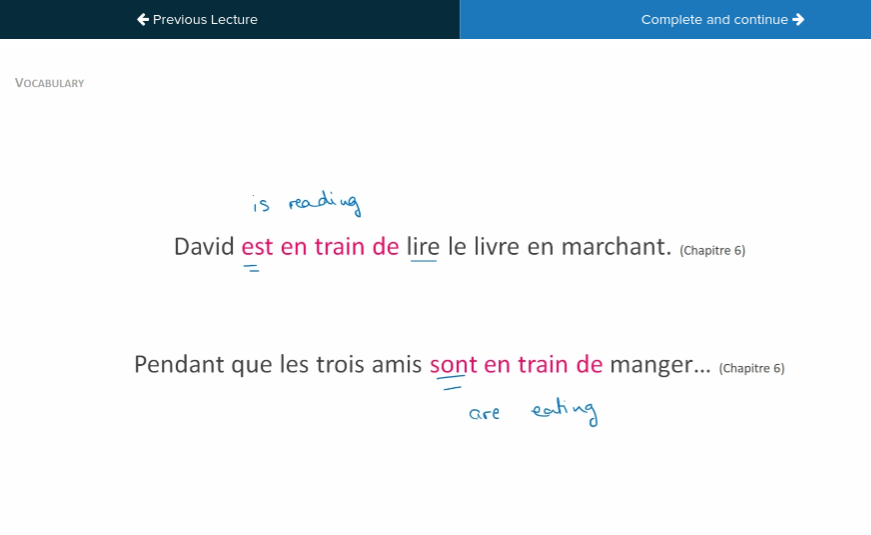 The material takes you from zero French to international spy in 20 sections. Okay, maybe not spy but you will be able to order coffee and chat with the waiter, including sharing that you've read a short story in French.
True story – I once told a Parisian waiter that I was learning French. I hadn't yet discovered this marvelous course. Because of this, I have no idea what the waiter replied. He did however hand my camera to my husband, plunk himself beside me and insist Chris take a picture of us.
I may or may not have accepted a marriage proposal on that day. If I did, Chris (my darling husband) is definitely invited to the reception. You think I'm kidding? Here's the pic!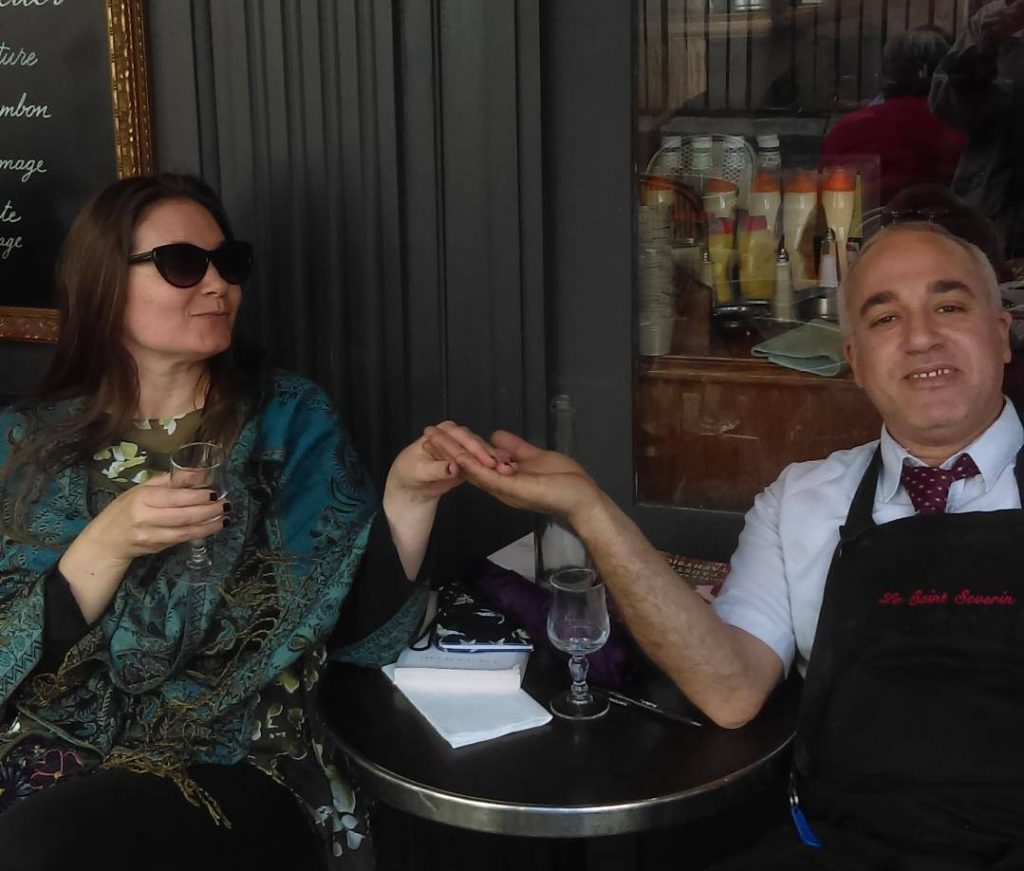 With a solid main resource for learning French, this won't happen to you. Unless, of course, that's what you want. In which case, you'll be able to flat out ask for it. Voulez-vous me proposer le mariage? "Would you like to propose marriage to me?"
How I Explored French Uncovered Before Writing This Review
Before examining this course, I used its sister course, Spanish Uncovered for over a year. I also spent five hours meandering through German Uncovered. Yes, this is my idea of nerd heaven. Don't judge. You could end up just like me after you try it.
If you're curious, peek at my article reviewing the Spanish version. You'll see videos of where I began and what I was able to do after 90 days of using this product. Spanish Uncovered was my number one resource while learning Spanish.
In my German Uncovered review, I share a video discussion I had with another German learner. Both of these articles will give you more information about the Uncovered series.
For this review, I spent five hours learning with French Uncovered. As an intermediate French learner, it was a nice review for me. I harkened back to my days as a monolingual and tried to see this course through the eyes of a beginner.
During my involvement, I pushed all the buttons. I tried all the bells and whistles and I took notes for you. Were there differences between French Uncovered and my beloved Spanish Uncovered? Would I be sad that the tutor for this course wasn't as engaging at German Uncovered? Could Olly use his formula to produce another winning course?
I'm happy to say he did not disappoint. The strength of this course is its structure. And Olly was smart to keep it the same.
French Uncovered highlights five touchstones of language acquisition.
You learn how to read in a foreign language without a searing headache.
You gain insight into French grammar as well as France's addiction to apostrophes.
You learn how to pronounce words in French with a native speaker.
You are taught how to think like a successful polyglot.
You develop a deep well of useful vocabulary.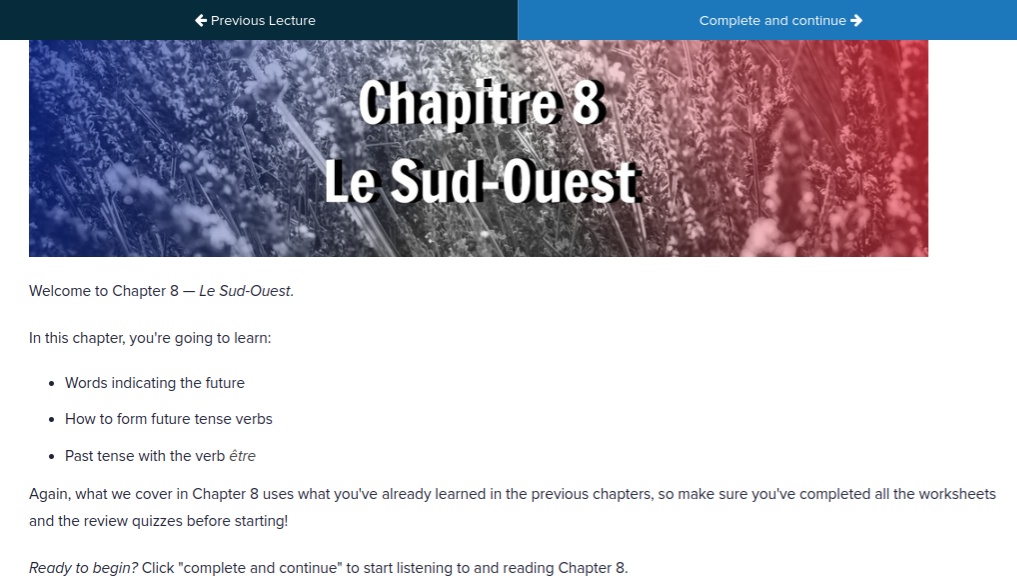 French Uncovered: My Perspective
As I mentioned before, my level of French is that of an intermediate French speaker. However, I clearly remember how lost I felt as a first-time language learner. I kept the panicked, dry-mouth memory clear in my mind as I worked through the course.
My repeat questions were, "How would this course have helped me? How would this course have hindered my progress?" I bet you're wondering what the answers were. If I could shout from the rooftops, "Try this course!" I most definitely would.
Alas, I live in the suburbs of Southern California where shouting is frowned upon. Surfing is okay. I could surf with a banner attached to my body. But it's not always warm enough to surf and I don't own a wetsuit. I digress. What did I think of French Uncovered?
French Uncovered is Well Worth the Investment
My opinion is prejudiced. I used Spanish Uncovered as my main resource for learning Spanish. I also spent five glorious hours playing with German Uncovered.
I'm looking at French Uncovered with the memory of being an absolute beginner. The pain of many failed attempts makes that hard to forget. I'm biased in that I have the positive experience of learning rapidly with Spanish Uncovered.
The diversity of this course is like none other. Olly created a fun maze of exercises. He seamlessly touched the four pillars of language learning; speaking, reading, listening & writing. He managed to keep my attention every step of the way.
I don't know where this guy learned how to teach languages but he's gifted. Not once did I feel like throwing the resource out the window. Now that's saying something!
In every subsection, I found myself doing something different. He organized the course in a way that keeps the student coming back for more. There are lectures followed by exercises that help you practice the points discussed. Some exercises are challenging. Others feel more like a game.
And if you detest grammar exercises, Olly suggests you listen to the lectures. Save the grammar exercises for later. As a serious hater of homework, it's nice to know there's more than one way to enjoy this course.
If you want to speak a language well, you have to know what the other person is saying. I recommend listening to the audio of the chapters on your phone. Listen while walking the dog. Listen while commuting to work. Listen while waiting in line at the dry cleaners. I make a goal of listening to each chapter twenty times. It makes a huge difference in my ability to understand native speakers.
Lectures are a little more tricky, right? Well, French Uncovered makes that doable by keeping most of their videos to less than 25 minutes. And if you can't sit still for 25 minutes, just watch half and come back for more. Or use a treadmill desk. They are all the rage now.
Even as an intermediate learner, I found the lectures fascinating. I enjoy learning about cognates and language patterns. You might be surprised to find out you like it, too.
This course gives you a balanced start in French which is more than I had when I started out. Do yourself a favor! Don't do as I did and go at it alone 10 times. Find a main learning resource that you appreciate and a few good tutors. Your French will soar.
And if you decide on French Uncovered, you'll be supporting a small business. It's a great way to vote with your dollars. I'm all about supporting polyglots who generously share what they have discovered.
French Uncovered Review: The Best Parts
As you've guessed, I have a crush on French Uncovered. There are a few aspects of the course that really shine.
1. French Uncovered Is Your One-Stop Français Shop
A lot of the learners suffer from Too Many Choices Syndrome (TMCS). It's a serious condition. Side effects of TMCS include facial tics, overwhelm, mumbling to oneself and sighing every time you walk by your bookshelf. Why? Because the 17 French grammar books you bought are sneering at you.
My advice is to pick one resource and ignore all the other shiny objects in your field of vision. And French Uncovered is a solid option.
If I were learning French for the first time, I would have clung to this course like a lifeboat. You don't have to worry about whether you are getting enough exposure. With reading, listening and dissecting the story, you are.
My absolute favorite part of this course is the way it's laid out. The activities change often and are varied. So, you feel energized after each task you accomplish.
2. Speaking Practice Activities for Language Exchange Partners and Tutors
The course provides a PDF file with speaking practice activities for each chapter. This is a brilliant idea. I have lost count of how many times a language exchange partner has asked me, "What do you want to talk about today?" My response is usually a staring contest with the ceiling.
These documents take the guesswork out of tutor sessions and language exchanges. Simply share a copy with the native speaker. Give them a few seconds to read the instructions and you're all set.
The instructions are in both French and English. The French instructions tell the native speaker what you do and don't understand yet. The English instructions give you exercises to practice with your speaking partner.
3. Nifty Bonus Lectures
Who doesn't love surprises? I was happy to find little extra gifts when I started French Uncovered. Maybe I shouldn't tell you about it. Would that spoil the fun? Nah, I'll let you in on the secret.
Diane (who co-tutors the course with Olly) offers three interesting lectures. There's French Food Etiquette, A Word on French Grammar and French Pronunciation Primer. Even as an intermediate learner, I learned something new in each one.

French Uncovered: What Needs Improvement
As you can tell, I'm a big fan of the Uncovered series. From my perspective, there's not much negative stuff to report. I did speak with one learner who is two chapters into the course. So, it's an early opinion but it will give you another point of view.
She told me that she would have liked more grammar exercises. She loves big thick grammar books. There are over 400 pages of grammar and vocabulary exercises included in this course. When printed, that's enough to fill a three-inch binder but she's a grammar-loving kinda gal.
Hey, different strokes for different folks. I love learning about how to learn a language without getting stuck in the muck of minutia.
Do you enjoy intense descriptions of grammar? I recommend working with a tutor from the very beginning of this course. I find it helpful to share the speaking practice documents with my professors from day one.
If you are a detail-loving learner, it's a good idea to have someone there to answer your questions. Your tutor can also give you additional grammar exercises on the points you've learned thus far.
Ok, I shuddered while writing that. I'm the type of learner that loathes homework of any kind. But there are many types of learners. This is why I'm sharing her insight with you.
I also suggest you make full use of the chatbox below each lecture and document. Olly has a teacher on hand to answer your questions about all things French. Make good use of this tool. It's a helpful part of the course.
How Do I Rate French Uncovered?
French Uncovered ranks five stars with me, as a course for beginner and upper beginner learners. If only I had known about this course when I first started learning languages! My French journey would have been a lot more cohesive and a lot less stressful.
If you're curious about giving your French a jump start or bringing your high school French back to life, try it out.