90 Day Korean Review: Is 90 Day Korean a Good Course?
---
I've learned nine languages to conversational level, all as an adult. So I've got a good system in place for picking up a new language.
But when it came to Korean, something was different. Regardless of how many resources I used, I just couldn't wrap my head around the grammar or the pronunciation. It just didn't make sense.
I wondered if it would always be like that. In fact, the first time I learned, I gave up after six months. It was my first language defeat. I wondered if perhaps it and I just weren't meant to be.
But a few months later, I realised I wasn't ready to give up Korean. I wanted to give it another try.
I decided to commit to learning Korean as a part of the Add1Challenge, along with using 90 Day Korean.
What is 90 Day Korean?
90 Day Korean is a year-long Korean course.
Wait, what?
Yup, you read that right. It's a year-long course made up of four 90-day modules that take you from the very basics of Korean through to more advanced Korean lessons.
In other words, it teaches Korean from the beginning stages to intermediate level.
Essentially, 90 Day Korean is an online course, and it goes well beyond what you might expect from a traditional course book. First, each of the lessons includes exercises of some sort to help you master the material you're studying. The end of each mini module (each of the four main modules contains several one week modules) also includes a mission to help you put everything you learned over the week together.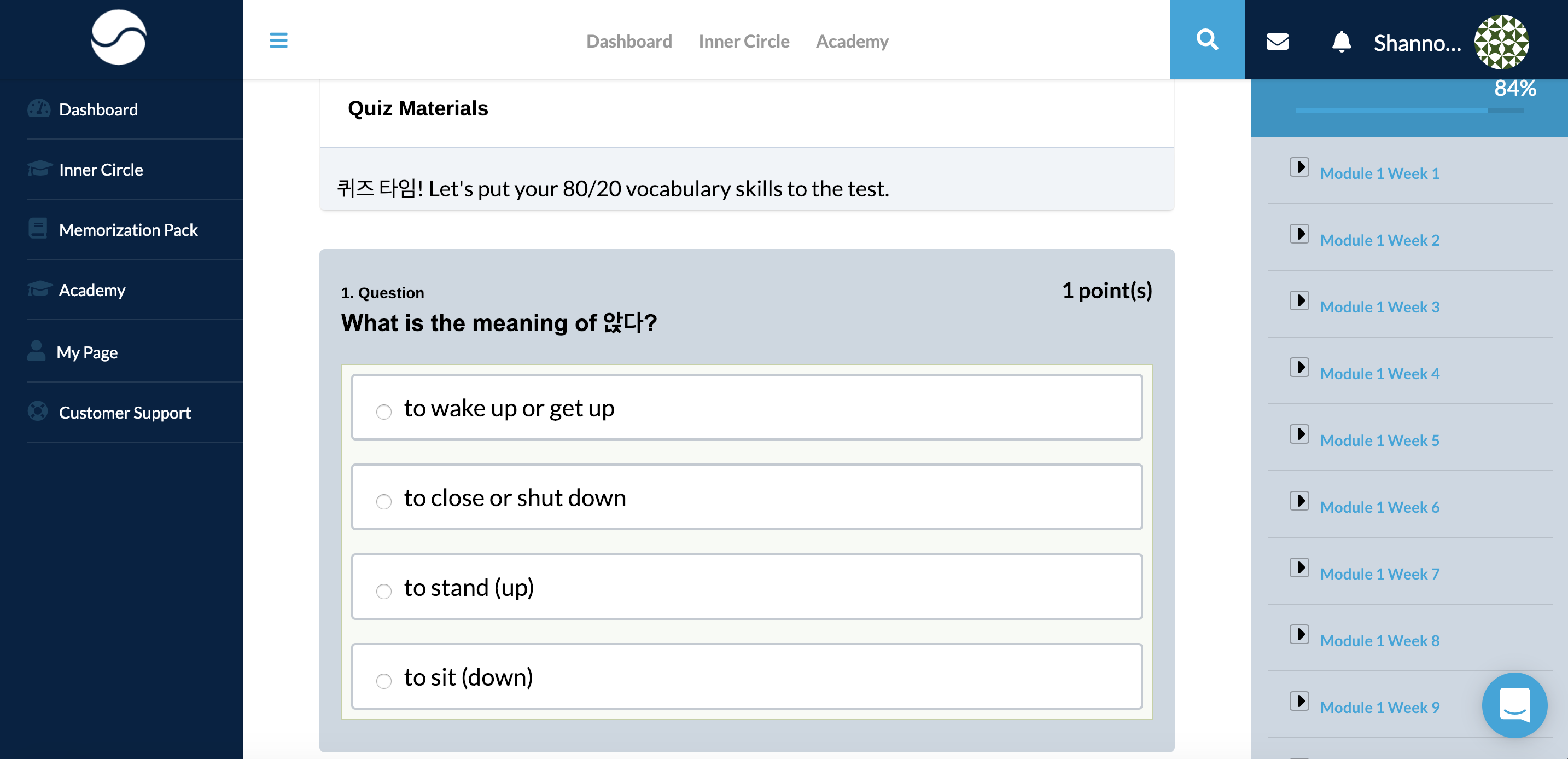 With 90 Day Korean you also have a personal coach who is available to answer your questions, a community forum where you can chat with other Korean learners, and lots of other bonus resources to help you with your Korean.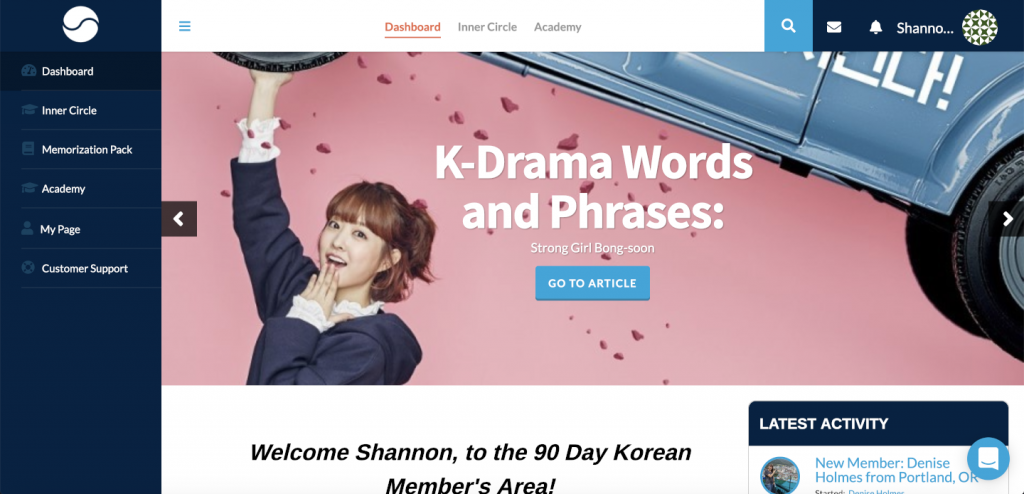 The course is designed so that you can work at your own pace. Even though it's structured as a 90 day course, you have access to the materials as long as you're subscribed. You can work through them as you see fit. If you want to learn on the go, you're covered here, too. 90 Day Korean also has an app where you can access the course so that you can take your Korean studies with you wherever you go.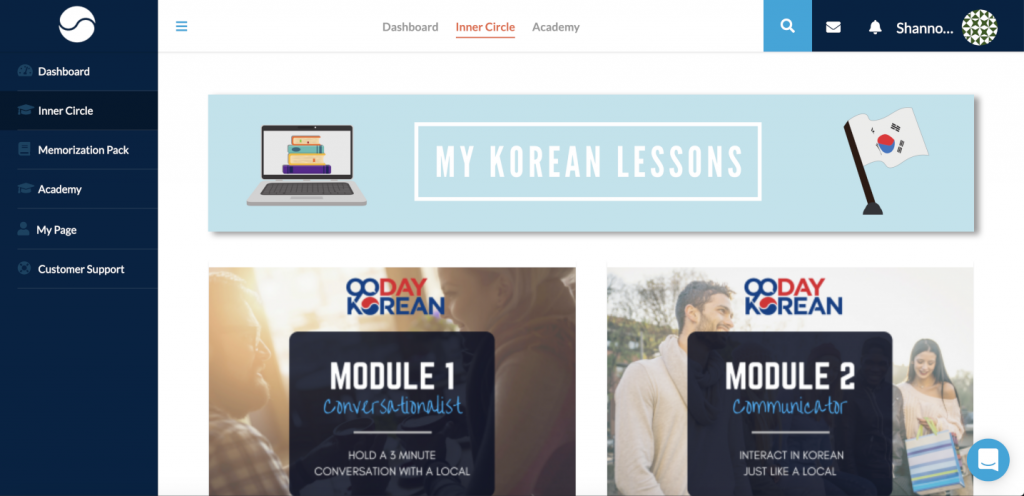 Each of the four core modules in 90 Day Korean consists of 14 smaller modules. Each of these smaller modules includes somewhere between 8-15 lessons for you to complete over the period of a week.
Within each of these smaller modules, you learn:
80/20 Korean Vocabulary – This is the 20% of Korean vocabulary that gives you 80% of the results. To put it another way, the focus is on helping you learn high frequency Korean words that you'll come across again and again as you learn Korean.
Thematic Korean Lingo – This is about learning Korean words around specific topics like food, shopping, or work
Korean Grammar – taught on an as-needed basis so that you can focus on speaking Korean rather than learning grammar rules. The aim is for you to start communicating in Korean right away
Korean Exercises and Missions – so that you can put everything you're learning into practice
Cultural Facts – so you'll understand more of how Korean people think, and what's important to them.
Grading – when you complete the missions, a native Korean speaker corrects them for you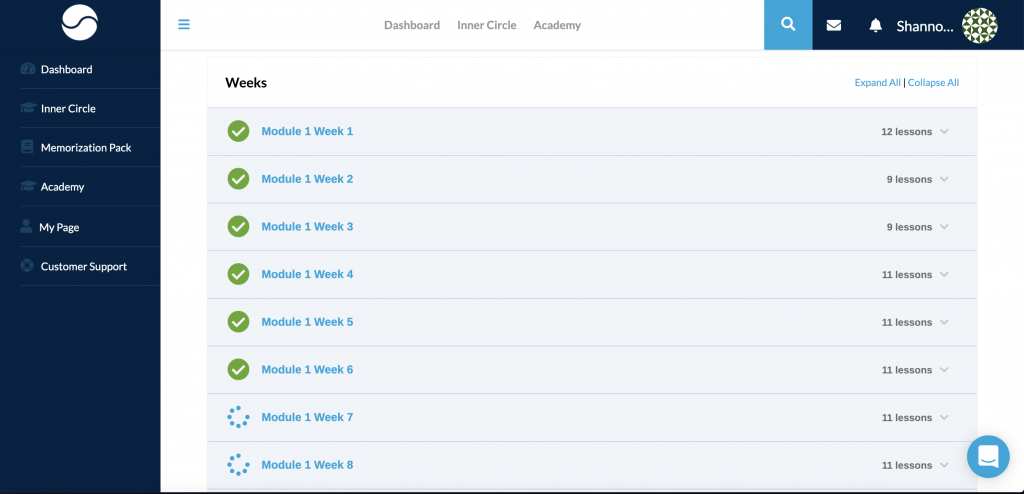 Your 1-to-1 Korean Language Coach
One of the features that most stood out to me in 90 Day Korean is that you're assigned a 1-to-1 Korean coach. Your coach is there to answer your questions whenever you're struggling with one of the lessons. You can message them from within the course so that you don't have to keep track of an email address and they typically respond within 24 hours.
I sent my coach a few questions as I was studying, asking for tips on pronunciation and irregular verbs and I found their replies not only helpful, but incredibly thorough.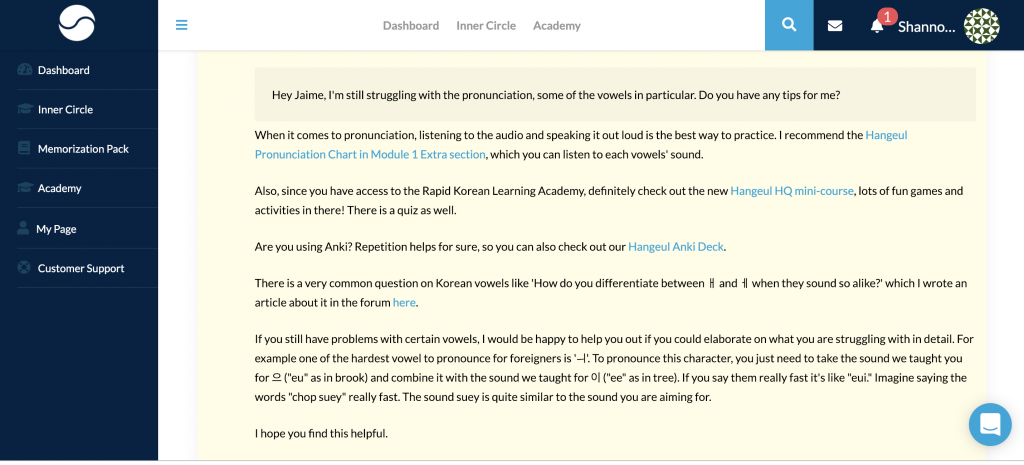 When you're working through a course like this, it's easy to feel alone and to doubt you're really understanding everything that you're learning. That's where a 1-to-1 coach comes in handy. If ever you're unsure about whether or not you've understood something, or know without a doubt that there's something you're not getting, they're there to help.
Getting Started with 90 Day Korean
Even if you have some experience with Korean, I highly recommend starting from the very first module of 90 Day Korean.
Why? Because the course not only teaches the Korean language, but also a variety of methods that are proven to help Korean learners pick up the language. The course also walks you through memorization techniques so that the words you learn in the course stick with you.
My Experience Using 90 Day Korean: The Good
When I started 90 Day Korean, one thing immediately stood out: the way the course material is written. It's engaging, well-paced, and best of all, it's written with a sense of humor. It's far from dry or boring. The author(s) also weave storytelling into the course, using it to make the grammar and vocabulary you're learning more relatable and fun.
This helped me get acquainted with an important part of the Korean language. You see, one of the things that I picked up on when learning both Japanese and Korean is that verb endings are important. Basically, the ending you attach to the verb completely changes its meaning.
For example, in Korean, 하다 means "to do". If I want to say "I do", I would change it to 해요. From there:
하고 싶어요 – "want to do"
해 보세요 – "try to do"
할 수 있어요 – "could do"
할 수 없어요 – "couldn't do"
These endings are key to learning to speak the language, but the first time I tried to learn Korean, I had a hard time finding all the most common verb endings in one place. 90 Day Korean turned out to be that place.
In working through 90 Day Korean, I finally had the chance to see all of these different endings in action, read well-written explanations, and do guided practice. It was exactly what I had been looking for in a Korean language resource.
Each of these verb forms are introduced to you gradually as you progress through the course. And despite learning so much useful Korean grammar, the course doesn't feel grammar intensive. Often, the grammar is masked as a culture lesson, such as when you're taught to use formal vs informal Korean. At other times, it's surrounded by lessons focused on vocabulary and other information so you don't feel as though you're learning grammar point after grammar point. The lessons are really well organized.
90 Day Korean has several extra features on top of the core course. This includes the option to take notes and store them directly in the course. Personally, I still prefer to take notes by hand. It helps with memory and it's a pretty rewarding way to see everything you've worked on, but it's still nice to have the option to quickly jot things down and save them for later all in one place.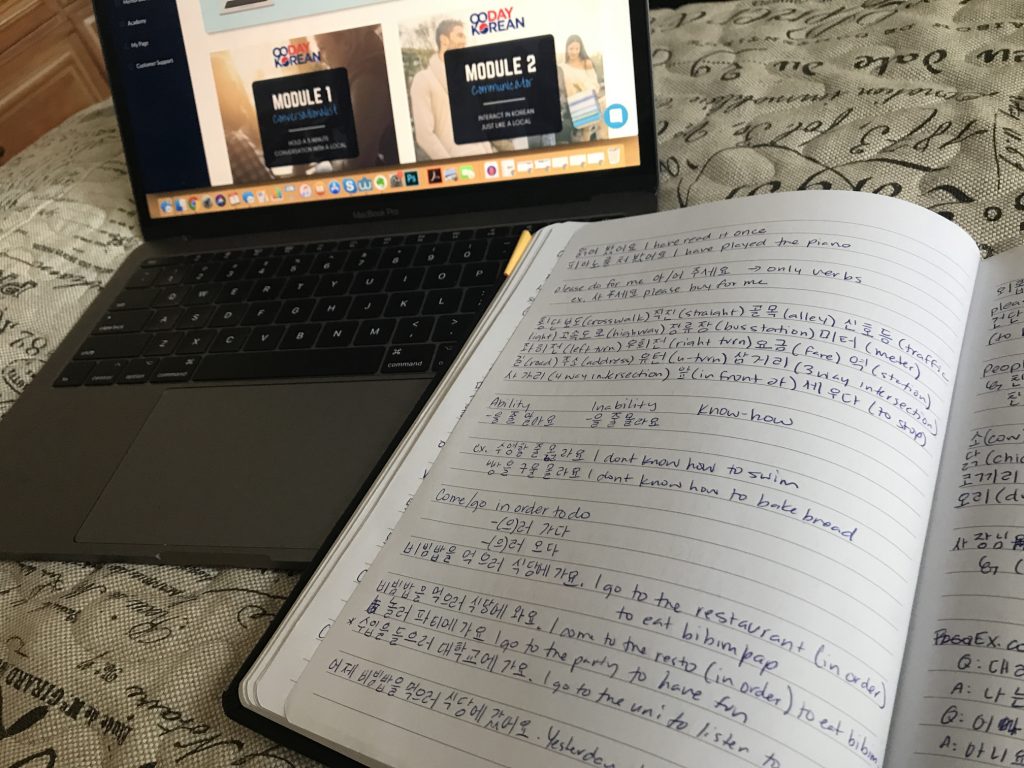 You learn a lot of material in 90 Day Korean, but as I said before, it's organized in a way that doesn't feel overwhelming. It also builds naturally, so everything you learn spans out from what you've already studied in earlier lessons.
I started 90 Day Korean a little bit after I began learning Korean for a second time, so I didn't have a lot of experience with the language.
I dedicated myself to working through the course at a slightly faster pace than what is recommended. When you sign up for the course, you are sent a new mini module each week, but if you want to work through it a little faster, they have instructions within the course about how to contact them to get "advance access" to the course materials. I took advantage of this and in total, it took me about 4 to 5 months to work through everything at an "accelerated" pace. That said, I still want to go back and spend more time with some of the lessons to make sure I really get the most out of the lesson materials.
As you work through the course, you can mark what you've gone through as complete. This makes the course extremely versatile because you can bounce around from lesson to lesson, focusing on new material and reviewing old material however you see fit.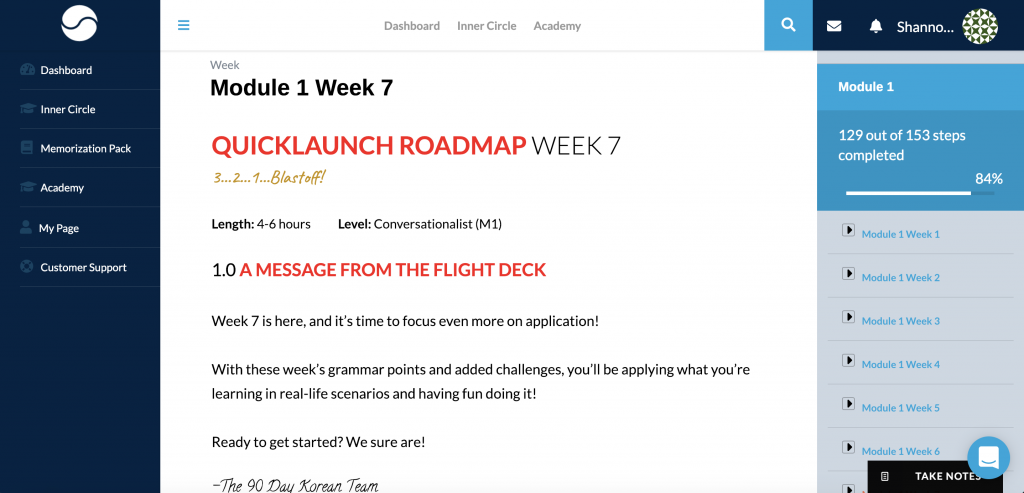 Learning Korean with the 80/20 Rule: Maximum Results, Minimum Effort
In 90 Day Korean, what you learn in the course makes use of the Pareto Principle (80/20 rule). Get 80% of the results with 20% of the effort. The material presented in 90 Day Korean is curated for you using this approach. You learn the 20% that will do 80% of the work for you.
Here's an example from the course:
"Is there a past tense of -(으)세요?

"Yes, there is. However, the amount of time you need it compared to the time it takes to learn makes it fall out of the 80/20 category. If you want to learn the most useful Korean as fast as possible, then you'd be better off focusing your time on other parts of the language."
When learning a new language, the amount of information that's thrown at you can feel overwhelming. It's not hard to wonder: "do I really need to know all of this?" 90 Day Korean seeks to eliminate this feeling by eliminating the material you probably don't need. That way, when you study, you can focus all of your attention on what's given to you rather than allow yourself to get distracted by that lingering question in the back of your mind.
My Experience Using 90 Day Korean: What Could Be Better?
Each of the lessons in 90 Day Korean have fun titles, but when you're working through the course in a non-linear way, this isn't very user-friendly. For example, after completing the course, there were a couple of lessons that I wanted to go over again, but because the titles didn't always tell me what the lesson includes, I had a difficult time finding the particular lessons I was looking for later on.
While you can access the course from the 90 Day Korean app, it isn't an app version of the course. Instead, you're simply sent over to your browser when you login and access a mobile-friendly, fully optimized, version of the course.
Finally, I found that the search function within the course didn't really work. On a couple different occasions, I tried to find lessons using the search function, even once pasting in the exact text I had copied from a lesson. Each time, however, I was given the message that nothing matched my search results. This made it hard to find material I wanted to review.
Update: this has been resolved and works just fine, yay!
My Conclusion: Do I Recommend 90 Day Korean?
90 Day Korean is an effective way to build a solid foundation in Korean. It includes exercises, lessons, and tools that can aid you in your journey from beginner Korean learner to intermediate level speaker in 12 months or less.
The materials are put into this course in a way that's easy to follow and builds on what you've previously learned. You don't need to figure out what to study next and if at any point you ever do feel stuck, your Korean coach is a quick message away. There are also plenty of quizzes and missions to keep the things you're learning fresh.
Want to try out 90 Day Korean for yourself? You can get the full course here.
Or if you'd like to have a taster, check out the 90 Minute Korean Challenge, it's free and a good way to get a feel for how the course works.