Language Learning Tips For Couples
---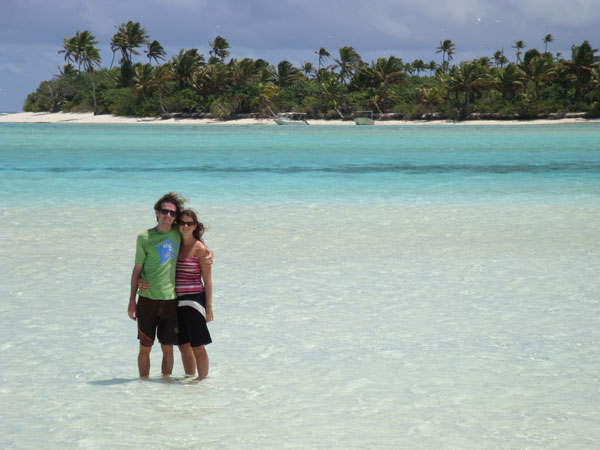 Erin and Simon are a British couple who I had been talking to for some time, and following their really cool blog "Neverendingvoyage.com" until a year ago when I actually got to meet them in person and hosted them as my Couchsurfers in Medellín! I've used the advice on their blog about eating vegetarian to help me quicker in particular locations, and Simon helped me to tweak some technical issues on my site.

To contrast with my most previous post about solo travel, the thing is they are a couple who may usually speak English to one another, but still want to learn the local language! As they say, it's different to what I have to do, so I was very happy to have them explain their twist to language hacking… for couples! Have a read of what they have to say:

Learning a language while travelling as a couple can be more challenging than for solo travellers. Benny's biggest language learning tip is to stop speaking English and immerse yourself in the target language as much as possible. This can be difficult if you are with your partner all the time as it's hard to break the habit of speaking to each other in your native tongue. Plus, successful language learning comes from having the right motivation – you have to need to know the language, not just want to. Solo travel can be lonely if you can't speak to the locals but couples don't have this same need to get out and socialise.
There are some advantages of learning a language as a couple though, and you can definitely overcome the disadvantages if you are committed enough – don't use it as an excuse!
Establish a Shared Desire
When you begin to travel with your partner you need to find out if they want to learn the local language too. If you are both committed there is a lot you can do to reach your language leaning goals by following the tips below.
If only one of you is interested then it'll be trickier. Social situations are difficult when only one of you speaks the language, and if the local speaks English they'll often revert to that so your partner isn't left out. In this situation you will need to pursue opportunities to practice alone – take lessons, find a conversation partner and maybe even socialise without your partner.
If both you and your other half are committed to learning a language here's how to ensure that you achieve your goals:
Arrange No English Days
You could try to stop speaking with your partner completely in your native language but this is probably unrealistic, especially in the early days. After being inspired by Benny's Language Hacking Guide we had a No English Week while studying Spanish in Buenos Aires. We managed to speak in Spanish about 70% of the time and it really helped our fluency, as when we spoke to locals we didn't have to make the mental shift from English to Spanish. It was challenging and quite tiring though, especially when we needed to constantly use a dictionary to talk about complicated subjects.
I would recommend setting No English days as often as you can manage. Even when you are starting out use as much of the language together as you can, even if you have to mix some English in.
Use The Language As Much As Possible
Even if you manage to practice speaking the language together, it's still vital to practice with native speakers and use the language whenever you can. Here are some ways couples can do this:
Attend a language exchange together – we used the conversationexchange.com website to find a partner to practice our Spanish with. We met a lovely Argentine who became one of our closest friends in Buenos Aires. We also attended the Spanglish events where we practiced our Spanish with a range of locals.
Couchsurf – even if you don't want to stay with a local, use the couchsurfing group for the city you are in to find out about events. It's a great way to socialise with native speakers.
Talk to strangers – this really pushed us out of our comfort zone but even making small-talk with a waitress or chatting to a taxi driver can help your language improve.
Do activities in the target language – we learnt to cook papas rellenas in an all-Spanish cooking class in Bolivia, took a five day jeep tour through the remote Bolivian salt flats with a guide who only spoke Spanish, and went horse riding with a Colombian family.
Watch films in the language together.
Make use of wasted time by carrying around vocab to test each other when waiting for buses etc.
Sing together – seriously, singing is a fantastic, fun way of practicing a language and it's even more enjoyable if you sing with your partner. For Spanish I love the Bueno Entonces You Tube videos.
Couples can of course use immersion techniques that solo learners use too. We changed our Facebook language to Spanish, read Spanish magazines and books (ones we really wanted to read, not ones we thought we should), set up a Spanish Twitter account, and used Anki to practice vocab every day.
Consider Lessons
This goes against Benny's advice as he quite rightly says that you don't need to attend classes to learn a language, and it's more important to speak than get bogged down in grammar. That said, we found Spanish lessons a great way to keep ourselves focused and motivated. We started with group classes in Buenos Aires but after three weeks switched to private lessons (separately as we were at different levels) and found these much better. We got to learn what we were interested in and had an intense hour or two of conversation in Spanish.
On a number of other occasions on our year-long travels in South America I took conversation classes for a couple of hours a day for a week or two. Simon was working hard so didn't have the time to focus on his Spanish as much, but as I wanted to reach fluency I found private classes a great way to get some intense practice.
When taking classes you might also want to consider a homestay if you really want to improve quickly. By living in the home of a local you'll have many more opportunities to practice. We didn't do this (as we needed privacy to work) but we did meet an impressive couple in Bolivia who were taking Spanish classes at different schools in the same town and staying at different homestays! By cutting themselves off from each other for a week or two they definitely improved at a faster rate. It's not for everyone but if you are seriously committed it might be the way to go.
Be Supportive
Learning a language with your partner can be a great experience. You always have someone to practice with, even when you leave the country, and you can encourage and support each other on the learning journey. It can be helpful to point out each other's mistakes but be gentle. Believe me, calling your partner's "arigato" lame on your first day in Japan after a stressful travel day, even in jest, is not the best way to encourage language learning!
Share Speaking Tasks
If one partner's language level is more advanced than the other it can lead to them doing all the talking – booking bus tickets and accommodation, ordering in restaurants etc. Make sure you both share the communication tasks so you can both improve. If your partner is reluctant then send them off on errands or set them a challenge like enquiring about bus times.
Get Off The Beaten Track
It can be tempting when travelling as a couple to become lazy about speaking the language. One way to make this impossible is to travel to places that are off the beaten track and where few people speak English. If you have to speak the language to get by you'll improve more quickly. We also found people in countries like Paraguay, which see few foreigners, very curious and keen to speak to us so we got lots of practice. In a remote part of the Peruvian Andes we ended up volunteering in a local school and attending a community feast where no one spoke English.
Your progress in learning a language will ultimately come down to how committed you are. There may be some challenges to learning a language as a couple but if you are motivated enough you won't let that stop you reaching your goals. The most important thing is to get out of your couple bubble and find opportunities to speak the language whenever you can.
Erin McNeaney and her partner Simon sold everything they owned and left the UK in March 2010 to travel the world forever. They run a WordPress web design business on the road and have travelled to Latin America, North America and are now in Asia. You can follow their adventures at Never Ending Voyage.