Music to Help You Learn Spanish – A Starter Guide (with 12 Latin Artists and Songs)
---
Despacito — the song by Puerto Rican singer Luis Fonsi — has been a huge hit this year and as I'm writing this it's now the most viewed video on YouTube with 4.4 billion views. This is despite it being released less than 1 year ago!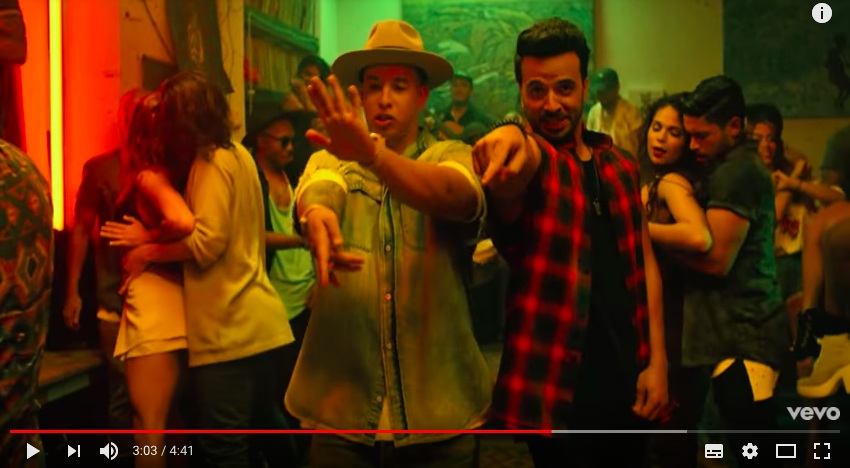 Hopefully the success of Despacito has gotten a lot of people interested in learning Spanish! And with Latin music being so popular right now, what better way to learn Spanish than by learning it with music!?
Other articles on Fluent in 3 Months share about how effective it can be to learn languages with music, and I agree, music can be an amazing tool for language learning.
So how do you learn a language with music? To be honest, you can't just listen to music passively and expect to become fluent thanks to some magical force. What you should do instead is focus on songs which you enjoy, read the original language lyrics as you sing along, look up the lyrics in your native language, and instead of just listening passively, have some fun and sing along with the songs!
Anyway, after learning Spanish through music for the past two years myself, I'd like to share some of my favourite Spanish songs. In fact, I enjoyed my journey of learning Spanish with music so much that I even started a YouTube Channel where I post Spanish songs with their original lyrics as well the English translation.
I will start this list with some Latin pop! Latin pop is one of the most popular Latin music genres today and some of the biggest Latin music stars in the world belong to this genre, with artists like Shakira, Enrique Iglesias and Ricky Martin fitting in this category.
I know, I am starting with artists you probably already know, but if you are new to Latin music, I promise you will discover some new Latin artists further down this list.
So here are some Spanish artists and songs to get you started!
1. Shakira
We'll get started with Shakira, who is a Colombian singer, songwriter, dancer, and record producer. Shakira is often called "The Queen of Latin Pop".
Earlier this year, Shakira released her latest album "El Dorado", which is mostly sung in Spanish. The catchy songs in this album makes it great for learning Spanish, as you can easily listen to some of the songs hundreds of times!
From this album, Chantaje was a huge hit which amassed almost 2 billion views on YouTube in under 1 year:
2. Enrique Iglesias
While Shakira is the "Queen", "The King of Latin Pop" is widely considered to be Enrique Iglesias. Enrique is a Spanish singer, songwriter, actor and record producer, and is widely regarded as the "King of Latin Pop".
Enrique's last album, "Sex and Love", was Spotify's 7th most-streamed album worldwide in 2014. "Bailando" turned out to be the most popular song on that album and it spent 41 weeks in the #1 spot on Billboard's Hot Latin Songs chart. "Bailando" was also YouTube's second most watched music video of 2014 with over 2 billion views, and before Despacito, it was also the most watched Latin music video on YouTube.
3. CNCO
Now to a less well-known and more up-and-coming Latin music band. CNCO is the Latin-American boy band who won the first season of "La Banda". Basically, "La Banda" is the Latin version of "The X-Factor" and CNCO are the Latin version of One Direction (OK, this latter claim is more of a joke and my personal interpretation).
CNCO were formed on December 13, 2015 and they released their first album, Primera Cita on August 26, 2016. The album won for Pop Album of the Year at the 29th Lo Nuestro Awards.
I think CNCO are a great band to learn Spanish from as their songs are very catchy, clean and often involve repeating verses. This offers that extra bit of repetition so that you can quickly learn their songs and start singing along!
One of their songs from their album is called "Quisiera":
4. Maluma
Another fast rising Latin music artist is Maluma. Maluma defines his music as "urban pop". In 2013, Maluma was nominated for the Latin Grammy Award for Best New Artist, and in 2017 he was nominated for the Top Latin Artist award at the Billboard Music Awards.
Here is one of Maluma's songs, which is titled "El Perdedor":
5. Romeo Santos
Another good genre of music to learn Spanish with is Bachata. What makes it great for learning Spanish is that tempo is usually somewhat slow, so the words tend to be spoken clearly.
Bachata is said to have originated in the Dominican Republic and it's one of the most popular genres of Latin music. Bachata grew in popularity in the 1990's, largely thanks to the romanticism that was incorporated into its music. Artists like Aventura and Prince Royce helped Bachata explode into mainstream popularity.
One of the most popular Bachata artists is Romeo Santos, who began his solo career in 2011. Romeo's popularity became undeniable after he sold out New York City's famous Madison Square Garden three nights in a row in 2012. In 2014, Romeo became the first Latin artist to headline at the Yankee Stadium, selling out an entire double-header show.
Romeo's second album album Formula, Vol. 2 was released in 2014 and became the best selling Latin album of the year. One of the songs from this album is called "7 dias".
Another one of Romeo's songs from this album features Drake! Drake even sings some lines in Spanish! The name of that song is "Odio".
6. Aventura
Before beginning his solo career, Romeo Santos was a songwriter and the lead singer for Aventura. One of Aventura's biggest hits is "Obsesion". The song was a huge hit, topping many international charts. For example, the song was number 1 for 16 weeks in Italy and for 7 weeks in France.
https://www.youtube.com/watch?v=03lGvtEqUx4
7. Prince Royce
Another popular Bachata artist is Prince Royce. His first album was released in 2010 and reached number-one on the US Billboard Latin Albums and Tropical Albums charts. The album also led to Royce receiving three awards at the Billboard Latin Music Awards in 2011.
One of Prince Royce's most popular songs is "Darte un beso". This song was released as a single in 2013, and it became an international hit for Prince Royce in the United States, Latin America and Spain. The song received three nominations including Song of the Year, Record of the Year, and Best Tropical Song at the Latin Grammy Awards of 2014.
8. Marc Anthony
Now moving on from Bachata, another popular genre for Latin Music is Salsa, and one of the biggest Salsa artists is Marc Anthony. He is a two-time Grammy Award winner and a five-time Latin Grammy Award winner. He has sold more than 12 million albums worldwide.
One of Marc's most popular songs is Vivir Mi Vida. Vivir Mi Vida is a nice feel-good song, and due to its repetitiveness and slow tempo, it's a great song for beginner Spanish learners!
9. Elvis Crespo
Another genre of Latin music is Merengue, and a popular Merengue artist is Elvis Crespo. Elvis is a Puerto Rican Grammy and Latin Grammy Award-winning artist. This genre, Merengue, was new to me, but a viewer on my channel asked me to post a video translation of one his songs, and I really liked his music! I especially liked Elvis Crespo's song "Tu sonrisa". It's a "pure" song about a guy who simply liked a girl's smile!
10. Daddy Yankee
"Reggaetón" is another popular genre of Spanish music. "Reggaetón" originated in Puerto Rico in the early 1990's. The genre went through a lot of controversy in its initial stages, but in the early 2000's, it made big strides in gaining popularity as it started getting discovered by international audiences.
Many fans of this genre believe the "King of Reggaetón" of Daddy Yankee. One of his most popular songs is "Gasolina", which was quite popular internationally so it's likely that you heard it before! The song was released in 2004 and helped this genre gain even more popularity.
Initially, Reggaetón had very explicit lyrics about topics such as drugs and violence. Nowadays, many Reggaetón songs avoid the parental advisory label. However, something to keep in mind is that many songs avoid the parental advisory label through their use of sexual innuendo and lyrics with double meanings.
Here is one of Daddy Yankee's clean songs – "Sígueme y Te Sigo", which means "Follow me and I'll follow you".
11. Nicky Jam
A popular Reggaetón artist who usually keep his lyrics clean is Nicky Jam. Nicky Jam is best known for hits such as "Travesuras", "El Perdón", "Hasta el Amanecer", and "El Amante". "El Perdón" is a song which features Enrique Iglesias. This song was huge hit and won several awards in 2016.
12. Ozuna
Lastly, we will finish off this list with a Puerto Rican artist known as Ozuna. Ozuna is widely regarded as one of the most successful reggaeton artists and Latin urban music artist. Ozuna is also credited for starting a new movement in the reggaeton scene and bringing popularity to the Latin trap genre.
I will leave you with a catchy song by Ozuna, which is called "Dile que tu me quieres".