Black Friday Deals — Even More Languages!
---
I've pulled in favours from the makers of some of the best language courses and learning tools around – including from less commonly taught languages like the ones below. And wow, did I shake hands on some amazing deals.
Here are the best of the best deals on language courses and resources that I've found for Black Friday 2022.
Most of the deals end on Monday, November 28th (and some end sooner!), so act fast!
Happy language learning, I hope you enjoy these deals!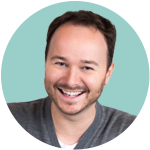 Benny Lewis
Founder and CEO, Fluent in 3 Months
---
Click the language you want to see deals for:
And don't forget (this works for any language!):
The Fluent in 3 Months Black Friday Collection 2022 – 90% off
Have Your First Conversation in a New Language after just 7 Days
Good for: Speaking, Rapid Language Learning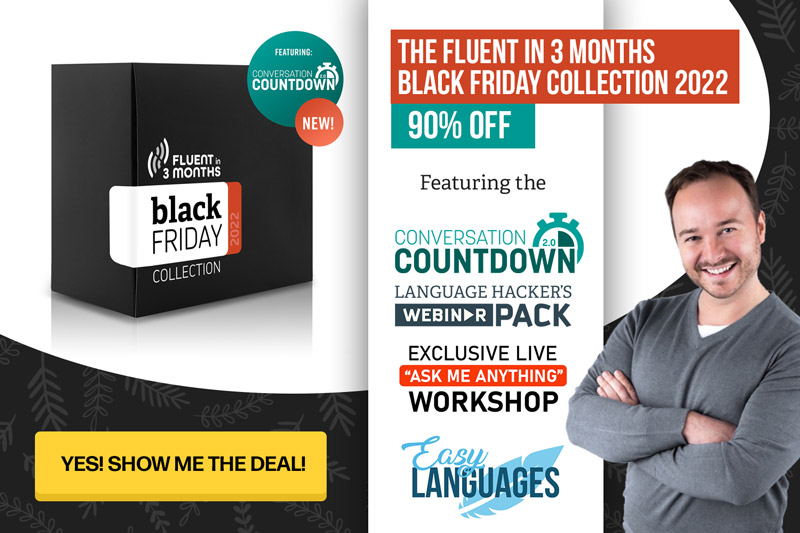 Get 90% off language hacking with the Fluent in 3 Months Black Friday Collection 2022.
The Fluent in 3 Months Black Friday Collection 2022 includes:
Conversation Countdown 2.0 (value: $197)
Have your first conversation in a new language after just 7 days with Conversation Countdown. You'll learn Benny's top language hacks for having your first conversation in another language, based on nearly two decades of experience learning languages and traveling the world.
Fluent in 3 Months 2022 Language Hacker's Webinar Pack ($470 value)
Get access to all of Benny's 2022 webinar teachings. These webinars are recordings of live teaching events – and cover a broad range of insights and techniques into Benny's language hacking methods.
Speak from Day 1 Video Course ($97 value)
A rare opportunity to join one of Benny's first ever language hacking programs, where you'll discover how you can start speaking a new language right from day 1.
Exclusive Live "Ask Me Anything" Workshop (value: $97)
Join Benny for this live event where I'll be taking questions from the audience on language learning, travel, life, and anything you want to ask me!
My Complete Easy Language Package (value $234)
A pack of 6 guides for hacking Spanish, French, German, Italian, English and Chinese.
Total value: $998
Black Friday Deal Price: $97
Yes – I Want 90% Off the Fluent in 3 Months Black Friday Collection.