4 language learning revelations from a Ms. World contestant
---
Karen who runs Immersia offers these words of encouragement – I love seeing the same realizations from such a wide range of people, and am happy to share hers with you today, especially since she has such an interesting and different background. Over to you Karen:
———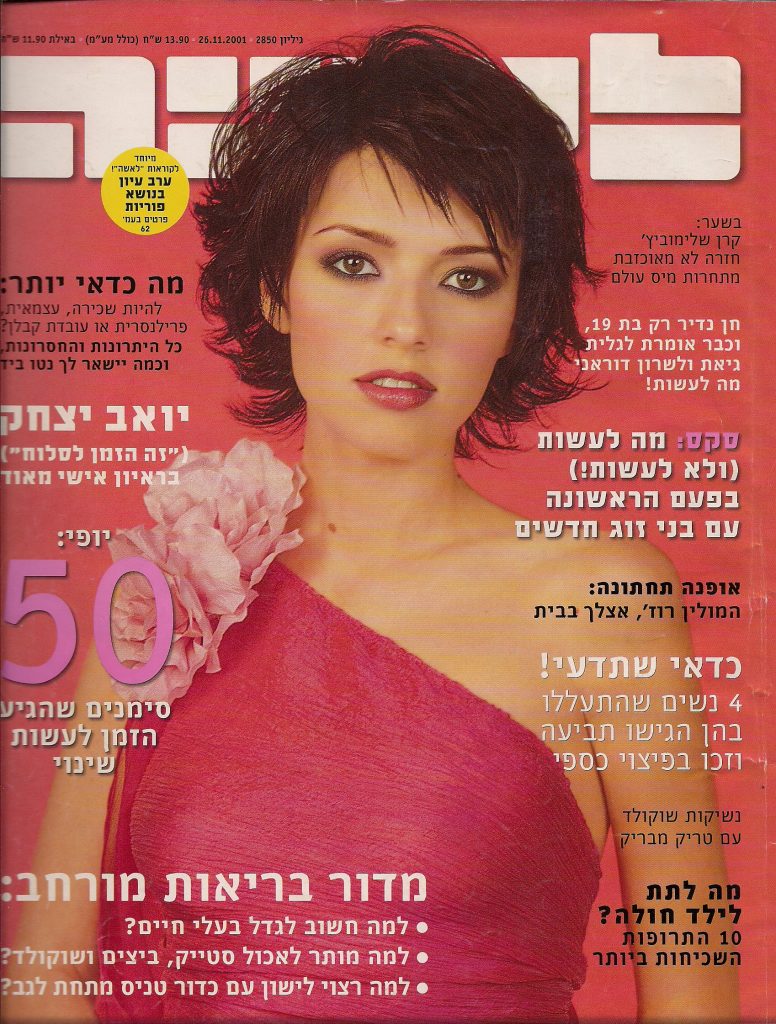 I was born in the Ukraine and my mother tongue is Russian. In school I learned German for 5 years. When I was 15 I immigrated to Israel, and learned Hebrew in an "Ulpan" (a speed-course for learning Hebrew).  In my twenties I travelled the world and learned English. I also learned some French, mostly because I love the way it sounds.
A few years ago I was a contestant in the Miss World pageant. The morning before "the big night", all the girls were preparing and we started talking. Everybody talked about what they did the night before, and when they asked me how my night was and if I was nervous, I told them that I was actually feeling quite relaxed, and in my then broken English explained it was all thanks to "being faxed by my boyfriend" the night before (which, with my pronunciation could have been mistaken for something else entirely…). Needless to say they were all quite shocked, and we laughed about it the entire weekend.
If there is one thing I have learned about languages, it's this: You have to experience a language to really get it. We remember stories way better than we remember flashcards.
As I said, I "learned" German (the flashcard way) for 5 years, from 4th to 8th grade, and I was a pretty good student too! I always got straight 5's (the maximum grade in the Ukrainian grading system. We stole it from the Russians). But when I try to think back and remember the German I learned, all that comes to mind is – Ich heiße Karen; Straße; and "Houston, wir haben ein Problem!", from a German version of Apollo 13 I saw once.
Revelation number 1: We remember things we like and that makes us laugh
I guess the main reason for this is that we only really remember neutral facts when we have to,whereas fun learning moments we enjoy coming back to every now and then.
When I got to Israel, I stayed in a boarding school for a while, with other Russian speakers. We studied Hebrew in an Ulpan, but spoke Russian with one another. As I said, I was a pretty hard working student. I spent hours on end reading to myself out loud from a book, preparing for the oral exams we had every week. We learned a lot of Hebrew grammatical rules (and believe me, there's quite a few of those!), but even after spending months there, I could hardly speak a word.
It was only one Passover, when an Israeli family took me in for the holidays (thanks, Roza!), that I started talking for the first time. None of the family members knew any English, and the little Russian one of them remembered was more entertaining than informative. I had to speak Hebrew, so I did. Slowly at first, but gaining confidence quickly, I left their house a week later a whole other person. No more "davai" for me (a wonderful Russian word, used as alright, let's go, or give it here). From now on, it's only "yalla, yalla!"
Revelation number 2: We remember out of necessity
You can go live abroad for years, but if you live, work and hang out with people who speak the same language as you, you'll never have to speak the local tongue. Unfortunately, language learning is a road best travelled alone.
As I said before, we remember emotional events much better. But it doesn't only happen with fun light-hearted moments. We also remember fear and frustration. I once spent an hour in a supermarket in Michigan trying to find "Adashim", a form of legume that I couldn't recall the English translation of.
I think my exact words were "I'm looking for a small, bean-like food". I wanted to make them for dinner, but I couldn't for the life of me remember what they were called in English (this was BSE – before the smartphone era). It was only after 15 minutes of playing a guessing game with one of the saleswomen (Black beans? Peas? Chickpeas? Alfalfa?!) that I found what I was looking for – lentils. I'll never forget that word for as long as I live.
Revelation number 3: Every moment you feel frustrated – a memory is formed
Use this to your advantage. And after a while, it will probably also become a funny story, and we're back at revelation number 1.
A few years later, I had a modeling gig in Paris. My host showed me around and we got to talking, in English, of course. The show was in a new and beautiful ecological building – it wasn't painted, just raw concrete with a lot of Vegetation on the walls. I told my host that I liked it, and he replied that he did too, although he would have painted the… the… oh, sorry, he forgot the word in English, but in French it's "béton". I started laughing, and he didn't understand why. Guess what the Hebrew word for concrete is…
Revelation number 4: You probably know more than you think
There are thousands of English words of French origin, and they still sound similar enough. And even if you're learning Japanese, Hindi, or Swahili, I'm sure you picked up more than you think you did.
They say that the 100 most common words in any language make up 50% of any text, written or spoken. Doesn't that sound more reasonable than "learning a new language"?
I spent more than my share of time in language classes. I studied German in school, Hebrew in an Ulpan, English in evening classes and French at the embassy. At the end of the day, I came out of those knowing barely anything more than I knew going into them. I enjoy languages, and I'm sure you do too, or you wouldn't be reading this. My advice is this – don't rely solely on teachers and classes. When you want to really learn a language, make sure it's an adventure. Give yourself moments when you have to speak the language, and speak the language you will.
———-
Today Karen is using her language learning experiences as an entrepreneur. She co-founded Immersia, an online adventure game for learning languages. Play a new language at Immersia's website or go to its Facebook page for more posts, updates or just to say hello.