Clozemaster Review: Retro Language Learning for 50+ Languages
---
What is Clozemaster?
Clozemaster is a retro-themed, gamified app that teaches you vocabulary in the context of real sentences. It's available as an app for smartphones and tablets, and as an online website.
what it's for:

Vocabulary, sentence structure, grammar, listening practice

---

languages:

Spanish, French, German, Korean, Japanese, Italian, Chinese (Mandarin), Arabic, Russian, Portuguese, Dutch, Turkish, Polish, Hebrew, Swedish, Tagalog, Thai, Hungarian, Czech, Cantonese, Norwegian, Irish, Esperanto, Vietnamese, Persian, Greek, Hindi, Finnish, Catalan, Danish, Scottish, Serbian, Croatian, Bulgarian, Indonesian, Slovak, Ukrainian, Latin, Afrikaans, Icelandic, Welsh, Lithuanian, Latvian, Galician, Slovenian, Interlingue, Albanian, Belarusian, Lojban, Bengali

---

level:

Upper Beginner - Advanced
+ PROS
Wide variety of languages, including less-taught ones on the Internet

Learn new words through context

Any combination of languages is possible (e.g. learn Russian through Croatian)

Easy to use in any spare moment

No pressure to learn grammar rules

Fun gifs and inspirational pop-ups after level ups
- CONS
Tricky for complete beginners

Speaking practice feature needs improvement

Absence of a review screen for learned phrases 

Occasional typos
Most people take an approach to learning new words in another language that, frankly, I find weird. It doesn't work well for me, anyway.
I should say I've learned 10+ languages to a conversational level. Not to boast, but to show I know what I'm talking about.
And this weird way of learning new words? It's not really the fault of language learners. We're all taught it at school.
We take lists of words, memorize them (often out of context because we learn them from lists or flashcard sets). Then we try to throw them back into context when it comes to using them in real conversations, or when we're listening or reading.
When that happens, the words feel strange and out of place. That's if we even recognize them!
All this leaves many people feeling "I'm just not good at languages" when that's not true. It's the way languages are taught that's the problem.
There is a better way: learn new words in context. That way, you get a sense for how the words are used in the real world. Plus you're more easily able to use the words yourself.
If you're thinking "What about the Clozemaster review?" I will get to Clozemaster in a moment. Promise!
It's just that this stuff matters, and is relevant to this review. So let me explain a little more about what I mean…
How Word Lists Make Languages Confusing
Let's take the word "free", for instance. If you were learning the word "free" from a list of French words, the translation you'd see is likely gratuit. So you think, "got it, gratuit means 'free'."
Then you try to put it into context. "C'est gratuit" or "it's free" — yup, that makes sense. But what about if someone asks you if you're free to hang out on Saturday? Oui, je suis gratuit, you say. "Yes, I'm free" Oh non. In French, that kind of free isn't the same word. It's disponible or even libre depending on the exact context.
This is why learning new vocabulary in context is so valuable. You'll learn how words are actually used in the real world.
So what's a language learner to do? Enter Clozemaster!
Clozemaster Review: What is Clozemaster?
Clozemaster is a retro-themed, gamified app that teaches you vocabulary through cloze. It's available as an app for smartphones and tablets, and as an online website.
You're probably wondering "what's cloze"?
Essentially, it's fill-the-blank.
It's easiest if I show you an example. Here's what a cloze test might look like if you were learning English:
The ___ is chasing the ball.
Then you'd have a choice of words to fill the blank, maybe "dog", "donut", "car", and "drink".
In this case, you've probably worked out that the correct answer is "dog". In short, that's cloze.
Why are cloze tests a good way of learning? Some smart person who contributed to Wikipedia explains it:
Cloze tests require the ability to understand context and vocabulary in order to identify the correct words or type of words that belong in the deleted passages of a text.
In other words, cloze means you learn vocabulary through context. And I've found that's the most effective way to learn new words, because it makes it easier for me to recall those words, and use them in real-world situations.
How Does Clozemaster Work?
Clozemaster pulls tons of sentences and translations from Tatoeba, a huge database of sentences that are designed for language learners. Then, it blanks out the least common word in the sentence. And it's up to you to work it out.
Here's how it looks (see what I mean about the retro theme?):
Using Clozemaster is free and you don't even need to sign up to play. But, if you'd like your progress saved, then you can sign up for a free account.
You can also pay to upgrade to a Clozemaster Pro account. This gives you access to advanced features such as:
The option to Create Collections. Whenever there's a sentence you want to revisit, you can add it to a collection. This means you can go back to sentence structures you'd like to cement in your memory. Basically, you choose where to focus your energy.
Grammar Challenges. These let you focus on a specific concept through a group of sentences. I find it really useful to get a natural feel for how grammar works, rather than feeling like I need to learn grammar rules.
Pro Groupings let you focus on a specific area of the language, such as verbs, adjectives, prepositions or numbers.
Cloze Listening. Instead of reading sentences to work out the context, you can listen to a sentence so you can work out the missing word.
Pro also gives you more in-depth stats on your learning so you can see what you need to work on most. You also get the ability to set your own goals and ways of playing.
I recommend trying out Clozemaster for yourself and seeing if you like it. If it's a good fit for you, then a Clozemaster Pro account will make it even more effective. It's very good value and gives you access to all Clozemaster languages.
Getting Started with Clozemaster
You can start using Clozemaster without signing up. All you need to do is visit their website (or download their app) to get started.
If you prefer to save your progress and get basic stats on how you're doing, then there are just two simple, free steps you need to complete:
Complete the signup form
Confirm your email address
From the website homepage, click on the "sign up" button. You're taken to the signup form where you select a username, enter your email and then create a password. Verify that you're over 16, accept the terms of use, and click "sign up."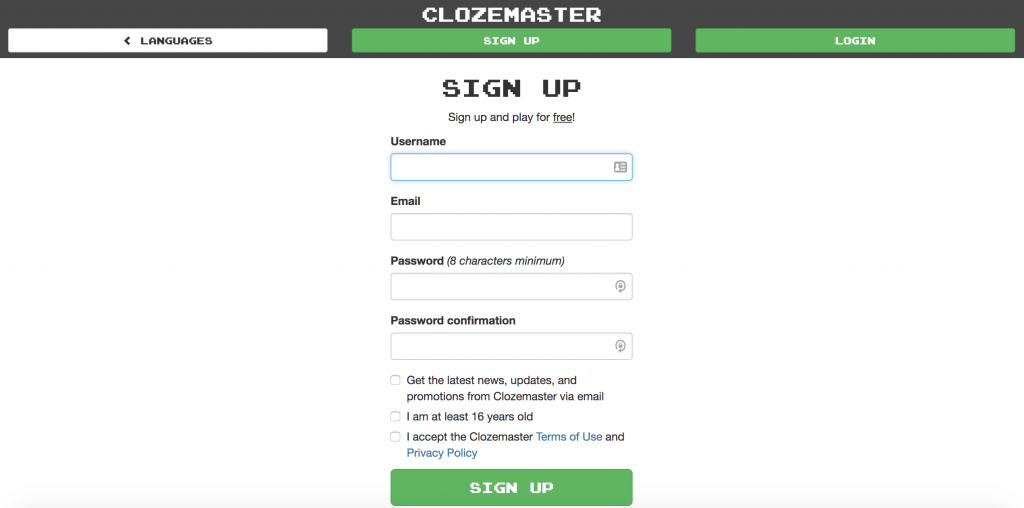 You'll get a confirmation email (check your spam folder if you don't see it in your inbox). Click the link provided in the email and your account is confirmed. That's it, you're in!
From there, you can select which language you'd like to learn.
One of the really cool things about Clozemaster is the number of languages available. It offers an impressive range of languages (and language combinations), many of which aren't covered by other popular language learning platforms. You can choose languages like Breton, Welsh, Croatian, Amharic, Estonian, Guarani, Yiddish or even Piedmontese as well as the more common choices like French, Spanish, Italian, or Mandarin.
Certain languages have "groups" of sentences you can study. For example, there's a list of sentences in Mandarin to help you pass the HSK test. And many languages have what's called a Fluency Fast Track.
You can also use the speaking practice tool to check your pronunciation.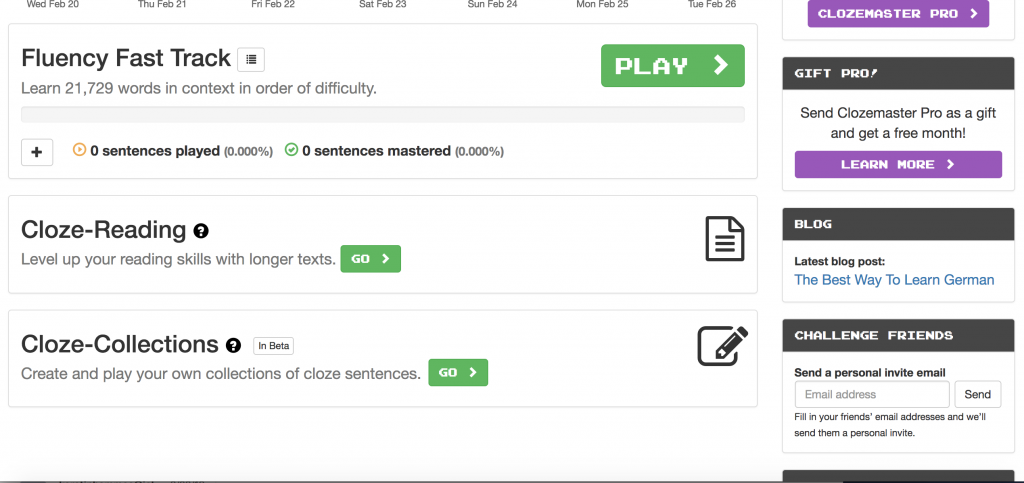 The sentences you practice are randomly selected, but you can favorite specific sentences for additional practice or review where you'll see all the sentences that you studied in the past that are due for review. When you choose to review, you're shown sentences you've already learned via spaced-repetition. These intervals are determined by how often you correctly answer, with the spacing increasing with each correct answer.
My Experience Using Clozemaster: The Good
Before writing this Clozemaster review, I used Clozemaster on a regular basis for more than a year. I love using Clozemaster because they offer so many of the languages I'm learning. This includes languages I often have trouble finding resources for such as Breton and Croatian. I also like that I can practice the languages and learn new words through context. Figuring out vocabulary as a part of a sentence rather than on its own creates more connections with the material you're learning, making it more memorable.
Plus, you can study the languages they offer through any language you know, so if I want to study Russian through Croatian or Korean through Japanese, I can. This means I can strengthen one of my stronger languages while improving a newer language, basically getting double the reward for the time I spend studying.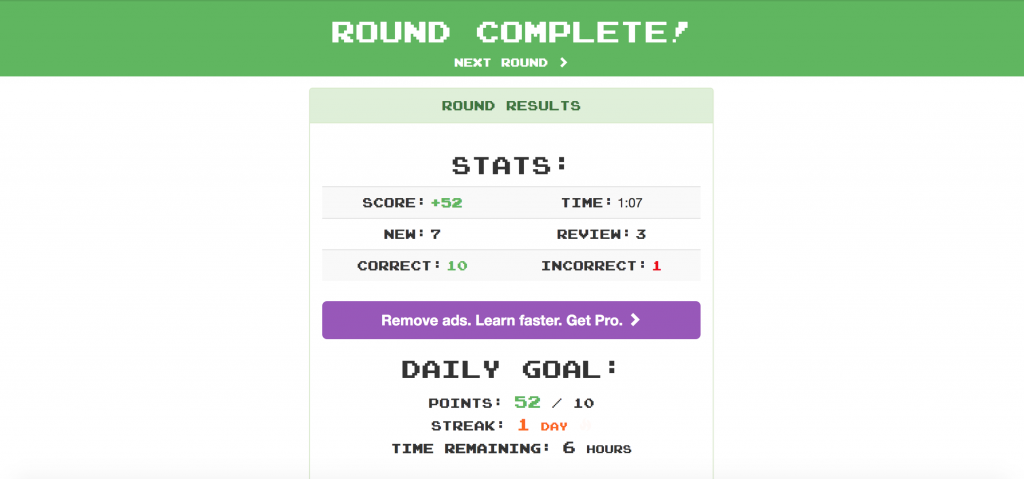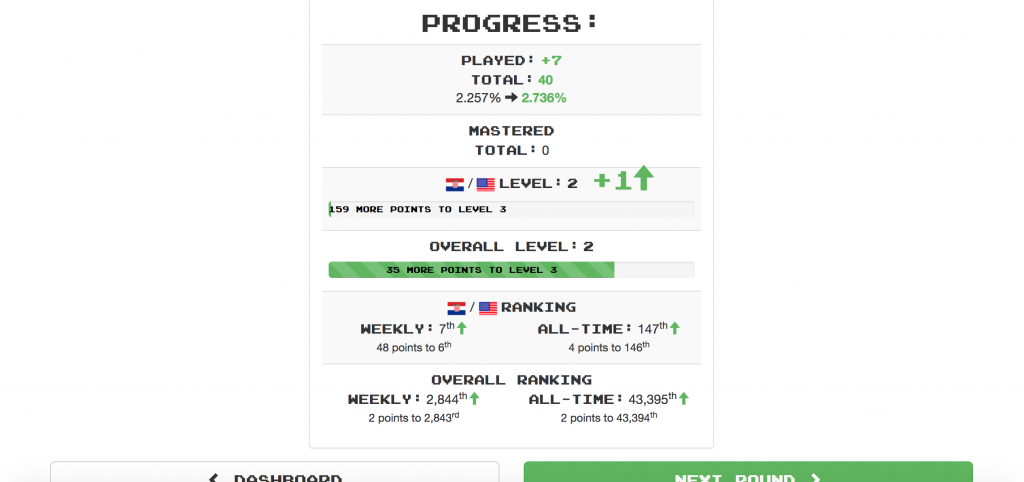 I found that just a couple of rounds of Clozemaster each day for the languages I was focused on helped me keep contact with them in an enjoyable way. I could squeeze it in before bed, while I had a few minutes of downtime, or even during the commercial breaks if I was watching something on TV.
One of the best things about Clozemaster is that you don't have grammar rules hovering over your shoulder. Instead, you get to see how grammar works in a more natural setting. You can intuit how grammar functions rather than have to memorize a set of rules. Plus, as you level up, you're treated to fun gifs and inspirational pop-ups.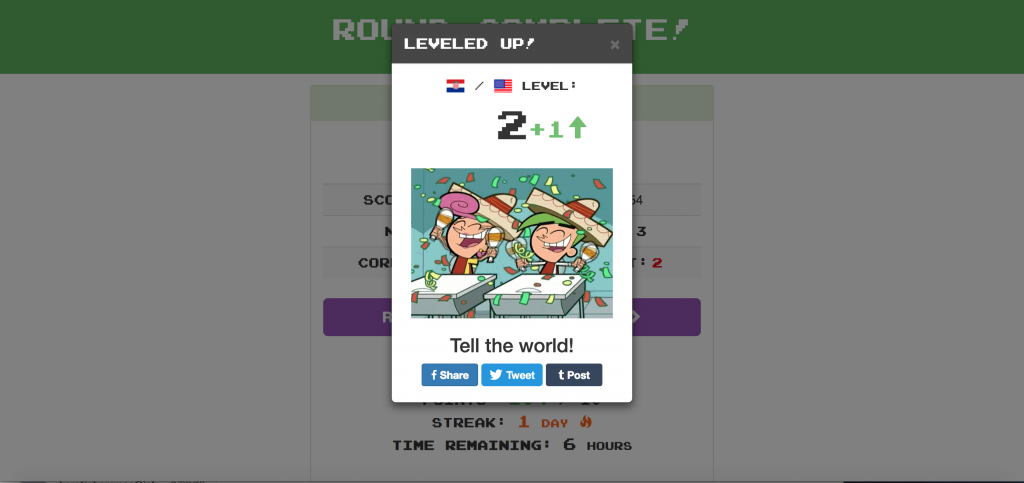 My Experience Using Clozemaster: What Could Be Better
If you're completely new to a language, you might have trouble using Clozemaster. Some of the sentences can be complex, and even if they're just two words, you may not be able to determine the answer if you don't yet have an entry point to the language. Even with decent experience in Croatian, I struggled with some of the sentences if I wasn't familiar with the missing word.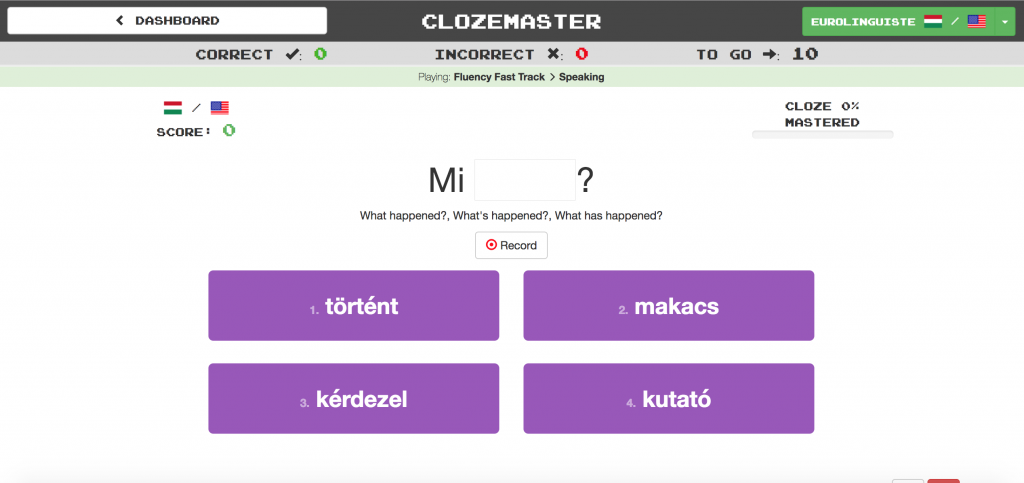 I also found the record/speaking practice feature didn't work as intended. I tried to use it for Hungarian and it didn't seem to transcribe what I was saying accurately. For example, when saying the word történt ("happened"), it transcribed "tracker" or "thirty" and when saying nos ("well"), I got "nav", "north", and "nas" but not nos. This was a little troublesome, so I ended up not using this feature, choosing to study the vocabulary without the speaking practice.
I think that the learner's experience using Clozemaster could greatly benefit from a review screen at the end of each session where they can copy and paste the sentences they learned into their notes or elsewhere. Or even just see the phrases they learned again. Unless you remember to favorite sentences you find useful, there's no way to see the words or sentences you worked on after you complete a session.
Finally, because the sentences are from Tatoeba, a crowd-sourced platform, there are sometimes errors. You're able to report them within the app, but this means that you'd need to be at a level where you'd notice the errors otherwise you may learn an incorrect phrase without realizing it. If you're putting what you're learning to use with a tutor or exchange partner, however, these mistakes won't have the chance to fossilize because you'll get helpful feedback and corrections before that happens.
One other criticism I've heard about Clozemaster is that the sentences aren't always particularly formal. I actually see this as an advantage, because it teaches you how you're most likely to use the language.
Clozemaster Review: Final Thoughts
Will I continue to use Clozemaster? Absolutely. It's one of the few resources that offers Croatian and Breton and I love that I get more context for the vocabulary I'm learning. Plus, I get to pick up useful expressions and sentences along the way.
It's a great addition to some of the other resources I'm using, and it offers an engaging way to improve many of the languages I'm learning. Of course, it won't teach you a language on its own — no single language learning resource can do this. But if you use Clozemaster regularly, you'll certainly learn lots of useful material in your new language.
The monthly and annual subscription options to Clozemaster Pro is very reasonable and it gives you more variation in how you can study with Clozemaster.
It's free to use the basic version, so if you're thinking of joining Pro I recommend you try it out and see if it's a good fit for you.
I hope you've found this Clozemaster review helpful. Let me know what you think in the comments!