German Uncovered Review — Honest, In-Depth Review on "StoryLearning" German [With Video]
---
What is German Uncovered?
German Uncovered in an online StoryLearning course from polyglots Olly Richards and Kerstin Cable that promises to transform you from a complete beginner to an intermediate German speaker.
what it's for:

Getting started, vocabulary, pronunciation, staying excited about German

---

languages:

German

---

level:

Beginner - lower intermediate
+ PROS
Structured to get you immediate success

Progress reports monitor how you're getting on

Chatbox option to engage with tutors

Grab-and-go handouts to embed learning

Easy to follow grammar explanations

Free 7-day trial so you can test it for yourself

Learn with the magic of story
- CONS
Not for intermediate and advanced German speakers
I decided to learn German for my upcoming trip to Baden Baden and Salzburg. As most of you know, that trip didn't happen due to That-Which-Must-Not-Be-Named (ok, I'll say it once, COVID-19). But my three-month German mission did offer me other opportunities.
"Happiness can be found, even in the darkest of times, if one only remembers to turn on the light." – Albus Dumbledore (AKA J.K. Rowling)
Like a kid in Honeydukes, I had a chance to try out German Uncovered and it was certainly a treat. It's an online course for people who long for an efficient and engaging way to learn German.
In this article, I'll explain the magic of German Uncovered. I'll give an overview, a detailed look at the bonus material and I've also included a discussion with another learner. More on that in a moment. Time to grab your broom and fly into the review!
How did German Uncovered stand up? Let's begin by sharing how it works:
German Uncovered Review: What Is German Uncovered?
German Uncovered in an online course that transforms you from a complete beginner in German to an intermediate German learner. The course's intricate structure is perfect as a main resource. I'll share about why that is in a bit.
Olly Richards and Kerstin Cable, who created the course together, call the segments "chapters" because the course is built around a story. But the word chapter doesn't do each segment justice.
Each Segment of German Uncovered Includes a:
Chapter of Olly's story written completely in German with an English translation
Audio file of the chapter read by a native speaker
Video lesson on cognates and how to work with them
Discussion area where you can ask questions, receive answers and learn from others
Video lesson focusing on the vocabulary in that chapter
Another discussion area for vocabulary questions
Printable workbook with vocabulary exercises and additional course material
Video lesson explaining key grammar concepts
Third discussion area for grammar – I'm sensing a theme!
Workbook with grammar exercises and additional grammar explanations
Practice document to share with your language exchange partner or tutor
Video lesson on pronunciation with a native speaker
Discussion area for pronunciation help
Chapter quiz to measure your progress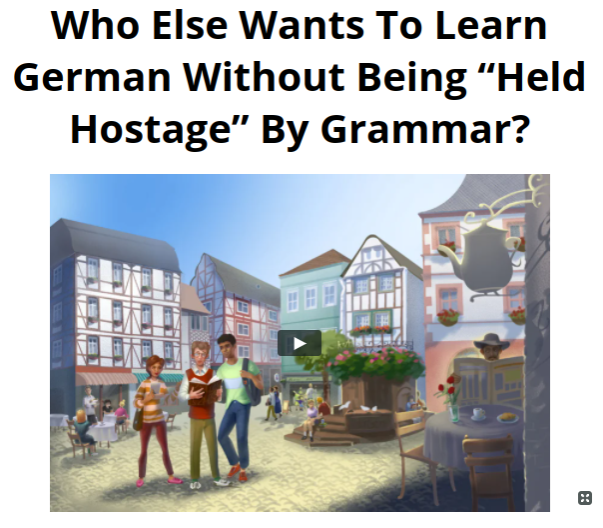 What Wizards Created This German Uncovered Course?
Kerstin Cable and Olly Richards are the mystical sages who conjured up German Uncovered.
My favorite language podcaster, Kerstin, is the primary course tutor alongside Olly. Another student quipped that Kerstin's soothing voice makes German grammar relaxing. I couldn't agree more.
Kerstin has a supernatural way of making language learning accessible to the masses. It's one of the reasons I'm such a huge fan of her podcast, The Fluent Show. She's thoughtful, down-to-earth, and smart. That's exactly the type of teacher you need when learning German.
A native German speaker, she began learning English at age 10. When I first heard her speak, I assumed she was a native English speaker. Her vocabulary is better than mine!
She recently added Mandarin to her growing list of languages she's studied. Her roll call includes English, French, Italian, Latin, Russian, Spanish, and Welsch.
While Olly speaks nine languages, he didn't start learning languages until he was 19. Now, he speaks English, French, Italian, German, Portuguese, Japanese, Arabic, Cantonese, and German.
Olly's a busy language dude. He's authored over 20 books and is a talented musician! We could add music to his roster of languages.
Guess what? If they can learn languages, so can you! With German Uncovered, they show you all their non-muggle polyglot short-cuts.
How I Tested German Uncovered Before Writing This Review
Before diving into this course, I spent over a year with its sister course, Spanish Uncovered. Don't worry. You can get through this course faster than that. I enjoy taking my time.
Take a look at my article reviewing the Spanish version. In it, I share videos of where I started and where I landed after 90 days of using this product. Spanish Uncovered was my main squeeze during my first year of learning Spanish.
For this review, I committed to 5 hours of using German Uncovered. During that time I tried all the available features. I was curious to see if there were vast differences between German Uncovered and my beloved Spanish Uncovered.
To my delight, the structure of the course stayed the same. German Uncovered focuses on six areas of learning:
Building a strong foundation in your target language
Developing your vocabulary
Learning how to recognize and utilize cognates
Understanding essential grammar points
Improving your pronunciation
Establishing a routine for learning German
German Uncovered is quite versatile. It's possible to use this course on your own. The course also works as a blueprint when working with a tutor or language exchange partner.
In this video, you'll be able to sit in on a discussion of what Suzanne, a Fi3M Community Coach and I thought of this course:
There are currently five languages available in this course series: German, French, Spanish (review here), Japanese and Italian.
German Uncovered: Bonus Material
This biggest surprise was the amount of bonus material in this course. Kerstin and Olly outdid themselves. Here's what you'll encounter.
Welcome Party
The dynamic duo hosted a live Q&A about learning German through German Uncovered. In the video, you'll hear them answer questions from students like you. Lots of insider tips are offered. It's definitely worth a listen. They give great explanations of how best to work through the course.
Little Black Book of German Tutors
In this section, the creators share a number of vetted tutors. This will save you precious time. You can skip the hours it takes to sort through hundreds of profiles. Try one of the recommended tutors for free.
That's right. If you mention German Uncovered, the tutor will give you a free trial lesson. Each tutor on the list understands the German Uncovered method. They can create lesson plans that fit your personal schedule.
Demystifying German Dialects
Language nerds, this is for you! This video is a compelling discussion about the dialects of Germany. Much like listening in on a conversation between Professor McGonagall and Professor Lupin. I especially like when they compared German and Spanish.
The German Golden 100
I'm not a big fan of high frequency word lists. Flashcards are not a part of my language routine. Yet, Kerstin's top 100 words seemed like a nice place to start.
I wrote them out in my German journal and refer to them when I get stuck in lessons. If I can't remember the word for "but" aber or "and" und it's waiting for me on this list. It sort of takes the edge off when beginning as an absolute newbie.
As with all the other sections, be sure to take a peek at the comments. You'll find answers to questions you might also have. It's like having access to your own personal polyglot.
German Travel Secrets Workshop
This was my favorite of the bonus materials. A person who is learning German for a trip will find this workshop indispensable. Kerstin walks you through the essentials of traveling in Germany. This is the perfect lecture when you need to boost your motivation with travel daydreams.
What did I think of German Uncovered?
Here's Why I Recommend German Uncovered
I have to admit, I'm biased. I've used Spanish Uncovered before trying the German version. My Spanish skyrocketed with the help of that course. If I were to continue studying German, there's no doubt in my mind that I would use German Uncovered.
In the five short hours that I used the course, my understanding of German grew exponentially. Those hours flew by because the content was engaging. Drats. I might have to continue learning German just to finish that course.
I'm under the Uncovered German Permanent Sticking Charm!!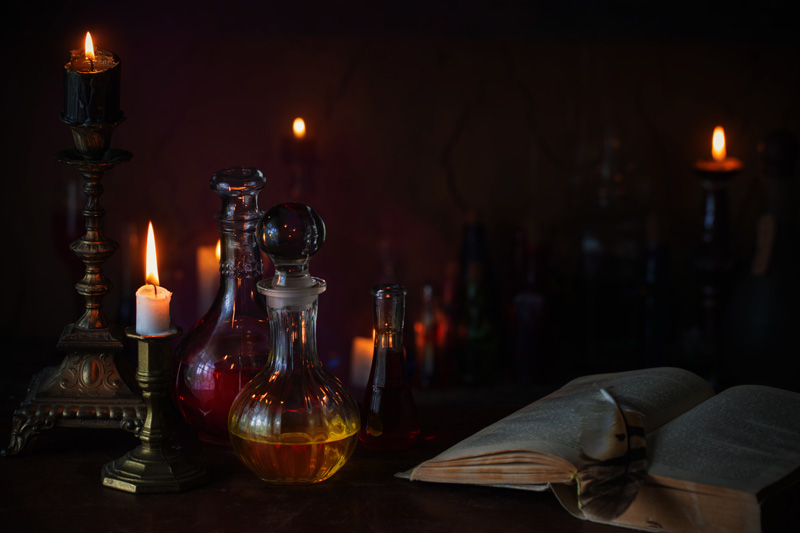 The grammar and vocabulary exercises immersed me into the world of Deutsch — "German". It was easy to start an exercise and lose myself in the fun of learning. That's a rare occurrence for most of us these days. It was a lovely break from the realities of lockdown.
Kerstin's concise lectures made the daunting task of understanding German manageable. Coming from no-German-ever, I was relieved to hear her explain the grammar. This helped me tremendously when I wanted to read German in my leisure time.
I used the German Uncovered chapters much the same way that I did with Spanish Uncovered.
I downloaded the audio of each chapter onto my phone. I combined my daily routine with listening practice. While stretching after a run or cooking, I listened to each chapter repeatedly. I then read through each chapter.
After my listening sessions, I would sit down and follow along with the cognate lecture. It was helpful to have a pen and my German notebook with me during this time. The lectures are numerous but not overwhelming. Most are around 20 minutes which is the perfect time for information digestion.
I've listened to every single episode of The Fluent Show. So I am very familiar with Kerstin's public speaking style. What I didn't know was that her teaching style is as top notch as her podcast persona. She must have trained at Hogwarts!
If someone held a wand to my head, I would pick German Uncovered over Transfiguration class. Now, that's saying something!
Seriously though, I don't think there's a better story-driven German course on the market. You'll walk away with more information in this course than you would in a university language class.
German Uncovered Review: What I Liked
There are the top three aspects of German Uncovered:
1. German Uncovered is Structured to Get You Immediate Success
This course walks you through the acquisition path of a polyglot. You learn like the magical wizards of languages learn. No guessing necessary. Much of what you learn can be recycled for your third and fourth languages. Olly and Kerstin teach you how to learn a language with ease.
Not only does the program walk you through the path of a polyglot, they also check in with you from time to time. There's a progress report and chat boxes for communicating with your tutors.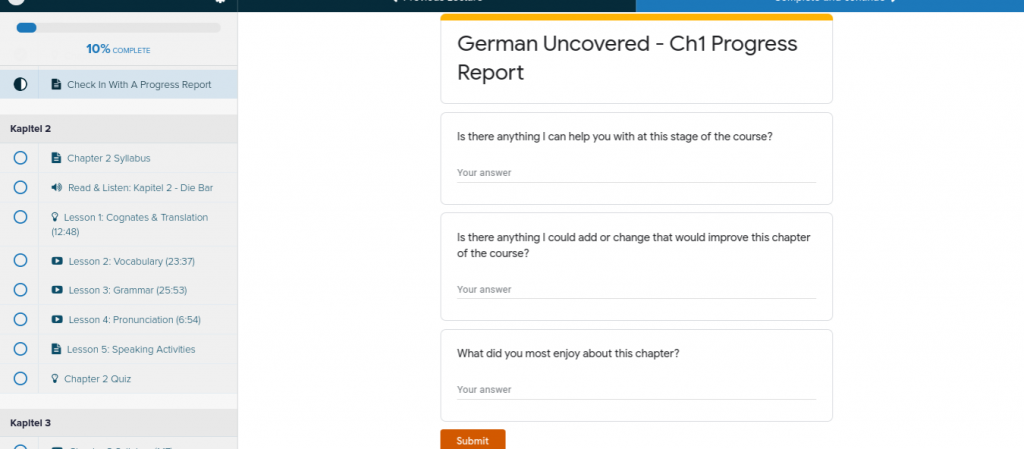 I appreciate knowing there are experts available to help me along the way.
The patterns that Kerstin shows us are helpful for long-term understanding. Before her lectures, I didn't notice the connection between the English letter D and the German letter T.
Once she pointed it out, I cannot unsee it. Insta-learning! My favorite kind of sorcery.
2. German Uncovered Has The Best Teaching Team
I hope that Olly and Kerstin team up for an intermediate-advanced German course. Their two different teaching styles complement each other. You can clearly see that each of them offer their secret tips and techniques for making German a part of your life.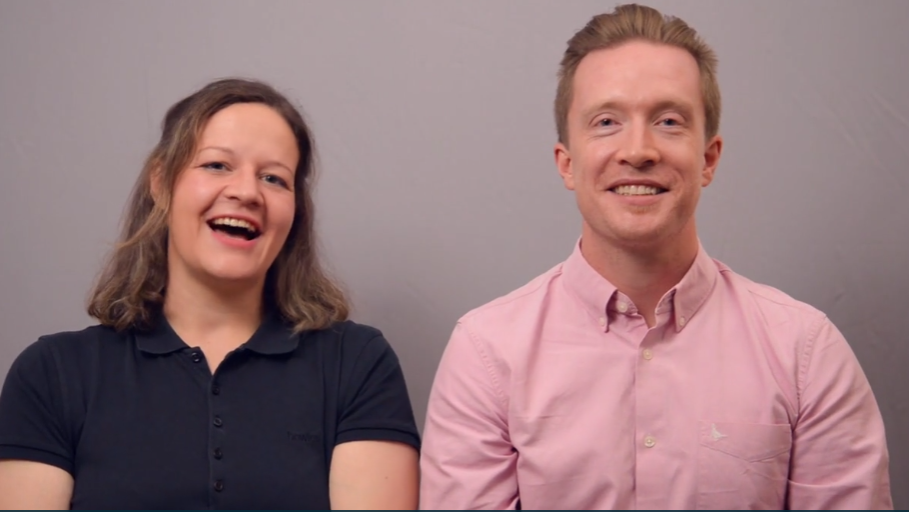 3. Grab and Go Handouts for Your Tutor or Language Exchange Partner
I can't say enough good things about the Grab and Go handouts. Each chapter offers a PDF file that you can share with your teacher or language exchange partner. Dedicated tutors will ask you what you'd like to work on for each lesson. Who has time to figure that out?
With German Uncovered, you don't need to plan for your lessons. Simply share the document for the chapter you have studied. Your tutor can take it from there. It really takes the pressure off of deciding what to discuss.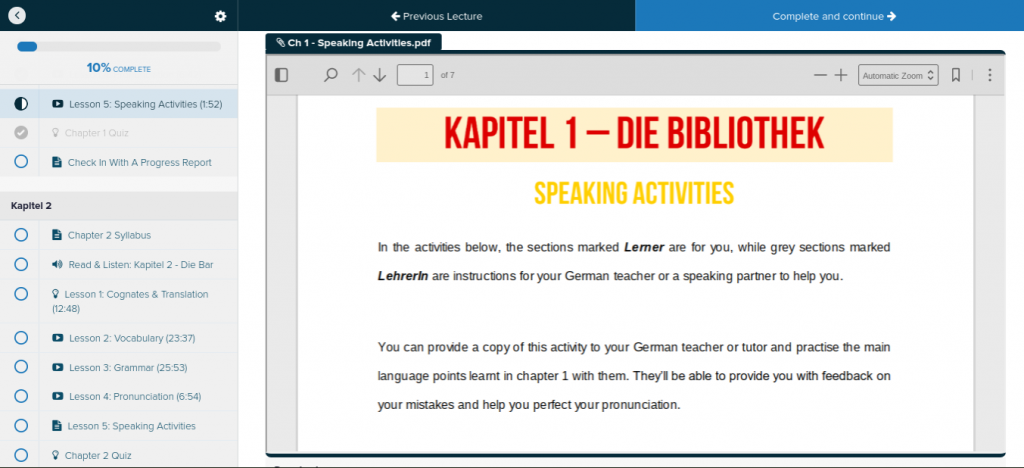 German Uncovered: What's Not So Hot?
This course is the closest thing to perfect that I've found. So, finding a negative aspect is hard.
If pressed, I would say the option of ordering a printed version of the workbook exercises would be nice. I used my printer at times. Other times, I wrote out my answers in my notebook. Another work around would be to send the documents to a copy store and have them print and bind it for you.
I've yet to find a spell that can print and bind books but maybe I haven't spent enough time in the restricted section.
What's the Score for German Uncovered?
I give German Uncovered 150 points for catching the Golden Snitch. I would love to see this course available in public schools around the world. Muggles everywhere would finally become fluent in German.
German Uncovered: One Last Look
I completed my five hour commitment of German Uncovered. To be honest, I would love to continue with the course. If only there were more hours in the day! I could deepen my Spanish, continue with German and start Italian Uncovered.
If you'd like a thorough understanding of German, this is a great course. If you'd like to peer inside the minds of two multilinguals, here's your chance. If you're looking for a secret tunnel to Hogsmeade village, you'll need to talk to the Weasley twins.
Try out German Uncovered, there's no better time than now.