GermanPod101 Review – 25 Hours with GermanPod101
---
What is GermanPod101?
GermanPod101 is a library of audio and video lessons, flashcards, word lists, tutors that's part of a series with over 500 million downloads. Following GermanPod101 courses will take you from beginner to advanced level.
what it's for:

Listening, speaking, learning vocabulary

---

languages:

German

---

level:

Beginner - Advanced
+ PROS
Lots of content! Hundreds of German lessons at all levels

In-depth lesson notes explain how German works

Tutoring options help build confidence

There are lessons on a wide choice of topics, so you can focus on what you want to learn

Listen to real conversations between German native speakers 

Free 7-day trial so you can test it for yourself

Options for every budget
- CONS
There's so much choice it can be difficult to work out where to start
GermanPod 101 Review summary: I found GermanPod101 to be an excellent German course, as long as it's used in the right way. Read on, and I'll show you exactly how I used GermanPod101 to learn conversational German in 90 days.
Introduction
GermanPod101 is one of the many online language courses Innovative Languages offers. In this review, I'll detail what this course provides and how to get the most out of your time spent using this resource.
I used GermanPod101 as my main resource for learning German over a period of 90 days, and I kept video updates along the way.
Scroll down to see my German Day 0 video and my German Day 90 video. I've even made a walk-through video on how I used GermanPod101.
Now it wasn't a foregone conclusion that I would enjoy using GermanPod101, or that I would find it useful.
I tried FrenchPod101 a few years ago, and while I liked the course, it didn't quite work for me.
Coming back to use GermanPod101, and having a lot of success with it, I realized I had previously used Pod101 incorrectly.
With GermanPod101 I felt like Dorothy from the Wizard of Oz. FrenchPod101 was in "black and white" (this is because of how I used it, not because of the course).
GermanPod101 was my technicolor experience of the wonderful land of Pod101 and the German language. In this article, I'll explain how to get the most bang for your buck. We want you going straight to technicolor.
In short, I found GermanPod101 to be an excellent course, as long as it's used in the right way. And I'll show you exactly how to use it in this article.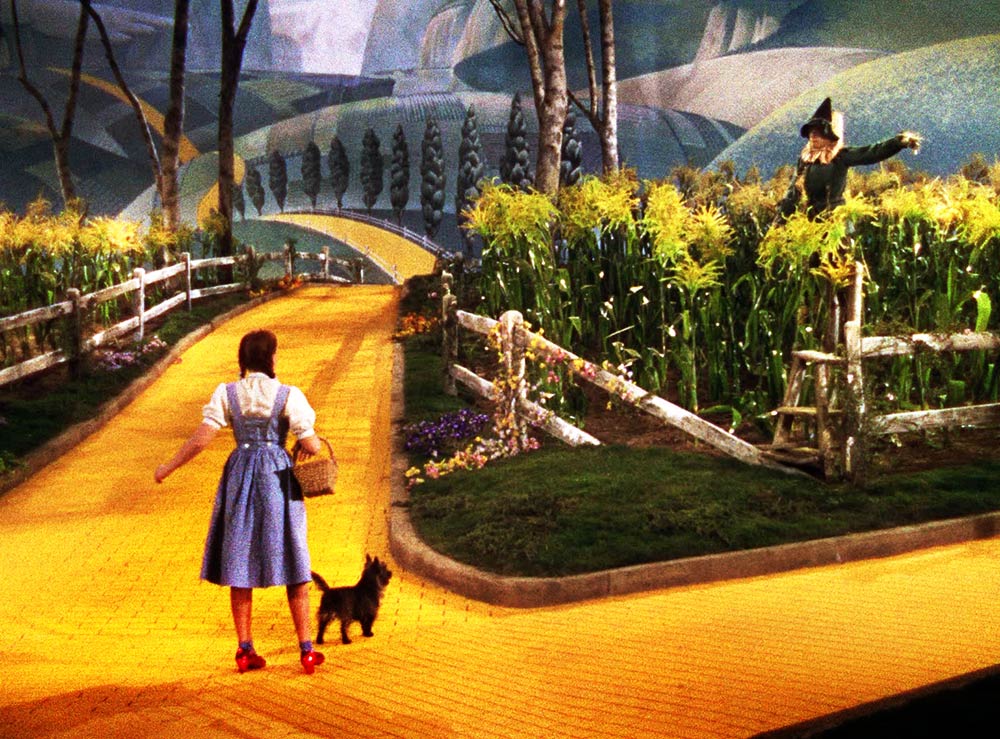 GermanPod101 Review: What Is German Pod101?
GermanPod101 a series of online courses that take you from beginner to advanced level. It's not just one course. It's hundreds of lesson tracks. Each one has a different theme.
I found the three-minute German lessons to be one of my favorites.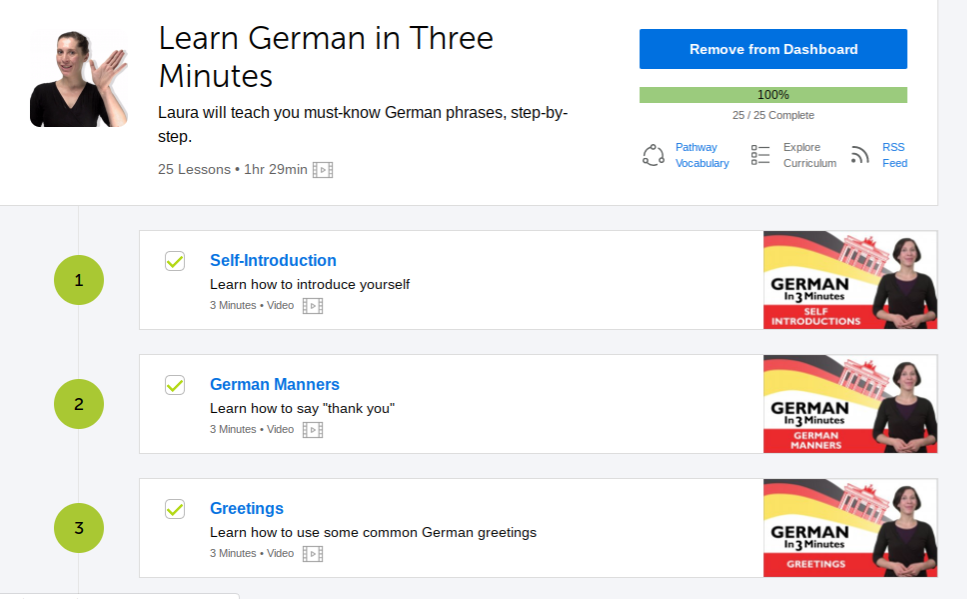 Inside GermanPod101, you'll find a number of essentials. There are four options for studying with GermanPod101 ranging from free (yes, free!) to Premium Plus (the "ruby slippers" version). Here are some of the tools you can choose:
Concise audio and video lessons
Spaced repetition flashcards (spaced repetition is one of the most effective ways to learn, though flashcards aren't usually my favorite. More on that later)
Numerous word lists for specific themes and even seasons
Slowed down audio options and line-by-line audio and transcripts
Practice-and-compare voice recordings
Personalized guidance from your own instructor
Individually assigned program from your tutor
Weekly assignments to keep your learning on track
Voice recording conversation and feedback from a native speaking tutor
Interactive lesson quizzes
German audio dictionary
Ongoing professional assessment
Assignments
Word of the day emails – my favorite free tool from this company
My Spontaneous German Mission
I decided to have a three-month fling with German. My husband and I planned a trip to Austria. What started as a fun experience to get excited about our trip turned into full-on lockdown (Coronavirus is the new Wicked Witch!).
I decided to learn German on a whim, and GermanPod101 made it easy and accessible.
A bit about me. I'm Elizabeth, a language learning enthusiast. In the past three years, I have learned French and Spanish to varying degrees. So, was hard for me to resist a chance to dabble in a fourth language. When I told my boss that I was learning German, he scratched his head.
Boss: Aren't you learning Spanish? Me/Language Addict: Yes but I'm traveling to Austria this summer. I thought it would be fun to take a stab at German. Boss/Enabler: Would you like to try GermanPod101 and write about how it works for you? Me/Language Addict: Absolutely!
Flash forward to three weeks in…
Husband: What are your plans tonight? Me: I'm up for chillaxing with you. Husband: Ohhh. What do you have in mind? Me: Well, reviewing German grammar is a great way to mellow out. Husband: What have you done with my wife?!
It's true. I was never much of a grammar nerd but GermanPod101 made it easy and accessible. Enough about my relaxation techniques. Let's get into the review.
Here's What a Typical GermanPod101 Lesson Includes:
There's so much available through this course that it's hard to fit everything into this article. So, let's start by listing what each lesson includes. Then I will walk you through how I studied with this course and the progress I made.
Audio and/or Video Lesson: This is where one or two native speakers explain important key concepts of German. Often, the two speakers act out a dialogue as it would be spoken in everyday life. Next, they break the vocabulary down for pronunciation practice. Then, they explain essential grammar points. Finally, they wrap up with the dialogue once more. This way, you can see how much German you learned.
In-Depth Lesson Notes: The notes discuss grammar points further. There are also lesson transcripts available. As a visual learner, I found this quite helpful.
Line-by-Line Audio Dialogue: This section is offered at the top of the notes section. This is for those that would like to listen to just the dialogue a few times while reading what's being said. This is helpful for building your listening skills.
How I Tested GermanPod101 Before Writing This Review
I used GermanPod101 solely on my laptop but it is available on Android, iPhone, or iPad. With FrenchPod101, I used the course more like a podcast for my commutes. That was certainly useful but I recommend using it on both your phone and laptop. Sitting down with a dry erase board and a little focus made a huge difference.
I planned to use GermanPod101 for 10 hours to prepare for this review and ended up hitting 25 hours (and counting).
I committed to 10 hours of using GermanPod101. During that time I tried out all the available features. I ended up using it more than I had expected. According to GermanPod101's dashboard, I studied 25 hours with the course. I completed 68 lessons and reviewed 1441 flashcards.
Having statistical information at your fingertips can be quite motivating. The dashboard acts as a mirror to how well you're doing. It's useful to give yourself a weekly goal. With the dashboard tally, you can easily keep track of your progress.
Over 1400 Flashcard Reviewed!
That's saying a lot as I abhor flashcards. Being the good girl from Kansas (not from Kansas but sticking with the Oz theme), I kept an open mind. I found GermanPod101 flashcards less nauseating than other flashcards I've used. Both electronic and paper-based.
Making flashcards was a cinch. I would simply click on the words I found necessary in the lesson. The wizard then created a batch specifically for me. There were multiple word lists that you could use
It's easy to create flashcards that focus on the German words that you want to learn, and that you think you'll use when you start speaking German.
I chose a restaurant vocabulary list. As my wise co-worker suggested, I did not study all the vocab. Instead, I made sure to delete any words I didn't see myself using actively in the coming three months.
There are functional lists like "ways to say thank you." There are also a few fun lists like Star Wars vocabulary. The "top ten questions you should know for conversations" list seems like a great one, too.
GermanPod101 as a Main Resource
GermanPod101 was my main resource for my German mission. I made a goal to study one lesson per week. I ended up doing more than that because the lessons were engaging. German seemed not only possible but fun!
GermanPod101 touches on the four pillars of language learning:
Listening to German natives speaking as normal speed
Reading dialogue conversations as well as word/phrase flashcards
Speaking to your personal tutor via voice messages and receiving spoken feedback from them
Writing to your personal tutor and obtaining supportive corrections
You can work through all the lesson tracks by yourself. To make the most out of GermanPod101, be sure to combine it with a weekly lesson or conversation. A tutor or language exchange partner will complement this course.
Sharing voice messages with your GermanPod101 tutor is an easy way to get speaking practice without the pressure of a conversation.
The voice messages with your personal tutor is a great way to start practicing speaking without the pressure of a face to face conversation. Once you are ready to take the plunge, develop a relationship with a native speaker.
The Innovative Languages courses are currently 34 languages available. One language buddy told me she uses the Pod101 courses for their lesser learned languages like Hungarian. I list all 34 at the bottom of this article along with links to visit them.
GermanPod101: My Level of German at the Start
Because GermanPod101 was my main resource, the videos of my progress have a lot to do with this course. Here's where I was when I first started German.
My level of German was that of a novice when I started. In the video above, you can clearly see that. I knew maybe four words. It was if I had stepped right out of Auntie Em's house. Unlike Spanish and French where I was familiar with their cognates, German was a new land.
So, what did I do? I followed the Yellow Brick Road (also known as the beginner lesson track.)
What did I think of GermanPod101?
GermanPod101 Is an Excellent Main Resource
As I mentioned before, I was elated to learn German for three months. My rocky relationship with FrenchPod101 made me wary of GermanPod101. But now, I recommend using the Pod101 course on your cell but make that a supplement.
If you want to use GermanPod101 on your cellphone, I recommend you download only your five most recent lessons. Listen to them during your commute, in the school pick-up line, or during your exercise routine is a fabulous way to fit more German into your daily routine. One friend listens to SpanishPod101 in the shower.
Hey, whatever works!
Now that I've given GermanPod101 a solid try, I can see how even a brainless scarecrow could learn German. All you need is a little c-c-c-courage to try it out. (Two Oz references in one paragraph. I am on a roll!)
The best news? Compared to many other language courses out there, GermanPod101 is easy on the pocketbook. I mean, you can't beat free. The plans range in price.
Free is, well, free
Basic is $4 per month
Premium is $10 per month
Premium Plus is $23 per month
Here's a glimpse at some of what is offered in each plan.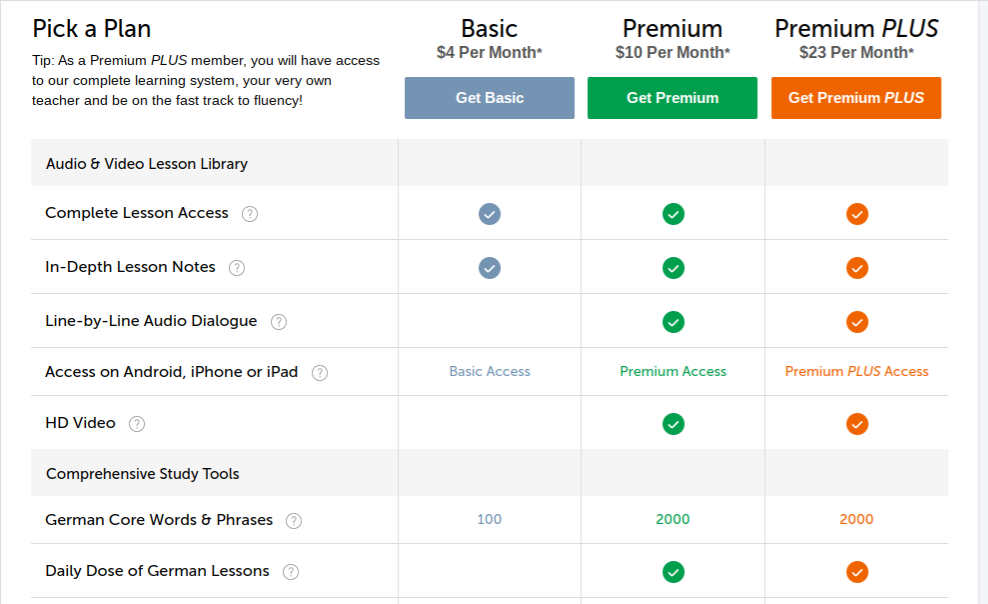 GermanPod101 Review: What I Loved
Three positive things stand out.
1. Low-Pressure Tutoring Is Great for First-time Learners
I am not shy. I don't care how silly I sound when I try out words. A lot of times, my tutors and I have a laugh at my hilarious mistakes. Even so, I do get nervous when speaking my target language.
Many of the language students I coach in the Fluent in 3 Months Challenge are more reluctant. They quiver at the thought of speaking in their target language. The option to speak with a tutor via voice messages is a great way to start speaking.
It reduces the friction as James Clear explains in his book Atomic Habits. You start by leaving simple messages. As your confidence grows, you begin to have interesting exchanges with your GermanPod101 tutor.
I enjoyed my voicemail conversations with my tutor. It was encouraging to see a notification telling me that my tutor left me a message. I couldn't believe someone could understand the strange new sounds coming out of my mouth.
2. GermanPod101's Customer Service Is Exceptional
I've heard this from more than one person and it's true. The customer service at Innovative Languages goes above and beyond. I remember having trouble uploading an episode to my phone while using FrenchPod101. The customer service representative was prompt, friendly, and efficient.
The customer service at GermanPod101 is excellent.
With a background in customer service, this makes my heart sing. A nice person on the other end of the line is delightful. Innovative Languages does everything it can to keep its customers happy.
3. The Variety of Lessons Is Unparalleled
The amount of material available in GermanPod101 is unbelievable. If you use GermanPod101 regularly, you will be speaking German in no time. It happened for me.
Here's a video showing my progress after 90 days:
GermanPod101: What I Didn't Like
The amount of information offered in the GermanPod101 is amazing and overwhelming. With my history of not fully utilizing FrenchPod101, I realize that I missed out.
It takes a little while to find your way around and can be difficult to work out where to start.
Currently, you have to scroll to the bottom of the page and click "First Steps" under Help Center. This is hard to find. I'd like to see a bright button at the top of the page that says something like, "Start Here!" This would help students who are unsure of what to do.
Three clear student tracks laid out at the top of the page would be valuable. A list of suggested tasks – low key learning, medium level learning, and hard-core learning.
Here's Exactly How I Used GermanPod101
To be sure you don't miss out on the essential stuff, I made a video. It's about how I used GermanPod101 to learn German in three months. At the end of my mission, I was able to have a 15-minute conversation completely in German. I show you exactly how I used this course to obtain my goal. For now, you can use this video as a road map.
How Do I Rate GermanPod101?
As Dorothy would say, "There's no place like GermanPod101." While you can't just click your heels together and be fluent in German, GermanPod101 is very much like Glinda, the Good Witch. It helps you find the magic you had all along.
I give GermanPod101 4.5 stars overall. 5 stars as an affordable main resource for beginners and intermediate learners. 4.5 stars for varied and useful material. 4 stars for the ease-of-use. (I took off half a star to account for the detailed instructions I'd like to see.)
GermanPod101: Final Thoughts
After 25 hours with GermanPod101, I feel confident in recommending it to other students.
My German tutor was amazed at the quick progress I made with GermanPod101.
One of my favorite memories of using this course was when I had my first lesson with a German tutor (this was a private tutor, not from GermanPod101). She was amazed that I already had a handle on German word order. This was after only one week of learning German with GermanPod101. It's always fun to dazzle a native speaker.
Who knows! This course might be a perfect fit for you. The Wizard of GermanPod101 will get you speaking in no time. And the cost is reasonable. So, why not give it a try?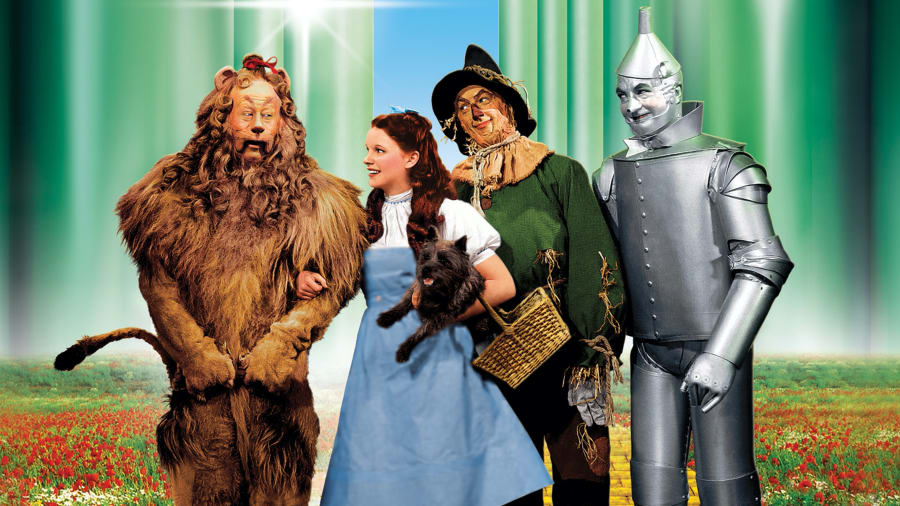 After all, it's Toto approved!
Most popular languages:
Other languages in alphabetic order: