Rapid Learner Review: An In-Depth Look at Scott H. Young's Rapid Learner Program
---
What is Rapid Learner?
Rapid Learner is a six week research-based course that teaches you faster and smarter ways to tackle any learning challenge.
what it's for:

Learning any skill faster

---

languages:

n/a

---

level:

Beginner - Advanced
+ PROS
Well-structured course with progress table

Teaches you how to retain what you've learned for a lifetime

Supplementary lessons included with in-depth explanations

Lifelong value. Can be re-used to master different skills

Bonus interviews embed learning
- CONS
Minor technical issues with course videos

Worksheets focus on reflection rather than action

Facebook community could be more active
I first discovered Scott H. Young's work several years ago when he shared a post on his blog about how to overcome plateaus. At the time, I was experiencing a significant plateau in music and I was desperate for advice to help me work through it. Scott's article gave me the inspiration I needed to break through — and I went from being a pretty average saxophone player to a professional musician that performs on songs in the US Billboard Charts.
My ability went from this:
To this:
Since that time, I've been endlessly impressed by Scott's projects – his MIT Challenge to complete a 4-year MIT degree program in one year, his Year Without English, and most recently, his Rapid Learner course.
At face value, it seemed like the ideal course for me. I graduated from university a few years ago, but that doesn't mean that my education has ended. I'm always looking for new opportunities to become a better learner, and Scott's course gave me the chance to do it.
For this review, I completed the Rapid Learner program, and applied the concepts to both my language learning and professional projects. In a moment I'll share what I found, but first let's take a look at what's inside Rapid Learner.
What is Rapid Learner?
Rapid Learner is a six week course that teaches you how to tackle any learning challenge through a combination of video lessons and tasks to complete. It's combines extensive research and Scott H. Young's personal experience completing a variety of learning challenges into a comprehensive resource on becoming a more efficient and effective learner.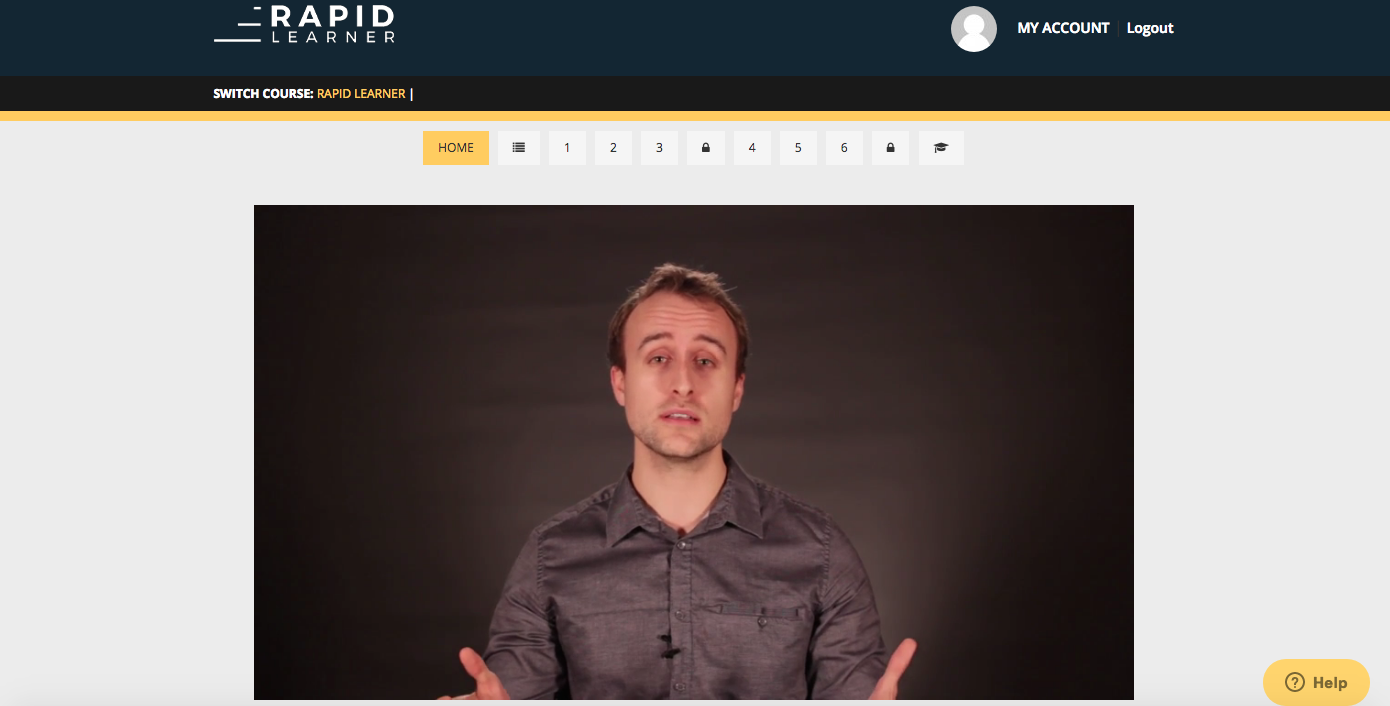 Getting Started with Rapid Learner
Getting started with Rapid Learner is simple. Once you've signed up for the course, you are able to access your dashboard. There, Scott outlines what the course will cover, the first steps you need to take, what is required of you as a student of the course, and a video walkthrough. Scott also provides his top five tips for succeeding in the course, a progress table so you can keep track of which module you're on, and contact information in case you have any questions about the coruse.
The six modules are split into two phases. The first is the CORE phase. This is where you focus on building a project, improving your productivity, and practice (or implementation). It's all about building a strong foundation for your study skills before moving on to more complex strategies in the second section, the ADVANCED phase.
In the ADVANCED phase, you have the opportunity to wrap your head around more in-depth learning skills, including how to remember things more easily, and how to retain what you've learned for a lifetime.
The course isn't self-paced. Instead, you're given a week to work through the material in each module before the next becomes available. In order to move from the CORE phase to the ADVANCED, you're required to pass through a checkpoint. If you don't, the second half of the course remains locked. The checkpoint is a short survey with questions that give you the opportunity to evaluate how well you've instilled the ideas shared with you in the first half of the course and share any opportunities you've had to use them.
Each of the modules contains:
The primary video (each is anywhere from 10-20 minutes)
A summary of the module
A downloadable PDF worksheet
A homework assignment
Several supplementary video lessons
Transcripts in English and Spanish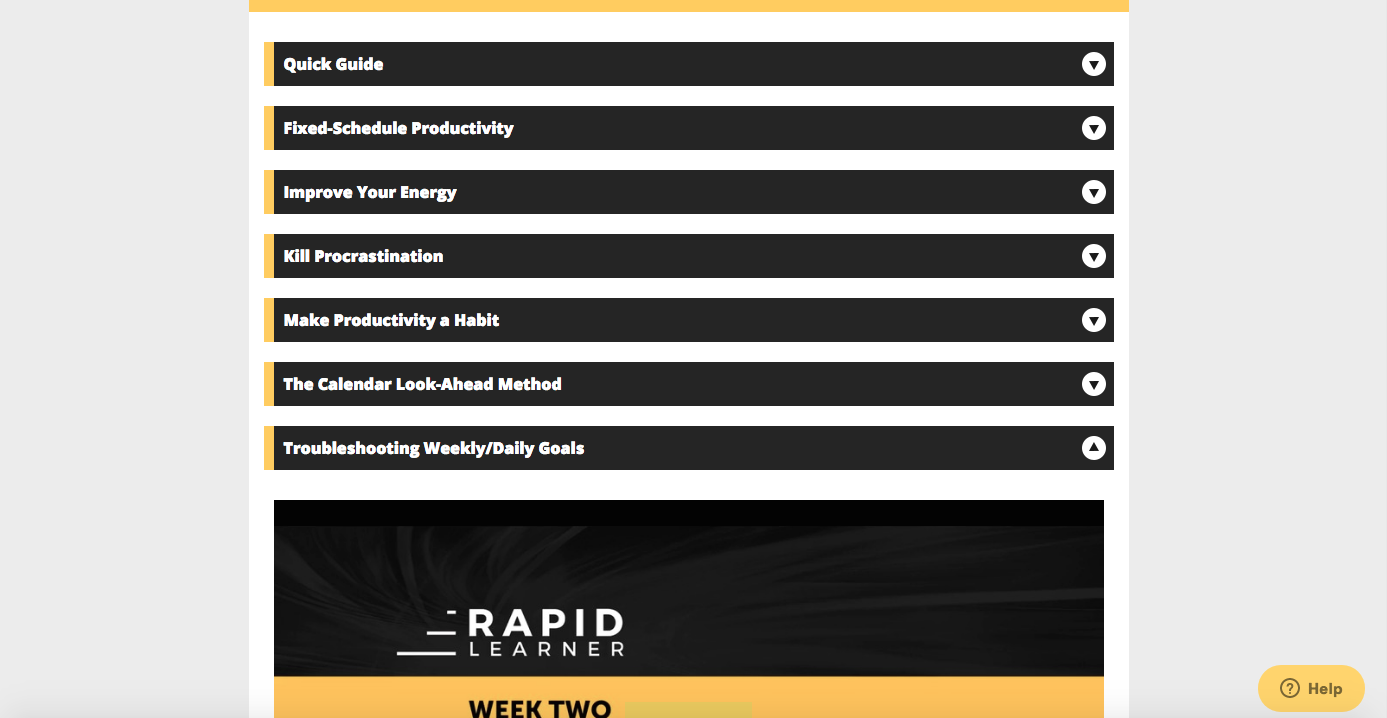 For this review, I worked through each of the modules, completing the homework assignments and checkpoints. It was an intense undertaking – it really pushes you outside of your comfort zone – but an important one and I gained a lot for it.
Can You Really Become a Better Learner with Rapid Learner?
The Rapid Learner course is set up so that you have access to one new module per week over the six weeks of the course. The intensity of the course is similar to many college courses, so it's more than enough material to keep you busy.
I absolutely recommend working through the supplementary lessons included as a part of each module. I often got as much – if not more – out of the material there as I did from the core lesson, particularly because they offered much more in-depth explanations and examples on the material.
To evaluate the course, I decided to work through it twice – once with a language learning goal in mind and once more a few months later with a professional learning goal in mind.
On each pass through the course, I took away a lot. There is so much content made available to you as a part of each module. As I worked through it a second time, I found that I picked up on things that I missed the first time around. Not by any flaw in the material or the way it was presented, but because I had become a better, more focused learner since my first project. It was also due to the nature of working on a different kind of project. In approaching the modules with a different end goal in mind, different information stood out to me. In my experience, this proves that the value of the course isn't just as something that you work through once and then set aside, but as a long-term hub that you can return to as you set out to understand and master different skills or information.
Rapid Learner Review: What's Good?
I am both passionate about and actively involved in academia, so I found a lot of value in Scott's course. It often feels like a lot of programs are too focused on how to teach something and less importance is placed on how to learn something and Scott's course offers you a chance to reverse that. And the best part is learning how to become a better learner isn't specific to just one aspect of your life, like language learning. But it's a skill that you can take and recycle in other areas that you're interested in.
As an independent learner, you're often out on your own and it can be easy to doubt that you're on the right path. And sometimes it's not about learning new things or how to do what you're doing better, but about having what you're already doing validated by an outside source that reaffirms you're heading in the right direction. I learned a lot of new things in Rapid Learner, but for me personally, the value was in gaining the confidence that I am doing the right things when I study.
In addition to the main course content, I really enjoyed the bonus interviews, particularly the one with Cal Newport. In it, Scott and Cal chat about what sets apart top students from their peers, and I found a lot of value in the discussion. There were a number of ideas I took away on how I could improve my study strategies. The most important of these – active recall – strongly aligns with the Fluent in 3 Months approach. It's all about application and taking action so that you get the most out of the time that you spend learning.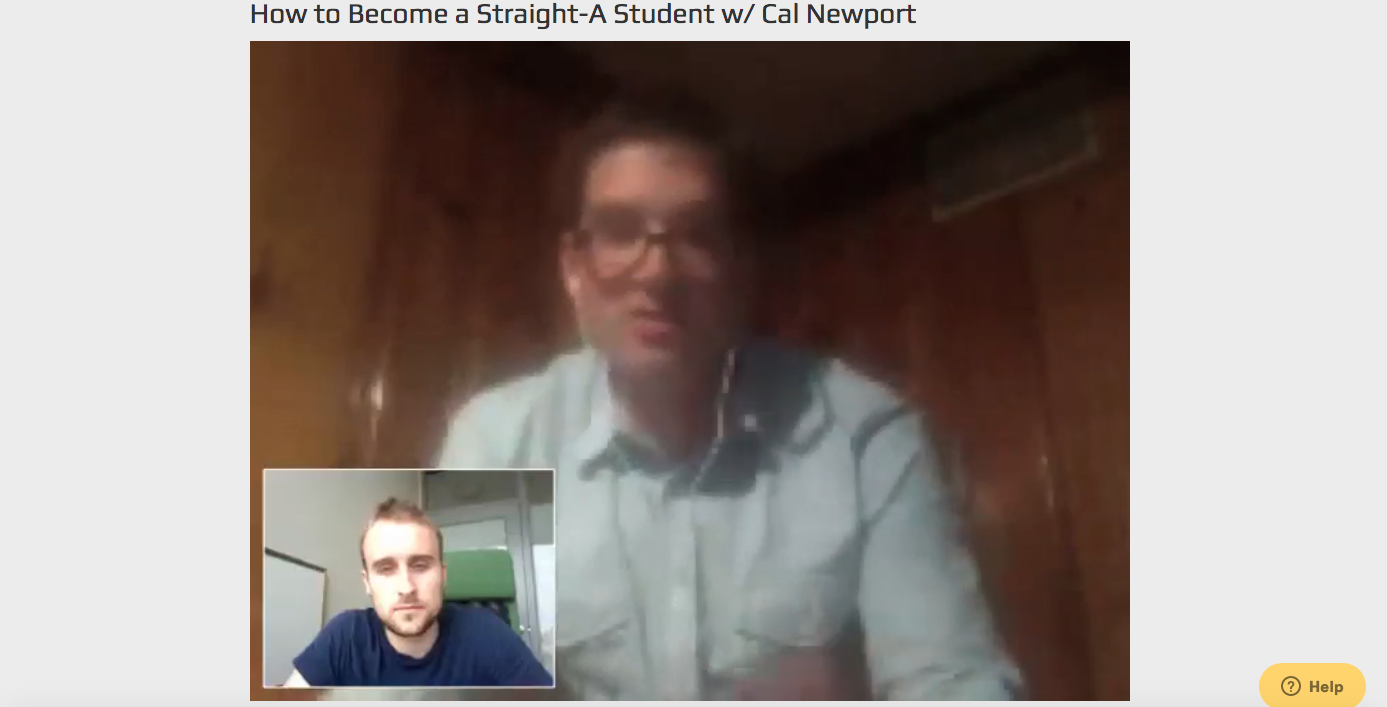 The flexibility you have when working through the course is another great feature. If you aren't able to park yourself in front of the computer to work through the material, you can download the video lessons, the audio only, or the transcripts and study on the go. The worksheets are also downloadable.
Rapid Learner: What Could Be Better?
Most of what I felt could have been improved were just little things that have nothing to do with the actual content of the course, but its design. For example, the main lesson video is a pop-up. That meant that if I accidentally clicked somewhere outside of the video, it closed and I lost my place in the lecture. This happened surprising often as I tabbed over to my notes and then back to the course. It was a little frustrating because the lectures were long, but this could easily be fixed by making the video a part of the main page.
The big thing for me was that the worksheets are geared towards reflection rather than action. Initially, I found them helpful. In the first worksheet, you're asked to pick one specific learning project. You're given the opportunity to brainstorm and write out all the different things you'd like to work on, but ultimately, you need to whittle it down to one. After the first worksheet, however, I found they didn't fit my learning goals, and I decided to focus on completing the homework assignments my own way to put what I had learned into practice.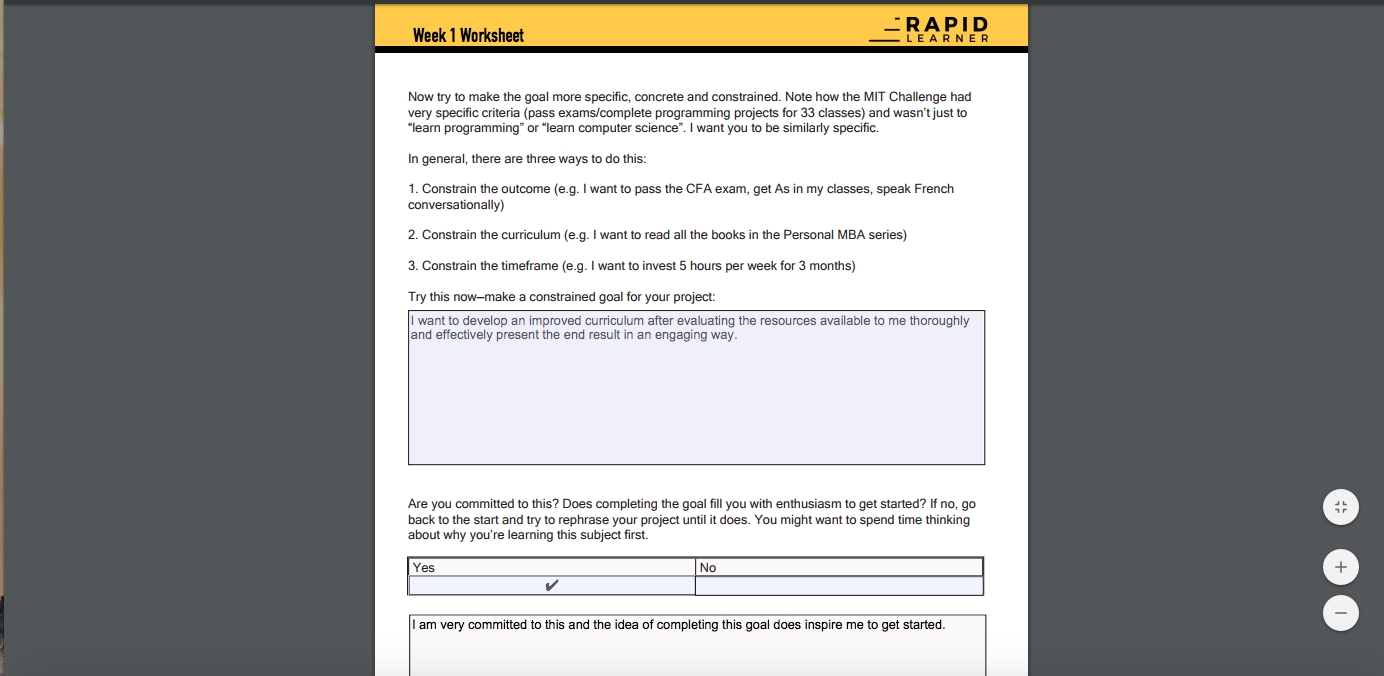 If you need accountability to help you get through Rapid Learner, the checkpoint for the course is the only real system built-in. It's based on the honor system rather than a real person checking in with you. There is a Facebook community, but it's not always as active as it could be — it would be nice to see more from Scott's team to initiate and maintain student engagement. The group could be a really informative and integral part of the course with more regular prompts and check-ins made available to students.
Ideally, I'd like to see more conversations initiated by the Rapid Learner team in the Facebook group to help students keep up their motivation, give them a place to check-in and compare notes, to get further reading recommendations, or to return to when they get stuck in their learning after completing the course.
But really, these are small things in what is overall a really fantastic course.
Rapid Learner: The Bottom Line
I would absolutely recommend Rapid Learner to anyone looking to improve their study habits. It's a really well-researched course and it's strongly delivered, well-organized, and there are tons of steps to help you take things further.
If you're serious about getting the most out of your study time, then Rapid Learner is for you. It's going to give you what you need to make it happen, but it does take some willingness to step outside your comfort zone. It's not an easy course, but that's not what it promises to be. It will challenge you, but as Theodore Roosevelt is often quoted, "Nothing in the world is worth having or worth doing unless it means effort, pain, difficulty… I have never in my life envied a human being who led an easy life. I have envied a great many people who led difficult lives and led them well."
Want to try it out for yourself? Follow this link and sign up to make sure you hear about when the next enrolment for Rapid Learner opens.