Best Podcast to Learn Spanish? SpanishPod101 In-depth Review With Pros and Cons
---
What is SpanishPod101?
Spanishpod101 is "designed to get you speaking a new language from the very first lesson". Audio podcast lessons are its main feature.
what it's for:

First contact with Spanish, listening practice, vocabulary, phrases, conversation material

---

languages:

Spanish

---

level:

Beginner to Advanced
+ PROS
Extensive lessons on everything learners need to know

There's no guessing where to begin

Many ways and content types to learn

Super affordable

Tons of culture insights

Real Spanish that learners with actually use
- CONS
Sometimes the lessons are drawn out or deadpan

The mobile app doesn't have all the best features
If you're like me and enjoy podcasts, you may be interested in trying them out to learn a language. But sometimes it can be difficult to find the right one that works for you. So, if you're looking for the best podcast to learn Spanish, then look no further. I'm reviewing SpanishPod101 from Innovative Language, my very favorite language learning podcast!
I'm not going to lie. I had spent quite a bit of time in the past Googling things like "learn Spanish podcast" to try to find one that would work for me.
I had tried other popular podcasts like Coffee Break Spanish but found I didn't make much progress with them. I'm also focused on learning Mexican Spanish since I live in the USA.
I found many podcasts, like Coffee Break Spanish, focus on the Spanish spoken in Spain, called Castilian Spanish. Or, even worse, would give a hodgepodge of all the Spanish dialects spoken around the world without much context.
But I'd used JapanesePod101 before with a lot of good luck, and decided to give SpanishPod101 a try. After all, Fluent in 3 Months founder Benny Lewis and most of our team have used the Innovative Language podcasts for their language missions. For instance, Holly used it to learn Thai in the past.
So, I'm going to share all the details about SpanishPod101 — the good, the bad, the amazing, and if it really works.
I Needed Spanish Podcasts for Beginners
Let's first discuss where I was starting from. I was at an A1 level in Spanish before I got started with SpanishPod101. Meaning, I knew some vocab, the basic grammar and conjugation patterns, and could discuss some very basic things. But, I'd be lying if I said Spanish came easy to me.
Despite the fact that my husband's family is Cuban and his dad speaks fluent Spanish… I have struggled to grasp the language. I like to say it's because I started with Japanese, and Spanish is as far from Japanese as English is. But it's probably because for a long time I didn't connect with the language and culture as much as I had Japanese or Korean.
But after discovering a love for some Netflix shows in Spanish — like House of Flowers (La Casa de las Flores) — I was excited to give it another go.
So, I decided to start with the beginner level in Spanish, and definitely needed a podcast aimed at a beginner level.
Let's Get Started! Where to Begin with SpanishPod101
One of the best things about SpanishPod101 is how easy it is to get started and jump in. You first create your free lifetime account by selecting your level and entering your email. I chose "Beginner", but you can also choose "Absolute Beginner", "Intermediate", or "Advanced." Don't worry if you're not sure. You can change it later! Once you verify your account, they'll ask you to "check your level" with a brief explanation of what you should already know at each level.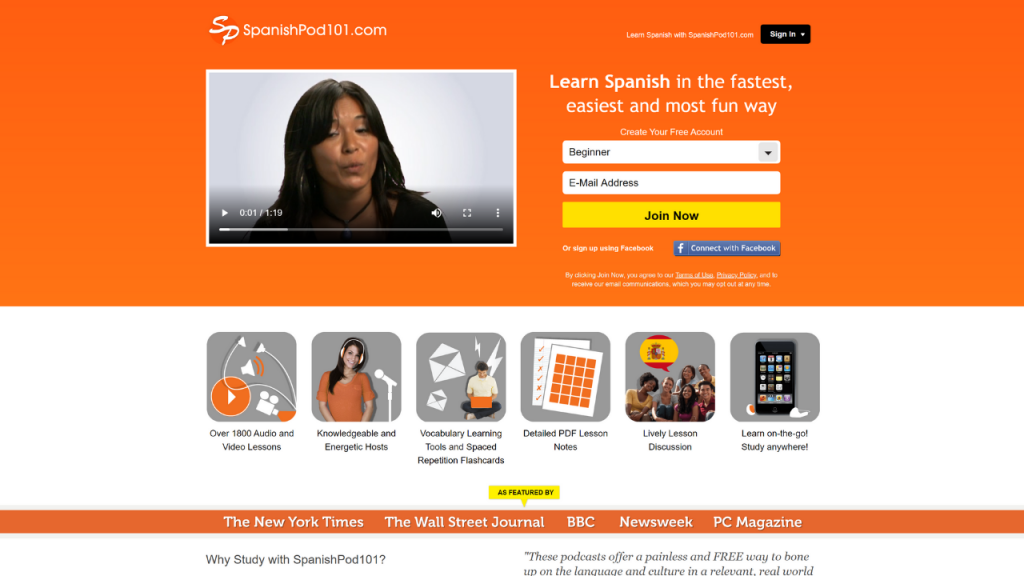 You'll have the option to receive "Word of the Day" emails, and then you have to activate your account by checking your email.
Once you sign in, you'll see your dashboard. Based on your level, SpanishPod101 will assign you a learning path! It'll guide you through the robust library of lessons, so you immediately start with the best podcast to learn Spanish at your level.
Now, if you have a free basic account, you'll be limited in your access to lessons, features, and the app. (The app is free and you can use it in a limited way on the free version, but it's not as helpful.)
With the Premium version, you get access to all the lessons, word bank, videos and more. Premium Plus allows you to have access to a teacher and personalized study plan for your specific goals.
You'll also see on your dashboard the newest lessons, vocab lists, and free monthly gifts (helpful cheat sheets and more). Plus, you can see a tally at the top of the dashboard with your lessons completed, words reviewed, and hours studied.
Diving into Spanish Podcast Lessons
When you go to choose your lessons, you'll have two options. You can either choose to follow your study path for your level, or you can select a "season" of the podcast in the Lesson Library. They have every topic you could think of covered, as well as lessons about different Spanish dialects.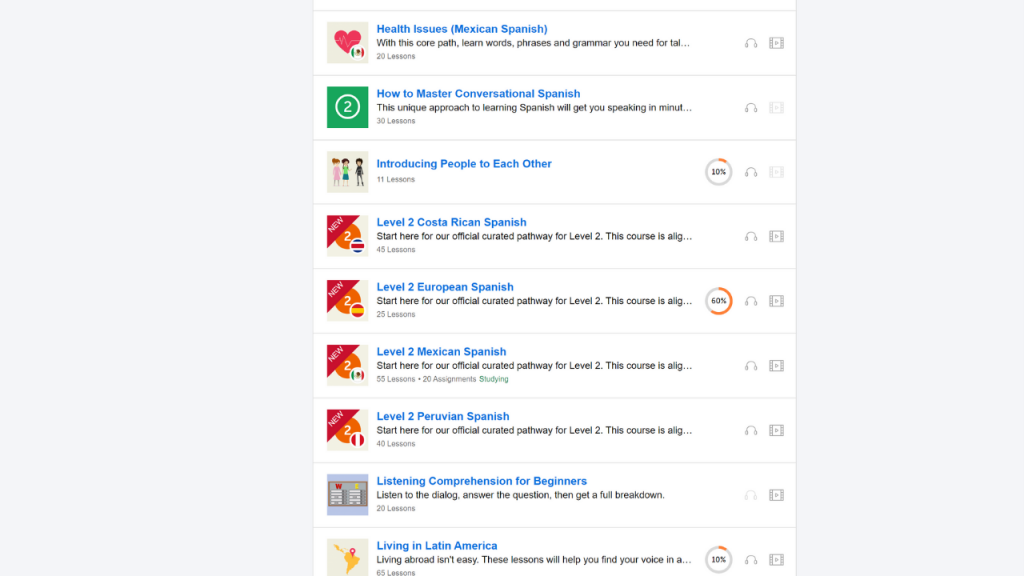 The lessons typically include the audio podcast about a particular topic or grammar point, the scripted dialogue, and vocab list. You can listen to the individual sentences of the dialogue or the vocab words, and add them to your flashcard deck or word bank.
Next, they list the lesson notes. This focuses on the grammar point and cultural insights they talked about in the audio. You can download the lesson notes as a PDF for future study, too.
They include the lesson transcript, and you can add notes to the lesson as well. When you're done, you can mark it as complete and move on.
So, there's a lot of material to review per lesson to hammer home what you've learned. Plus, throughout the study plans, they have practice tests to assess how you're doing.
Using the SpanishPod101 App
Download the Innovative Language app to access your SpanishPod101 account on your phone, too. This can be super handy, and your account syncs so the lessons you complete on desktop or mobile will always be marked.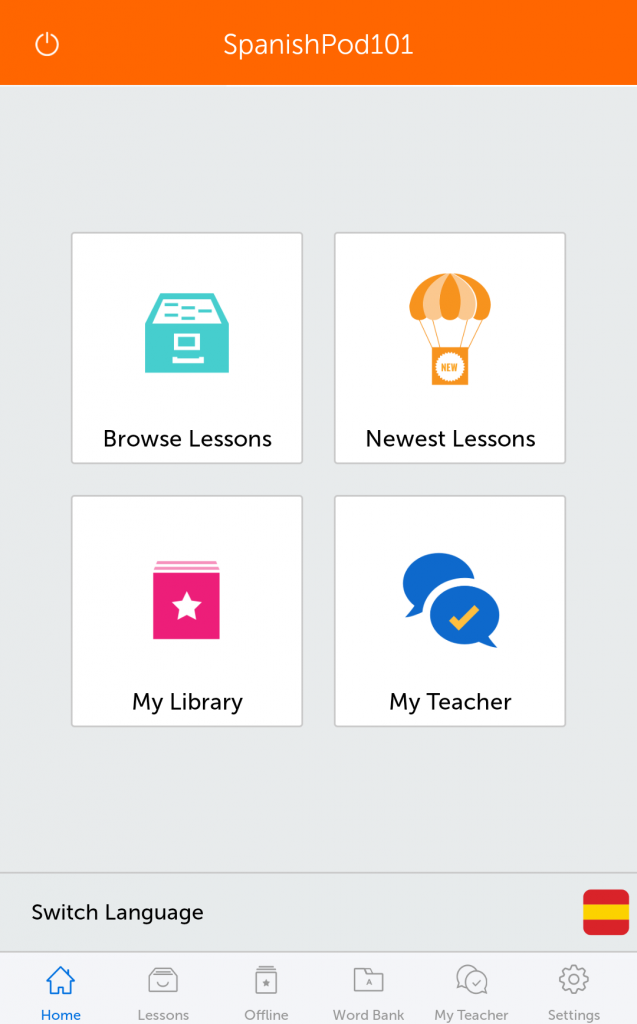 The app is simple to use and includes most of the same features as the website. Each lesson still lists the audio, dialogue, line-by-line audio, vocab list, lesson notes, and more. One nice function is that it also shows all the videos and newest lessons. The website does this too, but I like how streamlined it is in the app.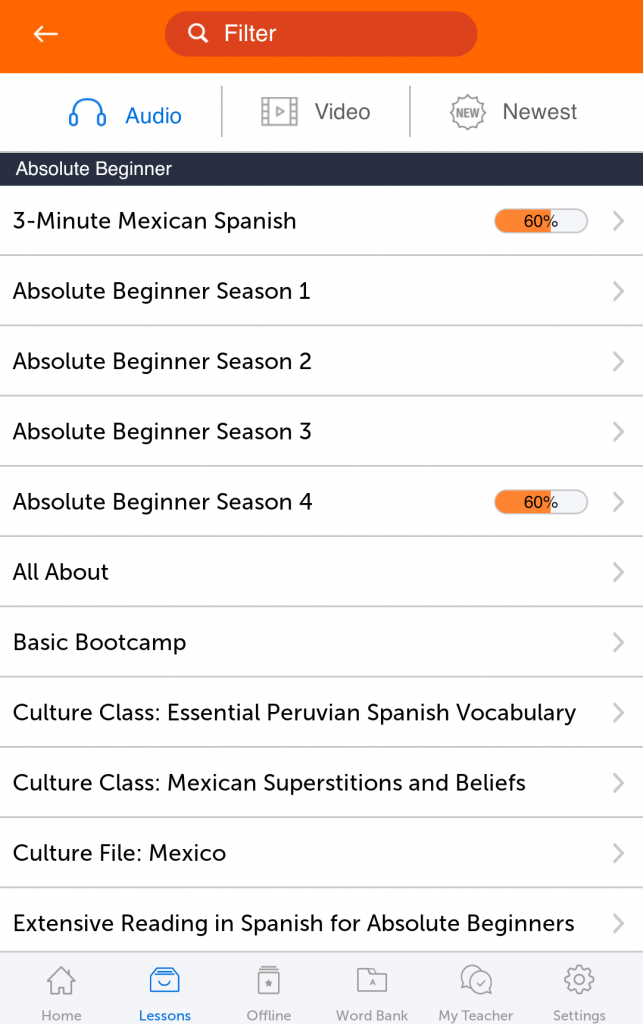 But you can't follow your study plan on the app and you can't take practice quizzes. On the app, you have to choose a season and episode to listen to instead. The study plans jump around in seasons and episodes, so you can't keep up with it from the app.
I did work around this though by pulling up SpanishPod101 in my mobile web browser.
A Breakdown of the SpanishPod101 Lessons
Depending on the season and level, the lessons will vary a bit. But there's something for everyone! Most lessons are 10-15 minutes, although they do have a 3-Minute Spanish series, as well as some other 5-10 minute series. Most of the time, there will be a native English speaker and a native Spanish speaker as the episode hosts. The hosts vary by season or videos, especially when jumping to different dialects of Spanish.
Most lessons follow the same format though:
An introduction to the hosts and the topic of the episode.
A short dialogue in Spanish.
A breakdown of the dialogue in slow Spanish, then Spanish with the English translation.
A brief discussion about the dialogue and any culture points or other insights.
The hosts review the vocabulary featured with natural-speed Spanish, English translation, breakdown of the Spanish word slowly, and then natural speed again.
An explanation of the grammar point for the lesson.
A cultural insight or a quiz to answer about the grammar point.
A replay of the dialogue.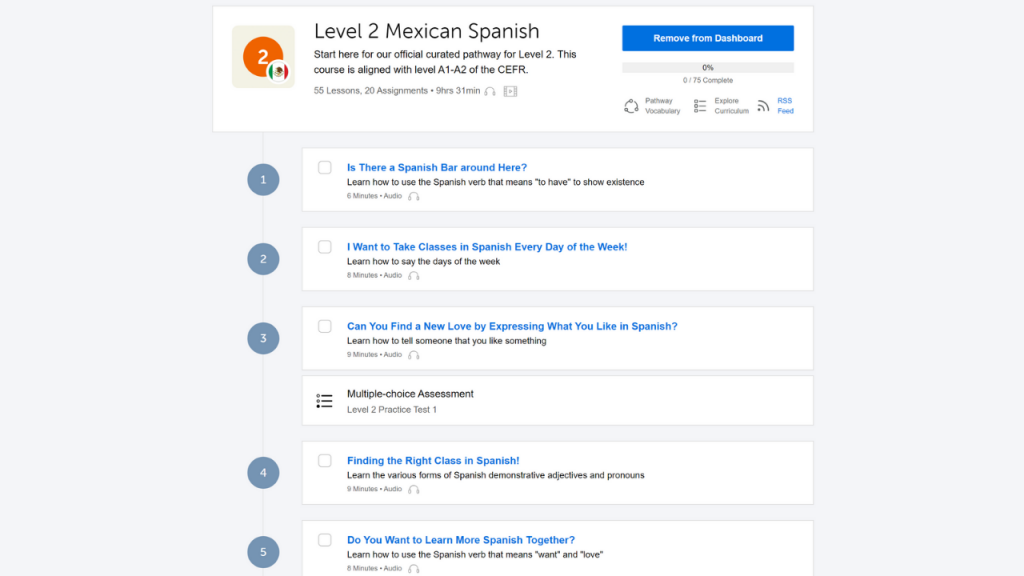 When you get to the more advanced lessons, the hosts tend to chat a bit more between each other in Spanish. Sometimes their conversations get sidetracked, but it can be helpful listening practice.
Flashcards, Dictionary, Word Lists, and More
When you sign up for Premium or Premium Plus access, you also get bonus features. The bonus features can definitely come in handy as a beginner.
The flashcard feature is nice because SpanishPod101 has many pre-made decks or decks for the most common words by frequency. It changes how the flashcards quiz you, too. Sometimes it will show the Spanish word, or the Spanish word with a picture, or the English word. Other times it will play an audio clip of the word or phrase. Then you click "show answer" and it shows you the Spanish word, the English word, and an example sentence. You mark it as correct, incorrect, or mastered and move on.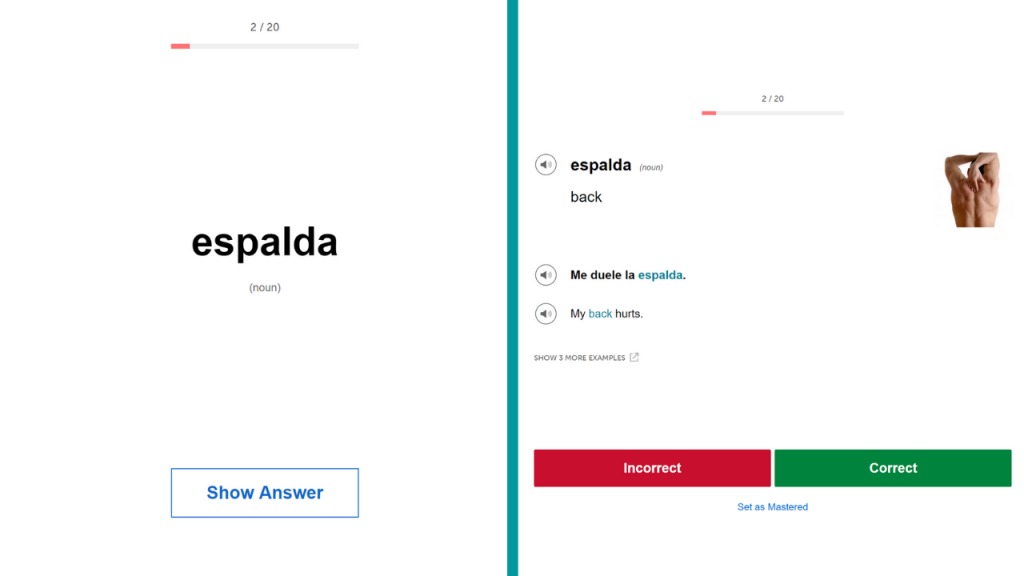 I usually use Anki for flashcards, but I did enjoy their built-in flashcard decks. I only wish this feature was available on the mobile app as well.
Besides flashcards, you also have access to a dictionary, tons of themed word lists, Spanish resources, and more.
My Thoughts on SpanishPod101 — Pros and Cons
I 100% believe this is the best, most effective, and extensive podcast out there. I would argue that it's one of the best Spanish resources period that you could use to help you learn. Here's my pros and cons list:
Pro: Extensive Lessons on Everything You Need to Know
This is why I used Pod101 for Japanese, and it's why I love it for Spanish, too. Spanish finally started to click for me thanks to SpanishPod101.com and the effective way they teach the material.
You'll find everything from beginner phrases to advanced audio blogs, slang, and regional dialects. With so many different regional expressions, I love that SpanishPod101 breaks it up and lets you choose which region you want to study. While most of the lessons focus on Spain Spanish or Mexican Spanish, it's nice to learn the differences from other regions, too.
Pro: You Don't Have to Guess Where to Begin
Oftentimes, people don't get started because they don't know where to begin in the language. SpanishPod101 takes the guesswork out of it. Do you only want to learn phrases for while you're traveling? They have a season for that. Do you want to learn slang terms for the internet? They have a season for that. You're an intermediate learner and you want to read faster? They have a season for that.
It doesn't matter what level you're at or your goals. They have a study plan set up, so there's no wasted time wondering what you should focus on.
Pro: Many Ways to Learn
Yes, it's a podcast. But it's also videos, PDFs, transcripts, vocab lists, and more. I have a hard time learning solely from listening. I usually have to read it as well. I love that SpanishPod101 has it all.
Pro: Super Affordable
The pricepoint for SpanishPod101 can't be beaten. For how many lessons you get, it's more robust than any college class or textbook. By comparison, my husband recently paid $300 for his Spanish textbook that only covered the 101 and 102 level courses. SpanishPod101 is a fraction of that price and includes all the way up to advanced levels.
Pro: Tons of Culture Insights
I'm a culture nerd. I love learning about other countries — in fact, it's my favorite part of language learning. I love the lessons all about Spanish culture, and that they usually throw a tidbit in every lesson. Culture and history play a huge part in language, and you can't truly be fluent without learning about it.
Pro: Real Spanish that You'll Actually Use
These aren't weird stock phrases or vocab that you'll never use or hear in real life. This is real Spanish. You can listen to a few lessons and start speaking right away. You won't be wasting your time learning vocab you'll never use again.
Con: Sometimes the Lessons are Drawn Out or Deadpan
The newer lessons and videos (especially the ones by Diego and Efraín, they're hilarious!) are really engaging. I also love the lessons from Alex and Rosa. They're funny, interesting, real, and to the point.
But… Some of the older lessons are drawn out with too much chatter, too much English, or very deadpan. When I was going through the beginner lessons, I would often zone out during some of the older lessons that were so monotone and scripted. It also has different breaks and formatting because they were recorded when podcasts were a lot different than they are today. The lessons were still helpful, but those lessons would benefit from an update.
Con: The Mobile App Doesn't Have All the Best Features
I mainly use my phone for my language studies, so I don't like that I can't follow my course plan or take the practice quizzes (or even see where they are supposed to be!) in the app. And I love the flashcard deck, but will probably stick to Anki only because I can't use SpanishPod101's flashcards in the app, either.
Like I said earlier, I worked around this by using the mobile web browser, but it'd be nice if the app was more complete.
My SpanishPod101 Review: 4.5 Stars
As you can see, I have very little to gripe about. SpanishPod101 is the best podcast for learning Spanish. I even impressed my husband by how much my pronunciation improved and how I could elaborate more in brief conversations together.
If you're looking for a resource to learn Spanish, this is the most complete and I highly recommend it. In fact, after using SpanishPod101 for the past couple of months for this review, I decided to continue using it as one of my main study tools to finally get to a B2 level in Spanish. And… I'm starting to understand more of La Casa de las Flores without the subtitles now. Huzzah!
Ready to check it out for yourself? Head over to SpanishPod101.com and sign up for your free account so you can start speaking Spanish now!