Your Solid Vocab Memory Review: The Vocabulary Learner's Treasure Chest
---
What is Your Solid Vocab Memory?
Your Solid Vocab Memory is a system for acquiring vocabulary in any language. The course promises to teach you how to do this with very little effort. The curriculum outlines three steps for getting vocabulary into your long term memory.
what it's for:

Vocabulary learning, problem solving for hard to remember words, trying out new learning methods, making language learning fun and accessible

---

languages:

Any

---

level:

All
+ PROS
Wide range of learning techniques
Easy to use.
Lifetime access.
You are in control.
- CONS
Requires self-discipline and flexibility.
It's about experimenting more than just using one technique.
Are you tired of the pile of flashcards that mocks you daily? Have you killed the Duolingo owl more times than you care to admit? Are you spending hours of study on vocab only to forget words when it's time to speak your new language?
You might need to reboot your vocabulary building skills. That's what the online course, Your Solid Memory Vocab, promises.
In this article, I'll be reviewing the course by showing you what's inside.
I share about who would and who would not do well with the course. I've included some scrumdiddlyumptious screenshots. And I incorporated 25 Spanish verbs into my regular conversations.
If you're considering using Your Solid Memory Vocab for your language learning journey, let me tell you if it's worth it in this review.
My History of Building Vocabulary
Vocabulary building was pretty awful. Like many, I was under the impression that the only way to get new words was to sit down and cram.
Putting grammar rules on flashcards did not work for me. Many tried and true methods bored me to tears. There had to be a better way!
I found it. Actually, I found many interesting ways by using Your Solid Memory Vocab.
With this course, learning new vocabulary was vibrant again.
With this course, I discovered my target language through fresh eyes.
I had a year of Spanish and a few Fluent In 3 Month Bootcamps before this course. I understood the present and simple past tenses but I couldn't use them reliably. I muddled through much of my conversations.
I was curious. Would the course be good for beginners? Would it work for a language learning hobbyist like me?
Language learning is my newish thing. I spent 40+ years failing at language learning before finding the blog you are reading right now. Benny Lewis, the founder of Fluent in 3 Months (Fi3M), is the primary reason I am finally able to speak French. That success gave me the confidence to learn Spanish.
I have completed my five hour commitment of Your Solid Memory Vocab.
Your Solid Vocab Memory Review: What Is It?
Your Solid Vocab Memory is a system for acquiring vocabulary in any language. The course promises to teach you how to do this with very little effort. The curriculum outlines three steps for getting vocabulary into your long term memory.
This online course is divided into six sections.
Section one teaches you how to create vocabulary goals. It's nearly impossible to see your progress if you don't have a specific goal. Knowing how far you've come is the best way to stay motivated.

Section two walks you through the process of growing your vocabulary. You'll learn how to take notes and find appropriate sources for vocabulary.
Section three is all about the magic of memorization. Kerstin, your teacher, walks you through several memorization techniques. In this way, you can pick and choose the best methods for you. I like that she covers all the bases. She doesn't insist you do it the way she does. She offers a plethora of tools.
Section four focuses on how to review your new vocabulary. It's easy to memorize and forget. This series of lectures teaches you how to keep those new words forever.
Section five is my personal favorite. It is a library of recorded lectures that Kerstin gave to students who went before you. Each talk is chock full of useful polyglot secrets.
Who Is the Course Creator?
It's important to introduce you to the course creator. Kerstin Cable is a remarkable podcaster, teacher, and language guide. Her superpower is the ability to make language learning accessible to everyone.
She is the host of one of my favorite language podcasts, The Fluent Show. The show is all about "living, learning and loving languages." She frequently has bilingual podcasts in French and German.
She brings a high level of enthusiasm to her podcast and this course.
A native German speaker, she began learning English at age 10. She recently added Mandarin to her growing list of languages she's studied. Her roll call includes English, French, Italian, Latin, Russian, Spanish, and Welsch.
Your Solid Memory Vocab Focuses on Six Aspects of Learning:
Getting words from your memory into your actual conversations
Making language learning fun and accessible
Emphasizing vocabulary building with minimal planning
Finding pleasure in the language learning process
Problem solving for hard to remember words
Changing your vocabulary learning into an exciting and creative process
You can work through this course on your own. You can hire the creator to coach you through the process. Or you can enlist the help of a tutor. I recommend at least one coaching session with Kerstin. It's a great way to get started.
This online course works for all languages. You can reuse it for your third or thirtieth language. Kerstin has used this system to learn over ten languages.
Here's What Your Solid Memory Vocab Includes:
Over six hours of recorded lectures
Q&A sessions with other learners using the course.
A three step process to finding the right memory method for you
Goal setting exercises to get you immediate results
Printable hand-outs to help you create your personalized vocab map
Custom-made tips and tricks for all types of learners
Video lessons on memory techniques and how to incorporate them
Lectures focusing on the nuts and bolts of vocabulary growth
PDF of Vocab Topics for Beginner, Intermediate & Advanced Learners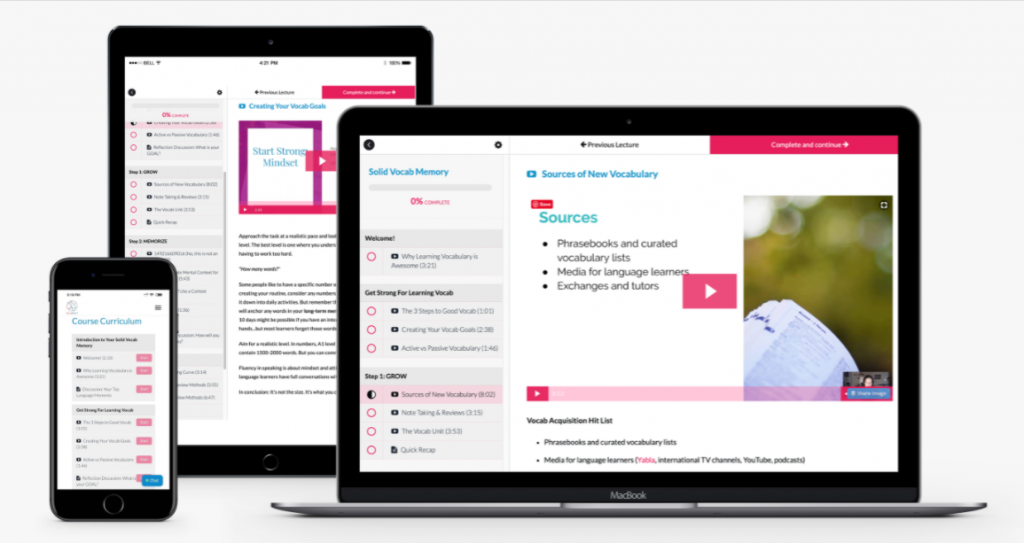 How I Tested Your Solid Memory Vocab Before Writing This Review
For this review, I committed to five hours of using Your Solid Memory Vocab.
I found Kerstin's approach quite useful, so I even continued with her system after my commitment was fulfilled. It was easy to complete the course because the material was compelling. I took copious notes, created specific vocabulary goals and got to work.
My main goal was to get a solid grasp of 25 popular verbs in Spanish. I relied on techniques outlined in this course to help me do that. The methods I chose are lifelong aspects of my learning process.
I tend to rotate my tools every three months to keep things fresh. This online course offers me a variety of tools. Each time I update my toolbox, I look to Your Solid Memory for innovative ideas.
You could easily finish this course in a week or two if you completed the assignments daily. But as usual, I took the scenic view.
I would focus on a section of lectures for a week or two. During this time, I tried out the different techniques after each lecture. Then, I made notes of the ones that seemed to be a good fit for me.
I spent about 15 minutes per study session. My study sessions varied between two to five sessions per week. This allowed me to concentrate on each topic.
Your Solid Memory Vocab: My Results
As I mentioned, I used Your Solid Memory Vocab to learn Spanish verbs in the present and simple past tenses. I had such success with these two tenses that my tutor recommended I add the imperfect past tense to my goal as well.
My level of Spanish verbs was pretty basic when I started. I could get by with the present tense most of the time. Using the past tense felt a lot like throwing darts blindfolded. Sometimes I'd hit the corkboard. Other times, I nearly put an eye out.
Here's a list of the Spanish verbs I decided were most important to me.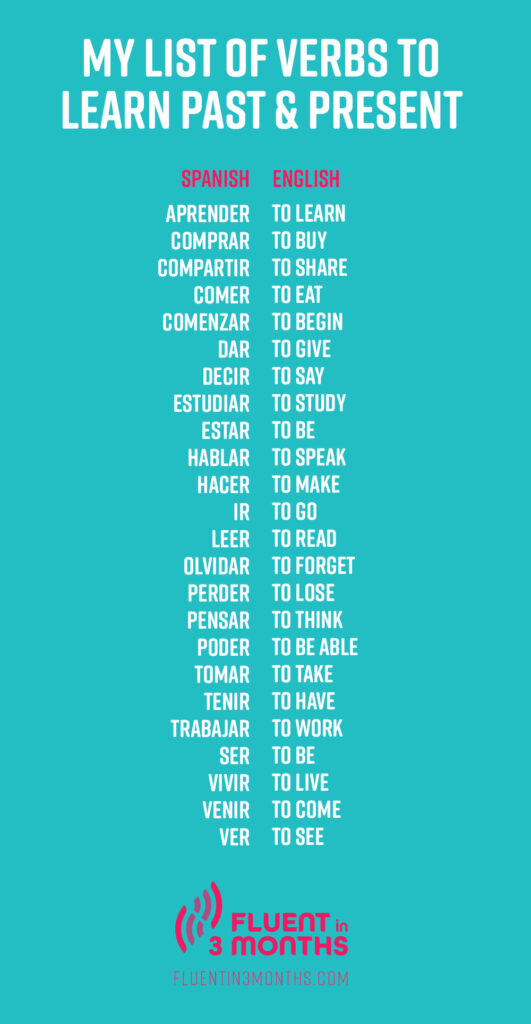 I plan on reviewing this course from time to time. It's filled with so many options. You can't possibly do them all at once. Like Benny, I review my goals every three months. I switch my resources to keep things interesting. This course will continue to provide me with fresh directions.
My toolbox is filled to the brim with new techniques. This is essential to me as learning vocabulary can be a dreary task without imagination. I used about 10 percent of what I learned during the course over the course of two months. So, I still have another 90 percent waiting for me.
My tutor has noticed marked improvement in my use of verbs. I feel more confident using different tenses now. I have to think about things from time to time but I am able to figure it out. This is all thanks to Your Solid Memory Vocab.
So what did I think of Your Solid Memory Vocab?
Your Solid Memory Vocab Is the Golden Ticket
Although I'm a big fan of Kerstin's podcast, I didn't know what to expect from her course. I was pleasantly surprised. She's creative and open-minded as a teacher. She doesn't stick people in a box and tell them how to learn.
She opens up a new world of learning with pleasure. It's a philosophy I admire. It gives the learner control. And the journey is far from drudgery. It's a spectacular adventure.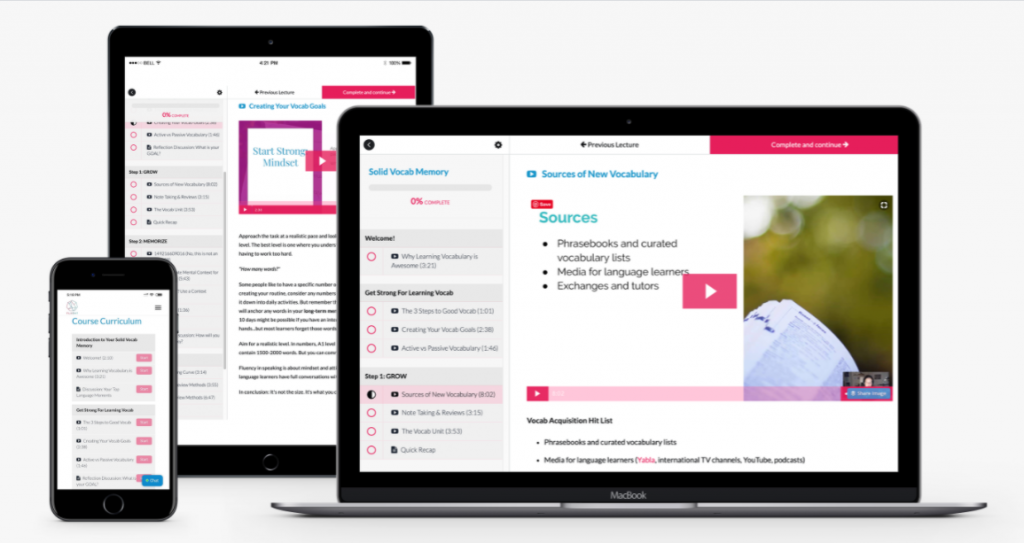 I plunged headfirst into the lectures. My notebook filled with tidbits that sparked joy. My learning became enjoyable once again. For an intermediate learner, that is saying something!
Your Solid Memory Vocab: Who This Will Work For
Beginner learners who want to create a path that will work best with their learning style. Beginners can lose momentum because they are working with resources that bore them, and this course helps you avoid that from happening.
Intermediate learners who need to **rediscover their love of languages. Let's face it. You can only have the winning study formula for so long because it becomes a tiresome routine. This course will help you keep it fresh.
Advanced learners who are ready to tackle new methods but aren't quite sure how to go about doing that. If you are a long-time learner, congratulations! You're one of the few that have survived the struggles of the polyglot path. This course is great for people who love learning about learning.
Your Solid Memory Vocab: Who Should Skip This Course
Beginner learners that want to be told exactly what to do and when to do it should steer clear of this course. This is an empowering resource. It is driven by your determination to figure out what works for you. This happens through thought-provoking exercises.
Intermediate learners that want a quick fix to a current vocabulary hurdle. This course will help you with mental blocks but it's not a recipe book for instantaneous results. I would recommend buying a coaching session with Kerstin in place of this course. I've had a few with her and found them quite helpful.
Advance learners that have a system that works and don't really like change. This course is all about experimentation. If you like what you're doing, stick with it.
Secrets to Getting the Most Out of Your Solid Memory Vocab
To make the most out of this course, be sure to do your homework for each section before moving to the next module. It's all too easy to binge watch the lessons and think to yourself that you've taken it all in. Dedicate just 10 minutes a day to watching a lesson and/or doing the homework.
Once you've finished the lesson portion, give yourself the reward of watching them again. Watch while chilling out on the couch, lifting weights or whatever it is you do. Allow the information to wash over you.
This course was meant for vocab building. But you should also try it for trouble spots in your language learning. Take the modules one by one and translate them into helping you with other stumbling blocks. It's the Drano of language learning clogs.
Whatever you do, make sure you define your aim during the goal setting process of the course. You'll have a much more effective outcome with a specific objective in mind. Don't worry about having one when you start the course. Kerstin will walk you through the process.
How Do I Rate Your Solid Memory Vocab?
This course is the everlasting gobstopper of vocabulary building. It will be a course you can return to year after year. I give it five stars!
About the Creator of Your Solid Memory Vocab
You can learn a lot about a product when you take a look at the creator. Kerstin Cable is the mastermind behind Your Solid Memory Vocab. She's a native German speaker who began learning English in elementary school. (Elementary school translates to primary school for some countries.)
Kerstin enjoys the art of language learning so much that she has a growing list of languages she's studied. English, French, Italian, Latin, Russian, Spanish, Welsch are a few on her list. Most recently, she added Mandarin to her daily language learning routine.
You can hear her talk about her personal vocabulary process in this episode of the Language Hacking Podcast, the Fluent in 3 Months podcast hosted by polyglots Benny Lewis and Shannon Kennedy.
What impresses me most about Kerstin is her welcoming approach to language acquisition. Her mission is to make language learning accessible to everyone. Your Solid Memory Vocab is part of this laudable objective.
Side note: Kerstin is one of my language heroes. When I was learning my first language, I listened to her podcast, The Fluent Show, intently. It was through her insight that I was able to find my path to acquiring a second (and now third) language.
That's the end of our tour of Your Solid Memory Vocab. If you'd like to enjoy a lifetime supply of delicious vocab tips, try it out for yourself.