Black Friday Deals for Romanian Language Courses
---
Welcome to the home of Black Friday deals for Romanian courses!
I've pulled in favours from the makers of some of the best Romanian courses and learning tools around. And wow, did I shake hands on some amazing deals.
Here are the best of the best deals on Romanian courses and resources that I've found for Black Friday 2021.
These deals will only be open until Saturday, November 27th 2021 so get them while you can!

Benny Lewis
Founder and CEO, Fluent in 3 Months
---
Benny's Top Pick – RomanianPod101 – 51% Off All Subscription Levels
Complete Language Course: Absolute Beginner – Advanced
Good for: Listening, Fun
RomanianPod101 is my favourite Romanian learning podcast and audio course, especially for developing my listening skills. It's also a top pick among the Fluent in 3 Months team.
You start by selecting your level, and the audio course adjusts to you, getting gradually more complex as you progress.
Here's where to claim your 51% discount.
This Black Friday deal will get you 51% off all RomanianPod101 subscriptions.
---
Mondly Romanian – Lifetime Membership – 96% Off
Romanian Learning App and Online Course
Good for: Beginners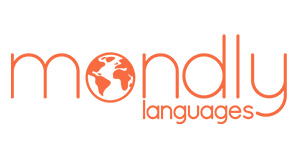 Mondly is one of the world's favourite language learning apps, with 60 million users worldwide. It's also highly rated, with 1 million+ reviews, giving an average rating of 4.6 out of 5 in the Google Play store and 4.8 out of 5 in the Apple App store.
What's more, Mondly was named "Editors' Choice" in Google Play and "Best New App" by Apple.
A unique part of Mondly is the chatbot feature, with speech recognition. It feels really natural, just like you're hanging out with a native speaker – ideal for practising your conversation skills when a language partner isn't available.
They're creative in their approach to learning, with features such as virtual reality immersive learning environments and a partnership with Oxford University Press.
I've negotiated a lifetime membership deal that gives you lifetime access to all 41 Mondly language courses (including Romanian) at a saving of 96%.
---
LingQ Romanian – Immerse Yourself in Romanian (Exclusive Lifetime Membership) – 74% Off
Complete Romanian Immersion Resource
Good for: Listening, Fun, Reading, Vocab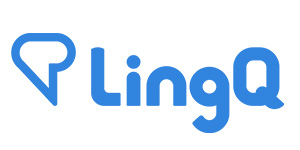 Immerse yourself in a world of compelling Romanian content – with 1000's of hours of Romanian podcasts, audiobooks, interviews, courses and more. LingQ also integrates with Romanian language content on Netflix.
Then anytime you come across a word you don't know, you can save it for review using LingQ's spaced repetition learning tools.
LingQ is one of the most popular tools among rapid language learners taking our Fluent in 3 Months Challenge. And in his review of LingQ, Fluent in 3 Months team member David Masters said: "If I had to pick just one tool to learn a language, it would be LingQ."
LingQ is usually $12.99 per month, but with this exclusive deal you get lifetime access to LingQ Romanian for a one time fee.
The deal is equivalent to a 74% discount on a 5-year subscription. But this subscription lasts for life!
Please note this deal is only available to new LingQ members.
Get exclusive lifetime membership to LingQ Romanian here.
---
Magnetic Memory Method – The Language of Memory Package – 89% Off
Memory Course Package for Language Learners
Good for: Memorisation, Vocab

Anthony Metivier of the Magnetic Memory Method has put together a special Language of Memory package just for Fluent in 3 Months readers – with a huge discount of 89%.
The Language of Memory package includes the courses:
The Magnetic Memory Method Masterplan
How to Learn & Memorize the Vocabulary of any Language
Speak From Memory
How to Memorize Names and Faces
Implementation Bootcamp
Plus lifetime updates for all the above courses.
This is a unique package for Black Friday, with an 89% discount.
Click here to get 89% off the Language of Memory package from the Magnetic Memory Method.
---
And don't forget…
The Fluent in 3 Months Black Friday Collection 2021 – 90% off
Have a 15-Minute Conversation in Romanian after 90 Days of Learning
Good for: Speaking, Rapid Language Learning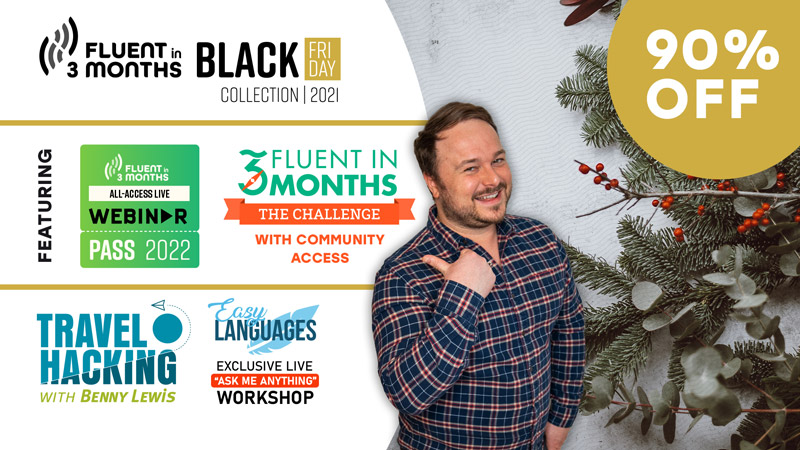 Get 90% off language hacking with the Fluent in 3 Months Black Friday Collection 2021.
The Fluent in 3 Months Black Friday Collection 2021 includes:
The Fluent in 3 Months Challenge with Community Access (value: $997)
Get full entry into my flagship 90-day language programme. With the Fluent in 3 Months Challenge you'll have a 15-minute conversation in Romanian after 90 days.
Fluent in 3 Months 2022 All-Access LIVE Webinar Pass ($564 value)
Join me for my LIVE webinars (as many as you want!) in 2022, including How to Ace a 90-Day Language Challenge, Conversation Hacking and Vocab Vault. Plus you'll get lifetime access to the recordings. I'll be hosting a minimum of 12 webinars in 2022.
Travel Hacking Workshop (value: $47)
I share my tip tops from 10+ years of travelling the world and speaking with the locals.
Exclusive Live "Ask Me Anything" Workshop (value: $197)
Join me for this live event where I'll be taking questions from the audience on language learning, travel, life, and anything you want to ask me!
My Complete Easy Language Package (value $234)
A pack of 6 guides for hacking Spanish, French, German, Italian, English and Chinese.
Total value: $2,039
Black Friday Deal Price: $199
Yes – I Want 90% Off the Fluent in 3 Months Black Friday Collection.