Fi3M wins the Top 100 Language Lovers competition! Have a look at the other amazing 99 of them!
---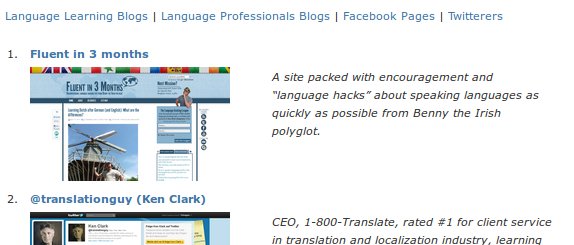 Hello from the road once again!
I'm writing this from Las Vegas airport en route to Portland for my first of two conference stops in North America. My time in Amsterdam has officially come to an end and I took everything I own in the world (which now weighs precisely 23kg/50lbs; less than the 40+ kgs I had just a year ago, and no, I don't have a "base" anywhere to dump stuff I might gather with time) with me to move to a new home.
All those in the email list will find out where that is and what language I'll be learning, on Monday! (I can't post about it on the blog until I have a silly photo ready to go with the mission of course!)
Everything is going according to plan for me to start learning my fourth language so far this year!
My Dutch experience was fascinating, with some unique challenges and frustrations, as well as pleasant surprises. I'll be sharing my thoughts about my time there and observations about the Dutch people as I saw them in that brief time, on Tuesday. Then next Thursday I'll be continuing my series of non-English interviews to share two great videos in the one post, which both include some lovely Amsterdam scenery!
Top Language Lovers competition
Yesterday Fluent in 3 months turned two years old! On June 1st 2009, I wrote my first post on the blog. If I wasn't busy saying goodbye to some friends of mine, selling my bike and otherwise wrapping up my time in Amsterdam, I would have bought myself a cake to celebrate 😛
Those new to the site, would find it interesting to see what my design looked like initially, before a first redesign and then the recent much more professional one!
Now, on the very same day, I found out something that came as a bit of a surprise to me; after tens of thousands of votes, this site has won FIRST place in the Top 100 Language Lovers competition! Wow!!
Even getting into the top 100 is a great honour, as there were almost a thousand entries!
Thanks so much to everyone who voted and to the Lexiophiles and Babla team for running this great competition once again! I'm speechless! OK… actually, I'm just as talkative as always 😉 But still amazed!
Since you already know what I'm about, and may perhaps need some variation to my really long meandering blog posts to see what other language learners (and language professionals) are writing about, I highly recommend you check out the list and see what the top language lovers are in 2011!
The competition had 4 sub-categories of Best Language Bloggers, Best Twitterers, Best Facebook page and Best Language Professional.
So as well as bloggers, the list includes some great twitterers, who share excellent articles and thoughts every day (conciseness is not my forte, even in twitter most of my rambles are at precisely the character limit!)
Spend some time to go through the list and let me know who your favourites are! You'll find people I look up to a lot, as well as people I strongly disagree with. It's important to read about (and perhaps even experiment with) as many different approaches as you can. Almost any method can help you if it's applied correctly and if it happens to suit your learning style much better.
Of course, I'll continue to write to encourage people to speak their languages immediately and share how I'm doing it myself, but others in the list of the top 100 discuss more technical aspects of languages better than I ever could.
People always ask me what other language blogs I recommend they read, and I think this top 100 list is definitely an excellent place to start!