Social media Saturday – What happens in Vegas… gets blogged and tweeted!
---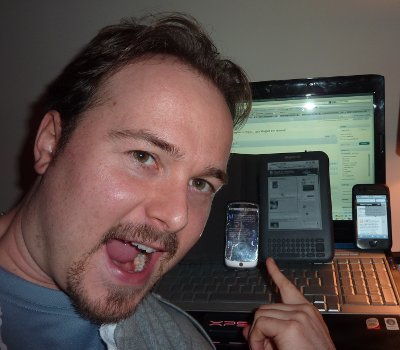 My Hungarian mission is progressing very well! I am at the stage now where I can have telephone conversations entirely in Hungarian. Not bad for just having spent a few weeks in the country so far!
But in just under two weeks, this mission will be coming to an end and I'll be moving on. Those of you subscribed to the Language Hacking League newsletter (sign-up form on the right of the site) will receive an e-mail on Monday announcing what the next mission will be (as well as another important FI3M announcement), but I can tell you right now where I'm flying on October 14th to spend one week before it!
¡Viva Las Vegas!
Thanks to sales of the Language Hacking Guide giving me a little bit of financial flexibility (at least temporarily), I decided to treat myself to a birthday present back in July when I saw the flights and entrance discounts to go to…
The Blogworld Expo in Las Vegas!
This will be a chance to catch up with my friends Karol and Baker, and to finally meet up with other travellers that I've "known" (online) for a while like Nomadic Matt.
It will also be a chance to hopefully shake hands with some bloggers like Darren Rowse, Brian Clark and Chris Garrett whose advice has helped me a lot in getting this blog off the ground (currently well over 40,000 monthly readers, despite only being about 16 months old).
I'll even get to see Penn (from Penn & Teller, who run an excellent sceptics show called "Bullshit")!
Networking and netpartying!
As you can imagine from my posts, I am very passionate about getting my encouraging message across to as many people as possible, that learning foreign languages is not hard at all. As well as writing the best and most interesting content I can, I also need to do a little "networking" 😉 Others at the event with big audiences may wish to share my project with their readers, and I'm sure I'll run into interesting characters worth sharing with my readers!
The Internet is run on link-love, and a few more links will help me share these language missions and messages with more people. So while I'm checking out all the fun of the event with thousands of others, I'll be exchanging some business cards (yes, I am getting them printed especially for the event!)
I'm hoping to learn a little bit about blogging from the experts, to make some interesting new contacts and friends, and of course to have fun with some fellow Internet nerds!
After the event I'll stick around Vegas to meet up with some FI3M readers, and hopefully have a day trip to check out the Grand Canyon and Hoover Dam. Then on October 21st I fly to my new home for the rest of the year!
It will be weird to be back in an English speaking country again – other than to visit my family in Ireland I haven't been to a predominantly English-speaking country in years. Good thing I'm only doing it for a week! On October 21st I'll be back into non-English mode in the destination announced in the Monday e-mail 😉