Benny's TEDx talk: Speak from Day One
---
If you're looking into learning a new language, you might want to know what's the best way to do so.
If you're a new reader here, you might want a concise version of my best advice to speak from day one.
And if you're a long-term reader, you might have wondered who/what precisely inspired me to start on this road to become a polyglot some day.
I talk about all of this and more in the TEDx talk I did in San Antonio back in 2013, which you can watch in this post.
The Best Way to Learn a New Language Is to Speak From Day One
At the age of 21, after I finished my degree in electronic engineering, I travelled to Spain. At that time, I spoke nothing but English, and I was convinced that I could never learn any other language. I thought I didn't have the right "gene", that I was too old, that I simply didn't have it in me.
But whilst in Spain, I met a Brazilian guy who gave me, in the space of a few minutes, a multilingual show that would change the course of my life. He effortlessly took on four different conversations in four different languages.
I asked him how he managed to do it, speaking so many languages. He said something along the lines of, "I don't know. I'm just trying to speak, going up to the person and using the language."
I couldn't believe it, it didn't make much sense to me, a "left-brained" engineering graduate. So I decided to give it a try.
You can see where it has led me 🙂
I told the full story in my TEDx Talk in San Antonio, which you can watch here:
Of course there are no sales pitches and not a single mention of my website on the video, since I wanted to focus only on the simple, but life-changing message that speaking a language is what makes a world of difference, not studying it.
My Pro-Tips: Learning a New Language By Speaking, Not Studying
If you're going to take something from this video, make sure it's this list of things to do to improve your language learning:
get to speaking from the first day of learning,
embrace your mistakes,
focus on cognates, the words that look similar and have similar meanings in two different languages,
use memory techniques to remember vocabulary,
learn vocabulary before you tackle grammar,
tell everybody that you will speak your target language to use accountability as a motivation,
find someone to have conversations in your target language with, such as a language exchange partner or an online tutor,
don't give in to frustration: people are generally happy when you make the effort to speak their language, even if it's not perfect!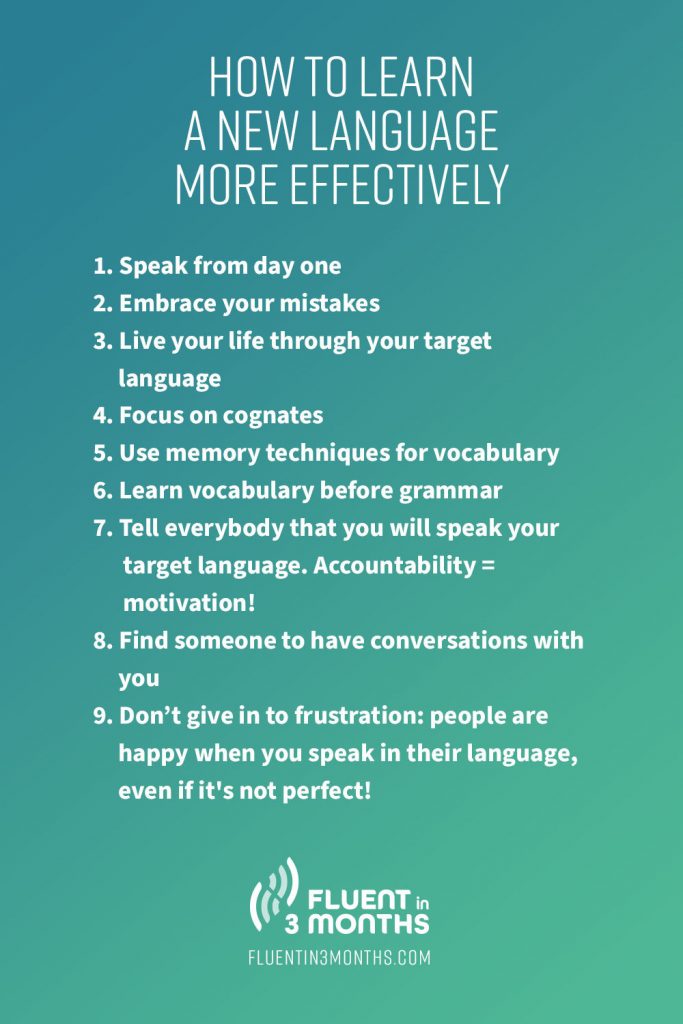 The Story Behind My TEDx Talk
This was only the second time in my entire life that I'd spoken publicly in front of a decent sized audience—the first being at TBEX.
A combination of several camera men, a decent microphone and a cool audience made me look like I didn't hurriedly prepare the speech the night before. I think I actually managed to convey the speak from day one message pretty well!
Speaking at a TED associated event was something I never even dreamt possible, but I was hoping to do someday. I asked for some help from my site readers (as a birthday present) to vote for me to speak at SxSW (an event in Austin in March 2013).
In the end, they weren't interested despite the many votes. Which was probably for the best, as that would have made it impossible to have 3 uninterrupted months to devote to Mandarin.
But the real reason I wanted to speak there was to build up my speaking resume to maybe be considered by a TEDx event some day.
Luckily for me, those at San Antonio wanted me to share my simple message in true TED style. It turns out San Antonio has America's largest Hispanic population that does not speak Spanish, so they were especially motivated to hear my story.
(Since I was so grateful for the opportunity, I've forgiven them for misspelling my name ;))