How to Find the Right Online Language Tutor for Your Language Classes
---
One of the most frequent questions I get when I talk about my intensive language projects is How do I find a good online language tutor?
Today, I want to cover this question in as much detail as possible. Here's what we'll talk about:
This article is part of my online language lesson series of posts. The previous post was How to Prepare for Skype Language Lessons.
Why an Online Language Tutor?
There are numerous reasons why I opt for video-call lessons over in-person lessons, but the major ones are:
It is dramatically cheaper than in-person private lessons. You can leverage currency differences if your target language country has a currency that's weaker than your home country's. It is also amazingly cheaper than in-person group lessons in many cases!
It requires zero travel time for both the teacher and the student. For instance, when I got private lessons in person in Taipei (in Mandarin), it wasn't only expensive, it was time consuming since the most affordable teacher I could find was 45 minutes away by public transport.
You can have audio only or video based calls, as you prefer (connection permitting). This is a little easier for people who feel intimidated by having someone see them stumble through as a beginner learner.
You can utilise all the tools available to you online, such as quick dictionaries or translators in another window while you chat. More on this in another post, but I use these kinds of tricks to help me get speaking from day one more easily than I would with a teacher sitting in front of me.
Sometimes I have in-person lessons, but 99% of my spoken practice nowadays in all my foreign languages is via video call.
With that being said, let's see how to find those teachers!
Start With Preply to Find Online Language Tutors to Choose From
Where can you find a language tutor online?
Preply is the website I use to find my language partners and teachers. You can check out our review of Preply here.
There are many great places to find just the right teacher for you. I've used a bunch of different resources, but always come back to Preply.
Compared to the competition, I find that Preply:
Has way more teachers who are active, so you are more likely to get responses. Some other sites tend to have unresponsive teachers.
Has a wide range of languages. There are some OK alternative websites for specific languages out there, but if you aren't learning Spanish or Chinese, you run out of options quickly. Preply has these and many more.
Has a time-zone automatically adjusted calendar of availability. You don't need to do any calculations to account for time zones – Preply does that for you. Almost every other site I've used has a huge pain-in-the-ass process of figuring out what time it is for who.
Includes reviews for teachers. Like eBay or Amazon, you can see what your teacher is like before spending money on them. We'll be using that feature below to help us decide who to go with!
Has social forums and places to write questions and answers built it. Tutors answer your quick questions on language learning and language-related topics.
Offers discounts on lessons when you buy a 12 or 20 lesson package.
Lets you filter tutors based on specific topics. For example, you can browse for tutors who teach your target language specifically to children, or focus on business vocabulary. You can also search for tutors who speak another language in addition to your target language.
Plus, using the site is easy. You just log in and create an account.
Once you've got an account, browse the website, search for tutors in your language, maybe try to message some of them to get an idea of what kind of teacher they are. Or use the question and answers feature to ask quick things about your target language.
If you're ready for a class, follow these instructions:
Selecting Your New Online Language Tutor From Many Options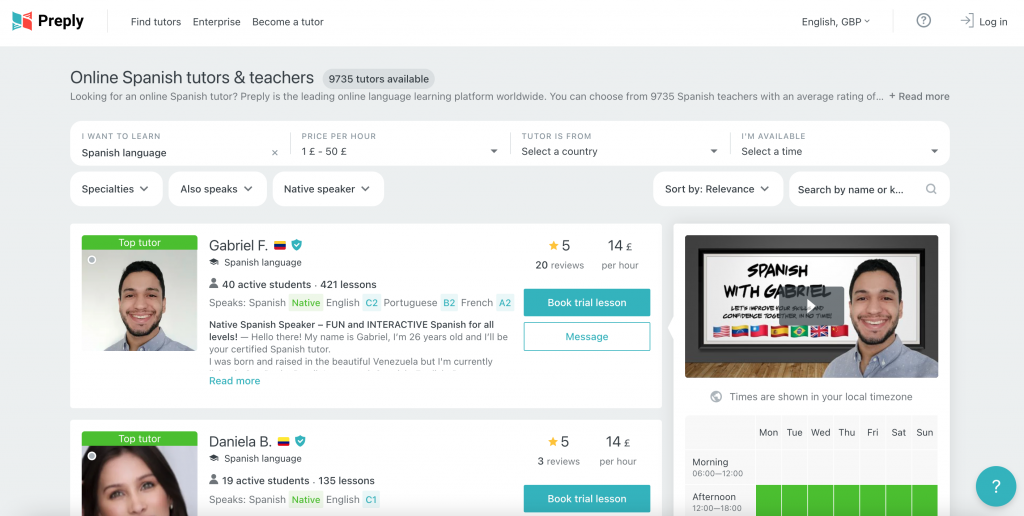 Here's how to narrow down the list of tutors to choose from.
Select your target language. As for the Also Speaks category, I generally ignore it, because I only want to speak my target language with this person – no English! This is great because you have to speak the target language with them.
The Tutor Is From field is useful if you want to focus on particular dialects. For instance, when I wanted to learn Egyptian Arabic (which technically isn't a dialect), I would look for an Arabic tutor and in Tutor Is From, I would select Egypt.
To brush up on my Quebec French, I select French and Canada. Spanish from Spain or from Argentina, Portuguese from Portugal or Brazil. It's great to be able to choose your dialect!
When you search, it's important to note that you can filter the list of tutors based on relevance, popularity, price, best rating, and number of reviews.
Once you've selected the filter type you prefer, I'd open the first 5-10 teachers in new tabs and see who has the most interesting profiles.
What you're looking for is…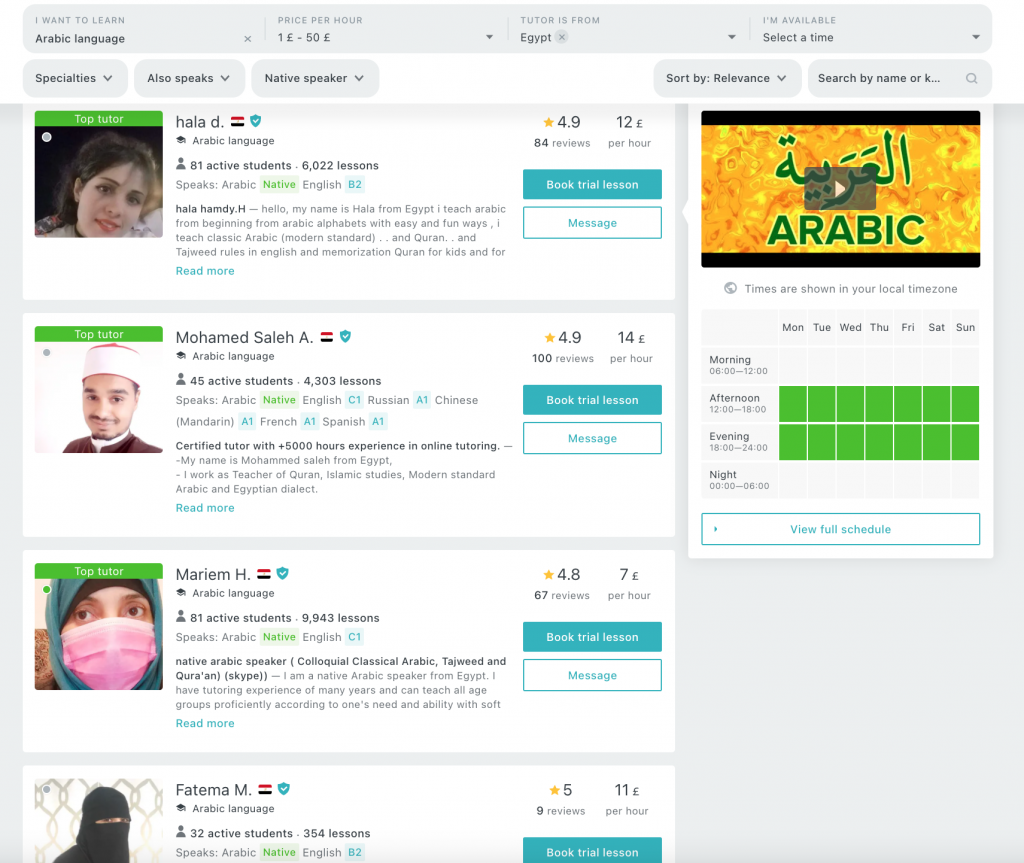 Is their rating 5.0 or very close?
Have they completed more than just a few sessions?
How many reviews do they have?
What wording do people use in the feedback?
The tone of the feedback doesn't concern me as much as the actual content.
For instance, if someone complains "My teacher refused to say anything to me in English, and wasn't interested in talking about grammar", then this is a good point for me.
If a teacher doesn't let a single mistake go by, this is a plus for me if I'm intermediate, but a big problem if I'm a beginner.
As a beginner, the biggest drawing point for me is the word "patient" in a teacher's profile. That's what I need when I'm just starting out and butchering the language. I need a teacher who will sit patiently while I force out every last syllable.
Once I've found a few promising profiles, I actually choose several teachers (not just one!) and see if I can book a session with them.
Booking Your First Online Language Lesson
I like to book my "first" session with several teachers so I can get a feel for which works best for my approach.
In addition to patience, I like a teacher who actively seeks out new conversation topics, so I don't have to. If I'm a beginner in a language, my mind is processing so many things, and I don't want the extra work of having to think of what to say next.
For me, good teachers keep the conversation flowing, while still making sure that I'm doing lots of talking.
Teachers tend to have several different styles of lessons they offer. Sometimes they follow a particular programme that may involve correcting homework, and charge a little more for this due to the extra demand on their time. Sometimes they segment the classes based on levels or topics, and even on the amount of time per session.
Personally, I prefer 30 minute lessons, but some teachers only offer 1 hour lessons. If it's my first class with a teacher, I'll just select a single session, but if the class goes well, I'll book a package since that ends up being cheaper in the long run.
One of the final criteria that has unfortunately eliminated otherwise perfectly good teachers is do their availabilities work for me? Because you are dealing with different countries, that teacher may only be available while you sleep, or while you work.
As I mentioned before, the site adjusts automatically to your local timezone, which is a huge load off your mind with international time issues. You just need to make sure that you've input your own timezone accurately into the settings.
Then you simply pick a time slot that is convenient for you (always has to be at least 24 hours from now).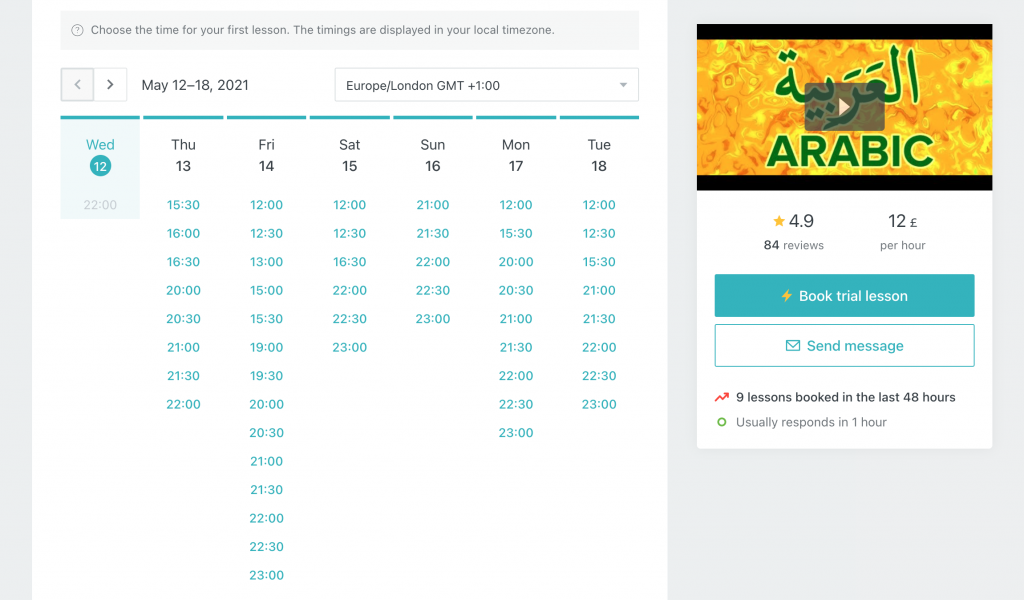 Write a personal message to the teacher, stating what you hope to learn with them.
The personal message is important. Tell the teacher what level you're at and what you want to do during the lesson. This will give him or her that final chance to make sure they're the right teacher for you.
Submit the request and see if they reply!
If they do, then get ready for that class (message them if necessary to see if there is something you can study in advance to prepare for your class), and you'll be speaking before you know it 🙂
How to Know if an Online Language Tutor Is "Good"
Once you've had your first conversation, you should be feeling pretty great. After you've had a few sessions, you'll start to get the feel for the different styles of different teachers, and you'll notice that some tactics worked well for you, and others didn't.
What makes a teacher "good" is subjective, but here's my personal opinion.
When I'm a beginner:
I like a teacher who will patiently wait for me to finish my sentences, no matter how long it takes me! I like a teacher who keeps up the conversation. For instance, if I say "I'm in India," they might ask "How is the weather in India?" I don't want to feel like I'm struggling to move the conversation forward.
If a teacher pauses for a while and then says something like "So… what do you want to talk about?" That's an almost instant indication that this person isn't for me. Engaging teachers are good at taking every little thing you say and expanding on it to bring the conversation forward.
And I like my teachers to have a good gauge for my level and to adjust accordingly. If a teacher sees I'm a struggling beginner and still talks very fast, uses complicated vocabulary, or corrects my grammar constantly, then I will usually make a mental note that they'd be good to revisit later, when I'm more advanced.
When I'm more advanced:
This is when I like my teachers to be a little stricter.
At this stage, a good teacher to me is one who doesn't let my mistakes slide by.
At this stage, I like the teachers to speak at a more native speed. And I especially look for teachers who implement good conversational or grammar exercises that push me out of my comfort zone.
At the mastery stage, I like to debate complicated or controversial topics with my teacher – malnutrition, deforestation, gay marriage.
The best teachers come up with these exercises for us to complete together, and rollplay.
You're All Set to Start Working With an Online Language Tutor
There you have it – my guide to finding the best online language tutor for you. You're all set to start learning your target language by speaking from day one.
Speaking of which, if you feel like you need a community to share the journey with, take a look at the Fluent in 3 Months Challenge. You'll meet fellow language learners who work on having a 15-minute conversation in their target language after 90 days.
And if you need some material to complement your online tutoring sessions, I've got you covered! Here are my lists of recommended language-learning resources.
They're tried and tested, like Preply!