Don't travel to learn a language! Why it's your ATTITUDE, not your longitude and latitude, that counts
---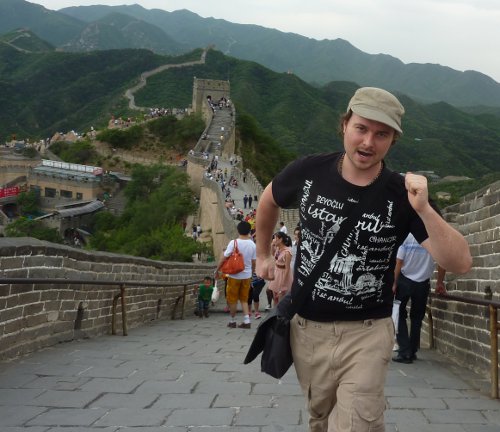 This blog post is based on this week's Language Hacking League email. To get such updates sent to your inbox, which are not usually posted on the blog, sign up (for free of course) on the top right of the site!
You may not expect this from a blog that tells you how travel has been the best possible education for me, and how I've fallen in love with other cultures, how I've danced, sung and had interesting discussions with people from across the world.
But today, I want to tell you that if you think that travelling to the country will be the "do all and end all" of assuring your progress in a language, you're crazy! If you want to learn a language, do NOT travel to the country!
Learning a language is a process of absorbing information and interacting with people. Where you actually do this is irrelevant.
If you are lazy in your home country, then it's very likely that you will be lazy abroad too. The pressure does help for some, but it can just as easily be ignored and the expat bubble embraced "just while you settle in".
I've met an incredibly number of expats living in various countries who have been there for ages, and can't string a sentence together in the local language. This was my situation for the first 6 months that I was living in Spain. So, what changed?
It's about your ATTITUDE, not your latitude or longitude!
Your commitment is what truly matters.
Even though I was learning Chinese in Taiwan, to be totally honest with you, being in the country was totally unnecessary for me to make the progress I did!
Here are a few reasons why:
Eventually, most of my private lessons in Mandarin were done via Skype. It turned out to be cheaper this way than in person – clearly I didn't need to be in any particular place for that. Anywhere with Internet will do!
I ended up having a small group of locals that I would meet up socially with to practice with; just 3 or 4 people in the end. Surely I could have found three people who speak Mandarin in any major city in the world? Many social networking sites help you connect with native speakers of other languages.
And of course I was doing plenty of old-fashioned, sit down with a book and studying (studying as the majority of your strategy is a really bad idea when the goal is to speak better, but when combined with actual use of the language it can be very powerful!), or going through my flashcard app. I'd usually do this in Starbucks, since they have the comfiest chairs. I'm pretty sure there are also some Starbucks outside of Taiwan too, right? 🙂
But what about all that passive exposure?
Well, I've had plenty of that over the last 6 weeks here in China, but I've actually made very little progress with my Chinese since I left Shanghai. I've been so busy with travel logistics, meeting people, actually travelling and talking to those on the train, recording videos etc. that I haven't really had the time to sit down and iron out my problems in the language.
My time in China: much slower progress
I got on to one of my teachers again after these seven weeks and she told me that my ability to understand her had improved slightly, and my sentence structure sounds a little better. Some improvement is indeed to be expected, considering how much I've been practising it every single day!
But the rate of improvement over these 7 weeks and any 7 weeks during the intensive learning period over the first 3 months of this year is dramatically different.
This is unfortunate, but it's precisely why I had an intentional 3 months of focus; so I could be more free to enjoy using the language when I could. There's a huge difference between intentionally focusing on your mistakes no matter how stressful it can get, and simply using the language at your current level.
Preparation is key! When people email me to say "I'm travelling to Spain in six months, what should I do when I get there?" then I ask them why the hell they are waiting until they get there?? Do all the hard work now so they can appreciate the country all the more on arrival!
None of the advice I write on this site, or in my guides, depends on you to actually be in the country to apply it.
As well as this, the nature of travelling so quickly means that you tend to use the language much more for functional purposes, rather than having particularly deep conversations that will really push you forward. It's why I feel that people who think they'll "learn on the road" beyond the absolute basics are deluding themselves, and why most of my learning projects involve staying fixed in one city for the intensive learning period so that I could get into a good routine and make deeper friendships.
I'm slowing down my travels now and for the next month will get back into intentionally improving my Chinese, so I can bring it up a level. (I'll be two full weeks in Taiwan again, then a quick weekend in Singapore, and then Macau and Guangzhou and then almost two weeks in Hong Kong. I can do a lot in 2 weeks after the first day or two of settling in!)
Being in the country isn't what matters
It's easy to think that simply being in the country will make you magically improve quickly, but this is not true.
The point is that immersion isn't about where you are, but what you are doing. Every day I get emails from people who are doing a pretty impressive job learning a language, without having ever set foot in a country that speaks it. I'm so inspired by them, that I'm pretty sure that my next major project will very likely intentionally involve going to the wrong country for 3 months and then the actual experience in the country itself.
I've already maintained my languages fine from any country (this week in Beijing alone, I've spoken at least six hours of French, five hours of Spanish, an hour of Italian, an hour of Portuguese and a half an hour of German, as well as several hours of Chinese), and I actually learned a considerable amount of my Portuguese in France before I ever stepped foot in Brazil, but I would like to show people that being in the country isn't necessary, so I'll be learning under similar conditions to many of you for one of my projects soon enough 😉
(By the way, my next minor language project over the summer will be announced in the email list within a couple of weeks, so don't forget to sign up!)
I love travel, and the last few weeks in China have been absolutely incredible, but that's the point for me – I learn a language to travel better. I don't travel to learn a language better. If anything, the comfort and lack of unpredictability that you have at home before travelling makes it EASIER to learn the language then!
If you are in a country to travel it, as I've been doing in China, then it's incredibly hard to get into a routine that allows you to improve your language skills to a real degree. If you are living in the country, and start making friends there and focus time to reduce your mistakes, then you can indeed improve quickly. But in this day and age, you can create a very close replica of that immersion environment without ever needing to buy a plane ticket.