No pain no gain
---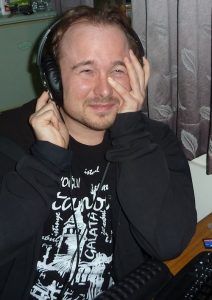 I've spent 3 hours today looking like this, and currently have a splitting headache.
To contrast with yesterday's post, where I talk about comfort in the language in the pre-fluency stage, I thought I'd give you another glimpse into the huge amount of discomfort I'm also going through a lot of the time.
Since I know from pre-fluency experience that there IS a lot you can do in the language at that stage, it's tempting to take things easy and just stick to the friends who are patient enough to speak to me slowly, and know that being able to do what I can now (which is a lot) is enough. But there are too many limitations of this stage, so I'm of course charging forward.
One point I really need to fix and jumped into immediately was the fact that I only understand if people speak to me slowly. And in-person meet-ups (with one person) and casual chats are fine, since a lot of visual cues can help me quite a lot, so over the last week I've started getting more lessons online entirely by audio calls. I hate audio calls – I even have a policy of almost never answering my phone if it rings, even when in an English speaking country.
The first one last week was really hard without visual cues or seeing the person's expressions or body language to help me, so even though they spoke slowly it was a rough hour. But in the spirit of progress I stuck with it, and after lots of daily lessons with different patient teachers, I can handle audio only conversations with a slow speaker in the same way I can when there are lots of visual cues.
But today, I started with new teachers (info on resources I use to find them coming later; suffice it to say, it's super easy to learn online, and it actually has advantages over in person lessons!!) and requested that they speak normally to me. One of these teachers was from Beijing and their "normal" speed sounds like an auctioneer on Red Bull… in a very different accent I'm not familiar with.
For an entire hour I had to be incredibly focused and it was exhausting. Infuriating actually. They don't speak that fast on Taiwanese radio, and unlike with the radio, I had to react and interact immediately – I felt like I had to process a dozen words a second, and was doing a pretty poor job at it, but scraping through to try my best to keep some form of conversation going.
Even two whole months into learning the language as intensively as I'm doing, I'm having these very difficult periods because of pushing myself out of my comfort zone. Once again, my brain felt like it was melting, and despite the comfort in doing the kinds of tasks I talked about yesterday, I feel like an idiot once again.
After the first hour-long class I was at the point where if I was the kind of person who smoked or drank, I'd be going for a puff or a shot. Instead, I opted to bang my head against the wall a few times.
The frustration of individual sessions like this isn't helped by the overall frustration of two whole months not being able to socialise at the deep level I can in my other fluent languages (although I am socialising with patient listeners), since I'm sticking to the plan of keeping everything in Mandarin, and still dealing with cultural adjustment issues. But rather than give up, this frustration has me even more determined to keep at it until I can get to the other side and be able to have deep natural conversations in Mandarin too.
An entire hour of Mandarin that's way outside my comfort zone felt terrible, my ego is destroyed (again), my head really hurts (from over thinking, not the wall banging) and I feel like my brow will be permanently furrowed… so despite (or actually because of) all this, the last thing I did in the class was to book the teacher for her next available slot this week.
The only way I'll move forward through this tricky stage is by lots and lots of painful exposure. I accept that many parts of language learning are really annoying and that you don't have to enjoy it all, so I'll keep putting myself through these frustrating tasks, so that I can come out the other end that little bit more comfortable. I'm not looking forward to my next Beijing auctioneer teacher lesson, but I'm going to have as many frustrating sessions like this as I can until they aren't frustrating any more.
No pain, no gain.