Christmas Traditions from Around the World
---
As you post Christmas cards, hang up tinsel and glaze your turkey, have you ever wondered about the Christmas traditions in other parts of the world?
Did you know that in the Czech Republic, teenagers dress up as devils and go in search for small children? Or that the Christmas festivities in Catalan largely revolve around the comfort of a pooping log?
Do you know where Santa actually retires to during the summer months?
Christmas is celebrated in many different ways across the globe, with some traditions that might seem unfathomable by what you are used to! Read on to find out more.
Greenland – Christmas in the Dark
It's so cold in Greenland that Christmas trees have to be imported from Denmark – as they won't grow within an arctic climate! The fir trees, which aren't cheap, are decorated on the 23rd of December with candles, ornaments and kamiks – tiny little sealskin breeches. If a family can't afford the import fees, they'll use a traditional driftwood tree instead.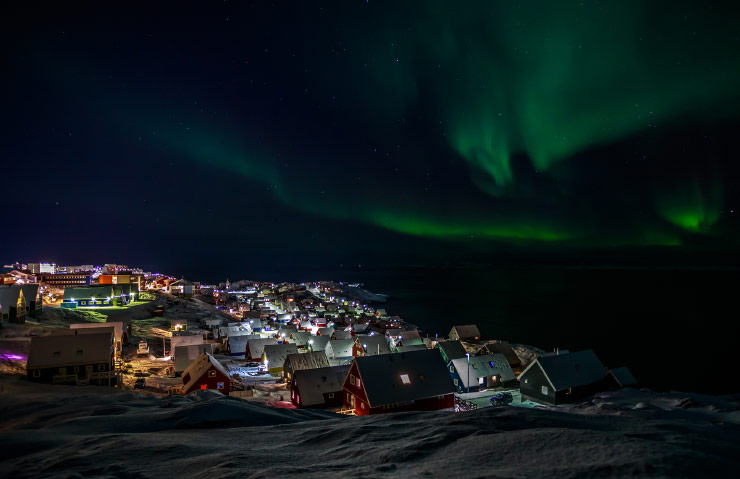 Greenlanders also put an illuminated star in their windows, of both homes and public buildings. The sun doesn't rise at all during the winter, so any bit of light in the country is welcome.
Can you imagine – Christmas in complete darkness? It's said to give the occasion a lovely, comforting feel, as the villages of Greenland are adorned with lights and families gather together, to snuggle up and celebrate in the warmth.
A traditional Christmas dish features some fairly unusual additions. Mattak is whale skin, with a strip of blubber inside – too tough to chew, it's usually swallowed whole. Kiviak, which is the raw flesh of little auks (an arctic bird) that are buried in seal skins months in advance and left to rot. Sounds revolting for sure, but they're considered to be a local delicacy! Raw sushi, cooked fish, a soup known as suaasat and plenty of Danish pastries are also consumed.
Japan – Have a "Finger Lickin' Good" Christmas
In 1974, the popular fried food chain KFC held a nationwide campaign in Japan. Known as Kurisumasu ni wa kentakkii! (Kentucky for Christmas!) It came about when a group of foreigners couldn't find turkey to gobble down on Christmas day, and substituted it with fried chicken.
KFC saw an opportunity for profit and jumped on it – offering fried chicken and wine. These days you can also get cake and champagne in the deal, for around $40 USD.
The meal is so popular that many order their Christmas Kentucky months in advance to avoid the waiting lines, which can be up to two hours long.
From an outside perspective, Christmas seems particularly commercialised in Japan, which is largely due to the fact that it's not a Christian country. Although presents are exchanged and Christmas cards sent (however never in red, as it's a colour reserved for funeral cards!), it's not considered a holiday – rather New Year's Eve is a religious time, to be spent in the company of family.
In fact, Christmas Eve is more widely celebrated than Christmas Day and is thought of as being a traditionally romantic holiday – much like Valentine's Day in the western world. Couples go for long walks together to look at Christmas lights, exchange presents and often have romantic meals in restaurants… before gorging themselves on KFC the next day!
Australia and NZ – Christmas in the Summer Sun
For many people, Christmas isn't Christmas without a hot roast dinner, mulled wine or eggnog and perhaps even the promise of snow.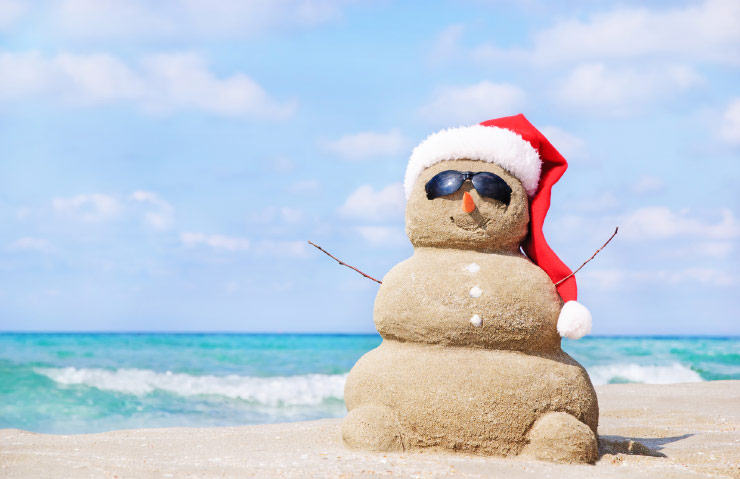 However, Christmas Down Under is an entirely different affair, as it takes place in the searing summer time heat. Although both Australia and New Zealand have similar traditions to that of Ireland, the UK, Canada, and the USA, the change of season has led to a few tweaks here and there, making the holiday more suitable for the warmer climate.
In the lead up to the day itself, many people will adorn their houses with Christmas decorations. A popular tradition is for families to drive around from street to street, checking out the lights. Some neighbours rally together to deck out their houses – turning the entire street into a small fairground. Families meander around, checking out the houses and eating ice cream supplied by a nearby food vending truck. Competition to have the glitziest house in the street is usually fierce.
Carols by Candlelight is a popular event all over the country. In every city or big town, citizens gather together to sing traditional Christmas carols in a park, lighting candles as the day gradually turns to night.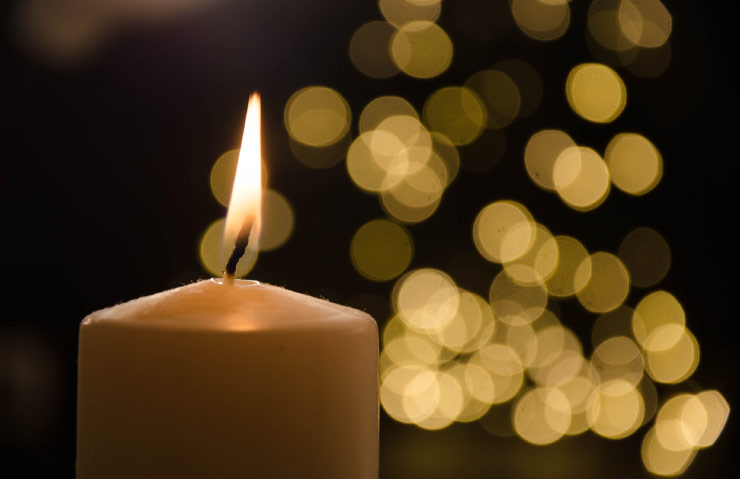 Santa is often portrayed as having swapped his winter warms for a pair of boardshorts, ditching his twelve reindeer for a mob of kangaroos or seen straddling a surfboard.
Of course a hot roast dinner makes little sense in a warm climate. An Australian Christmas Day spread consists of fruit, cold cuts such as turkey and ham and kilos of seafood, like Tiger prawns, stacks of crab sticks and perhaps even some Balmain Bugs. Not to forget a good old fashioned Aussie BBQ (shrimp – or prawns depending on how Aussie you are).
Dessert can consist of Christmas fruitcake, trifle or a pavlova), a meringue based cake, the origin of which is a cause for constant feuding between Australia and NZ.
If the family has a backyard pool and the weather is fine (as it usually is), everyone jumps in for a dip. Other popular activities include a picnic at the beach or several rounds of backyard cricket, with beers in the sun.
Catalonia – Where Christmas is Celebrated with a Pooping Log
Meet Tió de Nadal, who comes out on the 8th of December. It's a small log, with a smiling face, that's adorned with a traditional red Catalan hat, known as the Barretina. The name translates to "Poo Log" – I shit you not (pun obviously fully intended).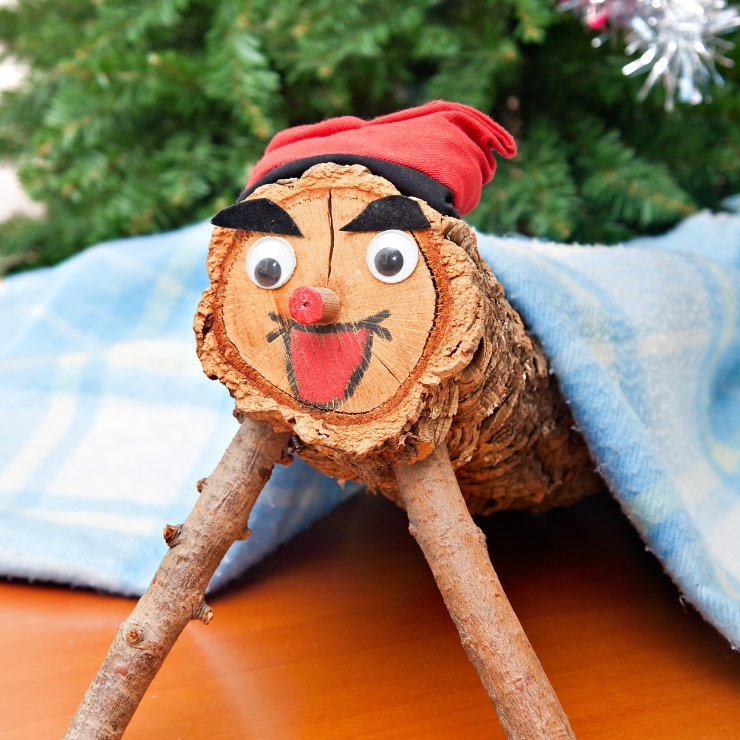 Children spend every day between the 8th of December and Christmas Eve looking after Tió de Nadal – covering him with a blanket and feeding him nuts, dried fruit and water every evening. The plan is to fill him up, so that he'll poop out treats on Christmas Eve.
After dinner on the 24th, kids are given a stick to hit Tió de Nadal with, as they sing:
" Si no vols cagar
Et donanem un cop de pal."
Or:
"If you don't want to poo
We will hit you with a stick"
Inside the log's blankets, the kids will find sweets and small toys, which have been "pooped" out by the inanimate, smiley-faced log. Once all the gifts have been collected, the log is burnt for warmth!
It doesn't end there. Catalonians also include the figure of Caganer in their nativity scene – a defecating man with his pants down, shown "fertilising the earth", in order to bring good luck.
Finland – The Home of Santa Claus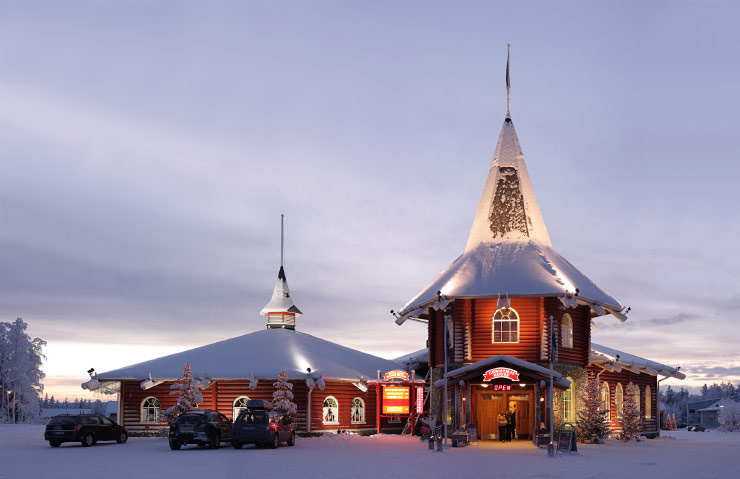 There is much cause for debate on which Nordic country Santa retires to during the (northern hemisphere's) summer months, with Finland, Sweden, Norway, Iceland and Greenland all vying for the top spot.
Letters were once sent to Nuuk, the capital of Greenland, where it was alleged that the townspeople worked together to ensure each child received a reply. Unfortunately, the Santa Claus service that was established by Nuuk Tourism went bankrupt, due to austerity cuts in the country.
It's Lapland in Finland that seems to now hold the coveted position. Letters from all over the world are mailed here, with elves working diligently on replies. There's even a Santa Claus Village, particularly popular among British tourists.
Christmas celebrations are held on the 24th, rather than the 25th of December. In Turku, the former capital of Finland, a ceremony is held to declare the beginning of "Christmas peace" – a period that starts at midday on Christmas Eve and lasts for twenty days.
From there, Finns will attend church for the Christmas Eve service, or go to a local sauna to bathe and relax. Family then gathers together to have Christmas dinner and gifts are left under the tree from Joulupukki, the Finnish Santa. He was traditionally known as a "Christmas Goat". He was once believed to be a horned creature who frightened children, rather than giving them gifts! These days he comes knocking on the door on Christmas Eve, with presents for those who have behaved and lumps of coals for anyone who hasn't!
Czech Republic – Watch Out for the Christmas Devil!
Christmas in the Czech Republic starts on the 5th of December, on what is traditionally known as St. Mikuláš Day (St. Nicholas Day). Teenagers dress up as angels, devils and St. Nick and go searching for small children. The kids must then recite a poem or sing a song, to prove how they good they've been that year.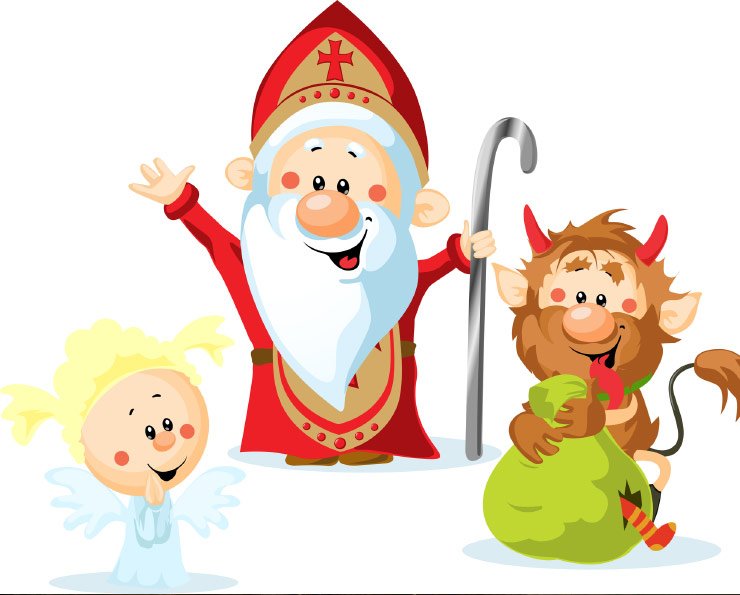 Good kids get sweets, chocolate and fruit.
Bad kids get a potato or a lump of coal and are sent to Hell in a burlap sack.
St. Nicholas Day is considered a completely separate holiday to Christmas itself. As with Finland, the 24th of December has more of an emphasis than the 25th.
Christmas Eve is associated with many superstitions, relating to love and life. For example, if you're a single gal who throws a shoe over your shoulder and the toe points towards the door, you'll be married within the next year!
Some other customs are that:
No lights should be lit in the house before the first star comes out.
No one should get up from the Christmas table before dinner is finished. Doing otherwise brings bad luck or death in the family.
All household animals should be fed after dinner so no one goes hungry on Christmas Eve.
Presents are placed under the tree and handed out after the meal. Many Czech children believe that their gifts are brought by Baby Jesus, who comes in the room through the window to leave presents. Like Santa, many wish-lists are addressed to directly to him.
Venezuela – A Roller Skate Date
Morning mass, known as Misa de Aguinaldo, is popular in Venezuela and is held from the 16th to the 24th of December. What is far more interesting is the mode of transport used by the citizens of the country's capital Caracas to get to mass on time.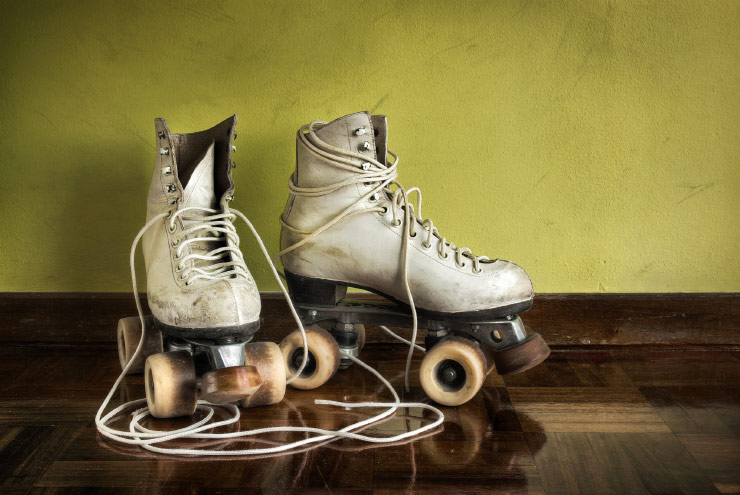 Each morning, firecrackers explode and bells ring, rousing worshippers from their beds before dawn.
Caracas citizens then don their roller skates and make their way to the church. Vehicle access is blocked off in many areas before 8 a.m., keeping the streets safe for skaters. Kids are woken up early in the morning by tying a piece of string to their big toe and letting the other hang out the window. Passing rollerskaters give them a tug as they go by.
After the mass, people go out to socialise, eat tostados (deep-fried pancakes) and drink coffee.
What Are your Favourite Christmas Traditions?
How about you? How is Christmas celebrated in your corner of the world? Are there any weird or whacky traditions you delight in taking part in?
Wherever you are and however you are celebrating – Happy Holidays / Happy Festivus / Have a wonderful Saturnalia / Merry Christmas to all, from the team at Fluent in 3 Months.