English words in Japanese: Music video with Japanese learners
---
Wednesday was my one month point in the three month Japanese challenge, so to really make my mark I wanted to record one last video with a prepared script before I get into recording spontaneous Skype (or in person) chats for the next two months. To really make it count, I decided to record a music video!
This video is quite an oddity because it is entirely in Japanese… and yet many of you who will have never learned any Japanese will understand quite a lot of it even without reading the lyrics that are edited into the video. And that's because the video is made up entirely of words Japanese has borrowed from English, but said as closely as possible to the Japanese pronunciation (written in the Katakana script every time).
So much English in Japanese!
One thing that has stood out for me quite dramatically in Japanese is how huge the list of loanwords from English is. There are so many cases when an English word is used, even if (like in this Skype chat with the word "volunteer") it doesn't sound familiar at first with the Japanese accent. I am starting to get used to the Japanese accent and how the word may sound, and as such I instantly get a tonne vocabulary that I can learn instantly!
The list is very long because there are just so many English loan words (much more than in some European languages even), that it would be hard to list them.
In many cases there are words that have a Japanese original version that you use in certain cases, and an English original word you use in others. As such, learning the use of words is important, so it's important to not presume that you can simply use all of these words in Japanese, the same way we would in English. But even so, there are a lot of chances to get by pretty well very quickly!
Enter team plus one challenge to sing the words!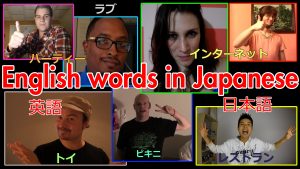 Since listing the English loan words out wouldn't have been so interesting, I decided to sing them to you in this way! I had this idea for a while, and wanted to take the song Yakko's Nations of the World from the Animaniacs, which works as a fun way to go through a long list of individual words, and replace the lyrics with my own.
The problem is that it requires singing very fast and there is no way I could do it in one take without there being way too many mistakes, or without weeks of practice (I came up with this idea on Monday, to record it on Wednesday, and edit them all together by Friday/Saturday). I could cut each verse together, but that wouldn't be so fun either.
And then my friend Brian gave me the wonderful suggestion of doing a collaboration video together, and I shared this idea with him. He took control of collaborating with people in the plus one challenge (since many, like me, were reaching the one month point in their projects) to see which ones learning Japanese would be able to contribute to the video, and Brian himself, Jan, Hagit, Antoine, Kevin and Mariusz volunteered to join along! Having multiple people singing meant that we could have scene transitions, each sing one (or two) verses at a time and make it somewhat more manageable. If you want to join the next +1 Challenge, sign up here!
It took each one of us a LOT of takes (Brian is uploading the bloopers video right now and I'll link to it when it's ready), but we managed to get it right and I got some help to perform some audio and video editing magic and the result was the video above!
I hope people find it to be a fun way to share some loan words in Japanese, and appreciate that every single one of us is still a learner and of course may have made a few mistakes. I figured Japanese people may enjoy it too since there is something ironic about foreigners singing foreign words in Japanese, and making the odd mistake! I also imagine the ever critical Internet will not like some word choices (in fact, I made a mistake and mixed up the lyrics and took one of Brian's words, "balance", and said it in my first bit too), but remember that it's all good fun!
Thanks a million for sharing it and I look forward to your comments! Next week, I'll share my thoughts on how the first month has gone and where I am in my Japanese level!