Having fun at Esperanto events
---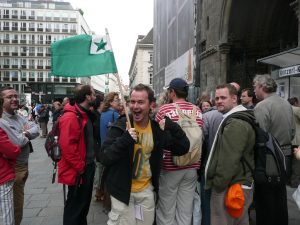 This week I'm taking a break from my Czech studies and spending 7 days with 400 Esperanto speakers in the north of the Czech Republic, in Liberec.
What is Esperanto?
Esperanto is a constructed language with the purpose of connecting people from across many cultures who each natively speak different languages, without giving an unfair bias to any particular country/speaker as, for example, English currently does. Esperanto is also a very easy language to learn! I started learning it a year ago at the Summer Esperanto Study programme and I celebrated the New Year in Germany at the Internacia Seminario (click links to see videos I made about each event). Between both week-long events I've already reached a very good level of the language thanks to its similarities with other European languages and extremely easy grammar.
This is the third time that I'm meeting up with Esperantists; the events always cost very little money, with all accommodation and food included (vegetarian friendly if required), and there are options for self-catering and you can even camp here to reduce the price if you wanted to. The organisers prepare discussions, classes, cultural exchanges, concerts, nights-out and day trips etc. All of it in Esperanto. The event I'm currently at is the largest gathering of young Esperanto speakers (sometimes reaching up to 1000 people), and there are people from all over the world here. In the evenings there is a bar to hang out in, a chill-out area for non-drinkers and a disco to dance in.
Why would you want to learn a language that no country speaks?
There are actually Esperanto speakers in almost every country, and there are plenty of events like this all around the world during the year. I will be talking about the practical reasons to learn it another time (for example, even if you don't care about the language itself, it can still seriously help you learn another language), but for me the most important reason to learn it has been to participate in these events! I am really enjoying this week and have already met some very interesting people my age who have very similar interests (some vegetarians, Linux users, language lovers, well-travelled and of course, fellow polyglots!) It's also costing me very little money.
Have you ever heard of Esperanto before? When I mention it, some people seem to get defensive about learning a "non natural" language. Esperanto was "invented", but after over a 100 years of usage, it has evolved into a "natural" language that quite a lot of people use very regularly. There are even native Esperanto speakers (always bilingual with one or more languages) usually due to their parents meeting at an event like this…