Top 5 Healthy Things to do in Spain
---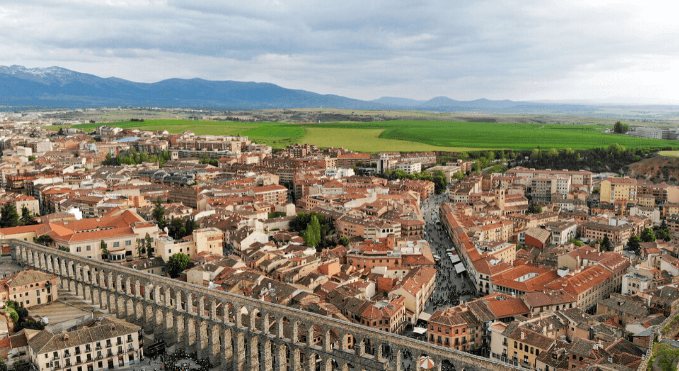 There can be a million and one things to do in Spain because it's such a culturally diverse, well-developed country with a lot of history. But what healthy things could you get up to?
In this article, you're going to learn the top five healthy (yet fun) things you can do in Spain to spice up your fitness life.
Sound good? Let's get started.
1. Go to the Beach
There is nothing better than rocking up to a white, sandy beach in Spain and gazing into the oceanic distance as far as the eye can see. Who doesn't love a trip to the seaside?
Everyone loves the beach, and just being outside in the fresh open air is one of the best things that you could do to improve your energy, creativity, and even your blood pressure.
Read on to find out what you can do at the beach to make it as enjoyable as possible.
Healthy Things to Do at the Beach in Spain
A. Workout at an Outdoor Gym
Ever thought of swapping your paid gym membership for a free outdoor workout?
In Spain, there are various outdoor gyms all across the country that are completely free for public use. One outdoor gym that I went to was the famous 'Barcelona Beach – Street Workout Park'.
I went to Barcelona for a week when I was in-between jobs back home in the U.K., and during this fantastic retreat, I was walking through the The Arc de Triomf where I met a Venezuelan man and now dear friend called Jesús, who is a systems engineer fluent in six languages including Spanish.
During this time, we'd get together for delicious food, talk about Barcelona, and he also taught me Spanish as a way of learning by doing where we weren't allowed to speak English together for a period of time.
Jesús has inspired me to continue learning Spanish to this day, although at the time, I have to say – I wasn't a very good student as I sometimes responded back in English out of pure frustration. 🙂
The reason I've mentioned my friend is because he also introduced me to the Street Workout Park at Barcelona Beach which he goes to consistently. I found it to be a brilliant experience. The outdoor gym has everything you need for a true CrossFit workout, including horizontal bars, exercise bars, and a stunning sunset with an orange reflection emitting from the sea.
What if you don't have an outdoor training gym near your beach?
Even if the beach near you doesn't have an outdoor gym, it doesn't mean you can't train.
Instead, you could:
Do cardiovascular exercises such as football, volleyball, shadow boxing, beach cricket, chase your kids in a game of Tag etc.
Do a bodyweight workout.
Bring along cheap training equipment for resistance training as you can see me doing below: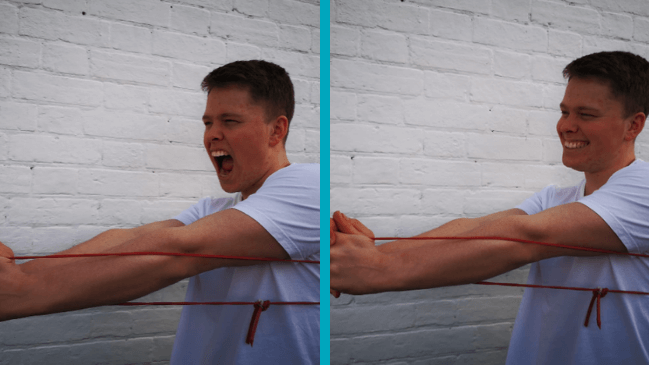 B. Long Walks or Runs on the Beach
Long walks or runs are another brilliant way to be healthy when you're on a beach. Spain has an array of beautiful sandy and rocky beaches across the coast such as:
Cala Galdana
Playa de las Teresitas
Es Trenc
Cala Saona
Plus many more
You may also have a dog you could bring with you? Then why not learn some Spanish dog commands? The beach can give both you and your dog the happiest day of your lives.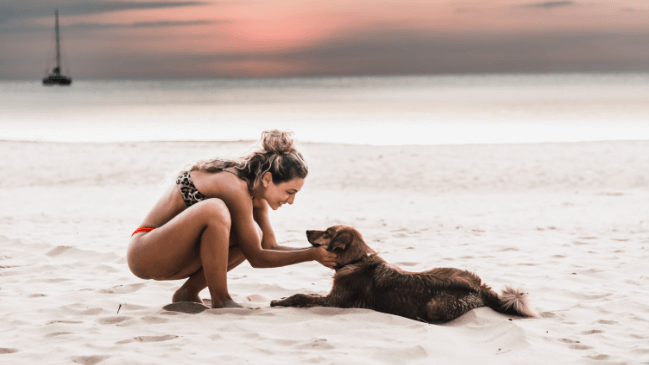 A few things to watch out for when taking your dog to the beach include:
Finding dog-friendly beaches
Keeping your dog cool
Seawater and strong tides
Dog waste
Discarded food or sharp objects
So whether you'd prefer to walk, run, or both, getting into a natural environment with the beauty of the blue turquoise sea to your side is one of the best things that you could do for your physical and mental wellbeing.
C. Swimming in the Sea
Sea swimming is a great form of exercise that can help strengthen muscles, increase endurance, and improve your skin.
I love swimming in the sea. When I was growing up, no matter what the weather or what beach me and my family went to, I was going to swim in it (this includes Brighton beach in the UK!). Thanks to my youthful bravery, I still enjoy a good lap to the sea-buoy and back, even in icy-cold water.
If you're more sensible than me, which I'm sure you may be, here is a great resource where you can discover the exact temperature of the sea where you're staying.
2. Play a Spanish Sport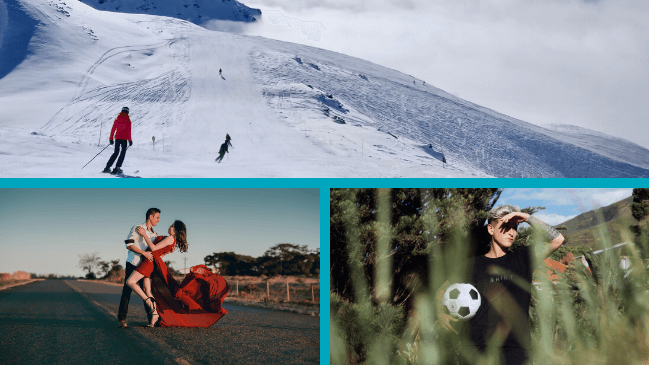 Sports are a great way to build healthy exercise habits because they can be so much fun. Team sports are especially great because you can make friends with like-minded people, commit to regular exercise, and you also have an opportunity to learn the language's cultural baggage (jokes, figures of speech, idioms).
What Spanish Sports Can You Do?
Spain itself is a very established sporty nation thanks to its history, diverse culture, and climates. Continue reading to learn Spain's most popular sports that you can try:
Football
When it comes to Spanish sports, Football is king. In 1872, a group of English workmen for Rio Tinto mining company introduced the game of football to their Spanish coworkers which resulted in the first soccer club in Spain six years later in 1878 called Recreativo de Huelva; football was officially born.
Today, with the likes of world-class football teams: Real Madrid and Barcelona FC, football is a multi-billion Euro industry generating more than €7.6 billion or 0.75% of Spanish GDP in 2013 alone. There is an abundant number of football clubs all across the country with both beginner and advanced football teams that you'd be welcomed to join.
In my personal experience playing Sunday football for a local team as a kid, I can tell you that it's a brilliant game you're bound to love, maybe even more than the Spaniards, although that is hard to beat.
Skiing
Skiing in Spain is terrific throughout the winter months because of the country's continental climate (meaning very hot air in the summer and very cool air in the winter) and mountainous terrain. The country has over thirty great ski-resorts with some of the best including:
La Molina: Situated only two hours from Barcelona and the home of Spain's first ski-lift, La Molina is one of the most popular resorts in the country.
Benasque: A perfect resort for cross country skiers with beginner and advanced routes you'll love.
Masella: Ninety minutes from Barcelona, Masella resort contains 65 pistes for all levels spread over a massive 75km – meaning every day on the mountain can be a different one for you.
Baqueira-Beret: Officially Spain's biggest ski resort with 153km of pistes located in the Aran and Àneu Valleys of the Pyrenees.
Navacerrada: One of the closest ski resorts to the capital with a mixture or easy and challenging pistes, a slalom stadium, and a ski jump.
While I've never been to a Spanish ski resort, I usually ski every year with my family across the globe where we have fun, test our physical endurance, and spend meaningful time with one another.
Dancing
Have you got any moves? I certainly don't… The Spanish on the other hand, certainly DO.
During the Renaissance period (1300 AD-1600 AD), folk dance gained both national and international popularity kickstarting the region's growth with the sport.
Fast forward to the Baroque period (1600 AD-1750 AD) there came an increasing popularity of gypsy music and dance due to the influx of Gitanos that made a historical change in Spanish dance.
Some of the most popular Spanish dance genres you can try include:
Sevillana: Influenced by Flamenco in 19th century, Sevillana is a colourful and exciting folk dance.
Muiñeira: Founded in north-western Galicia, Muiñeira is another vibrant folk dance where one of the main instruments played is called the gaita (bagpipes).
Flamenco: Documented for over two-hundred years, Flamenco is one of the original Spanish folk dances that involves hand-clapping, foot-stomping, and shouts of encouragement.
Sardana: The Sarda is a popular Catalan dance where people hold hands in a growing circle that rotates with precise steps.
Paso Doble: A fast, sexy, and colourful dance that shouts passion at any audience. The music played in Paso Doble (double-step) also became background sounds for bullfights.
With these and many more famous Spanish dance genres across the country, you'll find an excellent healthy hobby to challenge yourself in.
3. Go Hiking in Spain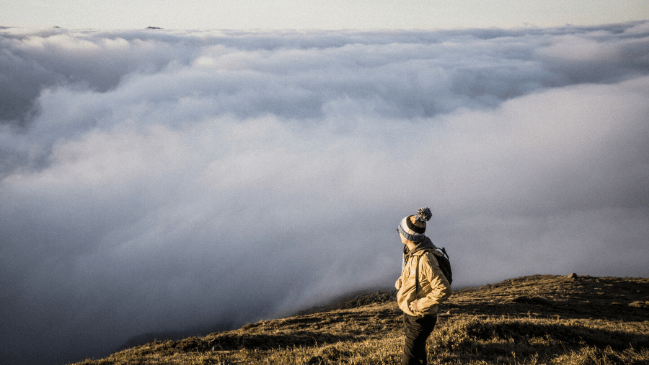 Spain is packed full of historic monuments, places, and trails that you can explore with a good hike.
Hiking has a combined effect of physical activity and time spent in nature that can lead to a joyful, nourishing experience of:
Calm
Creativity
Improved cardiovascular fitness
Where Can You Go Hiking in Spain?
Ruta del Cares, Picos de Europa
Ruta del Cares, also known as 'The Divine Gorge' located in Picos de Europa National Park is a beautiful 12km hike with winding paths carved out the side of a rock gorge. This hike is known to be one of the best in Europe, let alone Spain, which could be due to delightful bridges, streams, and nature that appear along the path.
Camino de Santiago
The Camino de Santiago (The Way of St James) consists of over seven established pilgrimage routes that start along the French border and end at the tomb of St. James's located in Santiago de Compostela.
Some of these routes include:
French Way (Roncesvalles > Logrono > Leon > Burgos > Sarria > Santiago)
North Coast Camino (San Sebastián > Bilbao > Oviedo > Santiago)
Portuguese Way (Lisboa > Fatima > Santiago)
Andalusian Camino (Madrid > Granada > Córdoba > Mérida > Santiago)
Primitive Way (Oviedo > Lugo > Melide > Santiago)
While this is traditionally a religious walking tour, many people choose it as a walking holiday for fitness reasons as well as for the sociable atmosphere and sense of community.
Caminito del Rey, Malaga
Caminito del Rey, also known as El Camino del Rey has historically been one of the most dangerous hikes in the world, closing in 2000 due to old, unstable pathways made by sand and concrete in 1905.
With substantial renovations, the Caminito del Ray reopened in 2015 with safely fenced pathways, metal handrails, stairs, and bridges alongside the gorge that provides a spectacular view. The hike is a fun 7.7 kilometres long which takes close to four hours to complete.
4. Tuck Into Delicious Local Cuisine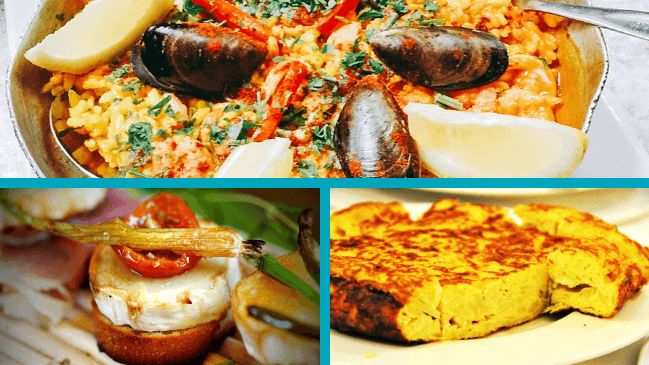 It's impossible to overlook the healthy local cuisine in Spain that positively overwhelms tourists with an explosion of delicious flavours, tastes, textures and colours. Whether this food is enjoyed in a tapas bar or a Catalan restaurant by the sea, you'll most likely be pleased.
I'm going to show you a list of the three most popular Spanish dishes which have been around for centuries.
Tapas
Going to Spain and eating tapas is like going to France and having a pastry. Whether it is enjoyed hot or cold, this strong-flavoured appetizer (or complete meal) is commonly complemented with:
Bread
Meat
Olive
Fish
Cheese
Mushroom
And typically flavoured with:
Garlic
Olive oil
Chilies
Paprika
Cumin
Saffron
Before the 21st century (or 1975 in particular after the death of dictator Francisco Franco), the norm of tapas were to be served for free with a drink in order to boost business and repeat customers. This was particularly true in areas such as Andalucía or the Basque Country but as Spain became increasingly popular, with more and more tourists coming back each year, the small dish turned into something that could be profited from.
If you've never tried it before, tapas can be delicious beyond comparison and an excellent way to stay healthy because of the nutrient-rich ingredients it offers.
Paella
¿Cómo no se puede incluir la paella? (How could paella not be included?)
One of Spain's most popular dishes, paella is a healthy, delicious hodgepodge of harmonious flavours that blend together irresistibly well.
Paella has originally evolved from Valencia in the mid-19th century, with the name paella meaning 'frying-pan' in Valencian.
The original ingredients of the paella valenciana (what they named paella in Valencia) include:
Round grain rice
Varieties of green beans
Butter bean
Chicken
Rabbit
Duck on occasion
Olive oil
Whole rosemary
With the increasing reputation of this delectable dish, more and more recipes were created with other types of ingredients, most notably: seafood.
Seafood paella is one of the most globally favoured recipes of today and will be on the menu whenever you're eating out at a Spanish restaurant.
You can also find an easy to make, delicious paella recipe right here if you're thinking of eating from home.
Tortilla Española
Tortilla Española, or 'Spanish omelette', may ring some bells. It's one of Spain's most beloved dishes. Simplicity is everything when it comes to Tortilla Española where you'll find the ingredients include:
These ingredients are then cooked in a fresh glug of olive oil and a pinch of salt and pepper.
As simple as this dish is, it can be profoundly scrumptious when the right timing and technique is applied. What I love about this dish when it's made right is how silky-smooth, creamy-like everything is in the centre and how crispy yet fragile everything is on the outside.
While this healthy dish is commonly served with tapas for lunch or dinner, you'll also find it impossible to pick up another bowl of cereal for breakfast after enjoying it first thing in the morning.
5. Take a Nap at a Spanish 'Nap Bar'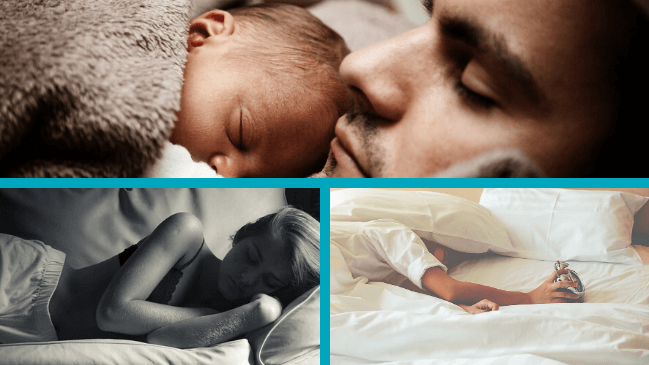 A Spanish nap bar you may be wondering? Yes, the Spanish have taken the siesta (meaning 'nap') one step further with the very first 'nap bar' in Madrid known as Siesta & Go. If you're out and about in Chamartín Madrid and fancy getting a bit of kip, this is the go-to place.
If you're elsewhere in Spain, then a siesta where you're staying could be just as good for you. In fact, science shows that adults who take regular naps may be better at processing information before carrying out work that demands alertness and inhibition as proven in the Flanker Task.
I use to take naps (a nappuccino) during my lunchtimes at work, where I would drink a cup of caffeinated coffee in my car, recline my seat until nobody could see me (they could 😬), and set an alarm for twenty-five minutes because caffeine doesn't kick in instantaneously (more research needs to be done but a 2008 study shows that caffeine can take ten to forty-five minutes to kick in).
I found that when I woke up, I had so much energy that I positively came back into the office like an electrically charged battery, working away without fatigue. I got this idea from Daniel H. Pink in his book: When: The Scientific Secrets of Perfect Timing.
While more research needs to be done on siestas and napping, I'd highly recommend trying it and I'd love to hear how it went for you in the comments below!
In Summary: Here Are The Healthiest Things You Can Do In Spain
Being healthy in Spain can be possible in a wide number of ways, and staying healthy overall is also possible through good habits.
From my experience in this country, I've addressed some of the best ways that you can stay healthy which were:
Going to the beach. For example, you can run, walk, play, swim, dance, or do a CrossFit workout like I did at the Street Workout Park on Barcelona Beach
Play a Spanish sport. With a multitude of different sports to choose from, the one you pick could lead to a new favourite hobby and may give you a chance to make friends and improve your Spanish.
Hiking in the most popular spots. Walking alone has a wide-range of health benefits and going for hikes where you can also learn more about Spain or meet new people is a fantastic thing to do.
Enjoy local cuisine. Spain is famous for its glorious food where you'll experience the most delectable flavours of fresh ingredients that you know are good for you.
Going back to bed. Amo la siesta (I love siestas), do you? Sleep is one of the healthiest things we do as humans and daytime napping can have great benefits for you.