Spread the Holiday Cheer! 33 Holiday Foods, Decorations and Greetings from Around the World
---
Everyone has different holiday traditions — that depends on your family, where you live, and if you even celebrate a winter holiday (or summer if you're below the equator!).
Wherever you're from, there's a good chance that food, getting together with family, and spreading the holiday cheer are things that give you joy.
For some it's heading out to the local Christmas market and indulging in seasonal treats like mulled wine and baked goods. For others, it's traveling back to your parents to reconnect with family and spend time with those who matter most.
Regardless of how you spend the holidays, here are 33 traditions, foods, decorations and Christmas words from around the world to help you celebrate the season.
7 Holiday Food Words from Around the World
No matter where you are in the world, food and holidays go together! So much so, in fact, that we even wrote about 16 different holiday food traditions from across the globe. There are a few more that deserve an honorable mention!
Spanguolių Kisielius ("Cranberry Kissel") from Lithuania
Kissel, or Spanguolių Kisielius in Lithuanian, falls somewhere between a dessert and a drink. It's jelly-like in substance and is made from thickened cranberry juice. It's served as a part of Kūčios, the traditional Lithuanian Christmas dinner. The dinner features twelve different dishes, eaten on Christmas Eve!
If you'd like to try your hand at making Spanguolių Kisielius from scratch, here's a simple recipe.
דמי חנוכה ("Gelt Chocolate") from Various Countries
דמי חנוכה or "gelt chocolate" are small chocolate coins that are given to children during Hanukkah festivities. The meaning is literally "Hanukkah money" because for many centuries, real money was given. It was only in the 20th century that chocolate makers picked up on the tradition and developed a chocolate version of "gelt". In the 1920's, these chocolates were wrapped in silver and gold foil, then tucked into pouches designed to resemble money bags. While the first chocolate gelt was produced in the US, the largest manufacturers today are based in the Netherlands and Israel.
Want to try your hand at making gelt from scratch? Here's a recipe to change things up from plain chocolate.
Der Glühwein ("Mulled Wine") from Germany
Der Glühwein roughly translates as "glowing wine" and is a traditional drink during the holidays in both Germany and Alsace. Typically made with mulling spices such as cinnamon sticks, cloves, star aniseed, and vanilla pods, as well as with citrus and sugar, and of course, the main ingredient – wine. Der Glühwein is sometimes drunk mit Schuss. That means a shot of hard liquor is added. For those who prefer not to drink alcohol or for those who aren't of the legal drinking age, Kinderpunsch is an option. It's a punch made with similar spices but no alcohol.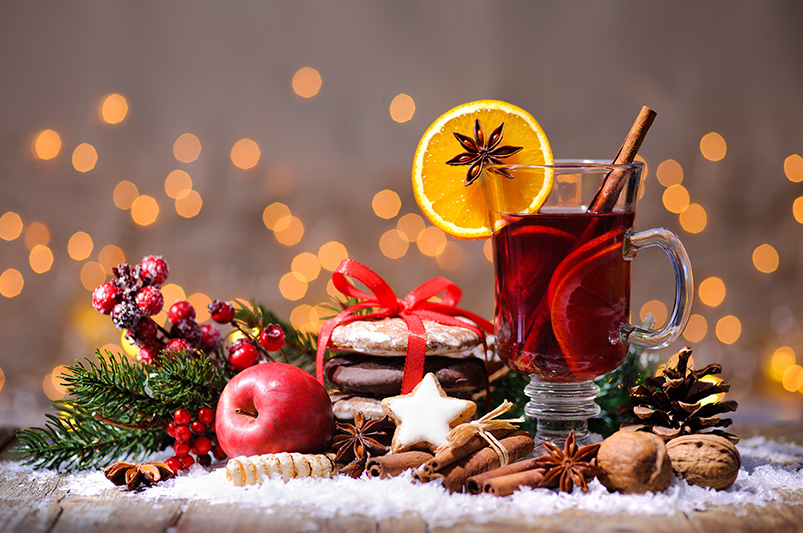 Here's a recipe for the adults only version of the drink and another for the kid-friendly edition.
クリスマスケーキ (Kurisumasukēki, "Christmas cake") from Japan
Did you know that the cake emoji 🎂is actually the Japanese クリスマスケーキ (kurisumasukēki) and not necessarily a birthday cake? Yup! Japanese Christmas cake is a sponge cake served with frosted whipped cream and strawberries and it's traditionally eaten on Christmas Eve. The cakes gained popularity when they started to appear in markets in the Ginza district of Tokyo. Today, sharing a cake with family or friends has become a part of the Christmas tradition in Japan and the cake designs can get impressively elaborate.
Torrone from Italy
Torrone is a type of nougat traditionally eaten during Christmastime. It's made with honey, sugar, and egg whites. Nuts, usually almonds, are mixed in. Italian torrone, depending on where you are in the country, can either be morbido ("soft and chewy") or duro ("hard and brittle"). It sometimes has citrus or vanilla flavor added.
Pierogi from Poland
Pierogi is considered to be the national dish of Poland, and a staple of the Polish diet. These dumplings are made with a variety of fillings, and there are special types of pierogi for each holiday, Christmas included. Christmas pierogi come in two types – one large and one small. The large version is made with mushrooms and sauerkraut. The smaller version is only filled with wild mushrooms and is served in a cabbage soup.
Pepparkakor from Sweden
Pepparkakor are similar to ginger snaps and are a popular sweet come the holidays in Sweden. They are biscuits flavored with, as you can guess, ginger. They're rolled out into thin sheets and then cut out into shapes before baking. If you try them, in addition to ginger, you'll also taste hints of cloves and cinnamon.
Try your hand at a recipe for pepparkakor here (it's after the recipe for saffron buns).
6 International Holiday Season Decorations — Deck the Halls!
מנורה ("Menorah") from Various Countries
The menorah is a candelabrum with nine branches. Eight of these branches are lit during the eight days of Hanukkah, one on each night. The ninth is to hold the candle that is used to light the other candles. It is called the shamash ("helper") and must be either higher or lower than the other eight branches. In Hebrew, menorah simply means "lamp". In Modern Hebrew, the common term is chanukkiyah. The modern term was coined by Hemda Ben-Yehuda whose husband, Eliezer Ben Yehuda, was one of the leaders behind the Hebrew language revival.
La Crèche ("nativity scene") from France
La crèche, or more specifically la crèche de noël is the French version of the nativity scene. In Provence, the nativity scene game is taken to an impressive level with an extensive array of santons including animals of all sorts, vendors, important figures, and of course Mary, Joseph, and the baby Jesus.
Paról ("Star-shaped Lanterns") from the Philippines
The paról is a star-shaped lantern decoration popular in the Philippines during the holidays. Traditionally, it was constructed from bamboo and paper, but more modern versions of the paról are made from a variety of materials and sometimes even feature LED lights. The paról is symbolic of the holidays in the Philippines. They usually begin to appear in homes around September, signaling the start of the season, and remain until January.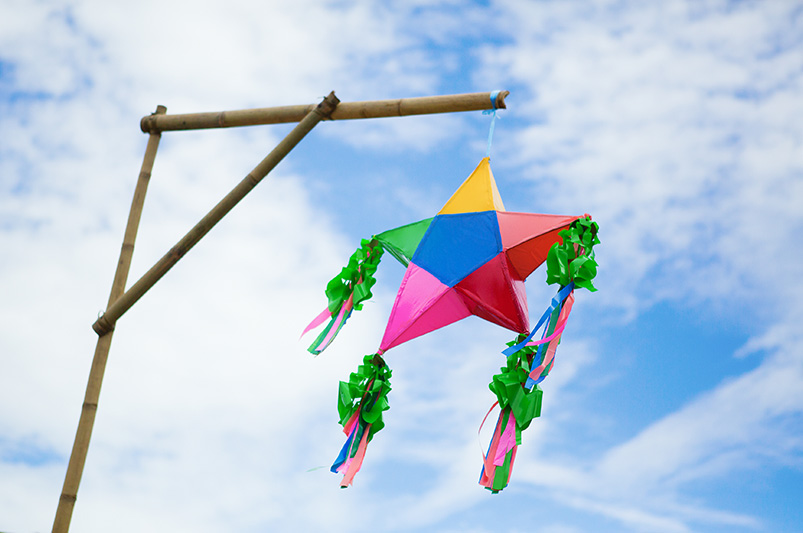 Tinsel from Germany
Tinsel is a decorative material used around the holidays. It is made to mimic ice, and in particular, is used to decorate Christmas trees. Originally invented in Nuremberg, Germany, tinsel has since become a popular decoration across the globe.
Las Figuras de Rábanos from Oaxaca
Each year around Christmastime, a very unique art festival is held in Oaxaca. It is called La Noche de Rábanos, or "The Night of the Radishes" and artists showcase their radish carvings and sculptures. The event only lasts a few hours, but the displays are impressive and extremely elaborate. In addition to the various parts of the radish, corn husks and flowers are sometimes used.
Gävlebocken from Sweden
First appearing in the 1960's the Gävlebocken has become a staple Christmas decoration in Gävle, Sweden. This enormous, 13-meter-tall goat is made from straw, and almost every year, another "tradition" of sorts leads to the destruction of the goat. Despite efforts from officials to save the goat, almost every year the goat has been destroyed, most often by arson (29 times!).
7 Places to Be for the Winter Holidays
クリスマス パーティ ("Christmas party", kurisumasu pāti) in Japan
In many countries, the holidays are seen as a time to reunite with families. In Japan, however, it's a time to get together with friends and many couples throw parties. In fact, Christmas Eve is often a very romantic evening, right up there with Valentine's Day in the west.
Misa de Gallo ("Mass of the Rooster") in Spain
Misa de Gallo, or "Mass of the Rooster", is the mass that happens on Christmas Eve in Spain and other Spanish-speaking countries. It is also celebrated in the Philippines where it is known as Simbáng Gabi.
Gerbrandy Tower in The Netherlands
Each year, the Gerbrandy Tower, the Netherlands' tallest radio tower, is strung with lights in a way that it resembles a Christmas tree. Lighting the tower is an expensive endeavor, so it originally was planned to happen once every five years. But because the bright lamps suspended on cables from the 1,200 foot tower was such a powerful sight, the lighting is sponsored each holiday season so that the enormous "tree" can be lit each year.
Joulupukin Pajakylä ("Santa Claus Village") in Finland
As children, we're often told that Santa Claus lives at the North Pole. And Finland's Joulupukin Pajakylä gets you pretty close – it's in Finland's Arctic Circle! The cute, snow-covered village offers you the chance to visit Santa, hang out with his reindeer, or even head to the post office to make sure your letter arrived.
Ligligan Parul Sampernandu ("The Giant Lantern Festival") in the Philippines
Remember the paról lanterns I mentioned earlier? Well, if you head to the city of San Fernando in the Philippines during the holidays, you'll get to check out a special festival dedicated to these very decorations. Eleven different barangays ("villages") take part in the festival, competing to crete the most elaborate lantern. They can be anywhere up to six meters in size and are often illuminated with lights.
哈尔滨国际冰雪节 (hā'ěrbīn guójì bīngxuě jié, "Harbin International Ice and Snow Sculpture Festival") in China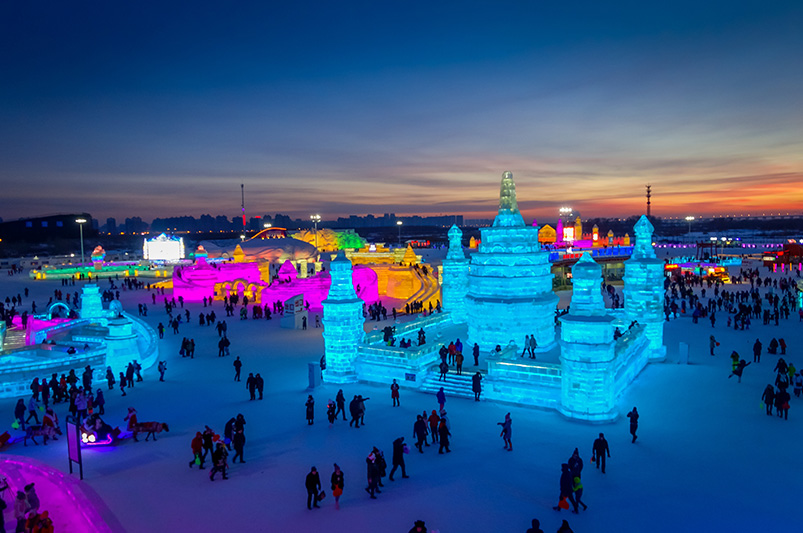 Each winter in Harbin, Heilongjiang, China, the world's largest ice sculpture event is held. Initially, the event hosted national participants, but it has since grown to become an international event and participants arrive from all across the world. The event now sees almost twenty million visitors in a single year and is home to the largest ice sculptures on earth. The ice blocks are taken from the Songhua river and are carved using swing saws. They are worked on non-stop, day and night, leading up to the festival.
Cavalcade of Lights in Canada
Each year in Toronto is the Cavalcade of Lights. This event started in 1967 as a way to feature the City Hall and Square. More than 300,000 LED lights illuminate the area through the holiday season. Fireworks and outdoor ice skating are also big draws to this event.
Spread the Holiday Cheer with these 13 Holiday Greetings
When the music starts, "'tis the season to be jolly", so here are just a few holiday greetings in different languages to help you spread the holiday cheer.
French: Joyeux Noël ("Merry Christmas", literally "Joyous Christmas")
Spanish: Feliz Navidad ("Merry Christmas")
Mandarin Chinese: 圣诞节快乐 (shèngdàn jié kuàilè, "Merry Christmas")
Bulgarian: Весела Коледа (Vesela Koleda, "Merry Christmas")
Tagalog: Maligayang Pasko ("Merry Christmas")
Finnish: Hyvää Joulua ("Merry Christmas")
German: Frohe Weihnachten ("Merry Christmas")
Japanese: メリークリスマス (merīkurisumasu, "Merry Christmas")
Italian: Buon Natale ("Merry Christmas")
Greek: καλά Χριστούγεννα (Kalá Christoúgenna, "Merry Christmas")
Polish: Wesołych Świąt Bożego Narodzenia ("Have a Merry Christmas")
Hebrew: חג חנוכה שמח (Khag Khanuka Sameakh, "Happy Hanukkah")
Yiddish: A lichtige Chanukah ("Happy Hanukkah")