"Insta" Language Secrets: My 6-Step Method to Learning French on Instagram
---
Instagram is an amazing place to learn a language. I'm an intermediate French learner, and I'd like to show you how I've used Instagram to become a French ace in just a few months.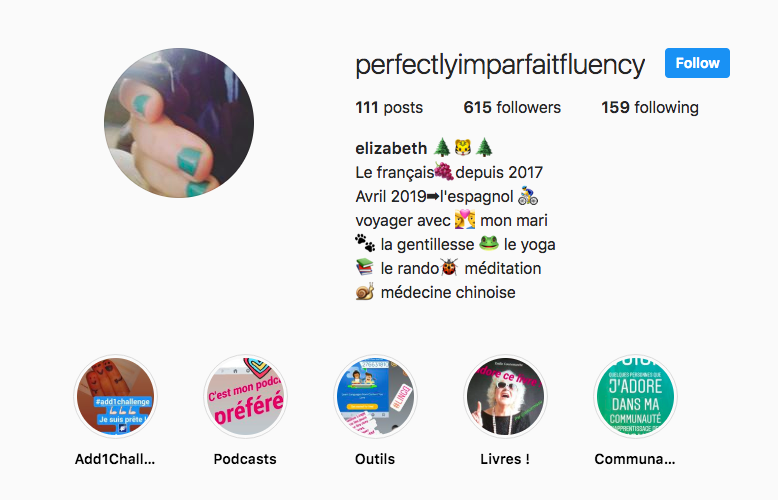 First let me tell you about my Instagram account. My stats aren't mindblowing, but they do show what's possible when you choose to use Instagram as a genuine way to connect with native speakers in your target language.
I joined in March 2018 (less than a year ago)
I have 615 followers
I follow 159 people
Most of my posts get 50+ likes
I typically get 10+ comments on each post
Best of all? I do everything in French. No English. Everything I write on Instagram is in French.
I've written 111 posts entirely in French so far on Instagram.
That's 111 times I've practiced writing in my target language to communicate with others. Pretty. Freaking. Cool.
Not to mention the thousands of comments I've written in French, and everything I've read in French from all the French accounts I follow.
Let me tell you how it all started…
Why I Joined Instagram
I struggled for years to learn a new language (in fact, I tried 10 different languages) before I stumbled on the strategy that works for me:
It's easiest to learn a language when you're using it in the real world.
I first put this into practice using the Speak From Day One method. It was effective for me because I was using my new language right from the start to chat with native French speakers. That's much more fun than getting lost in textbooks!
Then I discovered the idea of using social media as a language learning tool. But that was quite a journey in itself…
"Facebook? I Will Never Join That"
I remember the first time someone told me about Facebook.
"It's this website where people share what they are eating for lunch. Jenny had the biggest burrito I've ever seen on Wednesday."
My first thought was, "You have got to be kidding me. I will never join."
Never Say Never
I did end up joining Facebook. And I found myself spending more time than I'd like on social media.
Thankfully, I learned how to put that time to good use.
During a Women in Language conference, Effin Waters of @allaboutitalian taught me how to change my bad habit into an useful language learning tool.
I was hesitant to join Instagram as I was already involved in an on-again/off-again relationship with Facebook. But I decided to give it a go because Elfin was convincing.
And so I created an Instagram account.
It All Started in Paris
I joined Instagram in March 2018 and shared a photo from my last trip to Paris. Here's my first ever Instagram post: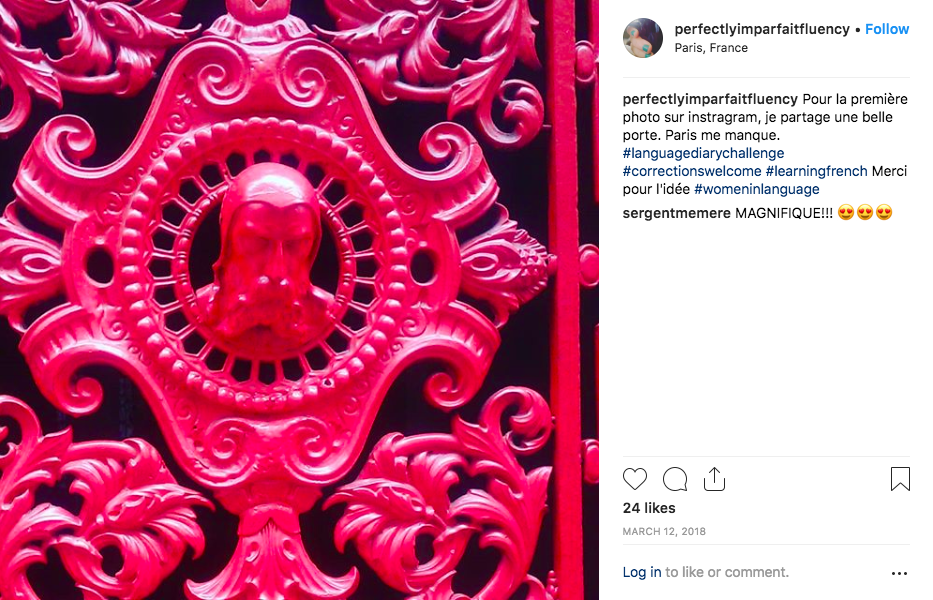 As you can see, it got 24 likes. Even before I had any followers! I'll show you how that happened in a moment.
How I Turned My Social Media Addiction into a Language Learning Resource
My guilty pleasure is now actually a healthy part of my weekly study routine. And I'm excited to share the secrets of my success. So, grab your nearest device and let's get ready to tumblr!
On Facebook, I had a mess of anglophones liking my shares in English about my French journey. So, I started an Instagram account that was not connected to my Facebook account or email address. It became my French only account.
So far, I've created 111 posts entirely in French. And I've made friends with amazing native speakers and enthusiastic language learners.
Here are my six secrets to creating a fabulous Instagram language account.
1. Be Really, Really Stubborn About Avoiding English
I only ever post in French. I only comment in French too. This is what works for me.
For example, here's me sharing about my favourite book for learning French: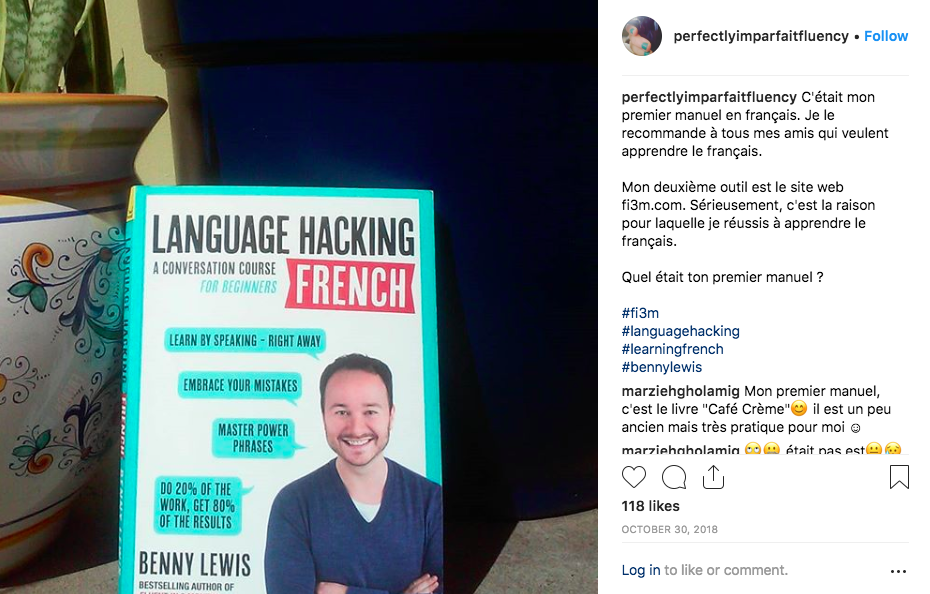 It works really well for me, and it means I avoid the temptation to slip back into English.
That's why if you're using Instagram to learn a language I recommend that you only post, comment and speak in your target language. Doing this will put you in a different mindset every time you peek at your phone to distract yourself. Even if you're reading a post in English, your mind will begin to think of how you might comment in your target language.
Some language learners start out by sharing one word in their target language with a photo or short video. For example, Erika will post a video of herself practicing the word prędkość (Polish for "speed"). As she grows her vocabulary, she'll make a few simple sentences with this word.
2. Don't Translate into Your Native Language
This is the biggest mistake I see people doing. They write a post in their target language and then translate it into English as well. That takes too long. Making your brain think in both your native and your target language will slow down your mojo, yo!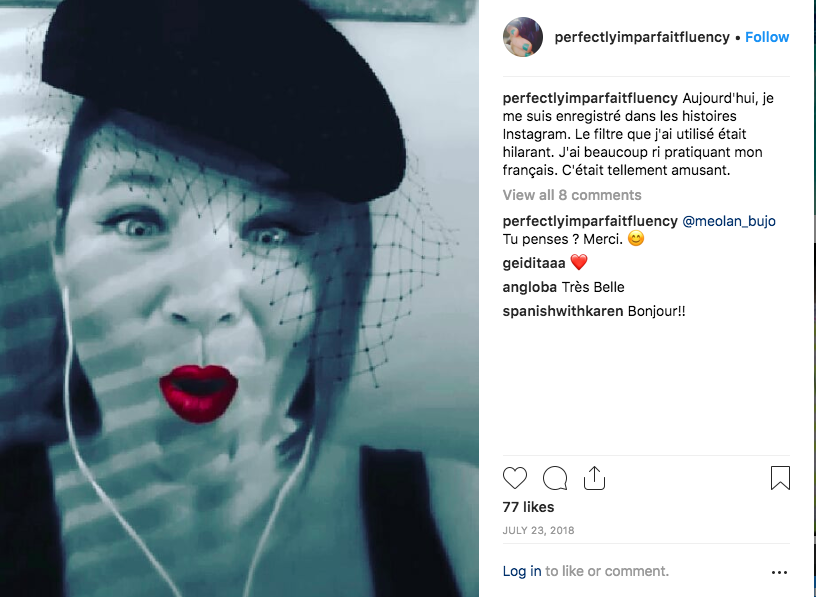 If the person reading your post doesn't speak your target language, they are not your target audience. I've met so many very groovy people on Instagram that I don't follow because they don't understand French.
It's tiresome to have to translate every stinking comment you make. Remember secret number one. You have to write everything in your target language.
3. Make Hashtags Your New Best Friends
For my first post, I used these hashtags; #languagediarychallenge, #womeninlanguage, #correctionswelcome, #learningfrench. With absolutely no followers, I received 24 likes and felt inspired. That dopamin hit inspired me to post again the next day.
Now, I put most of my hashtags in my first comment to keep the post uncluttered. Here are a few of my favorites:
Instagram Hashtags for Language Learning Communities
These are communities I'm part of to improve my language skills, and they've played a big role in helping me build a following on Instagram and get support from other language learners.
I don't use these hashtags every day. I did one month of posting every day and it started to feel stale. Now, I post once a week but follow many people who speak French and/or are learning French from these hashtags.
#iglc by Lindsay Williams of Lindsay Does Languages
#languagediarychallenge by Katie Harris of Joy of Languages
#30dayspeakingchallenge by Jonathan Huggins of Huggins International
#fi3mchallenge by Fluent in 3 Months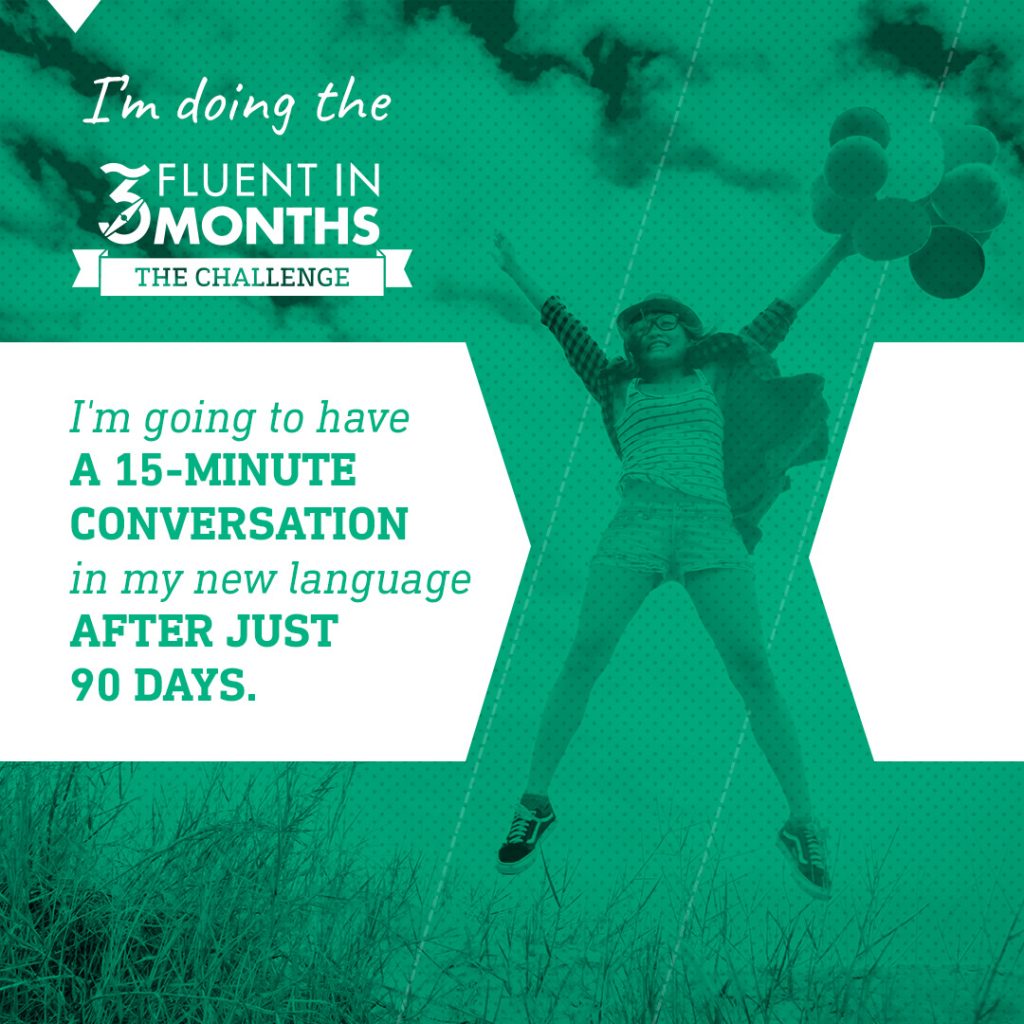 French Instagram Hashtags for Hobbies
Look up words for things you enjoy in your target language. I found a few interesting French speaking accounts through them. Now I use those hashtags for my posts, too.
#apprendrelefrançais (to learn French)
#forêt (forest)
#livre (book)
#rando (hike)
#ratdebiliothèque (library rat) How silly is that? It's the French version of bookworm.
#thefluentshow by Kerstin Cable (podcast) She speaks French. So, I can comment about her show in my target language.
4. Like and Comment on Other People's Posts
You want to win friends and influence people? Like and comment on posts that are in your target language. But how will you find posts in your target language?
Easy, search on one of your favorite things from secret number three. And don't forget to comment in your target language only.
I read other comments to learn that "mignon" was a quick comment to say something was cute.
I commented on every single Harry Potter post in French.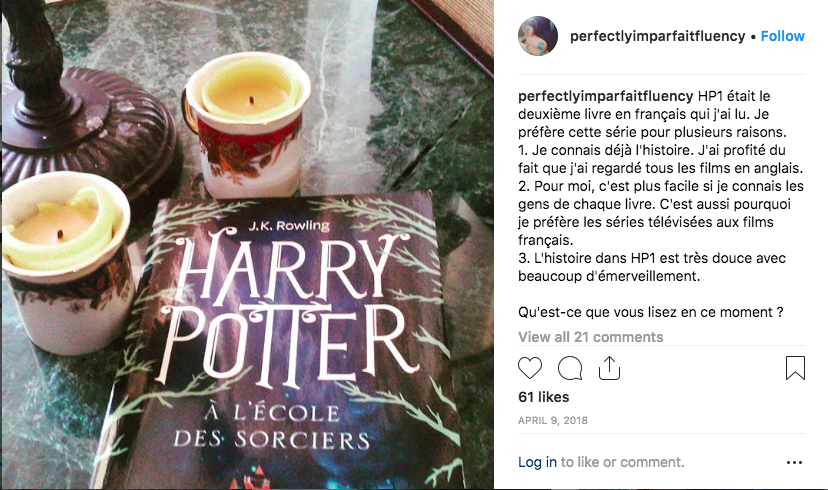 Why? Because I could use the same sentence again and again, "J'ai lu le premier tome de Harry Potter. C'était chouette." I read the first volume of Harry Potter. It was cool.
Here's one of my Harry Potter comments on someone else's post: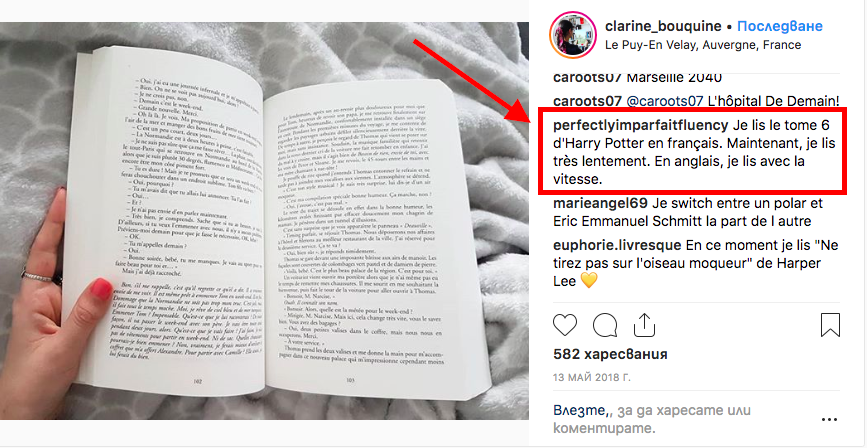 Next thing you know, there are native French speakers commenting on my posts with words of encouragement. One teen in France told me that my accent is quite pretty. I couldn't even believe she understood what I had recorded. Somewhere in the far recesses of my mind I still think I'm making up words when I speak my target language.
A French artist started talking to me about her dog after I commented that he was "mignon". She posted pics of him carrying her shoes everywhere and tagged me in the posts. It's such a delight to connect with her.
There's a Canadian who continually reminds me that French is also spoken in Quebec. I don't mind his comments because they often come with a grammatical corrections. I learn from every single one.
Don't forget to comment on posts written in your native language by people that speak your target language.
I enjoy the posts of these polyglots who speak French.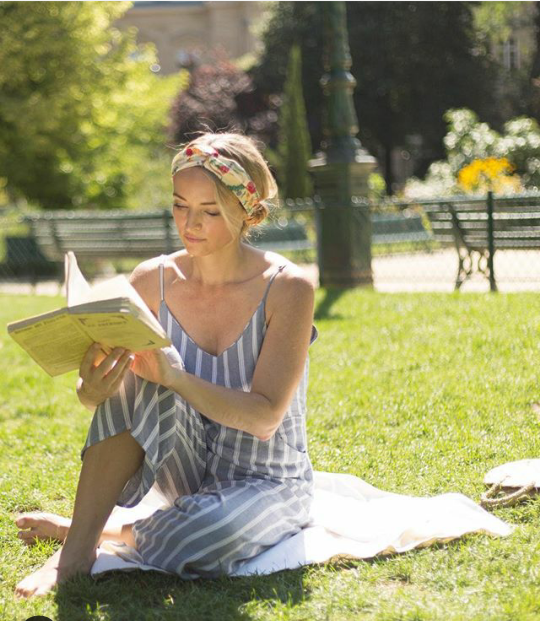 I follow them and comment in French on their posts. They often reply in my target language. It's such a nerdy thrill to get a reply. Carrie Anne does live videos and encourages her audience to comment in French. It's wonderful practice.
I also like the comments of others on posts that I can relate to and are in French. Comment by comment, a wonderful French speaking community on Instagram has appeared.
5. Dare to Be Perfectly Imperfect
I learned from Benny to make as many mistakes per day as possible. My goal on instagram is to make one perfectly imperfect post per week. And like most of my goals, it's evolved over the months.
My Instagram handle is @perfectlyimparfaitfluency. I wanted to remind myself every time I log in that my goal is fluidity not perfection when I speak French. Perfectionism can be paralyzing. Whereas making messy mud pies while learning languages can be liberating.
I usually type sentences that I know how to construct. Then I double-check them on Google Translate to be sure they are saying what I want. Lastly I share them. My language buds will often comment on my progress, help me correct an error or answer a question.
The aim of my posts is to tell my audience a story. One photo showed my dog resting on lush grass one sunny day. I shared about how kindness is important in language learning. And my pup was a 90 pound mass of kindness..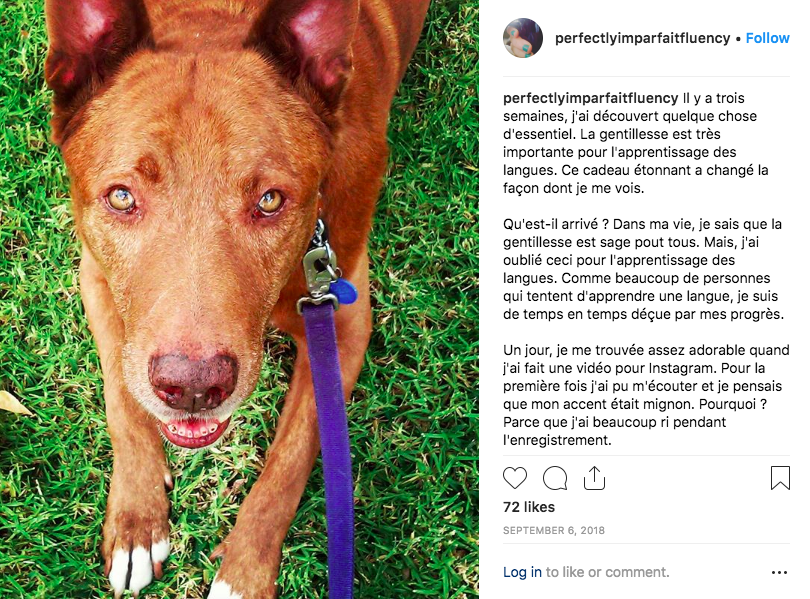 Another post was a photo of my notebook. I explained how I organize my study routine into 12 week phases.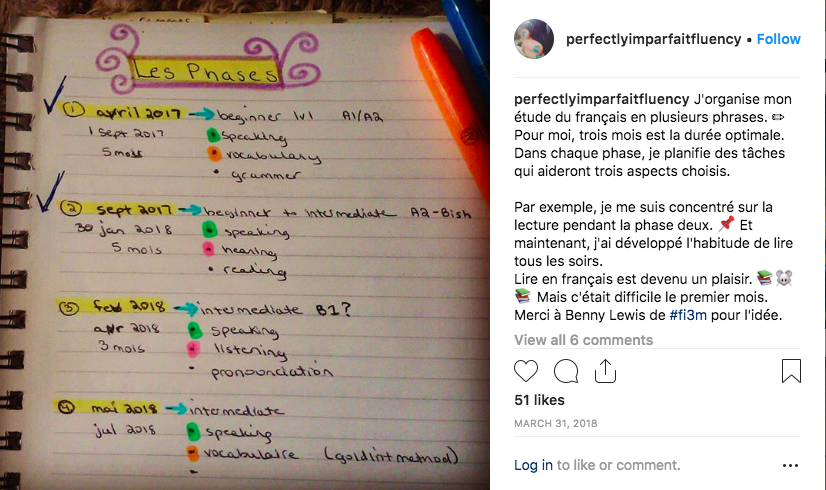 Yet another post was a short video of me explaining how to make hot chocolate with honey. Your post doesn't need to be fancy. It just needs to be in your target language.
Psst… I Do Challenges Imperfectly, Too
There are way too many people apologizing when they only do two out of ten days of their challenge posts. That's a glass is half empty approach. That apologetic person wrote two more posts than the person who wrote zero posts. Definitely a half-full week! Celebrate your successes.
For the first month on Instagram, I did one post per day for a month. My two favorite hashtags were #languagediarychallenge & #iglc.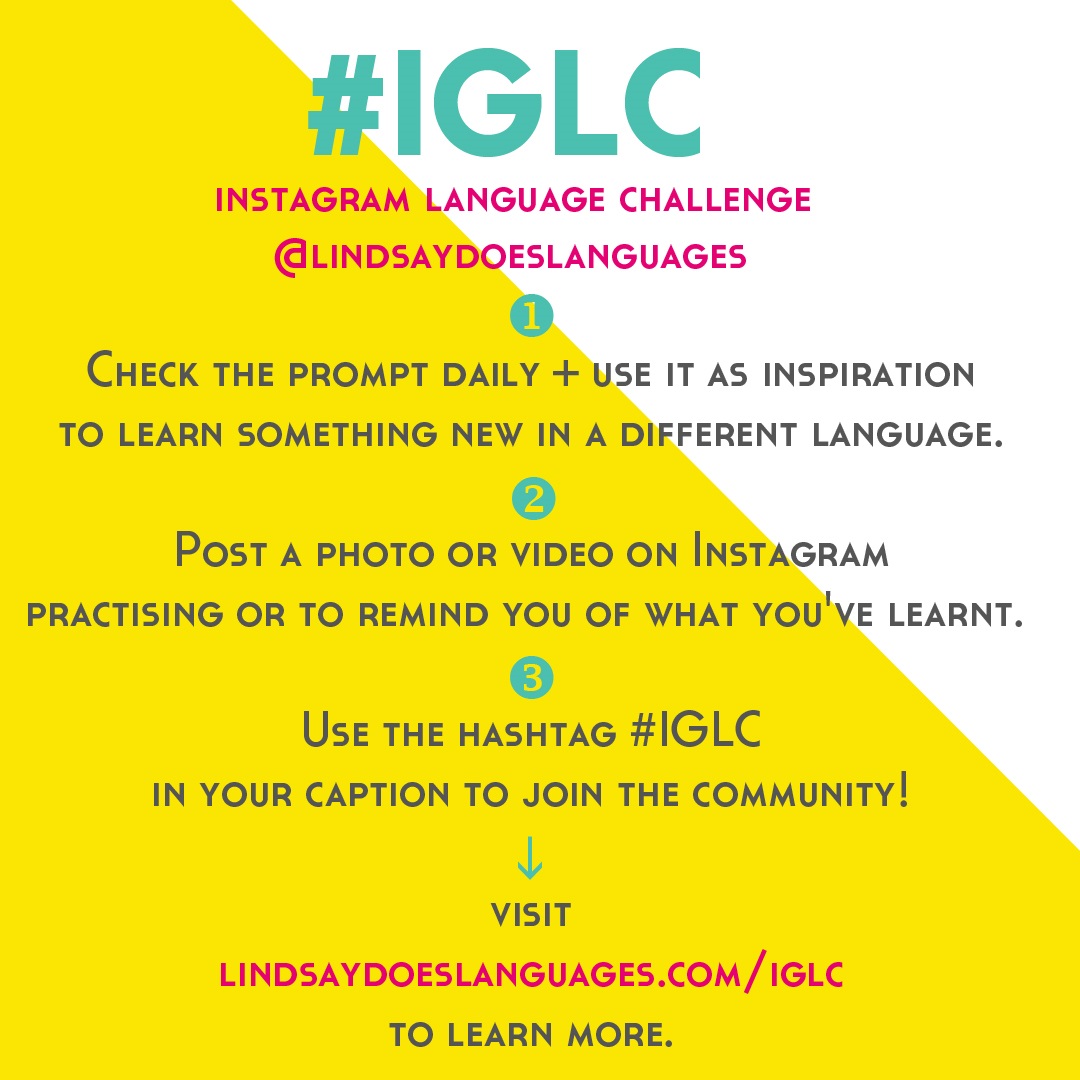 I committed to 30 days of posts. After that, I changed my goal to once a week because I didn't want to be on Instagram everyday.
And sometimes, I go one step further in my perfectly imperfect posting. If I'm super tired and don't have the brain space to create sentences. If my fatigue is stopping me from hitting my weekly goal. I improvise. I use Google Translate by entering English and typing out the French result.
Gasp! Horror! Shock! Oh stop clutching your pearls.
Instagram didn't dissolve into chaos. The god of baguettes didn't curse me with the inability to pronounce the French r. In fact, it kept my weekly strike happy and healthy while practicing French spelling.
6. Be Selective about Who You Follow
Your goal for a language Instagram account is not to having five thousand followers. That might elicit way too much pressure to produce posts that are interesting. Your goal is to practice your target language.
Let's just name it. You already have enough pressure in real life. The tool of Instagram only works for me if it's fluffy and fun. It's my teddy bear of language learning.
Only follow people who speak your target language.
Save your Aunt Tilly's cat photos for your personal account. You can only benefit so much from the "That's nice, dear. We're all so proud of you." comments.
With that stated, I love @marionruffieabsolumentchats, @lingualibri and @emcourtemanche (Emilie Courtemanche) because they often share humorous posts in French about their cats. And Emilie happens to be the author of my favorite funny French novel, Mémémoires.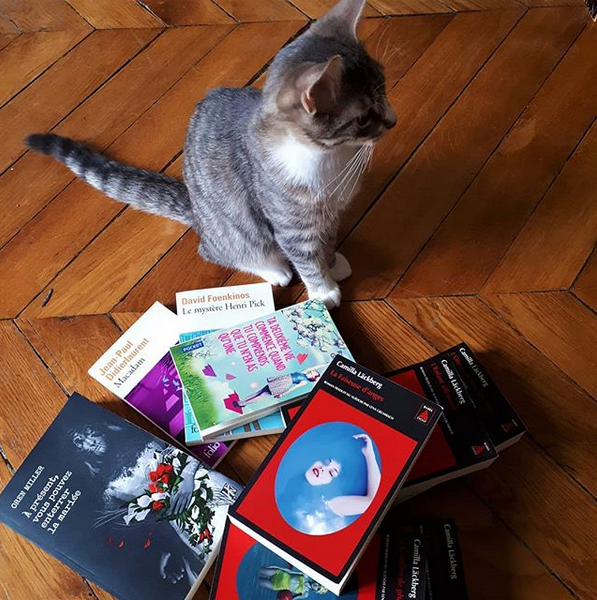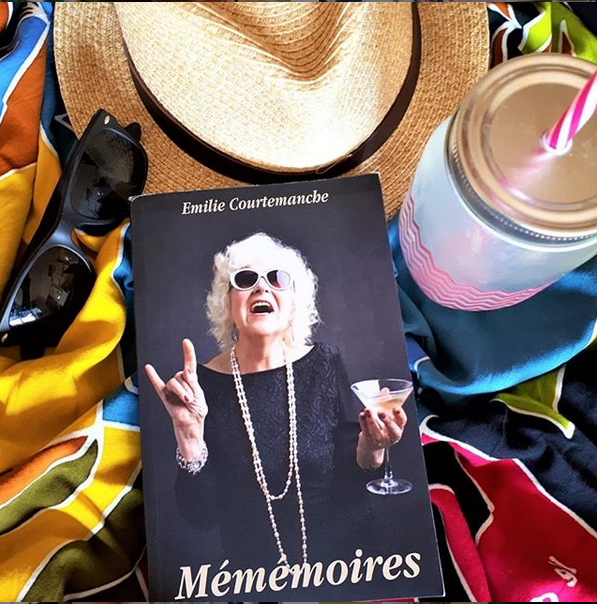 Weed your insta-garden from time to time.
Someone recommended I follow a particular blogger because she speaks French. Only she irritated me to no end. Maybe it was the constant slanted angle of her camera with duck face pouts. Maybe it was the body lotions she kept trying to sell me. Whatever it was, she had to go. So, I stopped following her and the clouds of annoyance vanished.
Easy Does It
Learning a language is hard enough. Make your Instagram tool a place where you see people, places and things that inspire you. Ideally, you want posts that give you the urge to comment.
What happens if you liked someone you know in real life but he's a super boring dude? You don't want to hurt his feelings by unfriending him. Guess what? You can "mute" him so that you don't see his daily shirtless selfie posts.
Always return to secret number one. If you post in your target language, you will more likely attract native speakers to your account. In a language Instagram account, you're looking for quality over quantity.