Multilingual Dating: Should I Date Someone Who Speaks Another Language?
---
When I was a senior at high school, I had a Brazilian exchange student live with me for three months. We became best friends instantly.
On the first day at school, all the girls had a crush on him. Even the teachers.
I don't know exactly what it was. Perhaps his accent, possibly it was his style, or maybe it was the fact he kissed girls on the hand when he greeted them. I soon realized one word summed it all up: "foreign".
There are plenty of things that are attractive about dating a foreigner. They look different, they sound different, and they have a different view of the world.
But what about the language aspect? Is it a good idea to date someone in your target language?
When I was in university, I dated a Brazilian girl for two weeks but I didn't bother to learn any Portuguese. The language barrier was an issue. Then she dumped me. Let's just say I doubt she remembers my name.
Then, while studying abroad in Ghana in 2012, I had a Ghanaian girlfriend. She was great and extremely helpful for me to learn the local language, Twi. I also learned heaps from her about Ghanaian culture, food, dance, and more.
When I first arrived in Vietnam in 2014, I went on a bunch of dates with Vietnamese girls hoping I could learn some Vietnamese from them. Some of them barely spoke any English. This made it pretty challenging to communicate. I went on some dates where we spent most of time in silence.
Finally, I found a keeper. In fact she was a Vietnamese teacher! So it came with many benefits.
Thanks to these experiences, I've learned that there are a lot of benefits when you date someone in a language you're hoping to learn (I call this your "target language"). But there can also be a lot of inconveniences. Luckily, I've learned from my mistakes and I am here to share my secrets.
Dating in Your Target Language: The Good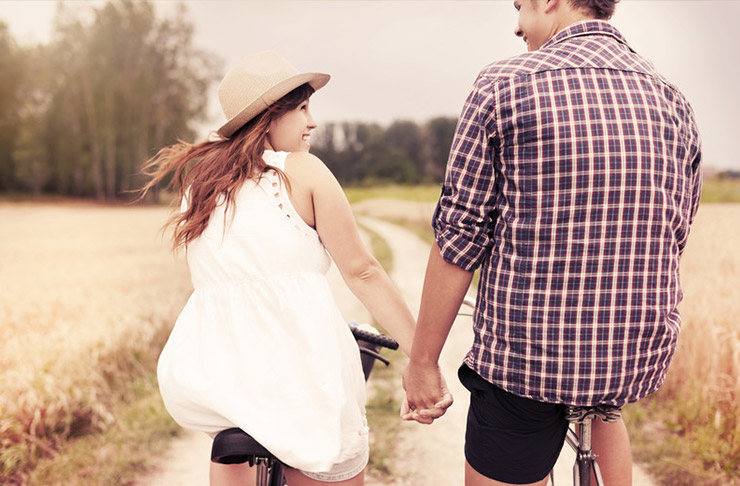 Being in a relationship with someone who speaks your target language has lots of benefits. Here are my favourites:
Learning From Experience is Better than Textbooks
One of the best parts about dating someone in your target language is that you can learn the real life experiences and not from a boring textbook.
You'll get to practice with your partner regularly and grow together. You'll also learn at a faster pace because you'll (hopefully) have more fun in the process.
No Fear of Making Mistakes
With a boyfriend or girlfriend, you can practice conversations without the usual fear of making mistakes.
It can be scary to practice a foreign language with a stranger, but you shouldn't have this problem with your partner.
Getting comfortable with one another's mistakes is good practise for later on in your relationship, too. Plus, it'll invite funny and cute mistakes.
Your Goal Is Clear
Finding a partner who speakers your target language gives you a clear purpose for why you are learning the language. You've found someone who makes your heart flutter, and you want to get to know them better.
In Vietnamese, there's a saying, "học trên giường" which means, "study on the bed." Vietnamese people always tell me it's the best way to learn. I always respond, "mình ngủ trên sàn mà!" It means, "but I sleep on the floor!"
Accountability
Many language learners struggle with accountability. They don't have anyone checking in to ensure they're making progress.
With a partner, there's no hiding from your language learning. If you forget a word, he or she is going to know. If you take a week off, you'll be in the dog house!
In addition to accountability you'll get more exposure to your target language. That's assuming you see your partner on a regular basis, though if you're hanging out with your Skype tutor more often than you're going on dates with your partner, you may have a problem anyway!
New Food and Culture
If your partner comes from a different country, that usually means new food and a new culture. Both are great benefits in a relationship! You will will open up new perspectives on life as well as open your mouth and enjoy new flavors and spices.
Also, if you take a trip to your partner's home country, you'll have a free tour guide.
Dating in Your Target Language: The Bad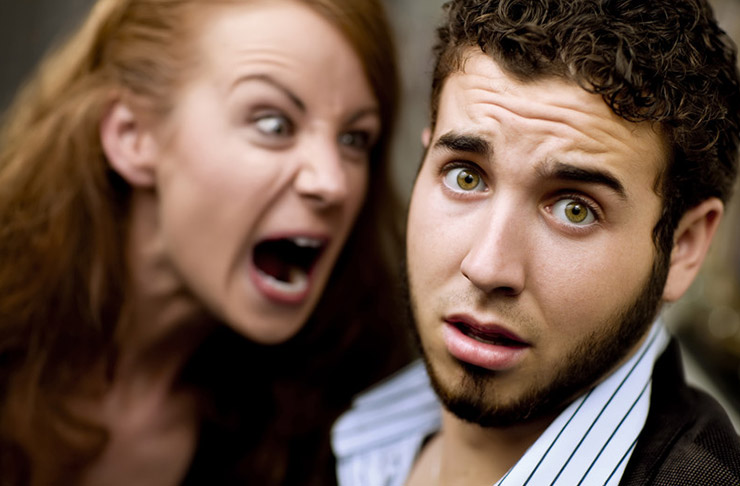 Unfortunately, it's not all sunshine and cuteness. If dating someone in your target language brought no challenges, then perhaps the term "polyglot' and "polygamous" would be combined to create a new one: "polyglotamous".
I'll admit, that was a lame attempt.
Anyway, before I smash my head on the keyboard for that horrible joke, below are a few things to be aware of when dating someone in your target language.
Miscommunication
Communication is crucial in any relationship. Having a foreign partner can lead to a lot of misunderstanding. When you speak your native language, you know exactly what you are saying and what it means. But when you are learning a new language, you often make mistakes.
You may say something you don't really mean that could offend your partner. Or maybe you say something that ruins your plans. Maybe you call him or her "sweetheart", but you say "sweet fart" instead.
You'll need a good sense of humour, or that could go downhill very quickly!
For example, in Vietnamese, I used to mix up the days of the week. One time, I told my girlfriend that I would meet her on Thursday, but I thought I said I was meeting her on Friday. Same but different? Not exactly!
Thursday rolls around and she's angry and confused because I wasn't answering her calls. I'm confused at why she's angry because I thought I said we were meeting on Friday!
You May Get Lazy
If your partner is too easy on you, you may end up not working as hard as you would if you had a class or a tutor. If they love you for who you are, they may not push you to learn more.
Also, if you're immersed in the country, having a local partner can be dangerous because when you go out, he or she does all the work. When you go to a store, your partner is the pro. When you go to a restaurant, they do all the ordering. While this is convenient, it does NOT help you improve your language skills.
Mixing a Student/Teacher Dynamic into Your Relationship
Learning from your partner can create an interesting dynamics between you (the student) and your partner (the teacher).
If your partner is not a certified teacher, they may not be confident and comfortable helping you with the language. You may ask a lot of questions that they can't answer. Your partner may not want to be your teacher, so this could lead to a lot of problems as well.
Dating in Your Target Language: The Ugly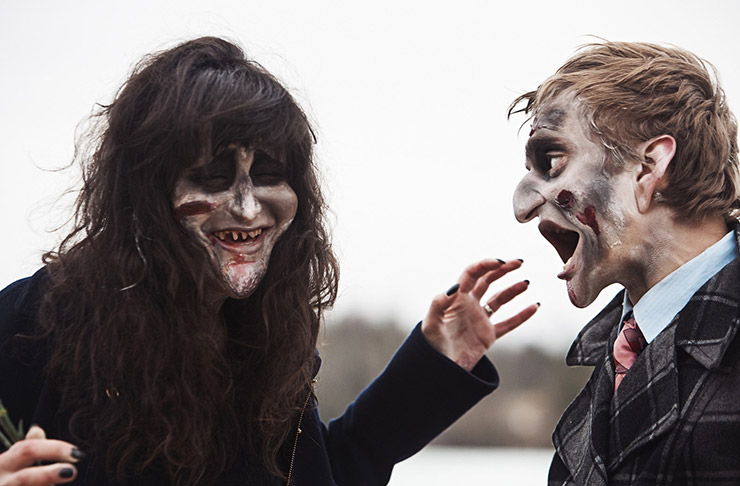 This isn't really the ugly parts, rather the neutral parts. Because I believe that EVERYONE IS BEAUTIFUL!
Below are the aspects of international relationships that can go both ways, depending on you, your partner and the situation.
Your Relationship Develops With Your Language
If you learn a language for a long period of time, you'll start to more about the culture as well. Personally, I find this fascinating. The more I learn Vietnamese, the more I understand Vietnamese culture and the more I understand my girlfriend. I understood the jokes, we sang songs together, and it got more exciting.
This can be a bad thing, though. Sometimes you can learn things that you may not like. For example, the more I learn Vietnamese, the more I swear in Vietnamese. My girlfriend hates this. You may also discover some things about your partner only when you fully understand the language and culture.
Nonstop Questions
With a partner who speaks your target language, you have a teacher available to answer your questions 24/7. They can help you with your struggles no matter how big or small, whether it's just a spelling question or pronunciation. While this is a good thing for you, it can also be a bad thing if they're not up for it.
Maybe she wants to learn your native language, so you end up doing some sort of language exchange. But again, do you want to be a teacher? Does she want to be a student? If she wants to learn your language, then how can you learn hers? Are you two going to compete? Is it clear what your expectations are? How many times can you call late at night with a language question?
While it's nice to have a teacher around whenever you want, there are many things that can go wrong if the expectations are not clearly set.
Patience
Dating someone in your target language forces you and your partner to develop patience.
Now, this can be seen as a good thing, as your relationship will force both of you to develop patience with one another. But on another note, you could drive each other crazy.
If you constantly ask questions and constantly make mistakes, it may be tough on your partner. It'll be similar to them having to babysit a kid constantly. Babysitters get paid for a reason.
In Conclusion: Don't Break Hearts to Learn a Language
You may not agree with some of these points. You may be dating someone in your target language right now and have zero issues. Please remember, not every situation is the same.
When it's all said and done, like almost anything in life, you never know until you try it yourself.
Sure, dating someone in your target language may come with many advantages, but it can also be uncomfortable if you are not clear and honest. So, keep that in mind.
Most importantly, please don't break anyone's heart just because you want to learn a language. And make sure that the term "polyglot" and "polygamy" are not to be confused!