Nubian history: discussion in Arabic about ethnic group in Egypt
---
After leaving Cairo, the first stop on my Egyptian travels was Aswan, the furthest south in the country where you can find a major settled area, and where the Egyptian part of the Nile begins after Lake "Nasser" and the High Dam.
By far, the most interesting part of my time there was discovering things about the ethnic group known as the Nubians, which at one point in history were able to overpower the Pharaohs of Egypt, but have had an unfortunate history of displacement and migration, especially in the last century.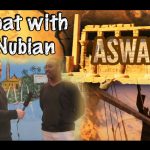 To share that story, I let Gasser M. Anwar, a Nubian working in the tourist industry, take the microphone to share his perspective on it all with us. With subtitles in English and Arabic as always!
I have of course been recording plenty of videos, but I could only upload this one so far thanks to a very quick stop in Cairo for decent Internet before hitting the road again. More videos and travel stories coming up soon enough 😉
Share your thoughts in the comments below!