Yoyo Chinese Review: Learn Conversational Chinese
---
What is Yoyo Chinese?
Yoyo Chinese teaches Chinese through a combination of video lessons, audio supplements, flashcard reviews and quizzes. It's used by 300,000+ Chinese learners.
what it's for:

Listening, reading, grammar, speaking, vocabulary

---

languages:

Chinese

---

level:

Beginner - Intermediate
+ PROS
Good choice of courses from beginner level

Well-structured, easy to follow, and tracks your progress

Detailed study plans for every course

World leading explanations on Chinese grammar and word order

Focuses on Chinese as it's spoken in the real world
- CONS
No smartphone app to access lessons

Lacks a course for advanced learners
When I first started learning Chinese, there was a lot about the language that was brand new to me, even as an experienced language learner. I scoured the web for resources that would help me tackle some of the more challenging aspects of Chinese, like tones. In my search, I stumbled across Yoyo Chinese and it quickly became one of my favorite courses.
Yoyo Chinese has grown a lot since I first discovered it three years ago, but the important element – how the language is taught – has remained the same.
Before writing this review, I went back to Yoyo Chinese and worked through the Yoyo Chinese Beginner and Intermediate courses as well as the Character course.
I'd like to share my thoughts having used Yoyo Chinese as a beginner to the language, and then having revisited the course as an advanced Chinese speaker (I'm somewhere between HSK5 and HSK6 in terms of level).
What is Yoyo Chinese?
Yoyo Chinese is an online education company that teaches Chinese through a combination of video lessons, audio supplements, flashcard reviews and quizzes. It was started in 2007 by Yangyang Cheng and has since become a platform used by over 300,000 students.
Getting Started with Yoyo Chinese
It's simple to get started with Yoyo Chinese. Once you've signed up for their course, you can access it from your account dashboard. Unfortunately, at this time, they don't have an app. You can, however, access the platform from the browser on your phone and it works just as well.
Upon enrolling in a course, you're taken to the home screen where you can see your study statistics and where you left off after your last learning session. As a new student, you'll see the first lesson from your course. You can click 'start' to dive in, or if you prefer to browse the course materials, you can click 'courses' up at the top, select your course and navigate through the materials that way.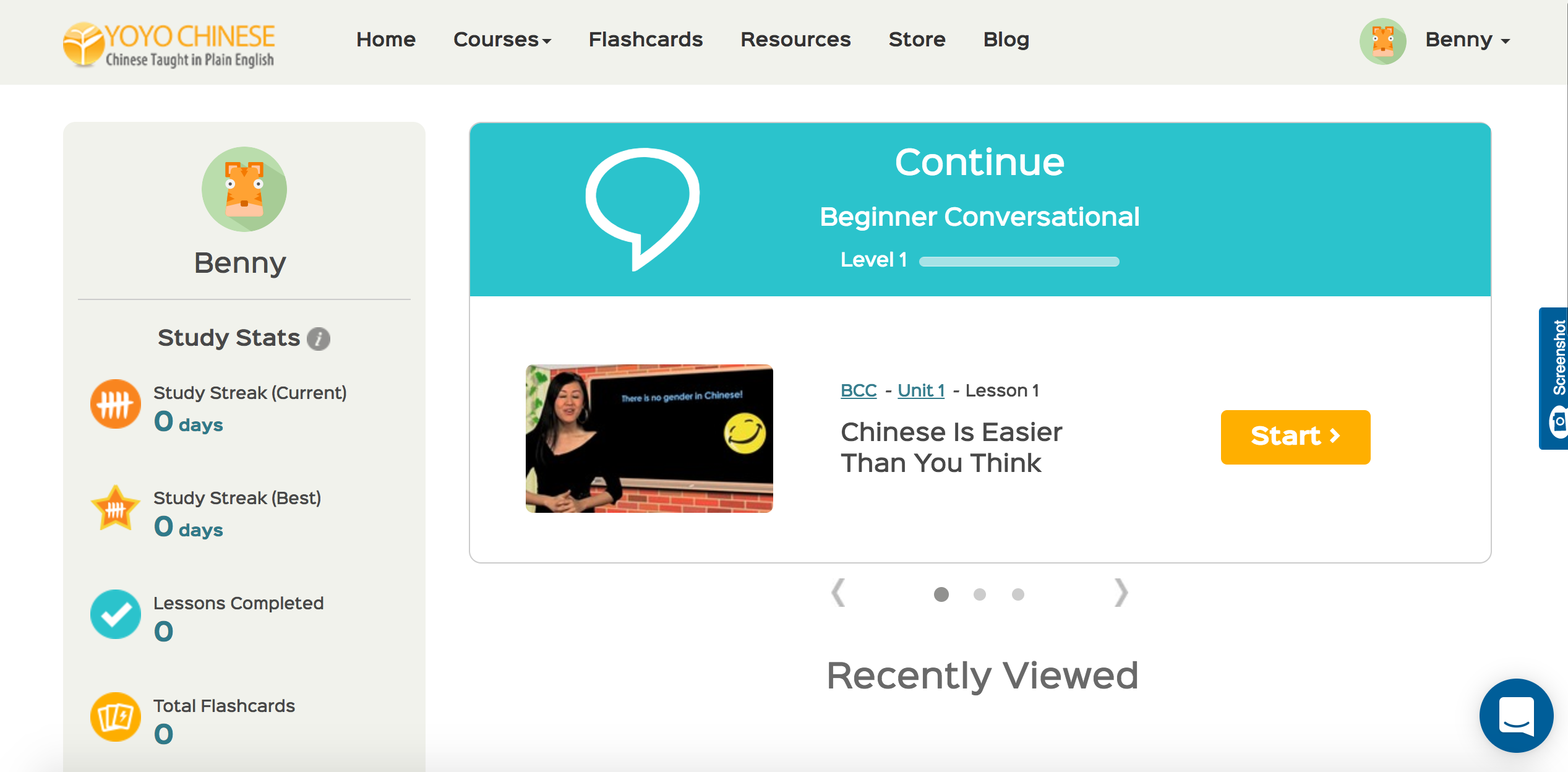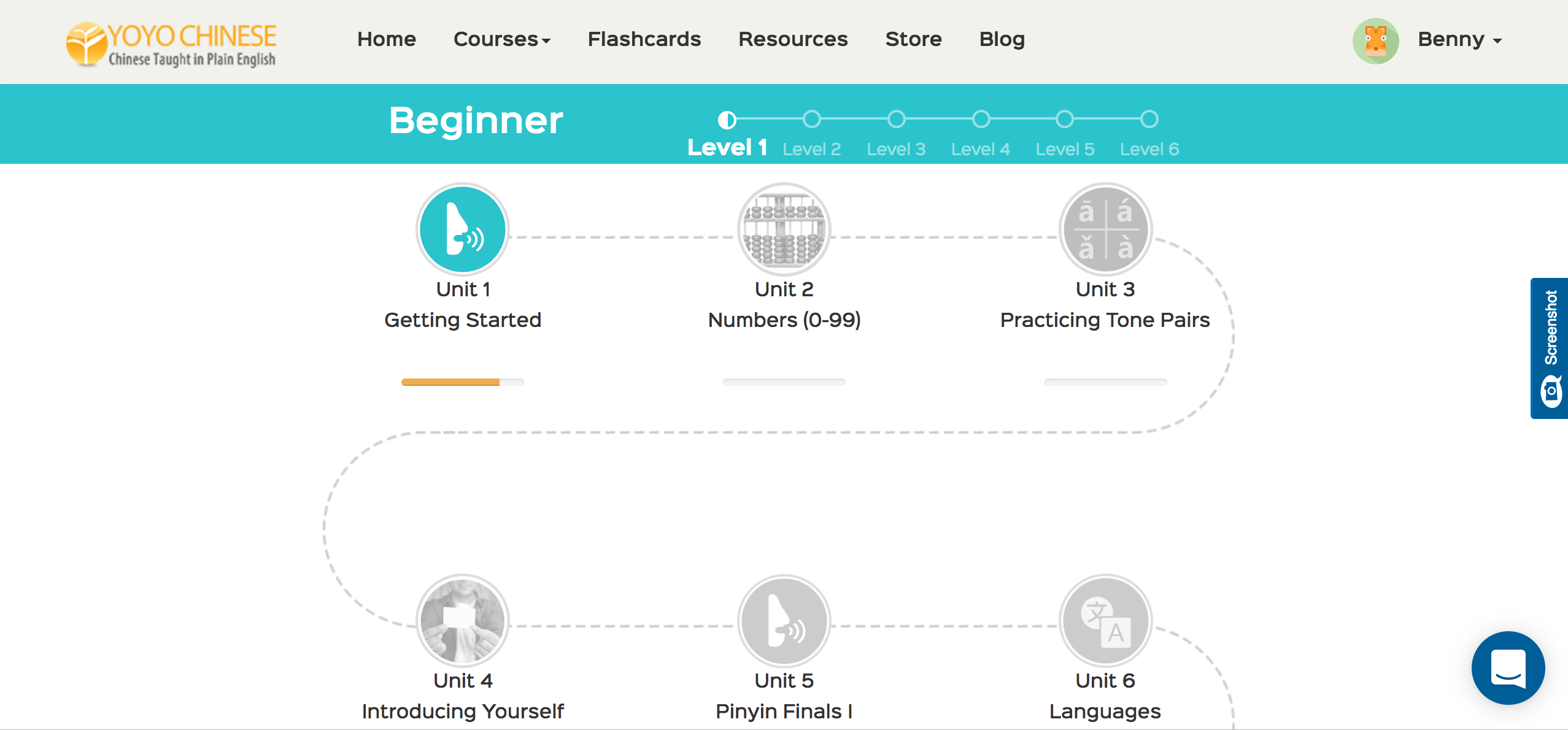 As you navigate to the different parts of the course, helpful dialogue boxes pop up, explaining how to get the most out of that particular feature of the course.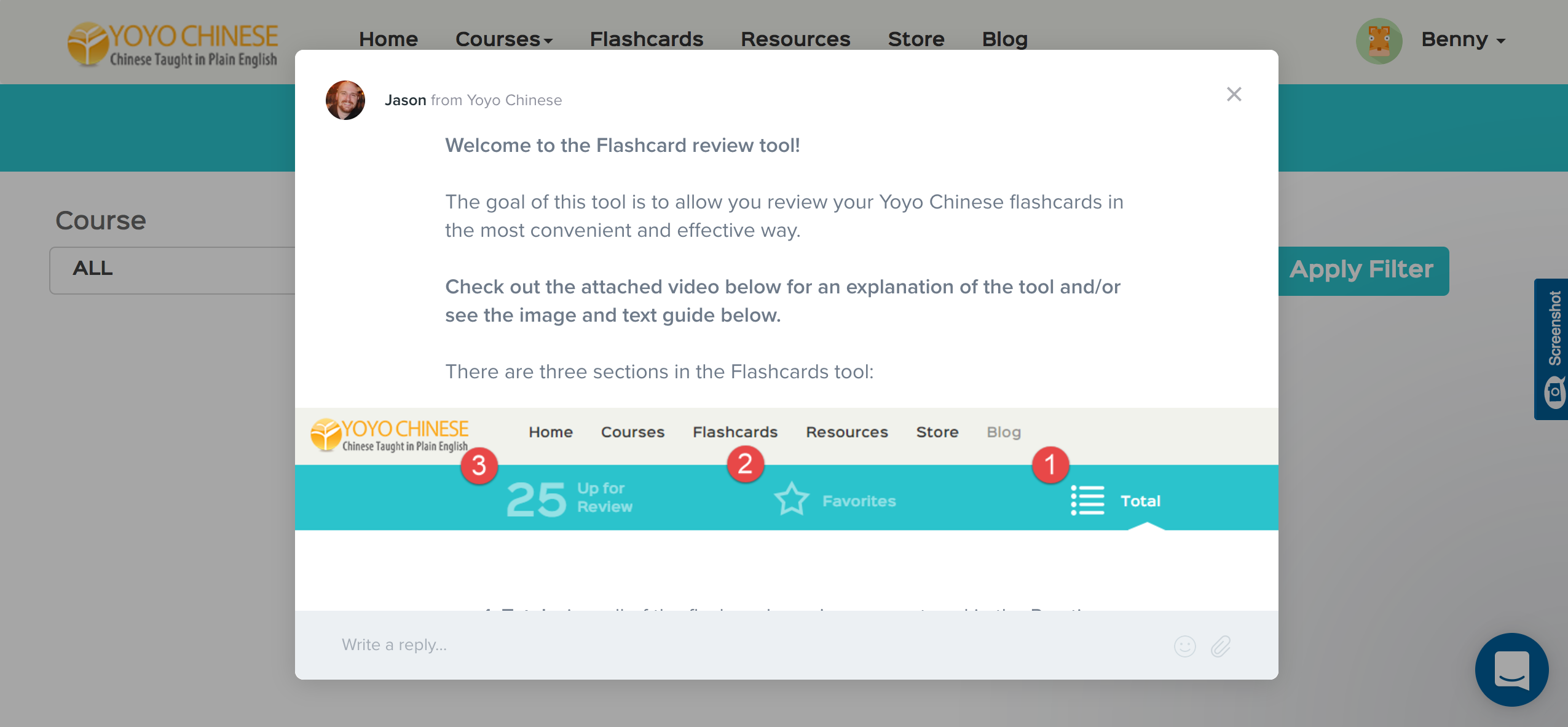 From there, it's up to you to decide how you want to work through the course. But if at any point you ever have any doubts, each of the Yoyo Chinese courses has a detailed study plan available to you in the resource section.
When studying with Yoyo Chinese, you have the option of several courses including:
Beginner Conversational Course
Chinese Character Course
Intermediate Conversational Course
Chinese Grammar Video Series
Chinese Learning Tips Video Series
While I wasn't able to complete the material from all of these courses for this review, I did work through sections of each and the quality is impressive.
Studying Chinese with Yoyo Chinese
After you've signed up, I recommend diving right into the lessons. There are a few reasons for doing this (namely the fact that you'll start learning usable phrases), but it's also only after you've completed a lesson that vocabulary is added to your flashcards. If you'd like to be able to do a bit a review, you have to work through the material first.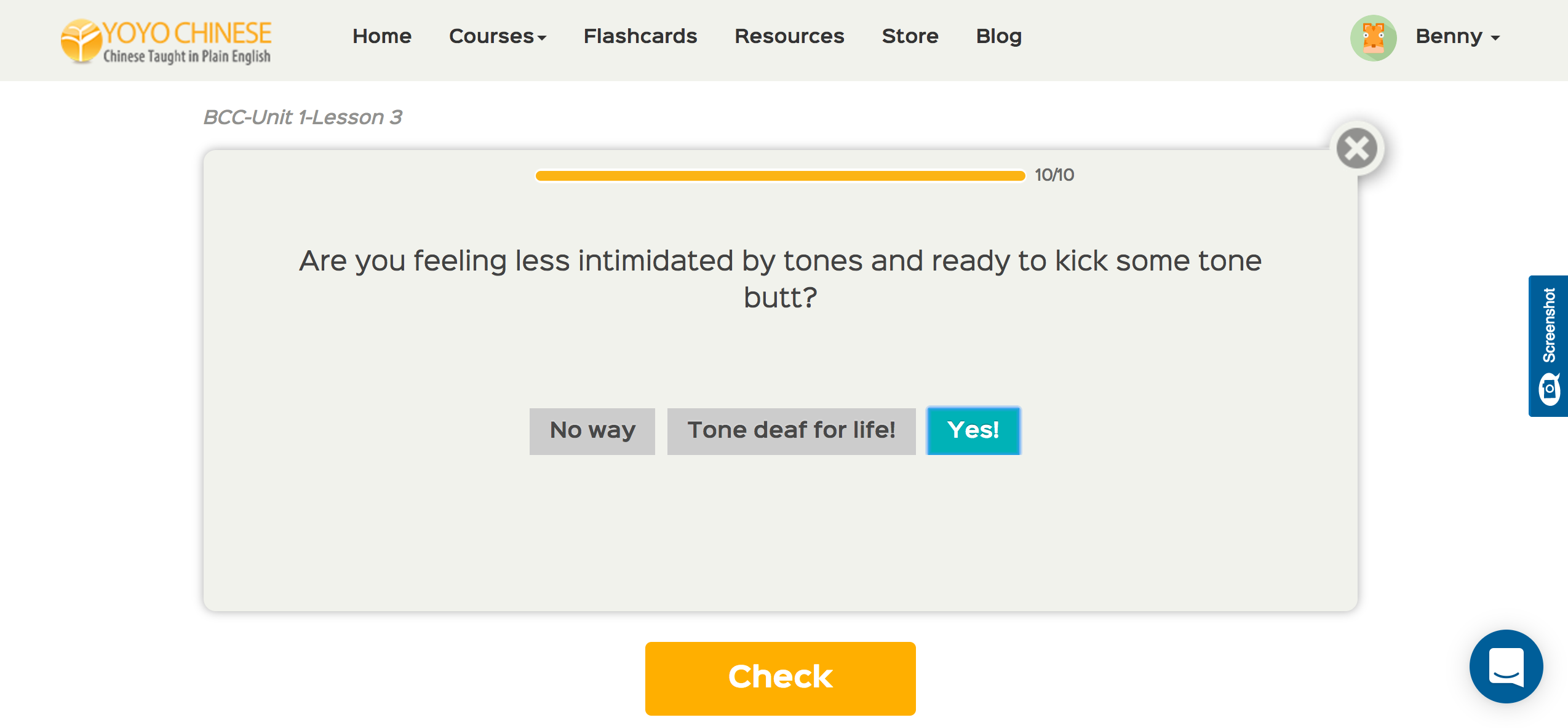 From there, you can check out the bonus resources which include an interactive pinyin chart; reference videos for different grammar points, additional tips, and live Google Hangout videos; and the download center where you can access Anki flashcards, PDF worksheets, audio files, and sample study schedules for each of the courses in which you're enrolled.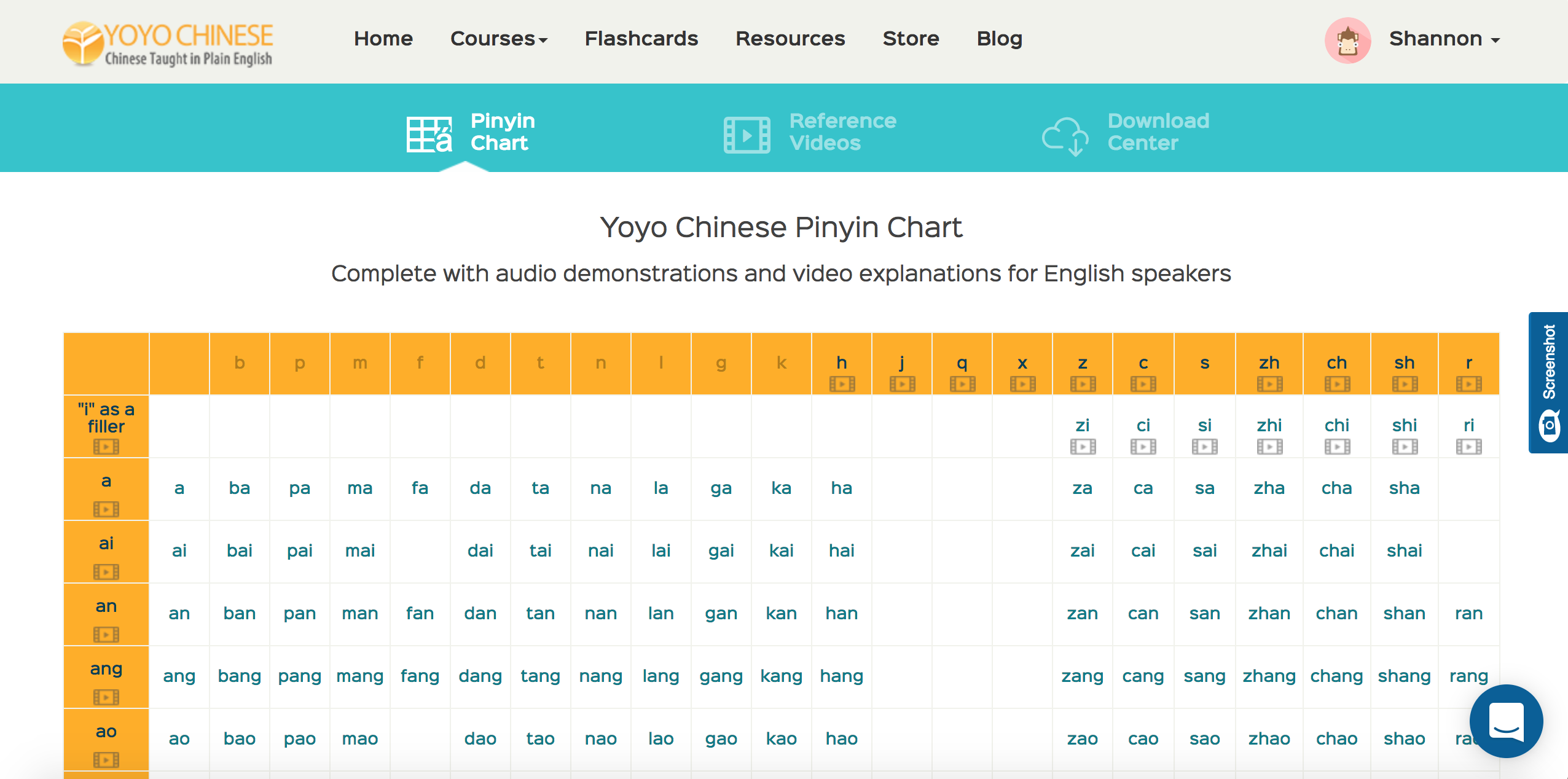 Yoyo Chinese Review: The Good
There's a lot to say here, especially since Yangyang, the founder of Yoyo Chinese, is one of the leading experts when it comes to breaking down how to use the Chinese language. I've worked through a number of courses and materials trying to figure out Chinese grammar and her lessons almost always ended up being my first choice for explanations. If you struggle with Chinese word order, this is definitely one of the best courses you can take.
The focus of Yoyo Chinese is on spoken Chinese, which fits well with the Speak from Day One approach to language learning. Each of the video lessons is under ten minutes, so you don't have to find a huge chunk of time to sit down and study. Plus, you can download the audio review sections and work offline. As long as you complete the quiz, your progress is saved so you never have to worry about where you left off.
The courses are mapped out in a way that is easy to follow and everything is designed to keep you engaged. I love the dashboard display where you can see your study stats and where you left off after your previous session.
With each lesson, you start off with a video where the new material is presented through lectures from Yangyang, video clips of Chinese being used 'out in the wild', and blackboard breakdowns to explain grammar rules and vocabulary. You are then given access to an audio lesson, a review, and finally, a quiz.
Yoyo Chinese is great if you're looking to learn the language on your own. As far as courses aimed at independent learners go, there's nothing more comprehensive than Yoyo Chinese. The material is as basic (the beginner course) or as challenging (the intermediate and soon-to-come upper intermediate courses) as you could want. You can learn characters, conversational Chinese, or even just focus on vocabulary by working with the flashcards.
I found the course useful because the language that you learn is a lot less "stale" than other methods. I especially like that Yoyo Chinese works to incorporate dialogues and lessons with speakers who are not actors so that you can learn the language the way that it's actually spoken.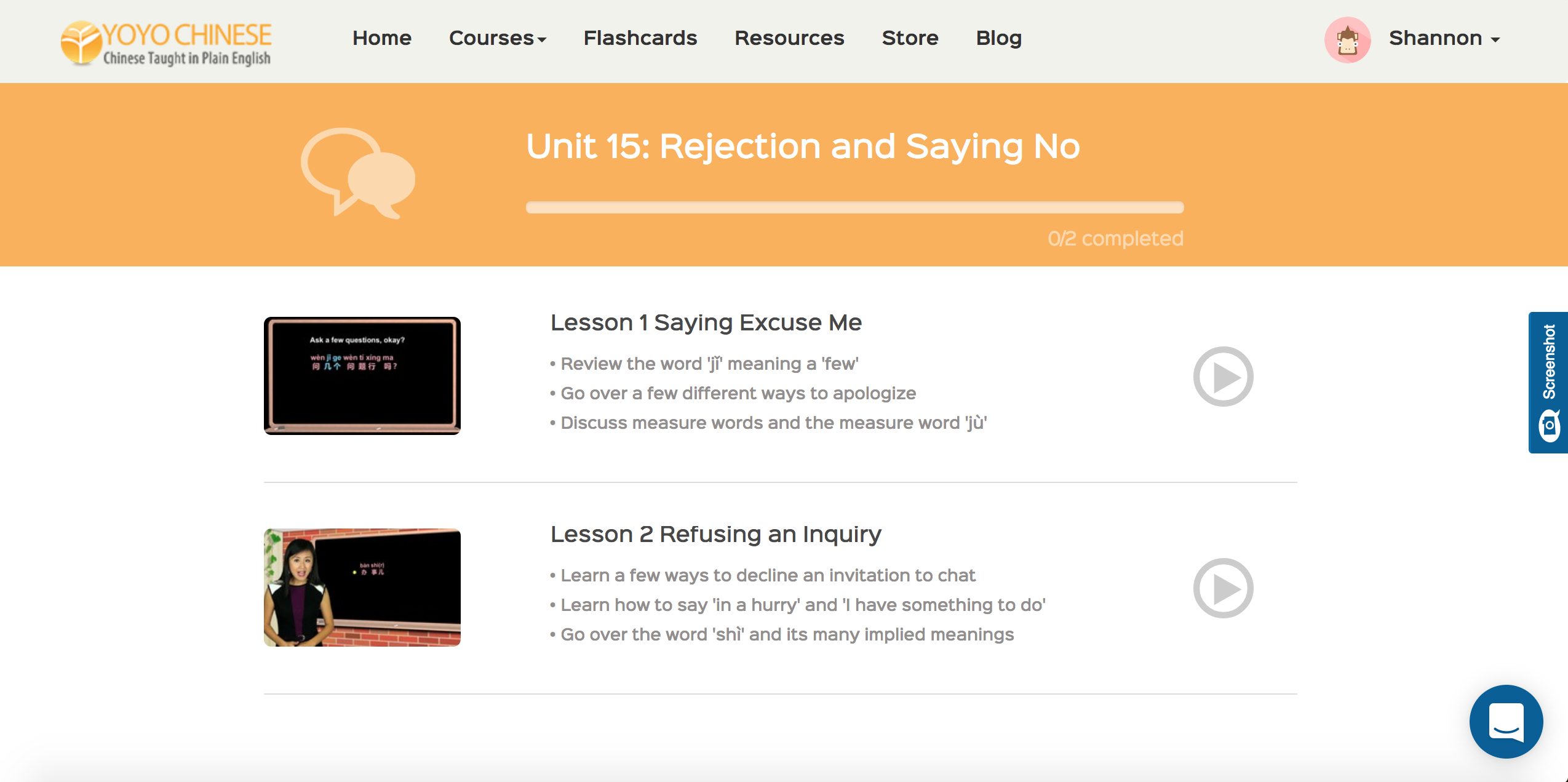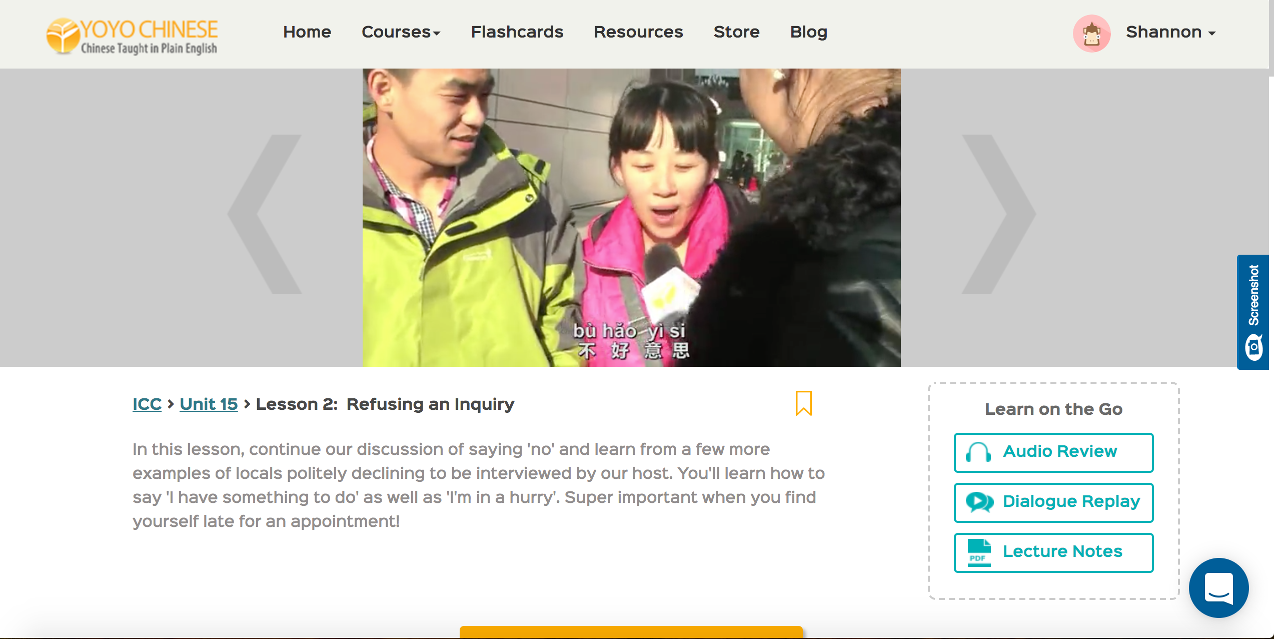 For example, in one of the lessons, the host asks people what they usually do on the weekend.
Host: Excuse me, how do you usually spend your weekend?
Yangyang then uses that same sentence structure to teach you to ask how someone usually spends Spring Festival, showing you that you can recycle the majority of the phrase you learned to be practical in different situations.
Response: I usually just accompany my girlfriend to do a little shopping. Or I stay at home and go online, or something.
She then breaks down the reply into useful language "chunks" and explains the grammar with easy to understand examples.
Each unit includes a Lesson Notes PDF that you can download to review later on. These were very detailed and incredibly helpful and probably my favorite part of the course (aside from the video content).
Within the quizzes, each individual question was the right level in terms of challenge. Rather than offer you a variety of diverse answers that make it easy to use the process of elimination to work out the right answer, you're given options that are often quite similar. You're really tested on how well you know the material because "close enough" won't cut it.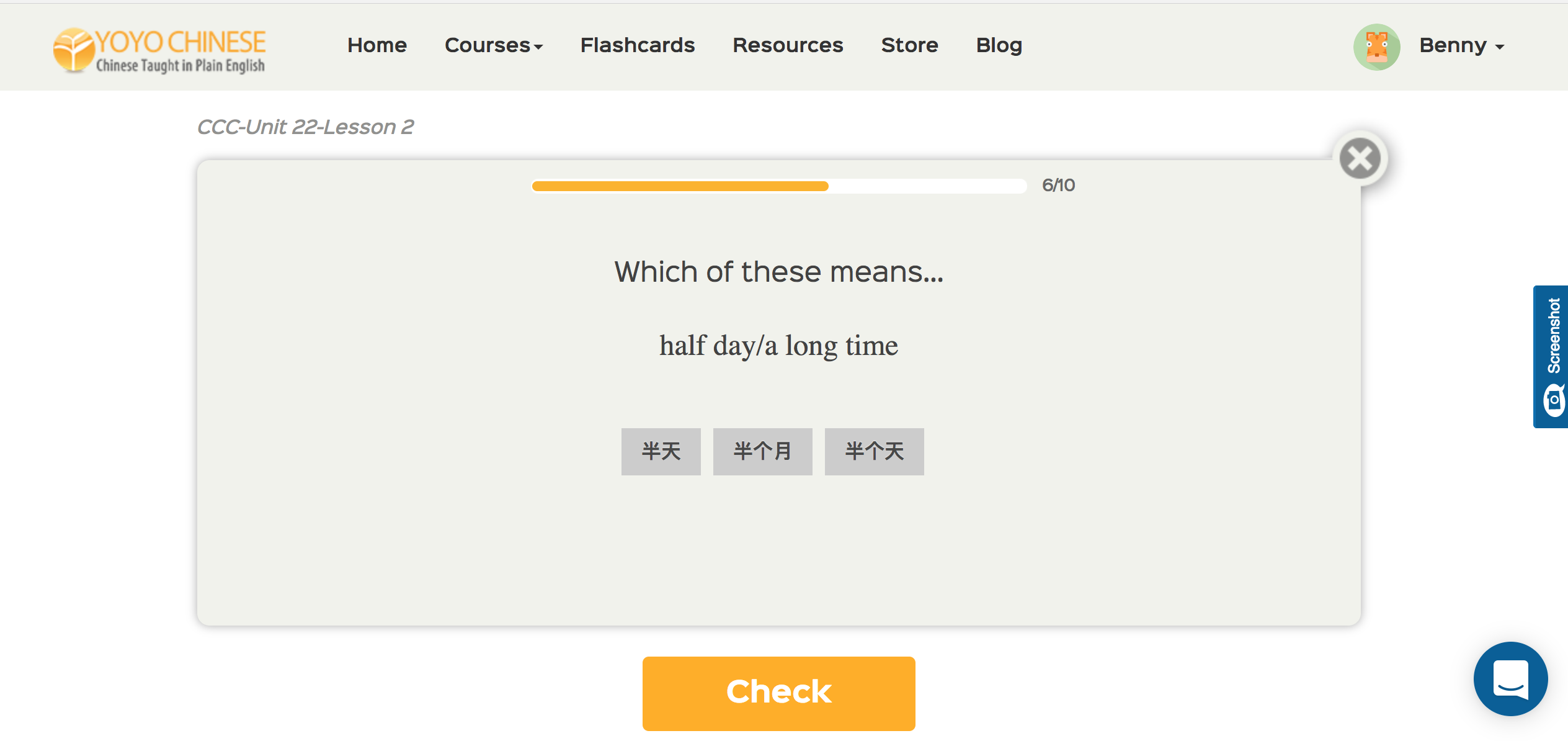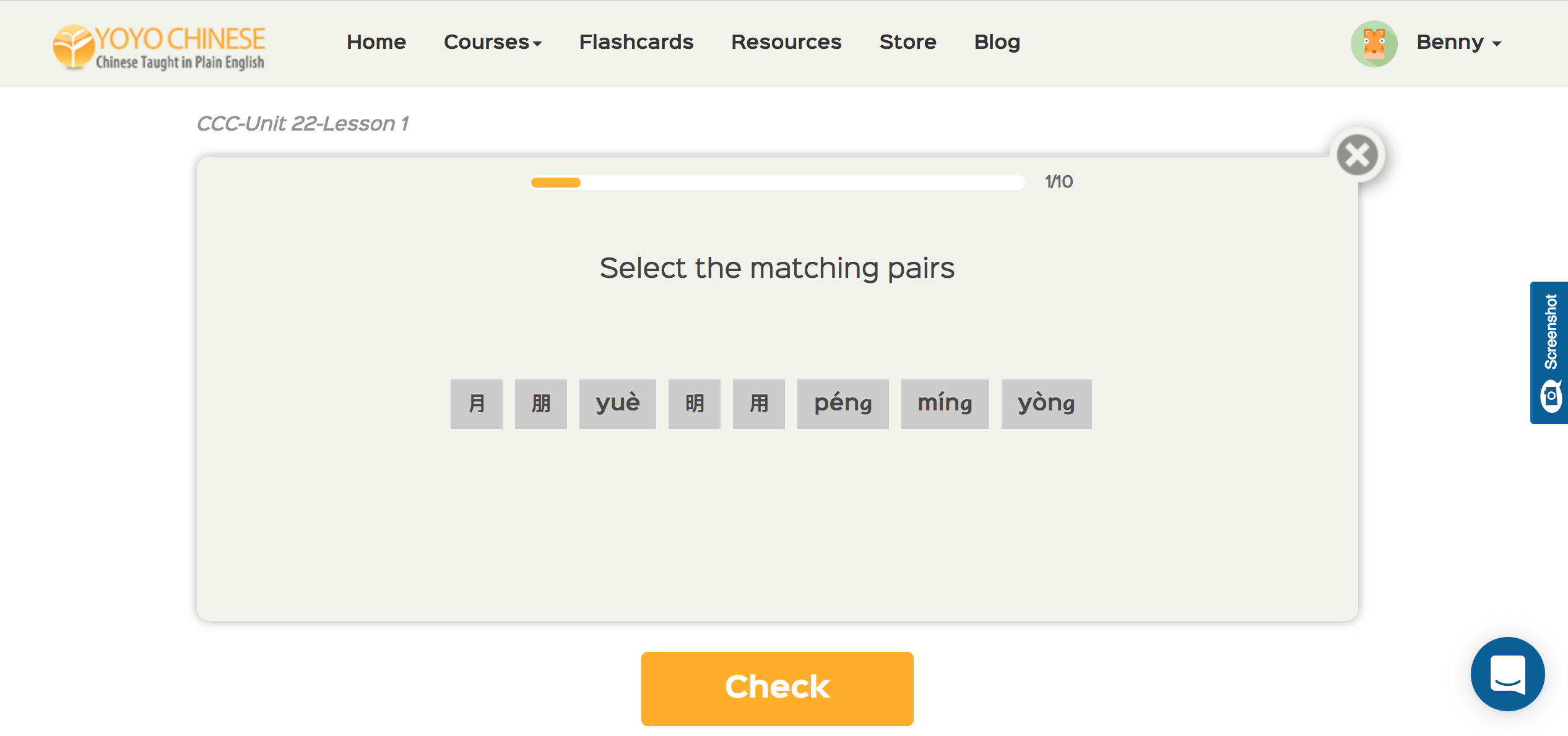 Yoyo Chinese Review: What Could Be Better?
Yoyo Chinese don't yet have an advanced course, so for me as an advanced learner a lot of the material (even in the intermediate course) was review. Review can be helpful, but I would love to see either an advanced conversation or advanced character course. They have an intermediate-advanced course in the works, but until that is released, Yoyo Chinese isn't the best choice for upper intermediate or advanced learners.
Related to this, I found that in the intermediate course there was a little too much repetition in the quiz content. At the intermediate stage, I'd like the quizzes to be more challenging and diverse rather than posing the same question three different ways.
I'm a big fan of studying through flashcards and spaced repetition, so I really like that Yoyo Chinese has a flashcard tool:
That said, I find it frustrating that you can only see flashcards for words you've already studied. Essentially you need to "unlock" flashcards by completing lessons Also, you can only study flashcards once they come up review (this is determined by spaced-repetition), so there's no option to work through cards independently.
They have downloadable Anki flashcards for the lessons, but I'm not an Anki user (#memriseforlife), so this wasn't useful for me. I'd really like to have the option to customize the flashcard review section so that I could use it however I felt I needed.
Finally, I wish that there was a way to skip directly from the quiz from the main lesson page. Or at the very least, a way to manually mark the lesson as complete. The way that it is setup now, you need to select 'Start Practice' from the main page, then 'Next' from the audio page, and then 'Skip to Quiz' from the review page. Sometimes I like to be able to take the quiz first to see just how much of the content I already know before spending time on the lesson. And to be completely upfront with you, I also am a bit of a completionist so I like to be able to mark everything as done.
Overall, however, these are tiny complaints against how amazing Yoyo Chinese is!
YoYo Chinese Review: The Bottom Line
Would I recommend Yoyo Chinese?
当然. Of course.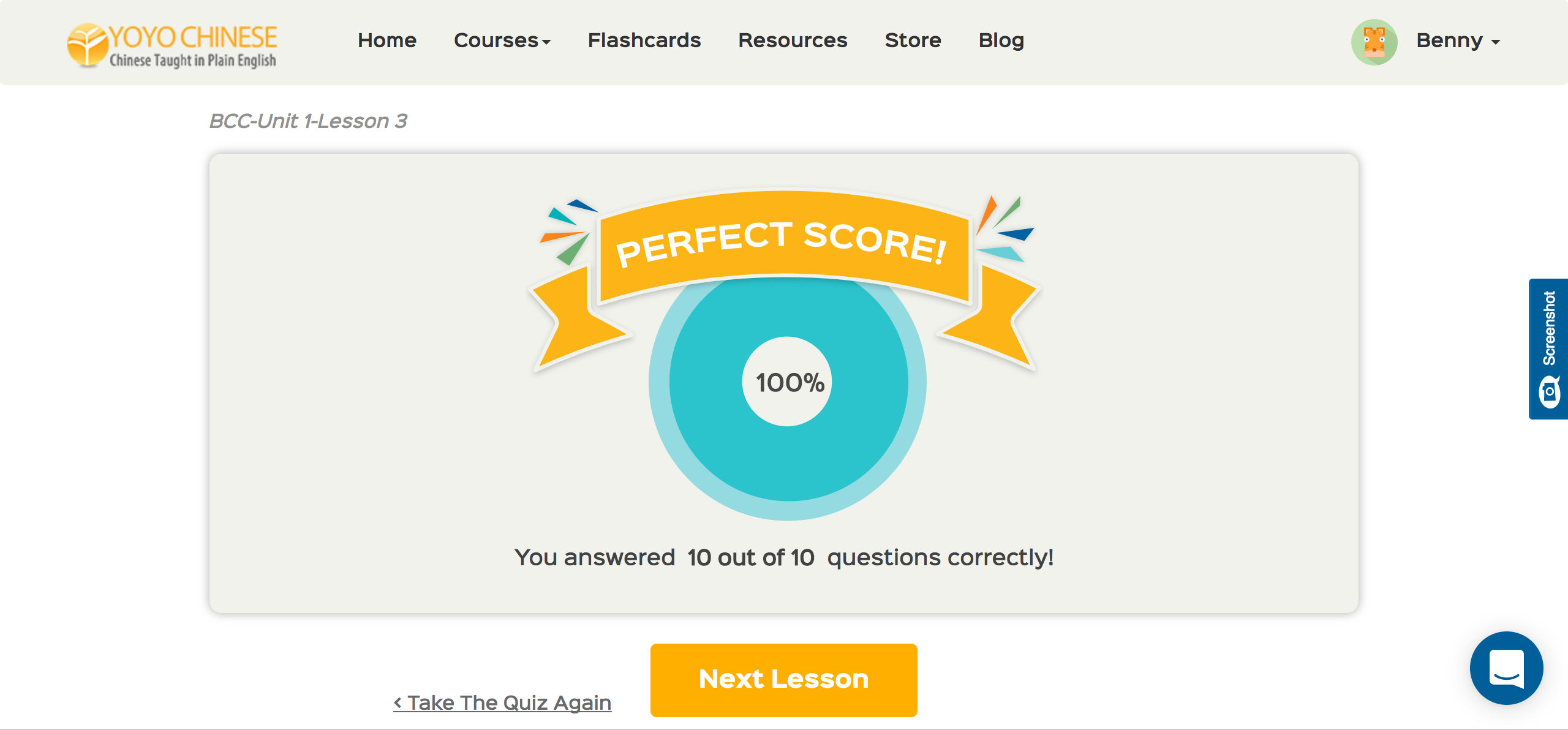 Overall, the attention to detail and the thoroughness of the program is impressive. They've even gone as far as designing the course avatars to be the Chinese Zodiac animals! All of these fun little elements make the environment a fun place to study without taking away or distracting from the learning experience.
If you're a beginning Chinese student, or even intermediate, no one teaches and presents Chinese better than Yangyang. The course is perfect for those who want to work at their own pace. It's incredibly thorough in scope and I just love the way the material is broken down for you.
Want to try it out for yourself? You can sign up for Yoyo Chinese here.