New Mission: Russian in 2 Months
---
As you might already know, my partner Lauren is learning Russian. But she's been making slow progress. Why? I suspect it's because something really important has been missing from her project…
A deadline.
That changes today. We've decided to put Lauren on the spot and share her journey with all of you, by documenting her efforts and sharing her progress here on the blog over the next months.
[Edit: So sorry that I couldn't be public about this, but this was always going to be a two month project, even though we originally announced it as a 3-month one. What Lauren didn't know was that after two months had passed, I was going to propose to her. Taking in that news, celebrating it, and even starting basic plans for the wedding, were obviously going to become our priority at that point. Anyway, enjoy the 2-month project, even though she thought it was a 3-month one at the time 😉 ]
Today marks Day 1 of a brand new, official language mission on the blog.
Why I'm Super Excited About This Mission (and Why You Will Be Too)
I'm really excited about this mission, because it's very different from anything we've done before. Let me explain…
Lauren will be aiming for a conversational stage – or B1 level – in Russian at the end of the 3 months, with an A2 goal to be reached by the 2 month point [Edit: The real goal, hehe].
I'm excited about this project because Lauren will be working under much tighter circumstances – much like you're likely to be! She's busy. And because she's busy, it would be easy for her to put off her language practice in favour of work or other tasks that feel more important.
But an official project changes that. And she'll be showing you over the next months how she avoids this temptation.
Two Simple Hacks Lauren Will Use to Speak Russian Quicker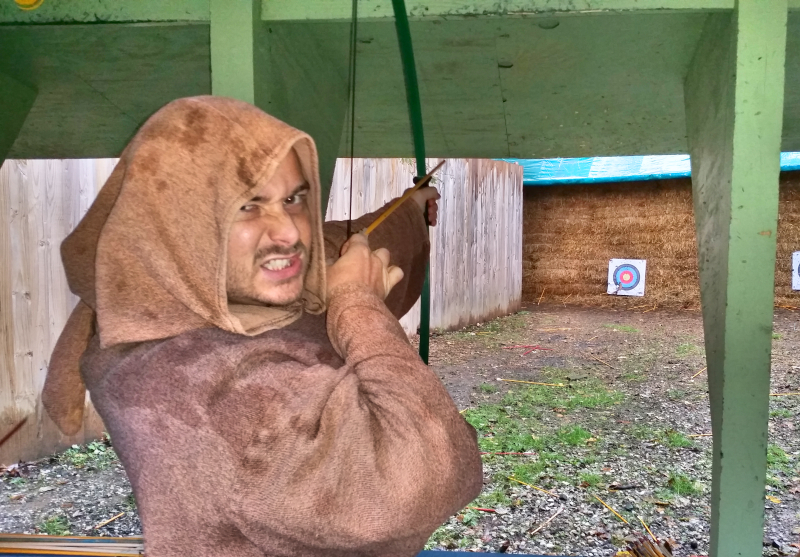 I've said time and again that one of the keys to rapid language learning is to create a specific target with a specific deadline. Just saying that you "want to learn Spanish" isn't enough. And so far, for Lauren, just saying that she "wants to learn Russian" hasn't been working that effectively either.
It's much better to set yourself a timeline and a goal.
By creating a formal language mission over the next 3 months, with a solid milestone goal to reach by the 2-month point, Lauren will now have some added pressure to her Russian project – which is a good thing!
With two solid deadlines in mind, and by sharing her project and her progress publicly, Lauren will be able to improve much faster.
What can she achieve in this time?
Watch and Learn from Lauren's Russian Mission Updates
Over the next weeks, we'll be documenting Lauren's progress, guiding you through her strategies, and sharing her successes and her failures with you. Every two weeks she'll share her video updates, complete with the resources she's been using, and her study methods.
She will, of course, be using all the techniques that I teach in the free Speak in a Week course. You'll be seeing plenty of Russian "Tarzan speak" between now and then.
Day 1 Takeaway: Pick a Language Mission that Fits Your Situation
So far, Lauren has spent between 10 and 15 hours studying Russian. She's learned Cyrillic, she's had some exploratory Skype calls with italki teachers, and she's listened to some Russian audio. But now it's time to get focused!
Her progress and study hours have been slow because she started dabbling in Russian while also intensively travelling. She was balancing two major projects at a time – travel and language learning – along with her work and other life responsibilities. This is not ideal. Language learning requires focus.
But since we're settled in Australia for the next few months, now is the perfect time in Lauren's life to create a routine that incorporates Russian practice into her life.
When setting yourself a language mission, focus on one major project at a time. Click to tweet
Over the next months [Edit: Until our travels take us to Paris…], Lauren will aim to devote 2 hours each day to practising Russian. I'm sure many of you have your own time constraints with work or school that you also have to balance, and you may also only be able to put aside a few hours a day. But you'll be amazed what you can do with that short amount of time!
What do you think is a realistic target for Lauren?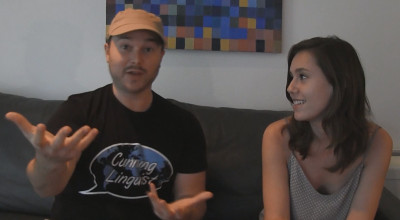 Lauren's target is a conversational (B1) level and her deadline is in May (3 months from now) with a milestone goal of upper-beginner level (A2) with a deadline two months from now.
We'll share Lauren's end-goal in the first video update in 2 weeks, and to make things even more interesting, she'll be taking over the blog for articles about her updates so you can get a glimpse into how her mind is handling the challenge.
All videos will be subtitled, so you don't have to worry if you don't understand Russian.