Benny's 2010: A video summary (& singing in Spanish)
---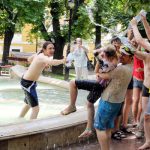 What a year! I've already summarised my favourite blog posts of the year, but I think the year is best summarised in video!
So in this video I have edited together my favourite moments of the year, most fun things I've done and most importantly, the amazing people that I've met. People are after all, the most important thing you can think about at a time of year like this when one is being reflective! This year was one of the best ones of my life and it was mostly down to the fantastic friends I made 🙂
But just to make the video more interesting, you can hear me singing in the background! (Yes, you've already heard me sing in French and in German, I know!) This time I'm singing my favourite song in Spanish: El presente – Juliete Venegas. The song is about appreciating the present, since it's "all we've got". Although, after hearing me sing it karaoke style, it likely won't be your favourite song! 😛
I'll continue to sing publicly on Youtube despite not being a great singer – I hope to convince others to try to act silly and stop fearing failure. It's been a major secret to my success in languages and living a lifestyle I enjoy!
Many parts of the video are clips from other videos I've showcased on the blog this year, but near the end you can see a scene from the salsa video I'll be sharing later, which you wouldn't have seen before: when I danced it before an audience of world-class salsa dancers (and even a judges panel!) More on that some time in January though!
So here it is! Let me know what you think in the comments below! You can see more of each scene by looking through the blog archives of this year!
Thanks to everyone for sharing a fantastic 2010 with me! I've got lots planned for 2011, can't wait to dive into it 😀