First weeks in the Philippines & video tour of my beach cottage
---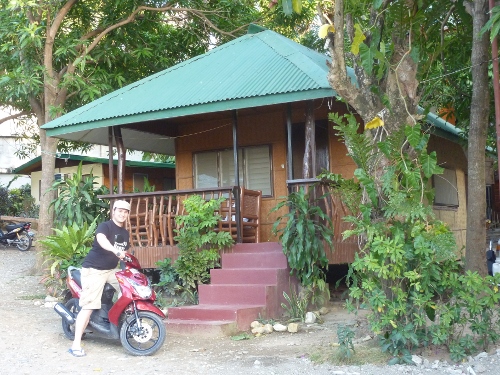 Time for a mission update!
Last time I updated was after a few days in Manila when I had decided to go down south. I made it to Cebu, and went straight to the very south of that island (around Moalboal) to get some time by the sea (I hadn't been by the sea for about a year).
The opportunity was there so I took a two day intensive open water scuba diving course and got certified just before I had to leave. It was the first time I tried anything like it, and the experience was incredible!
Since I still have the opportunity over the coming weeks, I'm going to extend that to the advanced certificate. The experience of breathing 18m under water with no gear but the scuba breathing apparatus, weights, mask, and wetsuit is thrilling!
Sinulog
Going to Cebu was actually not beneficial to the Tagalog mission – they speak Cebuano there, even if they understand Tagalog. I knew this, but still wanted to experience the Sinulog festival, as well as see another part of the Philippines before settling down a little.
As always in my travels, I arrived alone. However, I soon had a large group of friends to go out with every day that I found on Couchsurfing. We partied late into the night, danced, sang karaoke, watched the parade – the atmosphere was remnant of the Carnival in Brazil. It was hard to say goodbye to them!
My new home – Puerto Galera
Talking with those in Cebu – I got the impression that the best place for me to go – somewhere fun and interesting that spoke Tagalog, but not a polluted city like Manila – was Puerto Galera.
My first impression was not that great – Sabang, where most of the foreign tourists go first, may have among the most incredible dive sites in the world (that I still have to check out), but the town itself was ugly and at night the only thing to see was girly bars. Not my kind of place.
Luckily I found White Beach – this is actually where Manila residents choose to go as tourists – especially on weekends. So there really aren't that many other white tourists around. I spent a day asking around about prices and eventually found an excellent cottage the next beach over for the equivalent of just a few hundred dollars for the month (all inclusive).
This is one of the cheapest places I've lived in for the high standard of living and for having an entire structure to myself!! You can see me give a video tour of it here:
[In case you're wondering, my t-shirt says "Tengo la camisa negra" 😉 ]
As I said in the Manila update, I worked hard to get a good 3G data plan and I'm glad of it! I have unlimited 3G on my phone, that I can access by USB tether to my laptop. This means it doesn't matter that I don't have wifi. In fact, the 3G speed is the same was wifi connections I tried around here! It's good enough to watch online videos without having to wait and to upload this HD video in less than an hour!
And of course, it's only a few metres from the beach! I listen to the sounds of the waves crashing to lull me to sleep 🙂 There are no distractions here so I can get lots done, but it's a very short motorbike ride to White Beach to party with Manila tourists, and 15 minutes into Puerto Galera town if I need to do any shopping.
Living in such a peaceful area is going to be great, although I get up early and do as much as I can in the day. But I will of course be relaxing while I can – this year is going to be very hectic for me once I leave this beach so I'll need my batteries recharged!! (You'll understand as I announce future missions and destinations!)
Late start to the Tagalog mission
While in Cebu I was only really studying grammar (hence the reason for writing my frustrated post about how it doesn't help you speak), and I didn't really get much done at all. This means that the mission will only really be five proper intensive weeks. I leave the Philippines for my next destination in exactly one month (February 28th), so I'll have to do everything I can before then!
Luckily I've reached some useful milestones in this first week of really trying! You can always get more frequent mission updates from Facebook or twitter, and I mentioned some milestones there that I've reached in the last week since I've been in Puerto Galera.
Once I properly tried to just speak people have been (as expected) very encouraging! The first trick was to learn the typical phrases to get me through a standard superficial conversation I'd expect to have (to start off with).
That didn't take long of course, but sadly it seems I've surpassed most of the other white guys (at least here in Puerto Galera) who are permanently living in the Philippines and married to a Filipina just with that. Pretty pathetic guys, come on!
Next thing I've been doing is learning lots of vocabulary and forming my own sentences using the grammar I've already studied. The book I've got has some useful example exercises and I say a few examples to waitresses to make sure I've got them.
Starting to converse basically in Tagalog (but not with everyone!)
So I'm currently able to form correct spontaneous phrases but only if I take a while to think about them.
I haven't quite added these to my more natural spoken abilities yet, which are still basic and superficial (I still feel like I'm really only a single week into this mission to be honest!) but one good benefit of doing that work is that now I do understand fragments of what others are saying. Spanish and English loan words have been a lot less of a help in doing that than I initially thought they would be from people's summaries of Tagalog.
What has really been holding me back has been lack of natural social situations in Tagalog – I'm mostly just speaking with waitresses (I eat out all the time, since it's so cheap here). One friendly aspect of Filipino culture I've noticed that I haven't seen elsewhere is that waiters and waitresses actually sit down with you as they take your order and make chit chat for a few minutes. This means I don't even have to try so hard to find conversation opportunities!
Although, one unique aspect of White Beach in particular is the large number of ladyboy waitresses. To be honest, I have only spoken English with them and hide the title of my Tagalog book when they sit down near me – they are enthusiastic enough to spend time with me as it is (I haven't seen any other 20-40 year old single white guys since I got here – being perhaps the most eligible bachelor on the beach is starting to give me a headache!), and I don't want to motivate them any more! Don't get me wrong, they're very nice and fun to talk to, but can get a little too friendly at times (talking way too much about if I've got a girlfriend and the fact that they don't have a boyfriend right now) for my taste!
Usually I like to encourage people to use every opportunity possible to practise the language, but in this one case I'm making an exception. I want to be as uninteresting as possible 😛
Anyway, a real social situation would be to hang out with people consistently for an evening, so that's what I'm hoping to do this weekend with Manila tourists. Such social interactions always give my language much more context to help me progress faster.
One month left and clues for my next language mission
In four weeks I'll be back in Manila for a few days and hopefully ready to consistently and spontaneously converse in Tagalog (and record a video to show it). I have a stable environment for the next weeks to do that in and I'm progressing at the speed that I like.
I'm confident that I can do it 😉
I'll definitely need this relaxing environment for the next weeks considering the fact that I'll be in major cities for most of this year. Rather than announce the next mission directly, I'm going to be giving a clue in the Monday e-mails starting with the next one. These will not be linguistic clues (language families or grammar points), but common sense and general knowledge about the next language! It's going to be a fun surprise 😉
Sign up to the e-mail list on the right of the site to get those clues starting Monday, and see if you can guess it right before I officially announce it! 😀 (Please don't write your guesses in comments, as I won't reply to that part).