Valencia, Spain: My new home for the next language project!
---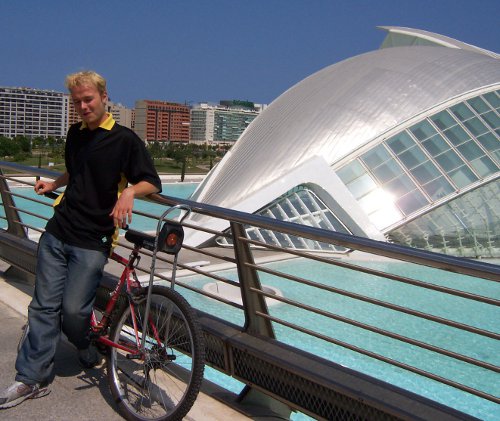 Those of you who know my story from TEDx talks or blog revelations, will remember that ten years ago I had graduated university in engineering and moved to Valencia Spain, and after six months of the English-speaking-expat lifestyle changed my ways and started my first language learning project of Spanish and then things really took off for me.
Well, after ten years on the road, while Brazil remains my favourite country, Valencia remains my favourite city!
It's absolutely gorgeous, it's large (Spain's 3rd biggest city after Madrid and Barcelona) with tonnes of things happening but still walkable, public transport is good, the people are friendly, it's got a large student population which gives it a very young vibe, the parties are excellent, it's well located centrally along the eastern coast of Spain to zoom to many other places quickly, like popping over to Ibiza for the weekend, the climate is great, and it has many amazing cultural tidbits like the absolutely amazing fallas festival, being the source city of the paella, and being close to the ridiculous Tomatina tomato throwing festival.
It was my first true experience living abroad, so I have many fond memories of the city. I was very comfortable and happy there, so that's why I'm moving back for the rest of the year! I can't wait!
The Fluent In 3 Months mission
After a couple of weeks settling back in, around mid-September I'll start my next huge 3-months-to-fluency language project, which I'll be learning entirely online. To see my announcement of this non-European language first, make sure to subscribe to the Language Hacking League email newsletter (top-right of the site). I'll drop a couple of clues on Facebook/twitter/Google Plus in the mean time to keep you guessing! (Although my just saying that it's non-European is of course already a huge clue)
As far as I know, Valencia has no special community, city district or reason to make it a good choice for learning this language. I chose it because I like living there, plain and simple! I'll be learning this language entirely online via Skype and such, so I could actually carry out this mission absolutely anywhere in the world with an Internet connection to prove to you that you could to. You don't need a plane ticket to get immersed; you can always opt for virtual immersion 😉
Like in last year's project to learn Egyptian Arabic in Brazil, I feel that living in a place I'm comfortable in, where I don't have cultural adjustments to make (as I would in many places outside of Europe), means I can focus entirely on the language much better, and then make travel in the country next year an entirely cultural experience. So I will be out in Valencia at weekends partying in Spanish (and other languages) to recharge my batteries, but spending about 6-8 hours a day existing in my target language otherwise. It'll be a fun project!
In reflecting on my previous project though, one thing I wish I would have done was to have had a couple of weeks to settle into Brazil before charging into the language project, so that's precisely what I'm going to do this time!
Mini project first: get by in Valenciano
Since I'm not starting the big (non European) project for another few weeks, I thought it wise to dabble in the Valencian Community's own language; Valenciano!
Many years ago, I passed through Barcelona and learned a little Catalan. I only got to a very basic conversational level, but I could try to reactivate what I had and then learn how the Valencian language/dialect differs. In my battery charging breaks, I'd like to explore the region a little, and I know from using my basic Catalan back in 2006 that use of non-Castillian-Spanish languages in Spain by foreigners is greatly appreciated! This includes if you have a basic level and are far from fluent.
Catalan and its dialects are not to be confused for Castillian Spanish dialects! I would describe Catalan as the centre of a linguistic triangle with Castillian Spanish and French (lots of French words make an appearance) and Italian (such as its slightly different conjugation) at the triangle edges, with its own unique features added in.
While the city of Valencia speaks Castillian Spanish, you will hear the community language spoken as the main one in many places as soon as you get just outside of the city. To learn more about Valenciano (or "Valencian") see this Wikipedia entry.
---