Next mission: American Sign Language!
---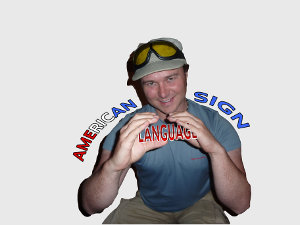 Hello from Austin, Texas! 😀
It may seem like there aren't that many options for an English (and Spanish) speaking Irish guy to learn a new language in the United States of America, but I see opportunity everywhere and here is no exception 😉 You can always learn a language no matter where you are, as I tried to prove by speaking various non-Spanish languages while in Colombia.
But rather than learn languages from other countries this time, there is indeed a very important language in the states that I have been meaning to get to for a long time; many would say that it's the 3rd most important language (after English and Spanish) of the entire country actually!
American Sign Language
Sign language has interested me for a very long time. This was especially true when I was still in college and an ear infection actually left me partially deaf for two weeks (not fully deaf: it was like wearing ear plugs so I could hear only loud low pitched sounds). I started to appreciate non-oral communication on many levels during that time.
As well as that I've seen people communicate by signing many times and always wanted to take part! It seems so expressive and everyone knows that I'm a fan of figuring out signs and gestures as well as non-verbal means to communicate in foreign cultures. And let's face it, knowing sign language would just be really really cool 😉
I do indeed have to be in the states for this though – there are some countries (including the Philippines, where I've just come from) that use ASL, but sign language varies dramatically in different countries. British Sign Language, for example, is unintelligible to American signers.
I could learn Irish Sign Language, but I think ASL could be beneficial anyway for that – both ASL and ISL are based on French Sign Language, so I would have somewhat of a headstart if I needed it.
Public first attempt
Since I've resolved to take on four languages by September (the first one being Tagalog), I'm only going to give myself one month for this mission. No – I don't believe that I'll be fluent after that month, but I am hoping to be able to spontaneously communicate with some level of ease. What this means precisely is hard to define for the obvious reasons that I have no basis of comparison this time…
At the request of many readers, I've decided to be more visual and share videos in various stages of my language missions rather than just the end. As you can see above I have recorded my first ever attempt to use American Sign Language 🙂 Adrean sent me a video with some of the things I wanted to convey and I tried to copy some of her signs and then just made up a few other parts. I imagine people who can sign will be quick to point out a few mistakes I'm making 😉
Of course, this is not spontaneous and I had to practice a lot before attempting anything. But I have to admit, making a video so quickly has forced me to be at a stage of appreciation in use of the language that I usually don't reach that quickly without help from native speakers (or signers in this case). I noticed the same in recording my Tagalog video (that you'll see in the next blog post) – I really should have recorded a video at the start to force myself to improve quickly, with public pressure as a big motivator.
You can bet that when I get to the next language (obviously spoken) in March, I'll record my first ever attempt to speak it too 😉 I'll see if I can find a native willing to share the experience so it's on camera and I can demonstrate my speak-from-day-one tricks more clearly. But that will be in March.
Even though this is not a spoken mission, I am confident that the many techniques I use to communicate from day one, which I discuss at length for spoken languages in the Language Hacking Guide, will help me to advance within the next weeks. I'm not sure by how much, but well it's worth experimenting to find out 🙂
Austin
I'm glad to be back in the states again! I have loads of friends here that I can't wait to see again – I chose Austin for many reasons: people have been praising this city to me for a long time! But one major reason is that a lot of my friends will be coming here  to take part in SxSW. I had to book my place last year due to how overcrowded the city gets this month for the event!!
Taking part in the event, talks, parties etc. will obviously be a distraction from the mission so I will have to work especially hard my first and last weeks before/after all the chaos. That's why I am putting embarrassment aside and making a couple of videos – it's public and forces me to have something to show for myself! Hopefully my signing abilities will noticeably improve over the month 🙂
---
So read (and watch) along and see how I do! 🙂