Climbing Mount Moses, seeing camels, the burning bush and the pyramids of Giza before leaving Egypt
---
Hello from Berlin!!
I've just moved here and will have a very interesting language project, unlike any before, which many of you will certainly relate to! I'll announce that on Monday in the Language Hacking League email list, well in advance of stating it on the blog, so make sure to sign up on the top right of the site to see what it will be! (If you are unsure of whether your email is on the list or not, try to sign up again and you'll get a confirmation message if you're already on – sorry my travels this year have meant no language hacking tips there, but I'll get back to regular updates now!)
The next post on Thursday will include a completely unedited and unscripted 17 minute video chat, with me doing most of the talking so you can hear precisely how good/bad my Arabic is so that we can officially conclude the mission! But now it's time for the final update on my Egypt travels!
Dusty trip from Alexandria to the base of the mountain
After I got back from Siwa, I got on the train to Cairo for my flight to Sharm el Sheikh. Unlike the previous occasion that I had gotten the train, I arrived with plenty of time!
But I had a completely different problem this time! After I got on the train, I was a little weary of anything happening to my window after rocks had been thrown at it on the Luxor-Cairo leg, and the sun was shining in on my face, so I thought I should pull down the blind of course.
Terrible idea! It was a little jammed, so I put my back into it and when I had loosened it up it snapped down and a huge puff of dust flew out of it all over me and a little over the guy beside me. He yelled some curses at me and changed to the only other free seat in our carriage.
It felt like decades of dust had been accumulating behind that blind without anyone cleaning or even touching it until I came along. Unfortunately, I had inhaled a little of this dust, and it got all over my clothes (which I was going to be wearing for the next 36 hours), and it stayed in the air around me for the duration of the trip. This meant I was a quite wheezy for the whole rest of the day – not a good pre-requisite to climbing a mountain!
I dropped all my stuff off at the boathouse I'd be moving back to for my last week in Cairo and took only 2kg total with me on the flight. Basically just a change of clothes for after the hike and my video camera (which as you can see, has an infra-red lamp!) The shuttle to go up Mount Sinai would only pick me up from a hotel, not the airport, so I got a taxi to a huge resort in Sharm el Sheikh to get some dinner and wait a couple of hours.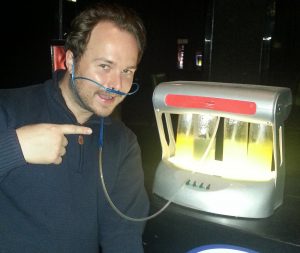 It was one hell of a different world there!! The resort was packed with Russian tourists and many beautiful 20 year old Russian girls dressed way more liberally and showing off way more skin than I had seen for quite some time! In my wandering around the resort grounds, seeing way too many silly overpriced things, I did find one thing that I was hugely appreciative of though! A flavoured oxygen distribution service!!
With my somewhat reduced lung capacity before going up a height with reduced air anyway, I actually really appreciated this very random and normally completely pointless treat. It was also surprisingly cheap.
The shuttle picked us up and about three hours later we were at the base of the mountain, starting the hike at about 1AM.
Reaching the peak
I got this trek, which included the return shuttle, guide all night to bring us up and down, another guide to give us some history about the monastery and all you can eat breakfast buffet afterwards, with some other tourists including British ones.
I was chatting to them a little on the way up, but every few metres there'd be someone shouting "camel camel camel" and trying to get us to ride on one. It's not that big a hike, so unless you are frail I don't see why you'd need a camel, but we were constantly reminded of the option! As annoying as they were, when the light was just right and they were off in the distance, the silhouette of several camels one after the other reminded me of the nativity image I always see of the three wise men crossing the desert. Seemed somehow appropriate for the religious setting of the mountain.
At first, I found it beautiful to be in such a quiet outdoor area far from civilization, and yet the entire path ahead of me was lit up really well thanks to the moonlight. About an hour into the trek, the moon had set though, and then we saw the most spectacular starry sky that I have ever seen!
About every half an hour, there was a tea shop that we would stop to rest very quickly. By about 4AM or so, we reached the final one and stayed there for almost an hour. I rented a blanket since the peak is really windy and shared it with Sorava.
The sunrise was gorgeous and well worth the hike! As I said in the video, this is traditionally thought of as the very peak where Moses received the ten commandments from god, which is why most people do the hike. It's why in Arabic, Mount Sinai is actually called Mount Moses.
I was happy enough to go on a night time adventure that millions before me have also gone on, and appreciate the beauty of a clear night sky, sunrise, and views from the peak of this mountain, even though I seriously doubted Moses actually went up this mountain (let alone the whole 10 commandments story itself…). Surprisingly though, most other tourists up the mountain with us were young Russians, and lots of Chinese and Japanese – hardly the religious crowd I was expecting.
Going down
The cold wind at the top woke me up a little and I had energy to sing most of The Circle of Life as the sun rose, and play around with the silly CSI clip you saw in the video.
While the trek up was pretty gentle, with lots of comfortable places to stop at, we decided to take another much steeper path down, over 3,000 steps. Once I was half way down, then the exhaustion hit me like never before. The 30 odd hours without sleep, all the hiking, the difficulty breathing etc. made it feel like someone turned gravity up several notches and I felt like I was going to collapse. OK, now I'd gladly hop on one of those camels!!! Of course, they were nowhere to be seen.
Each step took so much energy, which was surprising because it was to go downhill. We finally made it to St. Catherine's Monastery, and our whole group was wrecked. The guide brought us around and explained some of the history to us but I was far too tired to appreciate much of it.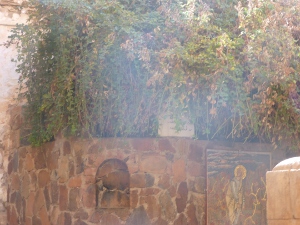 But within the monastery grounds you can find the famous Burning Bush! I was surprised that it was still alive to be honest, but the question of whether it's the "real" bush that god used as his earthly hi-fi stereo speaker system or not is in the same category of whether the Flying Spaghetti Monster is real or not for me, so I just saw it as an underwhelming bush that I'd see near any bog in Ireland I'm afraid! Maybe if I wasn't ready to lie down on the floor of the monastery from exhaustion and just let all the tourists walk around me, I wouldn't have been so cynical 😛
We had a nice big breakfast and the shuttle dropped me back to Sharm el Sheikh.
Cairo and the pyramids
After the peace and quiet of the Siwa Oasis followed by a night hike up a mountain, I had the stark contrast again of Cairo's noisy chaos!
Now that I had been in Egypt for two entire months, seen a lot, met many people, spoken Arabic pretty much the entire time, experienced a more modern side of its culture, and covered a vast distance from the very south to the north, and now the furthest west to its Southeastern mountain… I was ready to see the pyramids.
I generally don't like rushing to see such main monuments of a city/country. I went up Paris' Eiffel tower the last week of 9 months in the city, and the same goes for the statue of Christ in Rio after 3 months in Brazil first. They're great icons to give you an image to associate with the country, but they aren't really the country, in the modern sense I understand it.
Nevertheless, they are icons for a reason, generally with cultural or historical significance worth investigating, and I could definitely see devoting weeks just to exploring those pyramids if that was your focus in travelling. They are immensely big and leave you wondering how they were constructed.
I arrived before 8AM, and because of this, amazingly had nearly the entire seventh wonder of the ancient world all to myself. As you can see, I was dressed in my usual attire in Egypt, with an ugly moustache, wooly top despite the sun, and uncomfortable shoes. As such just a couple of touts approached me, and I chatted friendly to them without any frustration or pressure.
It really was the last thing I did in Egypt, only a few hours before flying out, which I was very happy with as it's generally the first thing most people do. They are an amazing sight, but it didn't set the stage for my Egyptian experience, it only closed the curtains on it for this trip.
My two months in Egypt were a fantastic experience, and as I wrote about before coming, my suspicions were confirmed that its apparent danger is nothing but lazy media more interested in sensationalist viewing, than presenting facts about a country worth visiting. If any of you are thinking of it, I can highly recommend it 😉
But for now, other adventures await! Thanks for joining me in this fun adventure, and I hope you like my language wrap up post/video on Thursday before the next adventure begins!