My girlfriend learns Esperanto: Week 2 update and spontaneous conversation! [video]
---
Time for another progress update on the makings of a new polyglot… from scratch! We are recording literally every single second of language learning and use of the language, so the greatest realizations can be caught on camera.
The goal of this week was initially to get comfortable using the language in other senses, like communicating via email with people.
I have been coaching Lauren, rather than teaching her, and wanted her to get exposure to Esperanto in as many ways as possible other than talking to me, to give her similar conditions to any other learner. I rarely ever translate things for her, and mostly answer her questions with another question to help her find the answer herself better.
You can see an example in this video when she asks me what the Esperanto for "book" is. It would do more harm than good to simply be her walking dictionary, since I want her to continue progressing as independently as possible, and not rely on me beyond general guidance.
First ever spoken opportunity!
After about 14 hours of study (what you could also do in 2 or 3 intensive days of work), we are pretty much ready for her to comfortably have plenty of conversations, limited as they may be, so that she can improve her spoken skills. The end of the project in Berlin won't be the first time she'll have spoken!! She's following a spoken-based approach once she has basic familiarity with the language.
So, I was planning to get her into speaking from next week, but after my book signing event in Dublin, an Esperanto speaking friend of mine, Ruslan, showed up and spoke to her in Esperanto! This was totally unexpected, so I got out my camera and recorded it! You can see that in the video above.
Lauren's own thoughts
The biggest problem Lauren is having this week now is difficulty in remember verbs, even though Memrise and Anki help her a lot for all other types of words. At this stage, we are pretty sure that what's missing is simply using the words in context much more, which is why she ended up reading and even writing Esperanto this week!
Next week, I'll start using Esperanto with her throughout the day so that she is more immersed. Since we are taking this first project very lightly, I wanted to ease her in, in her first weeks, but now that she has some basic comfort in the language, things can get interesting 😉
That's what I think though – it's time for Lauren's own thoughts on how things are going this week!
---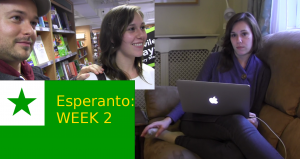 "After we posted the video last week on Benny's blog, I was surprised to see that I got two messages from readers wishing me luck with Esperanto, via Lernu. It took me a while to respond to those messages, but it was really good practice and eased me into "talking" with other speakers for the first time."
"Even better– I also got one message from a Lernu community member who had messaged me just because he saw I was a new sign up on Lernu! He sent me a message saying that he was just recently getting back into Esperanto himself, and we decided to be writing partners! So I got to practice socializing with him in a really easy, low pressure way. I wasn't even looking for an exchange partner just yet, but the Esperanto community is so friendly that I found one without even trying."
"One frustration I'm having this week, and that I still haven't solved, is that I'm having a hard time remembering and even recognizing very common verbs, like to say, to do, to make, to want, etc. When reading sentences in my courses and in writing to my exchange partner, I understand nearly all the nouns and adjectives, but I keep mixing up all the verbs. I've tried studying them on Memrise and Anki, but it's not sinking in. So this is going to be my primary focus for next week, because you NEED verbs to form sentences, and right now not being able to pull up even the simplest verbs I need is really making me feel like I can't yet communicate much in Esperanto."
"But Benny has asked me to focus on what I CAN do now this week rather than what I still can't do, so I have to admit that I've already noticed a huge improvement in my pronunciation, and I'm starting to be able to talk my way through full sentences much faster, with what is starting to become a flow (though I still don't know what all the words mean… but I'm stumbling over my words a lot less)."
"I'm also noticing that my confidence in speaking and writing certain sentences that I use a lot has increased, especially from sending just a few messages to other Esperanto speakers on Lernu."
"One last thing that I did this week that actually helped me a LOT unexpectedly–I started building a "cheat sheet" when I came across vocabulary words I thought I'd need to know to form basic sentences right now. While I was building my cheat sheet, I started to see similarities in the ways certain types of words were put together that I hadn't noticed before. For instance, all the words that start with "every" (everything, everyone, everywhere) start with "cxi," and a lot of time-related words like today, yesterday, soon and before end in "aux." I never would have noticed this if I hadn't started writing out a cheat list, and this has helped me a LOT with understanding the logic behind the language and in being able to guess new words."
---
Weekly Summaries:
You can read the summaries of each week: