Finding the right accommodation for immersion in a culture
---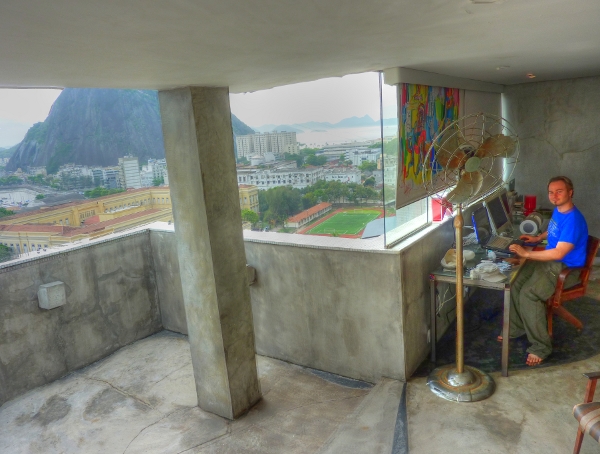 Hello from Rio de Janeiro!! Since I'm still just settling in (and getting over jetlag), tonight will be the first time that I go out on the town! Obviously the main part of this mission is to get out and meet Cariocas who can help me understand their language and culture a little bit more, but I'll still be spending most of the week, during these 3 months, working at home (I may travel a lot, but I'm not rich, so I have to work too!) and going to shops and eating out etc. in my neighbourhood. I'm very glad about which part of the city I'm living in and this will be a key part of how my 3 months will develop.
Choosing the right home can make all the difference
Choosing the right place to live in isn't just important to be close to work, having all mod-cons that you may need, and paying rent that's within your budget. These are all extremely important, and will always be the priority. However, if you can be flexible on your choice to help your language mission, it can really make things easier for you on that front.
For young ladies, the most popular means of full-immersion is to become an au-pair. I can't speak from personal experience, but I highly recommend it, as you would be living with a family who may not speak English. You would see the culture from the inside and be exposed to the language more than you could hope. It is also one of the most price-friendly options. There are plenty of resources online with some good tips for the asipiring au pair.
Otherwise, we have to look for an apartment and find a local (or location-independent) job. What I see too often is that other travellers tend to rely a lot on agencies and tourist channels. This tends to be much more expensive (due to commission and the general expectation that foreigners can and will pay more) and may lead to a less authentic experience, depending on where you live, especially if there are just other foreigners around.
I had to face this problem when I was trying to find a flat in Rio. Even those who know nothing about Rio will have heard the words Copacabana and Ipanema due to popular songs about people in those city districts. These two parts of Rio are actually where most foreigners end up, and are by far the most touristy and expensive parts of the city. I have nothing against tourists or tourism since we're all actually tourists in our own way and it's an important industry in many places, and despite my language and cultural immersion, I depend on tourist channels for many things when I travel. But I prefer to avoid it when it comes to accommodation if I can. Finding temporary accommodation in Copacabana or Ipanema may have been much easier, but I am sure that I would hear a lot of English there and be surrounded by too many other foreigners to be able to feel immersed. If you live in these zones, feel free to correct me if they are just as Carioca as the rest of the city; I also didn't need to live there because being very close to the beach is not a priority for me (although I can actually still walk to the beach from where I am now).
The other problem is that you may end up living with other foreigners; this can actually be very helpful at times, especially if they are also enthusiastic to learn the language. However, if they are English speakers or like speaking English with you, then this huge amount of time each day not practising the local language can greatly slow down your progress. If at all possible, the priority should always be to live with locals. I've enjoyed the company of over 80 flatmates in the last 10 years (not counting Couchsurfers), but since I work from home and need to make sure that there are less distractions, and since I can afford it nowadays, I usually rent an entire flat to myself. This is much more of an affordable option in cheaper countries, but not necessary the best option for most people.
Pressure to adapt
My flat in Rio is actually located in Urca, a charming and very safe neighbourhood that is ideally located right beside Botafogo and just north of Copacabana. The best part is that it has a small-town feel to it despite being so central, and in walking around for hours and going shopping etc. for this entire week, I have yet to see other gringos since I got off the bus from the airport! (Or perhaps I have come across many, who have been successful in what I'm attempting in these 3 months!) This is the ideal situation, since being surrounded by other foreigners may lead to speaking in English, which I avoid in these missions and is thus the "secret" to how I learn languages. It also means that here in Urca I am extremely aware of how gringo I look (I still need to have a "makeover", more on that later!). There is more pressure for me to adapt, which I wouldn't feel as much in a touristy area. So, how did I find this place?
Finding a flat
How you should go about finding a flat varies hugely depending on the country, city, time of year, your requirements and your budget. Summarising the best way of finding all of that and covering the whole world would be too difficult. But what you should do, is write to other travellers to get their advice based on your requirements. This request for help in itself is very easy and the best way to start. If you have a friend or two in the city that's great, but they may not know how to look for the kind of accommodation you want. I know plenty of people in Rio already, but their advice wasn't so useful because they are only used to looking for long term accommodation, or could only offer me links to touristy accommodation agencies.
So one solution to be prepared before arrival is online forums. My two favourite ones for finding out the best means of finding accommodation or any general information for particular cities are the Couchsurfing groups and the Lonely Planet Thorntree forum (in each case, going specifically to the page for the city/country you are going to). Usually you don't even need to ask the question since someone else already has, and the information is there waiting for you!
Asking those who have already done all the work before me means that I have gone straight to the best source, whether that is simply knowing which beach to go to for haggling a price for an entire beach hut in India with an excellent view down to €5 a night, or knowing which online ads website to check daily to see new ads sent by the owner of the flat, like loquo in Spain, expats in Prague or craigslist in Rio. It's completely possible to get an excellent deal through ads just in English, but you have more options if you can read in the local language, or at least use Google Translate to help you. Starting with online forums is one option, but there are lots of other means of finding accommodation abroad.
Just make sure you use some common sense when it comes to paying deposits before leaving, and that you try to haggle prices down whenever possible. Other travellers can give you advice that is specific to the city you plan to move to, but always take your time and research plenty of different options before settling too quickly on something.