First impressions of Thailand
---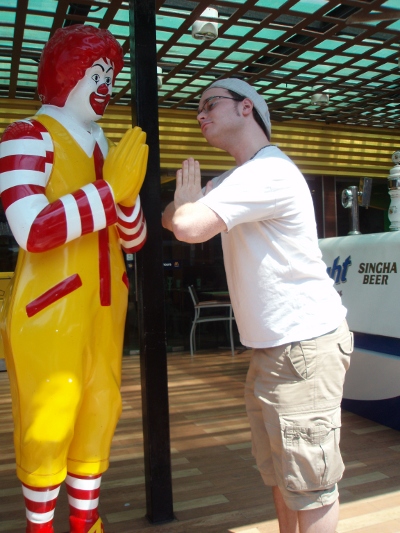 Travel update: no language tips in this (long) post!
After travelling for about 7 years already, I thought I was immune to surprises, shocks and general wide-eyed awe.
And then I came to Thailand!
There's nothing I can say about Thailand that hasn't already been blogged, Lonely Planeted, Documentary Channelled, photographed or twittered a million times already. This country is on pretty much every RTW ticket and gap-year itinerary and is usually among the first countries that travellers end up in.
However, what is slightly different for me compared to other Siam first-timers, is my mission to speak Thai in just 8 weeks (so far it's going according to plan) and the fact that I have more travel behind me than most of my fellow temporary farangs here (however, I've already met a couple of people here who could see my travel years and raise me 10+). So to be totally honest I've had no strong feeling of culture shock here and have been comfortable and confident in finding my way around.
Having said that, there are quite a few things that have stood out for me in these two weeks:
Thai massages
I took a brief training course in India in Ayurvedic massage, and that was my first true exposure to proper massage techniques. I both gave and received enough massages to get the general gist of how they worked, and presumed that other international versions were just massaging different parts of the body in slightly different ways.
This is not how I'd describe Thai massage.
It's more like your legs and arms getting pounded, squeezed, poked and squashed, then a standard nice back/head massage, and then pre-football-training aerobic stretching applied to a limp puppet… in a good way.
Before I even attempt to take a course, I've been getting as many massages as possible (hard life, I know) usually for about 200 Baht (€4/$6) for an hour. And I still have no idea how to summarise them because each one I've gotten has been completely different; ranging from excruciatingly painful by a distracted gobshite not even looking at what he's doing, who seemed to prefer massaging nerves rather than muscles, to an absolutely relaxing experience that made me feel great for hours afterwards.
To those who haven't tried, I'd highly recommend one, but get a location recommendation beforehand. I'm just randomly picking places and regretting it about half the time.

And if you are a single guy, you have an entirely different problem on your hands. Then again it's hardly a problem for many; the famous "happy ending" extra that they offer you in less professional parlours.
My random stumblings of course brought me to one of these so far (there's a lot) and I had the rather amusing task of politely turning down a massage to the one part of me that she "missed". I've been in way more awkward situations than this one before, and was very much psychologically prepared for this by the many stories told to me by some more… "eager" friends of mine who've travelled to Thailand. So to be totally honest I found her clumsy "accidents" of brushing against me in the wrong places (to get me excited) to be just silly. I put a stop to it before she got carried away.
The land of smiles?
Don't get me wrong; I find the Thais to be exceptionally friendly and I am really looking forward to getting to know them better through their language.
But Thailand's claim to its subtitle has escaped me. If you compare it to places where workdrones tend to walk around with surely expressions on their face, like some major cities in Europe, then sure, they smile more.
I just do not understand why it's "the" land of smiles based on what I've seen in comparison to other places. Brazilians smile way more than what I've seen here for example. Maybe the citylife/touristy nature of Bangkok and Patong have jaded the locals and I'll see way more cheeriness if I go off the beaten track, (in fact, I'm starting to see more smiles now that I'm in a quieter, but still a touristy beach at Karon) but excluding populated areas isn't much of a land.
It's not that it isn't a land of smiles, I just find it pretty much the same level of positivity that I've seen in several other cultures. I'd call Thailand a land of smiles rather than the land of smiles…
Affordable luxury
My first week in Bangkok was fun after I got off Kao San road. That's a great centre of gravity for backpackers, but if you don't drink you might get bored of it quickly. I don't think I can call myself a backpacker any more; I did that for many years, but now I have a different style of travelling (and I even ditched my 6th backpack and now travel with a suitcase; more on why this has simplified things for me another time).
I moved into my first ever 4 star hotel (by choice; I've stayed in hotels a few times before in the past for just one night and only out of lack of cheaper options) by a metro stop (สถานีเพชรบุรี/Petchaburi).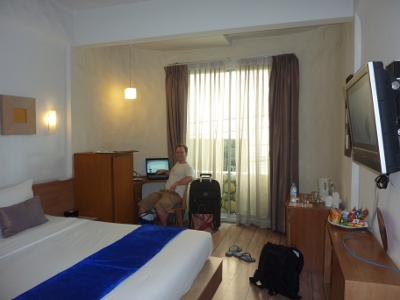 I was happy to spend a few days there; for just over 1,000 Baht (about €25/$35) I had a king sized bed, a huge modern room (serviced and made up every day), fridge, TV, great ensuite bathroom, air conditioning (it's around 32ºC in Bangkok in the streets these days), very secure, huge filling breakfast included and wifi and a working desk. The last two are the reason I was paying "so much" (I need to be able to work wherever I go). You can actually easily get a room to yourself for 3 times less than that and still have lots of luxuries, but for the short term I was happy with what I had; especially since I was right by a metro.
Paying that daily isn't realistic for the long term; I'm hoping to find a Bungalow somewhere soon and pay rent per week/month rather than per day to significantly reduce the cost. But I still felt like pampering myself a bit, and €25 is the price of a bunkbed in a hostel in some major European cities… I'm just not used to "affordable" luxury, so I'm trying it out 🙂
However, based on how much other tourists complain about insignificant things in hotels compared to those in budget accommodation, I don't think I'd travel hotels all the time, even if I could afford it. Too much luxury would make you have unrealistic standards for everywhere you go and seemingly turn you into a whiny crybaby, which I'd rather avoid!
Location independent = Location unsure
I'm sending this post from Karon , a medium sized touristy town on Phuket island (pronounced poo-get despite what the not-very-useful romanisation tells you). I had no particular itinerary when I got here, and I still haven't a clue where I'll be in two days time.
The problem is where will I find that Bungalow? I asked online forums, fellow travellers, Thailand experts and friends about where to go weeks before coming here and all the time since I got here. Asking that question will give you a list of pretty much every destination in Thailand if you ask it enough times. It depends on too many factors. Some people like the neon lights with nightlife all week, some like laid back, for some a breathtaking paradise view is essential, others like adventure and others still have their favourite village with no other Europeans around for miles.
I don't particularly need any of these. I'm not on the hunt for some lost paradise (it's actually funny how many people on online Thailand forums ask for the name of a "secluded paradise with no tourists", not realising that publishing its name online to a tourist kind of defeats the purpose), or some false sense of authenticity in a mere 8 week stay. I am well aware of the fact that I'm a tourist here; a forbidden word among a lot of superior backpackers who know better.
Since I'll likely be back to Thailand again in future, I am devoting most of this trip to look around to find a place that I like. Simple as that.
But it's hard to put what I'm looking for into words (trust me, I've tried!) – I do actually like a wee bit of home (i.e. Europe) around so I don't feel homesick; Italian restaurants, crêpe stalls, some other travellers, things available to those who can afford it like day trips, windsurfing/massage etc. lessons. So yes, I do actually want to go to a "touristy" town. Most of these are based on the beach, so that's why I'm covering coastal areas right now, but I don't actually need the beach for anything more than a nice morning jog on the sand. I'm not here to work on my tan.
I could totally see myself in Bangkok, since it has everything I could possibly want in a city… but when you see so many people wearing face masks to protect themselves from the pollution from the city's incredible amount of traffic, it makes you think twice about a medium-term stay if you are asthmatic. A lot of people warned me that Bangkok was chaotic, but I find it nothing of the sort. The road traffic is horrible, but the public transport on the skytrain and metro are very clean modern and cheap, and even the Chao Phraya express through the river and the canal boats get you to most other destinations.
I moved on to Patong for the weekend and there was a little too much going on for my tastes. Neon lights and constant reminders of sex tourism is not my scene. Karon is a slight improvement over Patong, but still doesn't strike me as a place that would suit me to stick around long in.
Vague itinerary for next weeks
I think I'll spend a night in Phuket town Tuesday before heading to Phi Phi. It seems just bouncing around is the thing you have to do, if you want to find which island/beach/town is best for you! I've got momentum behind me, so even if I find my perfect spot soon I might still move on to get some places I had wanted to see (Krabi & Ko Samui) off my checklist, so I can relax in one place for my last weeks and know where to go directly to, next time.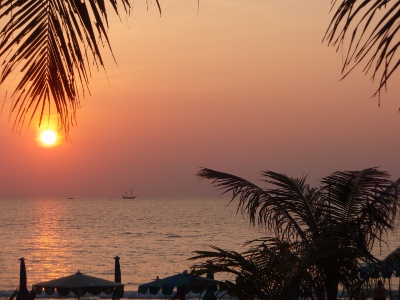 If I move fast enough, I might make it to Ko Phangan for the famous full moon party (30th), but I'd hate to skip places just to be there on time, since it's on the other side of this stretch of Thailand. So if I miss it, I'll catch it on my next Thailand trip. The next one (Mar 1st) is too close to my flight out.
So it looks like I'll have to hop around for a few weeks. Even if I only find my ideal spot on the last day before going back to Bangkok to fly out, I'll still be happy, knowing that it's there for next time.
I did the same in Goa in India and travelled for several weeks before settling down (for a month). I hated the north and didn't get along with other travellers there (minimalistic drugged out yoga retreaters vs non-drinking non-smoking yuppie language nerd travelling with enough technology to make the starship Enterprise look like a lightbulb… is not a good mix) but then I found a place I was happy to settle in, in the south; Palolem. I'd like to find my Palolem in Thailand!
Note that not going somewhere touristy will have little influence on the speak-Thai-in-8-weeks mission. I don't need to go to a village; I can learn (and have learned) languages in touristy places and I'd just get bored in a town with little to do when I'm not working. I'll have to devote a whole post to this some time because a lot of people seem to think immersion is only possible in villages off the beaten track and I disagree. If you especially like villages then that's an excellent reason to spend time in one. I don't.
Things I've never seen before here
To end the post (sorry for the length), I'll give a random list of things I've come across that I've never seen at home or in my other travels before:
the wai – the Thai greeting of putting your palms together and bowing slightly. I really like it! I do it to everyone before talking to them, and I will definitely miss it when I get back to Europe. As you can see in the photo above, even Ronald McDonald does it
Casual sales of firearms. This is new to me; in broad daylight in a mall in Patong and in a flea market in Bangkok I've been very openly approached by the Thai smile and presented a "menu" with various hand guns and rifles that I can buy (free bullets included!) Usually you have to go underground if you want a gun. I don't particularly like this "freedom" to be honest, but I presume Thai laws about firearms are much less strict than in the west.
Fakes. Rolexes, Calvin Klein underwear, etc. I've seen lots of fakes elsewhere, but not this vast amount of them for sale everywhere tourists are. I think I'm the only one here with actual Havaiana flip-flops. The price for the fake ones are the same as the price for real ones if you buy them in Brazil…
Go go bars. One visit was enough to satisfy my curiosity, and I won't say what happens in there since I know I have some young readers!
Thais' level of English in the tourist industry. Apart from India (where English is a 'subsidiary official language'), I've only ever been in Europe and the Americas. In Thailand I've only been in very touristy places so far and I find people's level of English to be quite low. This is not something I'm complaining about, since I'm here specifically to learn Thai. But it's new to me when dealing with people used to tourists (I'm not talking about random people in the street). It has been frustrating having my orders in restaurants messed up or taxis taking me to the wrong places, despite the fact that I'm sure I have extremely easy to understand English compared to many other natives. But this is just further motivation to continue working on my Thai so I can soon explain it to them in their own language. In what I've learned from Thai I can see why European languages would be quite hard for them, especially when it comes to grammar. People have been very happy to hear the little I have already (I'm still working on the theory behind tones and their use in the writing system before I open the floodgates of conversation!) although that reaction is the same in other places with other languages.
Hotel cards. I'm not a regular frequenter of hotels, so I don't know if this is international, but the hotels I've been in have cards to open the door that you also insert into a slot inside to activate the power. Since you need the card to get back in, you take it with you and the room is not powered while you are gone. I find this to be a very very clever idea for conserving energy (since there will obviously be forgetful clients who don't turn off lights or leave the A/C running while they are out).
The glass in the picture on the right. I asked for a non-alcoholic cocktail (or mocktail as I like to call it), since someone just clicked the link on the site to treat me to one! I had a great laugh at the container it was served in!
Sorry for the very long post. If you made it to the end, congratulations!
In the next post I'll get back to language learning suggestions, but getting used to a new country is part of the adventure and perhaps a few of you might have been curious to hear how that aspect was going for me this time!