40+ FREE online language learning resources
---
The most comprehensive list of courses, communities, exchanges and more.
The great thing about blogging, compared to traditional print media, is that you can update posts as often as you like. With that in mind, I've decided to make this the go-to page for the most comprehensive list of completely free online resources for learning and practising many languages, that you may find online!
I will constantly be coming back to this post to make sure it is up to date with the latest and best links.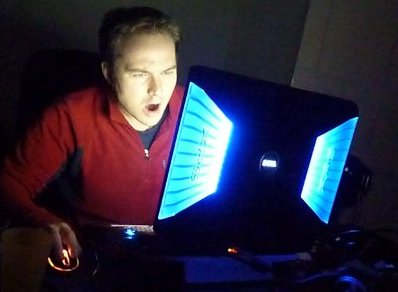 If I have missed anything (within reason, please see the note at the end) definitely let me know in the comments and I'll add it in! I'm only interested in sharing a site on this page if it has a genuinely useful 100% free aspect to it (although some of these pages may have other paid aspects to them or ads). If at any time in the future these links become less useful, also let me know and I'll remove them 😉
Also note that for the purposes of keeping the number of links that can appear on this page under control, I won't be including any links that focus on just one language in this blog post.
For that please make a request or do a search in the forums. I'll make a separate post later for sharing the best links for specific languages, but until then share your favourites with us in the forums. For instance, here is a thread about watching videos in French, or here is a long list of links for learning Chinese, this thread shares German links, this one is for Italian, and Dutch here. When you ask, those in the forum can also point you to other specific language link lists elsewhere online, such as this one for Spanish resources.
Alternatively use the Google search tool on the right, as various posts on this blog share my favourite links specific to one language, such as for Irish.
Here we go!
Courses
Duolingo – A recent newcomer, run by Luis von Ahn (interview I did with him in Spanish here). It encourages you to progress in learning languages through gamifying its lessons. Full review of it here. At the moment, it offers Spanish, English (for Spanish speakers), French, German, Portuguese and Italian and more languages are in beta and on the way soon.
The Foreign Service Institute has a varied list of courses
The Omniglot intro to languages has a great first overview of many languages, and follows it up with links to courses and other tools for that language.
BBC's languages has a great mini-introduction to almost 40 different languages!
About.com has some interesting articles, courses and word lists for English as a second language, French, German, Italian, Japanese, Mandarin and Spanish.
Internet polyglot has some great courses and help to memorize words for many languages.
Language exchanges
italki – This is my favourite site by far to get language practice. I wrote a detailed review of it here, but in general it is the easiest site I have come across to search for natives interested in an exchange, and to schedule a Skype call with them with time-zone issues handled automatically. The language exchange aspect of the site is entirely free.
The site busuu is actually commercial sites with courses that I didn't find useful, but both have large communities of people from across the world that you can contact directly to ask for their Skype details. Rosetta Stone's "sharedtalk" actively discourages this ("Skype" is a banned word that is asterisked out whenever you mention it in discussions, which goes to show how restrictive they are), but is good for written chats in that language.
Verbling includes "practice groups" as part of its community feature, so you can find other people learning the same language as you, and practise speaking with them.
The Polyglot Club organizes regular meet-ups in major cities that allow you to practice many different languages. You can also contact users directly to ask for corrections of text or a language exchange.
Couchsurfing, meetup and Internations also have great regular meet-ups in the real world to practice specific languages, or to just hang out with an international crowd. Couchsurfing also lets you search their community per language for the city you are in, so you can message people directly to invite them out for a coffee and chat.
Other sites for finding a language exchange partner include My Language Exchange and Interpals.
Vocabulary learning
Memrise is one of the most versatile sites for providing pre-made mnemonics for vocabulary in a wide range of languages, which is always expanding since the system is open to people adding their own public vocabulary lists and suggestions in.
Ankiweb – while this works best as a smartphone app or program, there is also an online version you can use, and you can input pre-made decks of the most important words in that language from a huge database. More on Anki and its spaced repetition system here.
Quizlet is another flashcard based site with lots of language specific ones.
Language learning content
The Extr@ series is a pseudo-comedy TV show that is very easy to follow for learners of the language. Different native actors act out the entire series that you can watch on Youtube in French, Spanish, German, and English.
Native content in the language
Tunein lets you listen to live streamed radio from all over the world! Pinpoint the country you want to hear, test out a few stations and then listen to your favourite(s) regularly.
Go to Alexa's ranking of top websites per country and go to the country where your target language is official to see the most visited websites in that country, which of course will likely be in that language and have text, video or audio made for native speakers that you can go through.
Stumbleupon's toolbar has an option to "stumble" interesting websites in a particular language. The right language, and fun content to read/watch!
Non-English Wikipedias. When you need to look something up on Wikipedia, rather than doing it in your native language, see the article written in your target language! If you don't know the translation, look up the article on the English Wikipedia, and then click the translation on the left if it is provided (which it is for a surprising number of articles!)
Language learning forums to get useful tips!
Fluent in 3 months forum – the forum on this site is one of the most active language learning forums online, with 20,000 members. In my experience, it is one of the most encouraging forums you will find online, but still has plenty of experienced learners ready to lend a hand to give you specific and practical advice to get you speaking asap!
How to learn any language forum – those who frequent this forum tend to lean more towards enjoying the technical aspects of language learning, or mastering the language, or the linguistic theory of language learning. The technology/coding on the forum itself is quite outdated, but the community there is very strong and helpful, and certainly very experienced!
Get it pronounced/corrected by a native speaker
Forvo is a great site if you come across a new word and would really like to hear how it's pronounced by a native speaker. It has a huge database covering many languages that you can search and get an instant answer.
Rhinospike is better to hear how an entire sentence or even a couple of short paragraphs are pronounced by a native speaker. Submit your request and make sure to help fill those requests in your native language to have yours prioritized.
Lang 8 is a site where you can write text in a particular language, and pretty soon have natives look over it and give you great feedback. Highly recommended for improving your writing skills!
Language articles
The language learning subreddit and the linguistics subreddit both regularly share some fascinating links from the web of the latest articles and tools for language learning.  You can also use stumbleupon mentioned above, and set it to the linguistics category. Keep in mind though that linguistics is not necessarily relevant to language learning.
Multilingual dictionaries
Wordreference is one of my favourite sites to search for the meaning of words in French, Spanish, Italian and Portuguese, not just because of its free online database but also because of its forums where words not in the dictionary database can generally be found to have their own discussions for. The Portuguese dictionary generally words better when searching for a word from Spanish though, and it also covers German, Russian, Polish, Romanian, Czech, Greek, Turkish, Chinese, Japanese, Korean, Arabic although the quality in a lot of these can be improved on in alternatives.
Bab.la is another dictionary for a bunch (24) of languages.
Google Translate – while it will mess things up a lot, as far as automatic translations go that are completely free, Google Translate certainly gets the job done pretty well. What I like about this is that it translates as you type so without waiting for an answer by pressing enter to open a new page, you can have a live discussion on Skype faster by looking up a word that extra bit quicker (although you'll likely use a wrong translation a lot of the time unless you use more full sentences to give the system more context, as it takes its translations from human translations it has found elsewhere).
Proz term search , the Interactive Terminology for Europe and Mymemory were my go-to dictionaries when I worked as a professional translator, specifically for finding technical terminology that is less likely to appear in other general dictionaries.