Free online Irish language learning resources and cool videos
---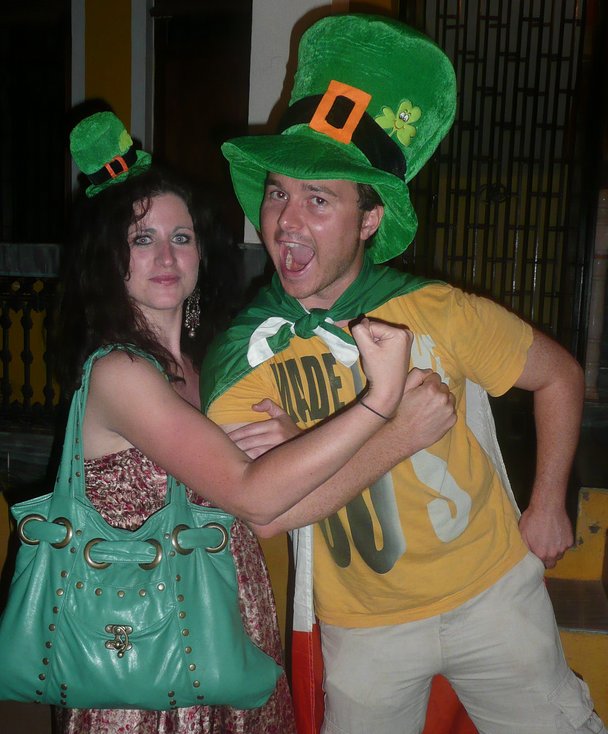 This weekend is St. Patrick's Day, the background of which I discussed in this post a year ago (while insisting that Americans do NOT call it "Patty's day")
Another thing that happens this week is Seachtain na Gaeilge [literally, Irish (language) week] – an awareness initiative aligning with the week leading up to or around Paddy's day, to promote the Irish language. This post is my small attempt to contribute to that promotion!
First thing's first; have a read through this post where I give a summary of the Irish language (a.k.a. Gaeilge). It's a beautiful language in the Celtic branch of European languages (along with Welsh, Scots Gaelic, Breton and others) and the official language of Ireland, while being very different to English. In fact, the English we speak in Ireland (a.k.a. Hiberno English) is highly influenced by Gaeilge, and you can read about the components of Irish English here.
While some might be tempted to think of it as a "dying" language, only used in the countryside, today I want to share how incredibly prominent the language is on the Internet, and very much alive and kicking! You have a vast amount of resources for consuming Irish used naturally, as well as for learning it. Hopefully today's summary post gives you a good start!
Video content
1. Youtube is sprinkled with lots of stuff as Gaeilge ("in Irish"). Here is a small sampling of some cool videos in or about Irish:
One short film, (which I find even more cool to watch now in an ironically reversed way) is the fictional story of a Chinese man who decides to learn Irish, and not English, and then moves to Ireland. (It's quite misleading though, as the very basic Irish that he speaks in one scene would be understood by many people even with weak Irish, so remember this is just a cute story!)
Seeing him struggle with a knife and fork and use them as chopsticks is quite clever!
Des Bishop's "in the name of the fada" is a great documentary series (all online) about an Irish-American comedian who decides to move to the Gaeltacht (Irish speaking region in Ireland) and learn the language. He even manages to incorporate Irish into his stand up routine!!
2. TG4 is the national Irish language TV station, and it's made a huge difference to bringing the language not into the homes of everyone in the country, but also around the world.
TG4's website has free streamed videos of many of their shows. Click the various categories to see new interesting content updated daily, including full episodes of "Ros na Rún" (the soap opera first video shown above), daily news/weather, children's shows (I'm a sucker for Spongebob Squarepants in Irish), documentaries, and a live stream (occasionally restricted depending on what is on at the time).
What I really like about TG4 is that it is not IP restricted, so (unlike most official streamed online access to TV shows), you can indeed watch it from any country in the world.
3. Benny TV
OK, there isn't actually any "Benny TV". But I've made a handful of videos in the Irish language myself, specifically about my travels and cultural discoveries abroad (and even explaining what the online term "RSS" is). You can see all those on my Irish videos page, and several are subtitled in English on Dotsub.
Live audio and podcasts
As well as the TV station in Irish, there are actually quite a lot of ways to get tonnes of Irish to listen to on a daily basis!
First head over to the RnaG site, and click "RnaG Beo" (beo means "live") around the top right to have a pop-up live stream of the radio. This is the national Irish language station.
Next, check out Raidió na Life, Dublin's own station, and click "Éist Linn" (listen to us). I was interviewed on Raidió na Life myself in Irish and you can hear that with subtitles here.
To download some cool podcasts check out Raidió Uladh (Ulster Radio)'s Blás podcast. If you search iTunes, you may find other podcasts in Irish depending on your country.
Stuff to read in Irish
While it may seem like quite the daunting task to attempt to read in Irish if you are starting off, and don't look forward to having to consult a dictionary slowly for many words, you can use a great completely free resource to read online in Irish and have your new vocabulary tracked (to be added to a flashcard app) and the dictionary very easy to access by using this's sites: Learning with Texts tool. In the video demonstration, I show you a text I am reading in Irish.
One place I like to find nice articles is beo.ie, especially since they have a mouse-over option to see tricky words translated to English. You also have the regularly updated Foinse, Nuacht24, or you could check out some of the over 14,000 entries on the Irish language Wikipedia, a.k.a. Vicipéid.
Learning resources
Of course, learning the way the language works is important, but actual exposure to real Irish should be the priority – so don't get bogged down with studying!
For dictionaries when reading the above texts or otherwise coming across words you don't know, use the online Irish dictionary, or for technical or formal vocabulary try focal.ie.
And don't forget that recently Google Translate added Irish as one of their working languages. Definitely don't rely on this too much, as I can confirm that its translations are worse than what it produces for Chinese, which really says something, but it can of course come in handy to get the gist and is great for some short snappy set phrases or single words.
If you aren't in much of a hurry, then post your question on the Irish Gaelic translator forum – when someone comes along you'll get a pretty good answer as it's a really active forum, and they are happy to translate any very short text or complicated concepts. First do a search to make sure your question wasn't asked already, as people ask many questions every day. They were a huge help to me as I attempted to script my complicated documentaries. (I wrote them in Irish and asked for proofreading feedback). The Daltai forum also has lots of active threads in and about Irish.
To see how the language works, this incredibly detailed grammar guide covers pretty much everything, but I'd only recommend it to language enthusiasts who enjoy such technical explanations and understand "grammar-ese" terminology. Along the same lines, the Wikipedia article on Irish has lots of links within it to separate technical articles about interesting aspects of the language.
This less intimidating collection of free PDFs/MP3s will give you the basics to get started.
While it disagrees with the title of the post (not free), I would generally recommend people starting the language from scratch to go for Colloquial Irish and lower intermediates or Irish people who learned it in school to use Turas Teanga.
If you speak French, L'irlandais de poche happens to be my favourite introductory presentation of the language! Buy it in any major bookshop in France though, as it's expensive online for a pocket book. I usually like the "Teach yourself" series in other languages, but in my opinion they do a poor job at presenting Irish, so skip that one.
If you're feeling really adventurous then get yourself a copy of Harry Potter agus an Orchlach!
Other cool resources
If you come across some text online that you really wonder how do you pronounce this?? then head straight over to abair.ie! Paste the text in and this will produce a synthetic artificial version of what the text sounds like (with a Gaoth Dobhair/Ulster accent, which is the one I tend to speak with, although the one you'll see and hear in many courses is the Connemara dialect).
Next, change your computer's language to Irish! Install the free Ubuntu operating system (takes a few hours to get used to, but you can do pretty much everything you can do in Windows or on a Mac, and more. And it works so much faster and never crashes) and then change the interface to be Irish! Interfaces like Firefox and Open Office and many more are in Irish. Install Firefox's Irish dictionary to help you not make spelling mistakes and many Open Source projects that have translations and wide audiences have Irish interfaces. You can also set Facebook to be in Irish!
While I've given a lot of links here, the Omniglot site has a page devoted to Irish with plenty more to check out (not so up to date though). One thing I appreciate on that page is that he requested that I record his spoken example 🙂
Lots to keep you busy!
You could fill your entire day with Irish using just a handful of some of these resources, even if you are many many miles from the Emerald Isle!
This summer I'll be back in Ireland and devoting time to bringing my level up a little higher and more professional, especially since I've been invited to be interviewed by some of the radio stations I listed above and would like to make sure I'm up for a very complex conversation! More on that mini-mission later though! 😉
(If you're curious about what I'll be doing before that from April for the next 3 months, join the Language Hacking League email list to find out before I post it on the blog!)
Of course, this weekend, the most important Irish phrase you need to know is "Lá Fhéile Pádraig Sona Duit/Daoibh" (Duit for addressing one person, Daoibh for more than one), for "Happy St. Patrick's Day!" Paste it as your Facebook status and maybe send some people over to this post to get into some true Irish spirit this Paddy's day!
Don't forget to share your thoughts on the Irish language with us in the comments below, and feel free to share any useful resources that I may have missed in this post!