Travel anecdote: How the Kindle saved me
---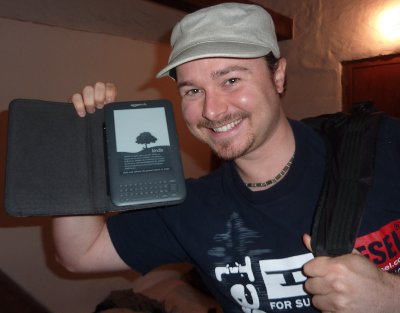 "I'm sorry sir, but there's no way I can let you fly to the states today!"
Of all the times to hear this, 33 minutes before your international flight is scheduled to take off while you are still trying to check in, is among the worst.
Not getting into the states would have meant well over a thousand dollars lost instantly in booked hotels, the price of the flight, expensive entrance fee to the conference I was flying there for, as well as a lost chance to see some friends and to make some new ones.
"What??"
My heart sank and extra expenses of buying new flights and booking a last-minute hotel in Budapest came flooding into my head. Not getting into the states was not an option!
"If you don't have an ESTA confirmation number, I cannot let you board this flight!"
CRAP! ESTA!! I totally forgot about it. Two days before this I had eaten something that made me really sick and got no sleep for those two days straight – not a great precursor to the jetlag already waiting for me – but because of how exhausted I was, I couldn't focus and plan things very well.
Luckily moving house so often means I do things automatically: pack quickly, make sure I have my passport etc. but to get into America you need to have filled out the ESTA form! This had totally slipped my mind since the last time I did it was years ago. As an Irish citizen I don't need a visa to get into the states, but I do need to sit down at a computer and fill out some basic information about myself for bureaucratic reasons, before my flight.
"I just need to go to the site and show you the confirmation number after filling out the form, right?? How much time do I have?"
"Unfortunately, I have to close this gate in three minutes, and I need to see a print of the confirmation screen"
As a habit, I make it to the airport three hours in advance, and today was no exception. However, several things came together to make sure I was the last person to check in my luggage. First, the automatic check-in was broken and I wasted a lot of time waiting for a family to try to get all their details in and for someone to repair it.
On top of that Budapest has the worst queueing system for check-in I've ever seen. There were no barriers and people didn't care at all about who was actually first. It was a bad stereotype about European queueing gone overboard. I was too tired to deal with all the pushing and shoving aggressively, so despite being among the first there, I was the last to check in.
"But, this is only a transfer to Frankfurt! Can't I register on ESTA at that airport?" – No. It was the one ticket and everything had to be ready in advance.
Enter the Kindle
I asked was if there was an Internet café in the airport – there was, but it doesn't have any printers. Then I thought to use my Android phone to access the page on 3G, but in a mountain of unfortunate circumstances coming together at once, the Internet was down in my house that week and I used up my monthly limit on 3G by tethering my laptop to my phone. The airport has wifi, but paying for it would have taken too much time.
2 minutes left.
I'm sure she could see the desperation and exhaustion in my eyes. She wanted me to get through, but rules are rules. Luckily I had a plan D (considering all the other options I had exhausted). The Amazon Kindle I bought to read with also came with free international 3G and was small enough to fit in my inside jacket pocket (there would have been no time to dig through my unchecked luggage), so I pulled it out and dashed through the pages to fill out the application.
Despite how unbelievably tired I was, I somehow filled out the form quickly enough to get to the final confirmation screen and handed the device to her. She could see it was indeed on the page (so I hadn't just made up a number) and gave me my boarding pass. Success!!
I still had to run to the terminal. Luckily she gave me a priority pass for security – Budapest airport being as badly organised as it was, there was a sign to warn that security had a 45 minute wait time. No time for that!
Next thing I was in Frankfurt and asked another question before entering the terminal that led to me slapping my head and thinking to myself "This just isn't my day…"
Could I see your outward ticket from the states please?
It's a good thing I wasn't asked this in Budapest, because I also hadn't prepared this in advance. I had indeed bought it (to Colombia), but had never printed the ticket as proof. Normally I prepare all of these things the day before flying, but my head was in a toilet for most of that day…
Luckily there was no time pressure here. It's a good thing too because it turns out "Aires" never e-mailed me the actual flight details (they're new to international flying, and cheap because of that), so I wasted several minutes looking through Gmail and eventually had to use the confirmation code (the only thing they did send me) to log into their website. Showing her the flight details on the website itself was convincing enough and I was finally definitely flying to the United States.
Phew!
A week with Kindle as main source of Internet
So far I had used the Kindle in two countries (Hungary and Germany). Since then I've also used it in the states (Nevada and New York) and in Colombia. I've tweeted from the airplane as soon as we landed each time!
Of course, all these issues could have been avoided if I had prepared better, but I really was too sick to think about any of that. The above was a pretty serious situation where the Kindle actually saved my travels, but the rest of the time I've been using it has simply just been a big convenience.
At Frankfurt I could have just connected to the airport wifi on my phone (for a hefty price…) to get the information, but if I didn't have the 3G enabled Kindle in my pocket in Budapest then most or all of my amazing week in Las Vegas would have never happened and I would have been down a lot of money. Of course, this is also down to my own lack of organisation before flying for once.
For Internet, normally I get a SIM card if I'm in a country for more than a few days – my phone is unlocked and prepaid is generally not expensive at all. But USA is the one exception – I spent more in one month living in San Francisco a few years ago on receiving calls than I did for the entire rest of the year combined for all charges. Frankly the states is the worst country in the world I've ever been in for prepaid phone usage. (Contracts don't work for travellers) And ironically, at a conference about blogging the wifi was crap. So the Kindle was my main connection to the world for an entire week.
I used it to organise meetings with other bloggers via twitter (both on the mobile site and on Randy's Kindletwit), read e-mails and sent brief ones on Gmail (the mobile site redirects and doesn't work for some reason, but logging in via http://bit.ly/g_mail does the trick), used some Google tricks (typing in "100 dollars in euro" or "weather in Las Vegas" etc. and getting an answer immediately on the search results), caught up on some blog posts by reading the mobile version of Google Reader and lots more.
As you can imagine, I am pretty pleased about spending the extra $50 over the basic version to have free international 3G access. Such a tool can benefit any frequent traveller. I'll be using 3G on my phone now in Colombia, but it's good to know that I can go in and out of countries quickly and never have to worry about paying anything just for the sake of checking e-mails.
For the entire 22 hours of travel time it took for me to get to the states, it was on most of the time (I read several books while flying after trying unsuccessfully to sleep – I had reached about 70 hours with no good sleep in total in the end) and still had plenty of power left in it after I arrived.
You could get the Internet perks from an iPad and an expensive international data roaming plan, but for budget travellers I absolutely recommend getting the 3G Kindle. Even for not using the Internet, simply reading books on it has been a pleasure. I've been reading for several hours a day and don't get any eye strain as I do on LCD screens.
That's all great, but I'm mostly grateful that this device is the reason I didn't miss out on my amazing week in Las Vegas. Thanks Amazon!! 🙂
---