Less Commonly Taught Languages: How to Find Resources
---
Finding online resources and courses for less commonly taught languages can be tricky – I know from experience.
A couple of years ago, I developed an interest in the music of the Baltics. Then, in the summer of 2016, I was awarded a Fulbright grant to study the music of Latvia. Not long before then, I hadn't even heard of the Latvian language. Suddenly, I found myself needing to learn this language to improve my research and ability to live in Latvia.
Latvia is a country that's the size of West Virginia, located in the Baltic region in northern Europe. Finding resources to learn Latvian was difficult because it is a language that is only spoken by about two million people.
After a year of study, help from a lot of friends, and a lot of stumbling around online, I found effective methods for learning this beautiful but lesser-known language. It's my hope, for those of you who want to learn a minority language, indigenous language, or other less commonly taught language, to show you some ways of finding useful online resources, many of them free.
Here's the step-by-step approach I used to find resources for learning Latvian, and that you can use to find resources for less commonly taught languages.
Step 1: Research the Essentials of Your Target Language [4 things]
Before you begin, you'll want to know a couple of things about your target language:
The English name of your target language,
The name of your target language in the target language. For example, the word "Latvian" is "Latviešu" in Latvian. You'll find a lot more useful content by searching in your target language.
The flag of the country that speaks your target language. Many language resources feature an image of a flag, so knowing it in advance can be a helpful visual aid during the search process.
The family of languages that your target language belongs to. Some resources, such as Memrise, categorize their courses by their language families. You can find this information, and other quick and easy facts about your target language, on Wikipedia.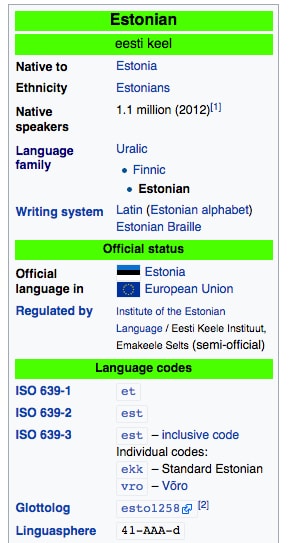 Step 2: Check the "Big Five" for Your Target Language
I call these language learning sites the "Big Five" not because they're the most famous language courses or websites, but because they're where you're most likely to get a quick win in your search for resources.
And DuoLingo doesn't feature here, because while it has excellent courses, it doesn't actually cover all that many languages.
The Big Five sites for less commonly taught languages are:
Memrise. Memrise is a flashcard-based learning system that encourages its users to create courses, so it includes many less commonly taught languages. You can search for your target language using their search function. You can also view all of their possible language decks by clicking on the "Languages" bar on the left-hand side of the screen, and then sorting by origin or language family. Memrise decks usually include audio, and some include visuals as well.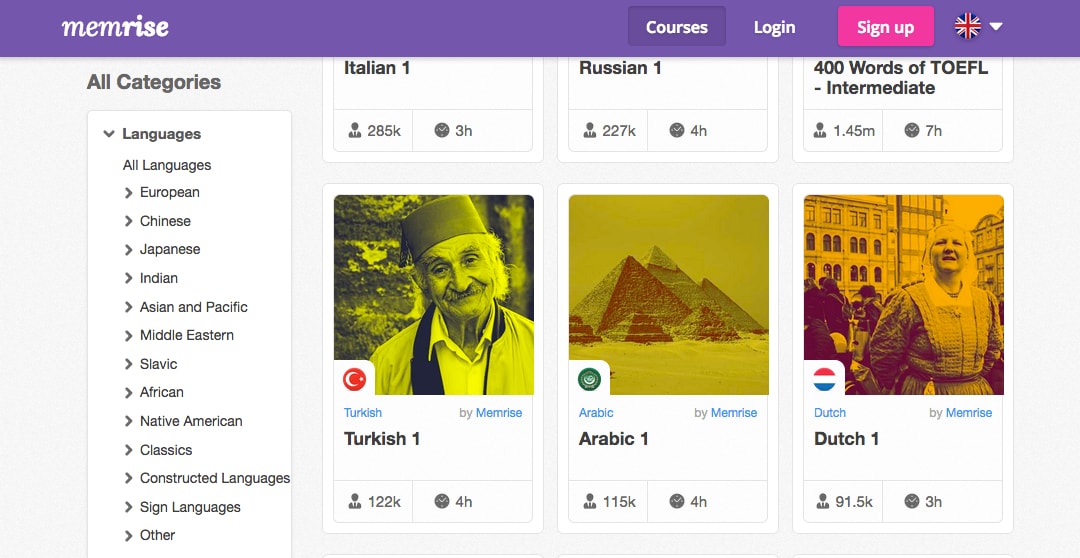 Surface Languages. This website provides basic vocabulary for 40+ languages, and includes audio examples as well as games for practise. This is a good place to go if you are a beginner.
Innovative Language Podcasts. These podcasts courses are available for 30+ languages, including many less commonly taught languages. They're a Fluent in 3 Months favourite.
Anki Shared Decks This flash-card based application includes decks for a lot of different languages. This is a great way to learn vocabulary and simple phrases, depending on the decks available, although the amount of audio may vary.
Anki is available for desktop computers, and iOS and Android devices.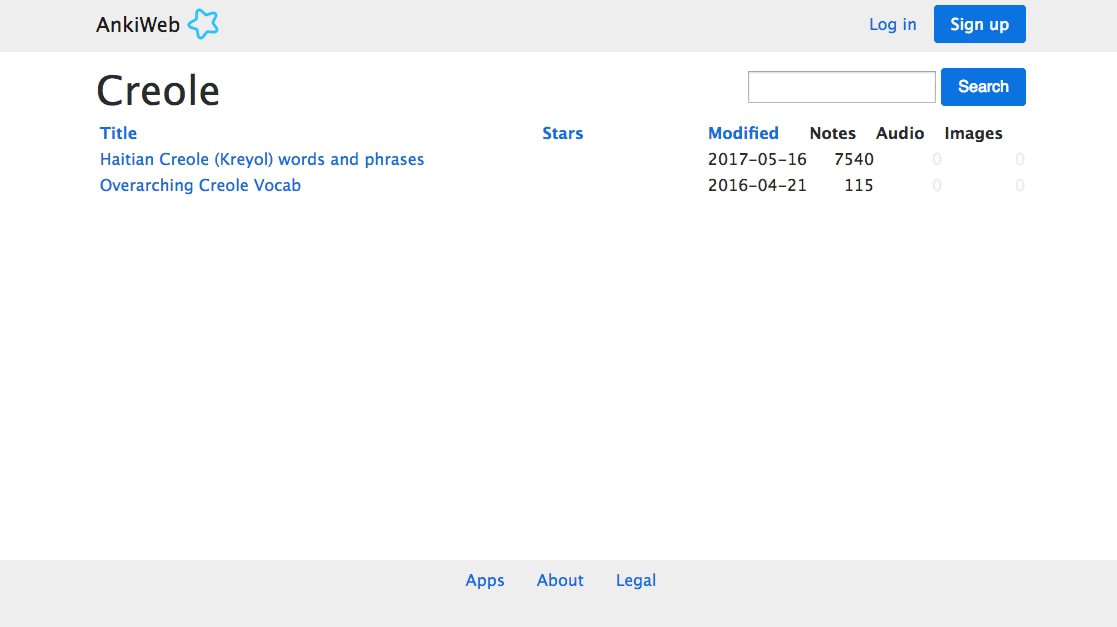 ClozeMaster Clozemaster is a fill-in-the-blank gamified learning tool. It's slightly more advanced than the other tools in the Big Five, but once you want to get beyond learning vocabulary and basic grammar, it's very useful. A simple version is available for free, and advanced features are available for a monthly fee.
Step 3: Search Google in Your Target Language — Google Translate is Your Friend
When you're learning a less commonly taught language, the resources are often not in the most obvious, easy-to-reach places online.
My best advice for finding these resources is to always do your Google searches in your target language, not English. Why? Many valuable resources—TV stations, language activities and games—won't always have the content listed in English. To that end I have found googletranslate to be very useful to get started.
Here's how to use Google Translate to help you find and use online language resources:
Get the translation of the thing you're looking for. Do you like to watch cooking shows to improve your listening skills? Are you looking for word games in your target language? Use those terms in your favorite internet search engine to search for new resources.
Translate the resources you find. If you enter a link into the left-hand side of the Google Translate page, it will translate the webpage for you. The translations won't be perfect, but they'll be really helpful.
A tip to those of you learning inflected languages! In Latvian, the word "culture" is kultūra, but if I use it as an adjective as in "culture house," the word becomes kultūras. Also if the word is used as a direct object, it becomes kultūru. This can cause a search engine to block out valuable resources if you use one ending but not another. Usually, there is a wildcard character that allows you to replace one or more letters using a symbol, which will help expand your search results. Common wild characters are ?, %, _ and *. To demonstrate, if I were searching for something with the word "kultūra," I would search the term "kultūr%" which would produce all results with the kultūr stem and all of its possible endings.
Step 4: Look for Government Agency Resources
Latvians take their language so seriously that they have a government agency intended to preserve and promote their language.
Many countries with their own unique language often have some kind of educational or government institute that focuses on teaching, preserving, codifying, and sometimes even defending their language. The good news is that their websites often have lots of great resources for learning the language that can take the form of tests, online games or word lists. Or they may offer resources like books and CDs that you can use to continue learning.
The bad news? Finding these resources can be a challenge, so I recommend searching for them only when you have a basic command of the language.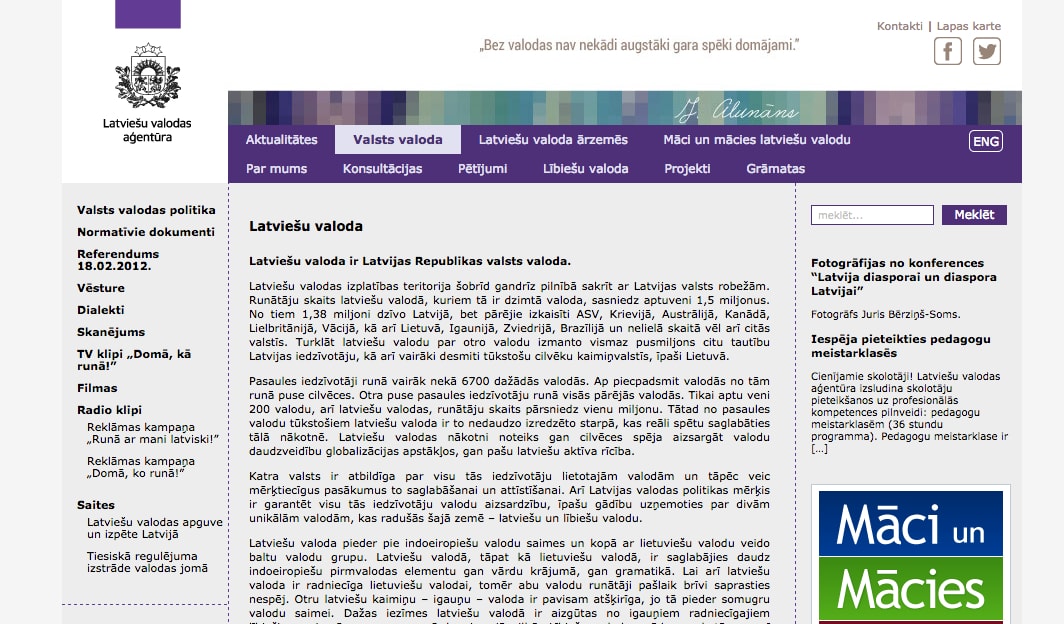 Terms that you may want to use to find these resources include: language, education, ministry, department, bureau, domestic, and, of course, the name of the target language. You'll want to use these words in various combinations in your favorite search engine.
You may also want to try the appropriate Boolean operators (commands such as "AND" or "OR") to search more efficiently. For example, just searching "language ministry" may leave out sources that are named "department," but if you search "language" AND "ministry" OR "department, you're likely to find more relevant results. It is best to run your search in the target language rather than English (but with English Boolean operators!) Also, to increase the number results, try using the local version of your search engine. For example, google.lv (Google in Latvia) will produce more relevant results than the standard google.com.
Step 5: Get Offline and Go On a Real World Adventure
Looking for a language exchange partner, or possible language-meet ups in your target language? Try searching your target language or country along with your city or town of residence.
You may also want to search on Facebook, since many of these smaller community groups won't have a website.
Your target language and culture may turn up in some interesting real-world places, such as:
Cultural Centres
I was astonished to discover that when I searched "Latvia Indianapolis," lo and behold there was a Latvian Community Center only a fifteen minute drive from where I was living. Not only that, but their building supported the activities of about six other culture groups as well. Take the time to find out if there are culture groups in your backyard.
Restaurants
One of my teachers in grad school needed to work with a pronunciation coach in Catalan, one of the regional languages of Spain. So where did he go to find a native speaker? The local tapas restaurant. A conversation and a few phone calls later led him to a language coach. See if anyone in your area has a restaurant of the region that interests you, go, enjoy the food, and strike up a conversation!
Festivals
Keep an eye out for any kind of cultural festivals that may be taking place in your area, since many cultural groups frequently hold annual festivals or celebrations. Look at event listings in your city or town, or head over to Facebook and search for your target language or country under "Events."
Local Colleges
Even though you may not be able to find a course in your target language, you still may be able to find someone in higher education that speaks it. Often, language professors will take an interest in other languages and may either know it (for example, the Russian professor at my graduate school also knew Latvian), or may have contacts in the area who can help you. Start with your local college's foreign language department, and reach out to either the secretary or a professor that knows one of the majority languages of the region.
Intensive Language Courses
You may consider taking a summer language intensive if you need advanced training quickly. These courses are, well, intense, and involve living and breathing the language for several weeks. And yes, it is possible to find intensives in less commonly taught languages. Googling "Intensive" or "Intensive Course" along with your target language (in English) should bring up the information you need.