A Month Living in Ubud, Bali, Indonesia [Travel Update]
---
This past month, I have expanded the list of countries I've lived in by one (I'll be doing it again early next year, more on that later!), and today I am happy to tell you all about my experience in Bali, Indonesia.
I'd never been to Indonesia before, which looking back on, is hard to believe since it fits all my criteria for the kind of places I like to live in.
It's cheap, the locals are friendly, the weather is beautiful, and it also happens to have arguably the easiest natural language in the world to learn (which I did spend a little time learning). But in this post, I want to tell you a bit about my experience of the culture and daily life in this beautiful country, and how I spent my time living for a month in Bali, Indonesia.
Living In Bali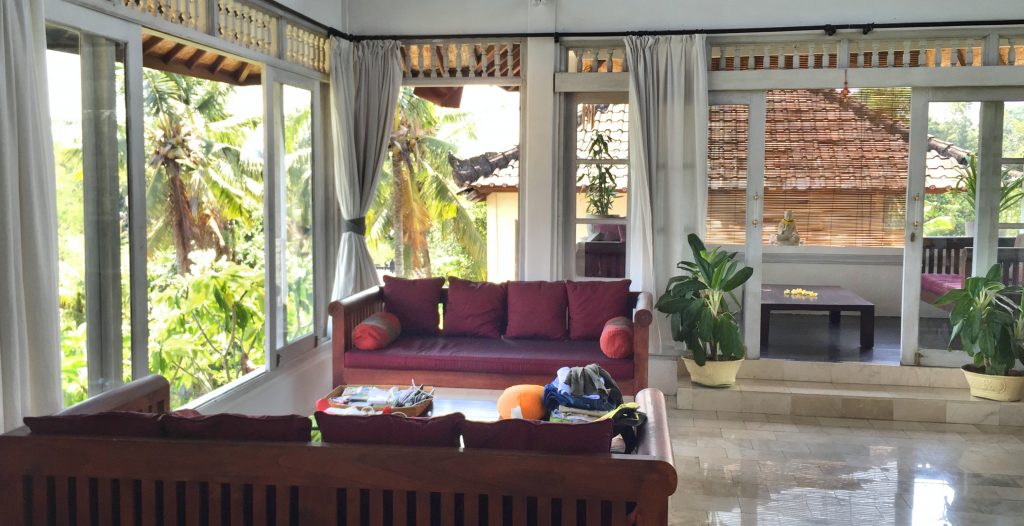 By the way, I consider myself as having "lived" in a country if I have been there for at least a month, and if I am living in the kind of accommodation in which I could host other people if I wanted to. So far, for me that's been two dozen countries, and my stay in Bali definitely hits those criteria, as you can see from the spacious flat I had all to myself…sort of…
Because every day new and interesting wildlife would spring up into our living space and become part of our daily existence. Have you ever found a spider creeping around your bedroom, and had trouble falling asleep at night? Well, it was kind of like that, but instead of spiders it was mosquitos, dragonflies, moths, thousands of ants, bees, wasps, endless lizards (both small and large), and other creepy crawlies too varied to count. And a couple of birds and even a bat flew in too.
Here's my "pet" Lizzie the lizard (a gecko about a foot long), clearing away a little of my bug problem:
If you can see, our apartment had no significant separation between "inside" and "outside." It has windows and doors you can open or close to moderate how much air flows through, but the apartment itself was built with openings to the outside throughout.
To keep from being eaten alive at night by mosquitos, though, our bed was fitted with a very nice mosquito net that really felt like a sanctuary, a place where we we could safely protect ourselves from the interesting night-time nature that surrounded us.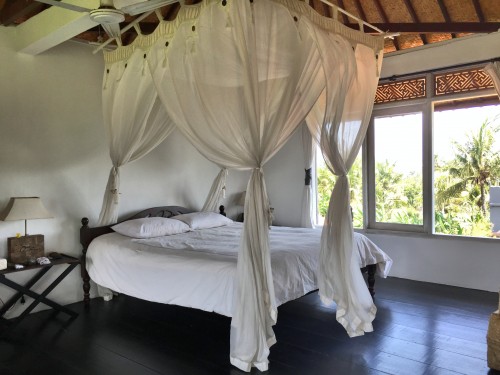 Except one night, when an insect that must be like the Indonesian equivalent to the Cicada came out in swarms so thick that you can't help but get a few in your mouth. Don't worry though, my trainer at the gym told me that as a kid his favourite snack was those little nuisances fried! They were everywhere.
Your Door is Always Open
This "open door policy" didn't extend just to the nature, but also to the neighbours. One of the locals told me that in Bali, there is an "open invitation" for other people to come into your home, which I discovered several times when I'd come home to find my neighbours inside my apartment, or when we'd be lounging on the couches only to be surprised by the landlord literally popping into our living room via the window (he had been climbing around on the roof shingles, doing some repairs, and wanted to be able to walk down our steps with his paint can).
This took some getting used to, but it's just part of the mentality and lifestyle of the Balinese. And of course, we never worried about our safety or the safety of our possessions because…
The Balinese people are incredibly friendly
Once I left my keys in my motorbike, and when I came back a kind stranger had put them hidden from public view, but still easily accessible to me, knowing that I'd look for them!
And when I rented it, I just paid the monthly fee (about $50) and drove off in it. The guy who rented it to me didn't care to ask for an ID, security deposit… or even my name or where I was staying! He just trusted that a month later I'd give it back to him.
One thing that made meeting people go smoother, is that remembering their names is childsplay. In Bali, they name children based on the order they came in the family, so the firstborn is "Wayan"/"Gede"/"Putu", second is "Made"/"Kadek", third is "Nyoman"/"Komang", and fourth is "Ketut". Pretty much everyone you meet will have one of those names!
And in Indonesian, rather than say "you", you refer to another person through their position relative to you, and this is a great way to feel closer to them. Mas' is a friendly term for contemporary male, and this essentially means "brother". You might also hear 'Bapak' (father) when a young person speaks to a male who's clearly older or has higher position. Everybody is family!
Ubud is incredibly cheap
I often spent no more than $5.00 for two people on each meal, including drinks, tax and service charge. And this was without really even trying to keep it cheap. If we had actively sought out low-cost spots, or if we were on a mega-tight budget, we could easily have kept things even cheaper.
One nice quality about the restaurants in Ubud is their tendency to use recyclable materials whenever possible. A side-effect of living on an island, I suppose. The straws were metal and were washed and reused (when they were given out), and even the salt and pepper shakers were made out of leaves or wood.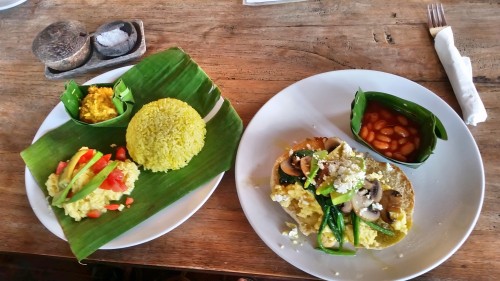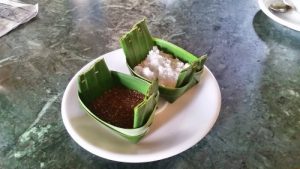 There's also no shortage of cheap, but beautiful, accommodation in Bali. While I was there, the local Balinese kept asking me "Where are you staying?" And when I answered, they'd grill me about its amenities and tell me about somewhere they know that's better. Does it have a pool? No, no pool. Oh, my friend's place is much better, it has a pool. Next time, you'll stay there, yeah?
Bali may be cheap, but at first glance, it doesn't look that way…
Become a millionaire in Bali, on arrival!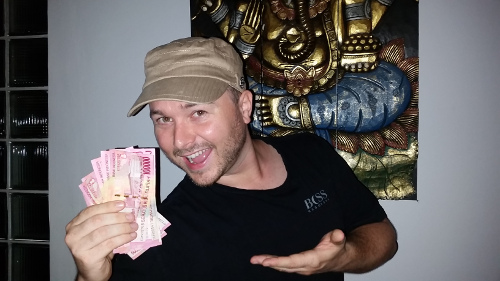 Every single time I went to the ATM, I got to proudly say "I'm a millionaire!"
In the photo above, I'm holding one million Indonesian rupiah. This may sound like enough to buy your own fleet of helicopters, but it's actually a much more modest €65 / $81 / £51. This means that you have a LOT of zeros to deal with, no matter what you are buying.
So a 1.5L bottle of water is 2,500Rp. Yikes! Sounds expensive, until you realize that's about…. 20 cents. 😉
Driving in Bali is an adventure
Like in many other countries in Asia, indicator lights and caution are thrown out for honking. Honk if you want to turn, honk if you want to overtake someone, honk if you are turning a corner and want anyone coming the other way to know you are coming. Honk, honk, honk!
And of course, the motorbike (which incidentally, in Indonesian is "sepeda motor", where sepeda is one of many loan words in Indonesian, in this case coming from the French vélocipède, an older word for bike, where just "vélo" is preferred nowadays) being the main mode of transport means that you quite regularly fit your whole family, your dog and your cargo of bambo sticks on board. Lauren and I joined in on this madness and drove our bike while holding a full-sized swivel fan.
Lane dividers are more like suggestions than enforceable rules. At any given moment, there are people barrelling down at you, headed the wrong way in your lane, and you just have to trust that they'll swerve out of the way. In fact, at all times you need to be prepared to swerve around pedestrians, other motorists, and endless stray dogs and chickens (the chickens just roam the streets – I don't know how their owners keep track of them), and kamikaze frogs.
But there really is an organization to the chaos. Knowing that there is always going to be something in your way keeps you much more alert, and I actually got to like the honking system. The fact that people swerving in an out of lanes meant that everyone gets to move at their own pace. You can go as slow, (or as fast), as you want to, and you don't have to worry about anyone getting impatient that you're holding up traffic. They'll simply send you a friendly beep from behind that signals "Don't move, I'm passing to your right," and go on about their day. I don't remember seeing a single speed limit sign the entire time I was there.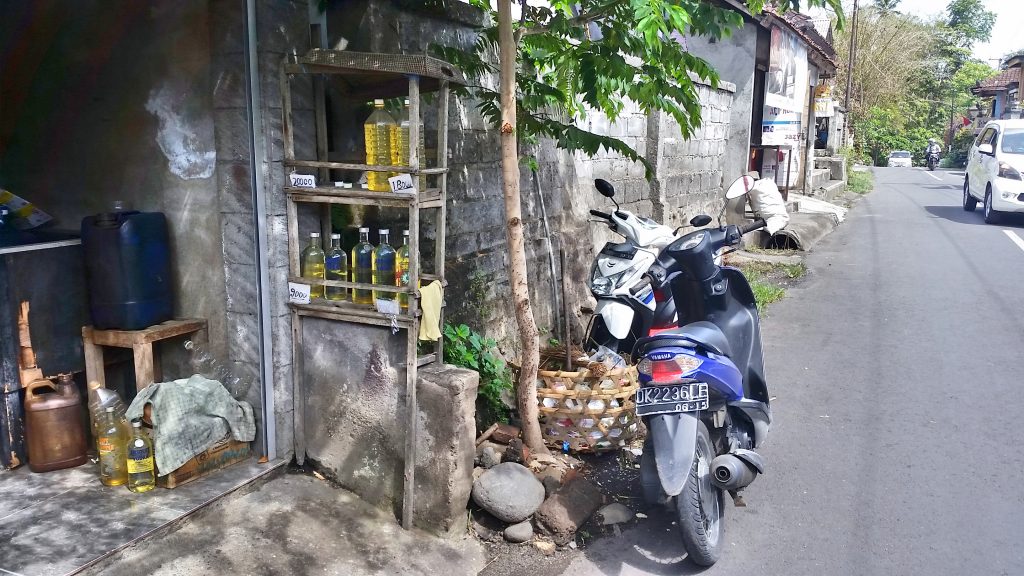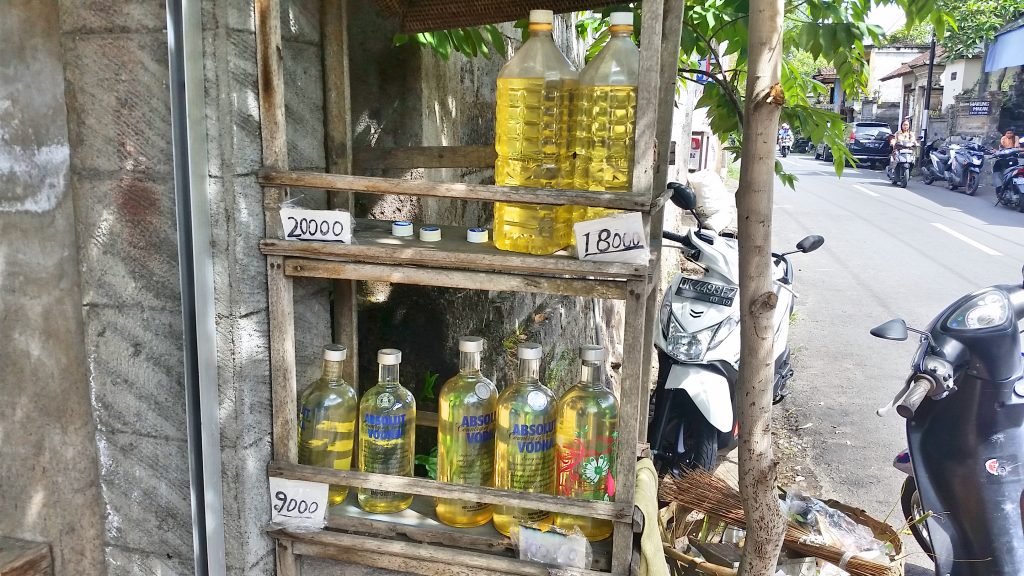 The petrol stations are a lady sitting by a shelf lined with bottles of oil. If you look closely at the picture, you'll see that the petrol containers are actually re-purposed Vodka bottles!
---
We really enjoyed our stay! While Indonesia is a huge country with plenty to discover, and even Bali itself has everything from a mountain to diving joys, we were happy to chill out in Ubud for the month after a year of moving around so much. But with the rainy season coming in, it was time to find a new home, and for this month we are in the south of Goa in India.
I'll travel around a little and hope to have a nice update about my Indian experience to add to the amazing time I had here on the last trip, before we visit our next country in January.