Il sabato della scoperta – Who wants a postcard / What's Benny's next mission?
---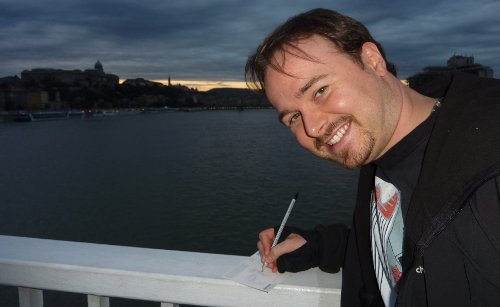 As the name of this blog suggests, I move somewhere new about once every three months (although I was in Berlin for four months and will have only spent just over two months in Hungary by the time I leave, so this time limit fluctuates). This means that my date of departure is slowly approaching once more.
On October 14th I will be attempting to continue my three year streak of flying south for the winter and thus will be moving country once again. I will stop in one place temporarily "on the way" and have a mini-mission (worthy of perhaps just one or two posts on the blog) and then move on to my final destination for the rest of the year, for two months.
This final mission will be one I have been looking forward to for quite some time and will definitely interest readers based on the comments and e-mails I have been receiving. So, where will I be??
Who wants a postcard?
I always announce the mission on the blog just as it starts, and on the Language Hacking League newsletter a couple of weeks before it begins, but now (almost a month in advance), I'm going to announce it to a new list of people who really want to know in advance where I'm going: the postcard list.
I'll actually announce it immediately by e-mail to anyone on that list, but since those in this list are more enthusiastic to hear from me, they will also get a personally written postcard from three different destinations too.
Anyone on this list will get one postcard from Budapest, one postcard from my new home for October – December and yet another one from Ireland (since I'll be home for Christmas). As well as that you'll get advance notification of my next immediate destinations and missions – not just the mini-mission/brief stop and the major one coming up in October, but the one in January too! (Although I am not even know that yet, so I'll e-mail you about it early December! Long before I mention it elsewhere publicly)
Just to make it more interesting, you can request that I write you the postcard in English or in any other language that I speak (see flags on the right of the site). These will be hand-written and each one will include a personal message.
Mostly to cover the time involved to do all of this (and yes, the stamp and postcard price too), as well as the fact that I'd like to send a little money to my parents, you can get the three postcards (Budapest, destination x, Ireland) and two advance mission notices (Oct-Dec, sent immediately and Jan+, sent early December, by e-mail) for US$18. This price is the same no matter what country the postcard is being sent to. See what this is in your local currency here.
To get the postcards and mission information just pay here – (Edit: The order is now closed.) and you'll be given a form to enter your e-mail address, postal address and preferred language of the postcard. You'll immediately be told what the next mission (as well as mini-mission) is in your welcome e-mail! 🙂 I will send all postcards from Budapest in October.
If you are not interested in receiving a postcard, or can wait a few weeks – make sure you have subscribed to the Language Hacking League and you'll find out where I'm going there instead (in early October). 🙂
Hungarian mission update
It's nice to think about the next mission already, which will be a lot of fun for sure! But back to the present, I still have a lot of work ahead of me! Time for a brief update on how things are going with my Hungarian:
I mentioned recently (on FI3M's Facebook page/my twitter and in the e-mail newsletter) that I consider myself to have reached another milestone as of this week: I can "get by confidently". While this is notoriously hard to define precisely, it is the best short description I can give of my current status. I have the base words I need to express myself and my understanding of grammar helps me form complex sentences.
What is much more important is that I have spent entire evenings socialising entirely just through Hungarian. This does not mean being "out" and quiet in a corner, but genuinely socialising.
However, I am still missing lots of key words that will help me genuinely CONVERSE. What I can do now when I meet a Hungarian for the first time is tell them a bit about myself and ask them what they do and make a little chit-chat and tell a quick story to keep their interest/attention. They are always very impressed with what I have achieved thus far, but the way you know you have REALLY made it in a language is when they DON'T compliment you (and you are just having a natural conversation).
Of course, getting by confidently is not "conversational" (the target of this mission) as I'm relying too much on my extrapolation hacks and some work-arounds that have helped me "seem" to speak better, and using the same small amount of vocabulary over again. To be able to have a genuine non-superficial chat with someone, I will need to focus and learn the missing vocabulary. The hardest part of this mission was nothing about the language itself, but my own laziness to study the missing words.
Luckily I still have (just under) four weeks left and plan to push myself to reach my target. Of course, I intend to show you what my Hungarian sounds like with a couple of videos when the time is right!
As for non-speaking; I'm writing a lot in Facebook chat in Hungarian – people I hang out with a lot have added me and when I want to practise, I block everyone but Hungarians in chat in Facebook. (This is easy to do when you separate your friends into lists). Then I use the pidgin chat program to access Facebook chat, so it is an entirely productive activity (no idle chit-chat in other languages, no time wasted commenting on photos etc.) Facebook can be a huge help in learning languages when you use it right!
---
I hope the minor mission update keeps those curious satisfied for the moment! Hopefully I'll have something impressive to show for my work in October… although even if I just improve slightly, the fact that I am socialising in Hungarian and have friends I have only spoken Hungarian with is in itself a major achievement and something I will be proud of for this mission.
If you are interested in receiving postcards from me as well as finding out immediately where I am going next, then sign up here (or send US$18 my way simply to show some support!) or otherwise keep an eye out to find out about the next mission in a few weeks!
Looking forward to hearing from you all as always 🙂