LingQ Review: Is This Language Learning Tool Helpful? (Honest Review!)
---
What is LingQ?
LingQ is a language learning app with thousands of hours of "real world" audio and written content, plus tools to help users learn vocab and grammar.
what it's for:

Reading, writing, listening, speaking, vocabulary building

---

languages:

English, Spanish, French, German, Korean, Japanese, Italian, Chinese, Arabic, Russian, Portuguese, Dutch, Turkish, Polish, Hebrew, Swedish, Czech, Norwegian, Esperanto, Greek, Finnish, Ukrainian, Latin, Romanian

---

level:

Upper Beginner - Intermediate
+ PROS
So much content, there's something for everyone

Features spaced repetition – one of the most effective ways to learn vocabulary

Good combination of listening and reading

Interactive and community approach to learning

Wide variety of available lessons

Excellent customer service
- CONS
Distracting avatar and coins system

Confusing difference between gathering coins (to "pay" for avatar upgrades) and points (to "pay" for speaking lessons and writing critiques)
What is LingQ and how does it work?
In this LingQ review I'll give my honest opinion of LingQ, and we'll look at how you can use LingQ to learn a language.
What is LingQ?
LingQ (pronounced "link") is a language learning website created by Steve Kaufmann that provides a wealth of audio and written content. LingQ calls itself "an online language learning community", and once you're a member you can engage with this community to find a language exchange partner.
LingQ courses are available in 14 languages, including Spanish, German, French, English, Chinese, Japanese, Portuguese and Italian. At the time of writing, 10 further languages are in beta development.
After using LingQ for a couple of months as part of my French studies, I see it as the Swiss Army Knife of language learning. It takes every language learning tool you could possibly think of (and more!), and puts them all together in one place.
That means you can use LingQ to improve your skills in:
Reading
Writing
Listening
Speaking
Vocabulary building
Putting all that together in one place is a daring feat. But does it work?
Let's take a look inside. There's a lot to take in, so I'll go through the various LingQ tools, with screenshots of how each works.
Let's start by looking at the lesson system.
LingQ's Language Lessons
At the core of LingQ is the lesson system. Each lesson features a short text in your target language. A typical lesson looks like this: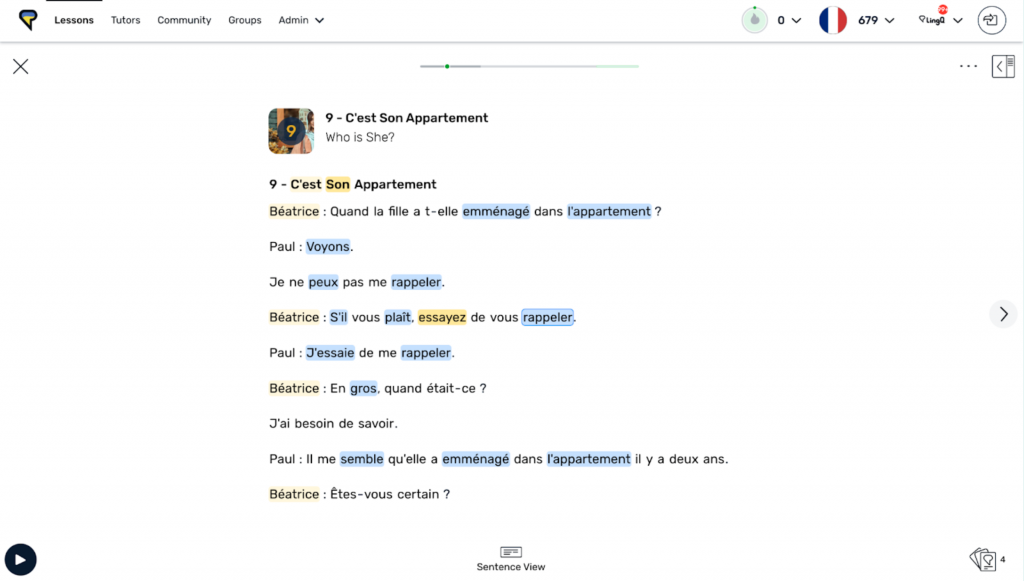 Every lesson includes a reading and listening element. You can read through the lesson or listen to the lesson spoken by native French speakers, or both.
The lessons are organised into courses, and most of the courses follow a story. Each lesson builds on the story in the previous lesson, and introduces new vocabulary.
Talking of vocabulary, in the screenshot above, you'll notice the colour-coding on the words in the lesson.
Words with a white background (i.e. no highlight) are the words I've told LingQ that I already know. Words with a yellow background are my LingQs. These are the words I'm learning with the help of LingQ, because I've told LingQ that I don't yet know these words. Words with a blue background are new words that I've not encountered previously on LingQ. So I need to tell LingQ whether or not I know these words.
I do this by clicking on one of the blue words. In this example I've clicked on "rappeler":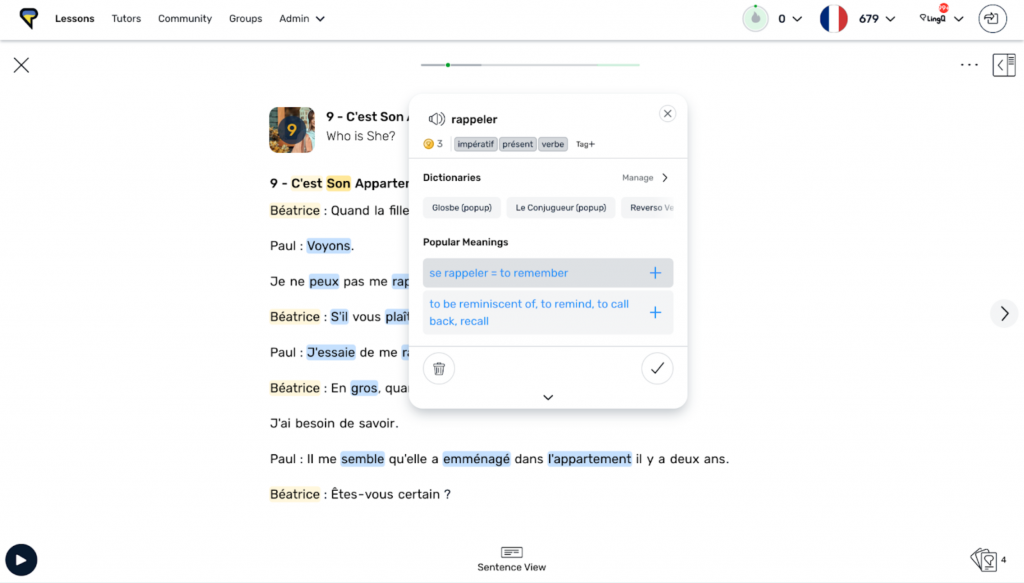 You'll see that a box featuring rappeler, the word I selected, has appeared. In this box, I can press the audio icon to listen to the word. I can tell LingQ I know this word by selecting the check mark in the bottom right, I can select the trash icon so the system disregards the word, or I can select one of the definitions.
If I select a definition, I am creating a new LingQ, and the word becomes part of my LingQ flashcard deck. I'll come to that in a moment.
Next, let's have a look at the different types of lessons available on LingQ.
LingQ Lessons: Study What Interests You
LingQ has a huge variety of courses available. From the get-go, you're encouraged to find courses on topics that interest you. For me, that's an extra reason to keep coming back to LingQ.
With French, there is a library of over 700 courses available. Some of my favourites include:
TED talks in French
The Foreign Language Institute French course
Greetings and Goodbyes
One Year in France
French Expressions and Proverbs
The Little Prince (book)
The History of France
News in Easy French
Alice in Wonderland (book)
20,000 Leagues Under the Sea (book)
Whatever you're into, you're likely to find a course that catches your interest and keeps you coming back to learn more.
Now let's take a look at flashcards and LingQ's other memory tools…
LingQ's Vocabulary Building Tools
As I mentioned earlier, anytime you're in a lesson or listening to LingQ audio and you encounter a word you don't know, you can add it as a LingQ.
Each LingQ has a rating between one and four, as follows:
New (just added as a LingQ)
Recognized
Familiar
Learned
How do you learn LingQs? In the vocabulary section of LingQ.
There are five different tools for learning vocabulary: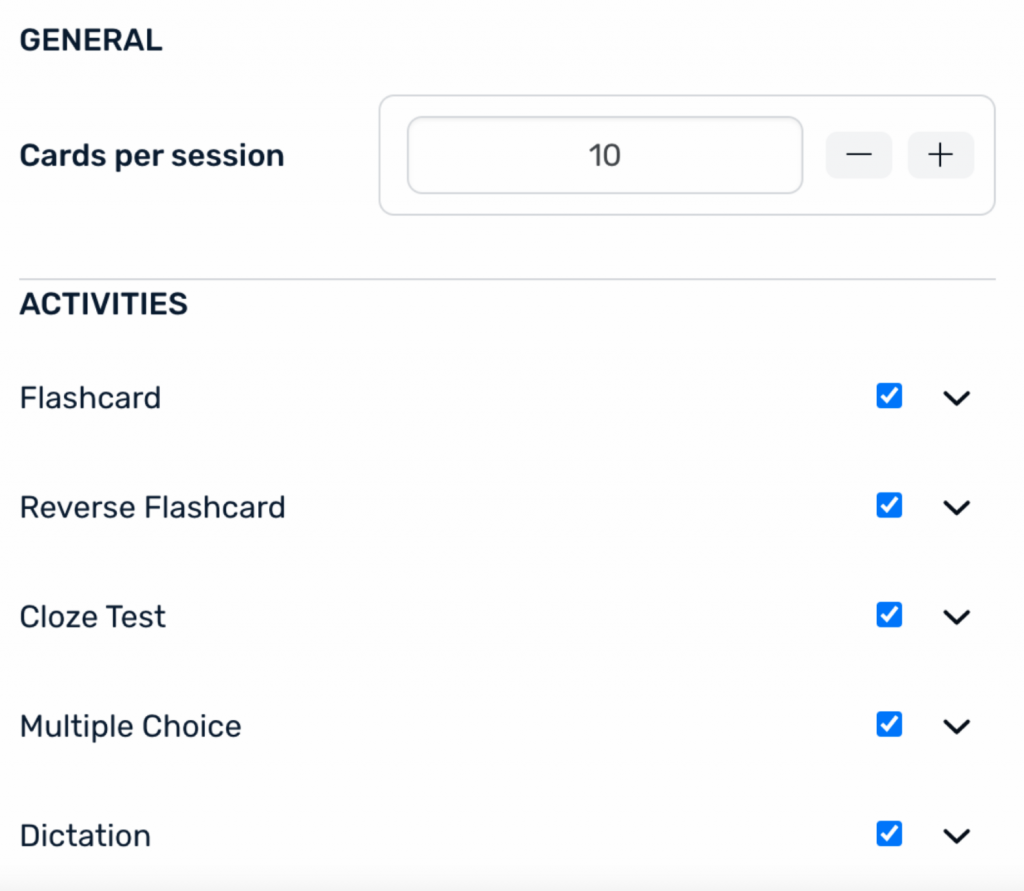 The tools are:
Flashcards
Reverse Flashcards
Cloze Tests
Dictation
Multiple Choice
All the tools use a Spaced Repetition System for choosing which words you should be tested on. This is one of the most effective ways of learning vocabulary, as it means that you're prompted to remember words when you're on the verge of forgetting them.
Let's look at each of the memorisation tools in turn.
LingQ Flashcards
This is a simple flashcard deck where on one side you see the French word, as so: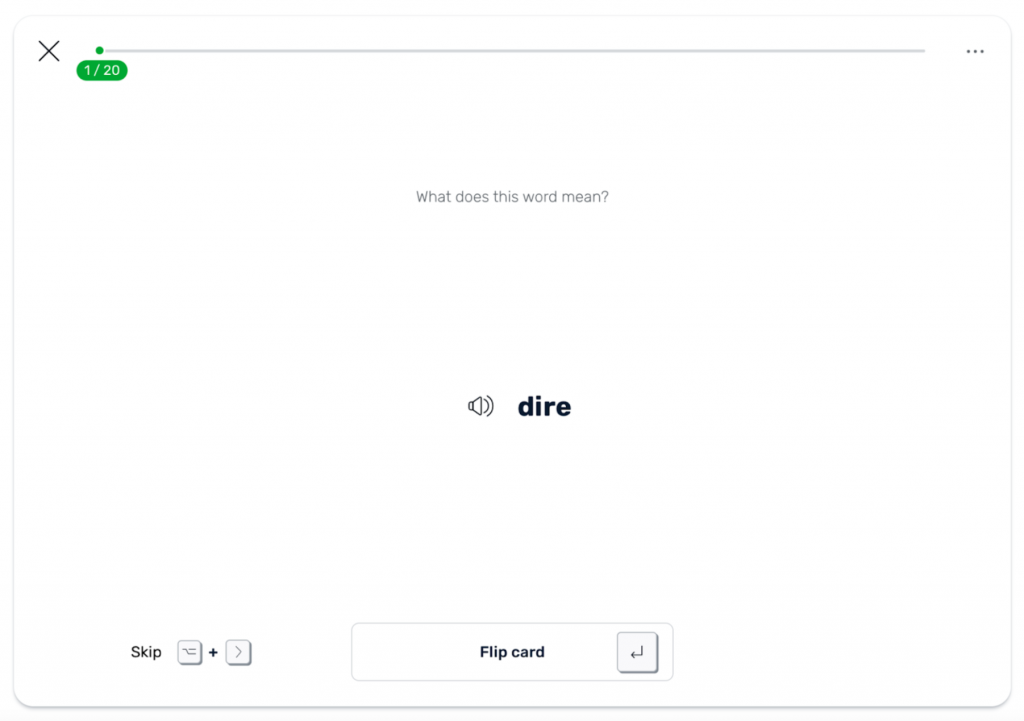 The flashcards remind me of using one of my favourite language tools, Anki. The bonus is that in the LingQ system, it's much quicker to create flashcards than with Anki. That's because in LingQ the flashcards are created automatically whenever you tell LingQ in one of the lessons that you don't know a word.
LingQ Reverse Flashcards
The reverse flashcards show the English and ask for the French translation.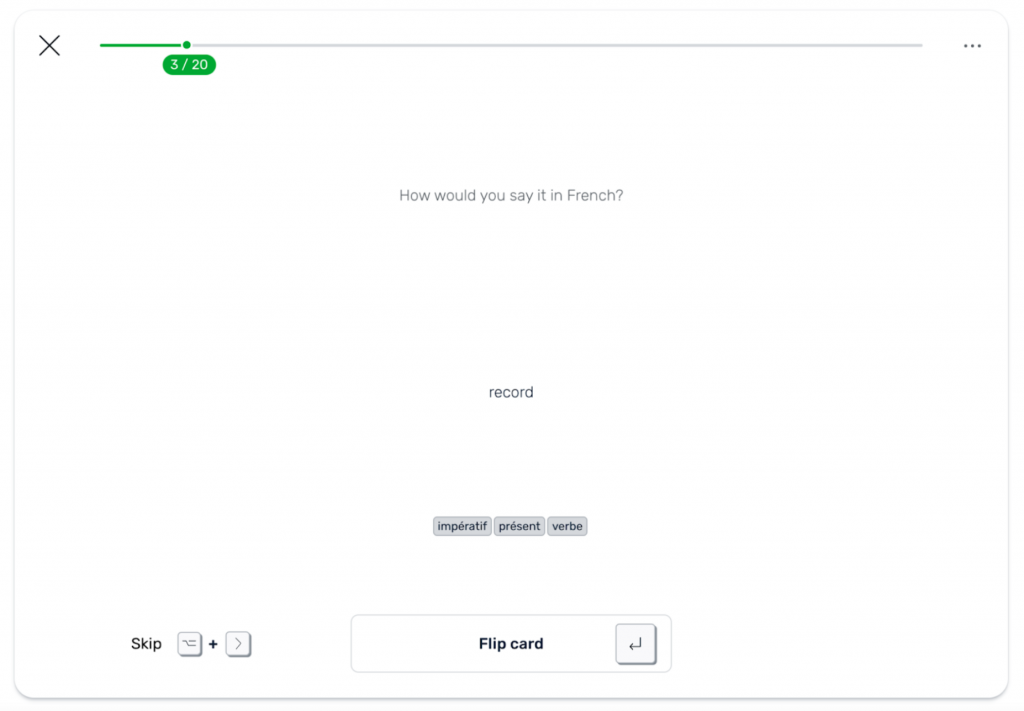 LingQ Cloze Tests
With LingQ's cloze tool, you complete a sentence in your target language, from a choice of words, as follows: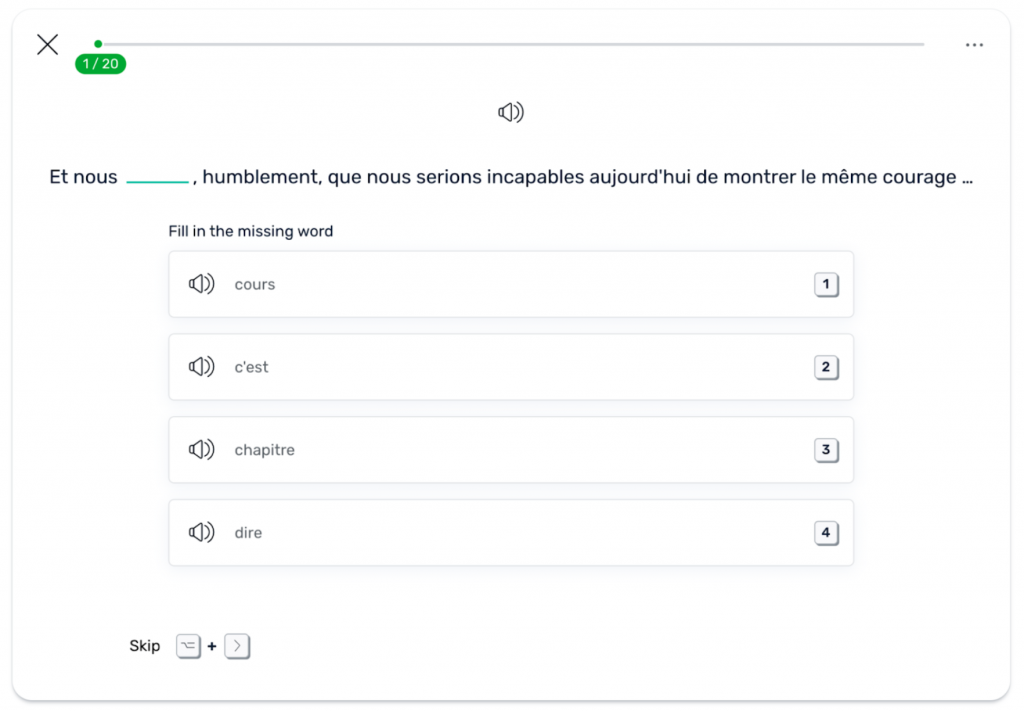 The word you'll need to add to the sentence is always one of your LingQs. This is useful for testing your new vocabulary in context.
LingQ's Dictation Tool
With the dictation tests, you hear one of the words you're learning, and you have to type it out.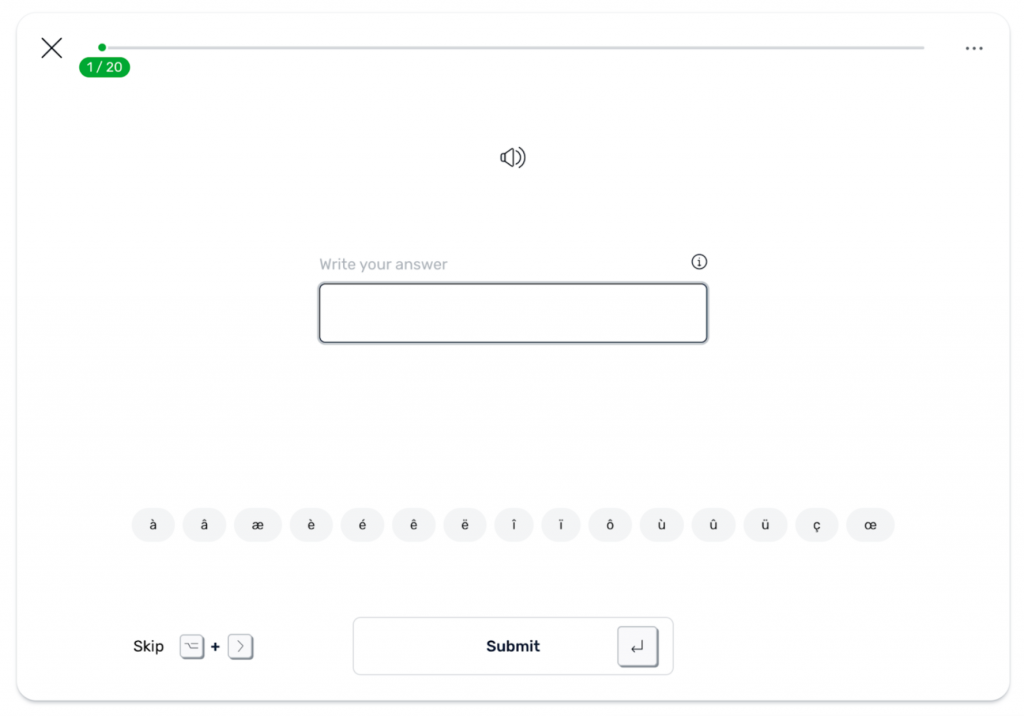 I've found the tool to be very strict and intolerant of any spelling mistakes or typos. Even so, it's a good way of developing your listening and writing skills at the same time.
LingQ's Multiple Choice Test
With the multiple choice test, you choose the correct translation of a word from the four choices presented. Here's an example: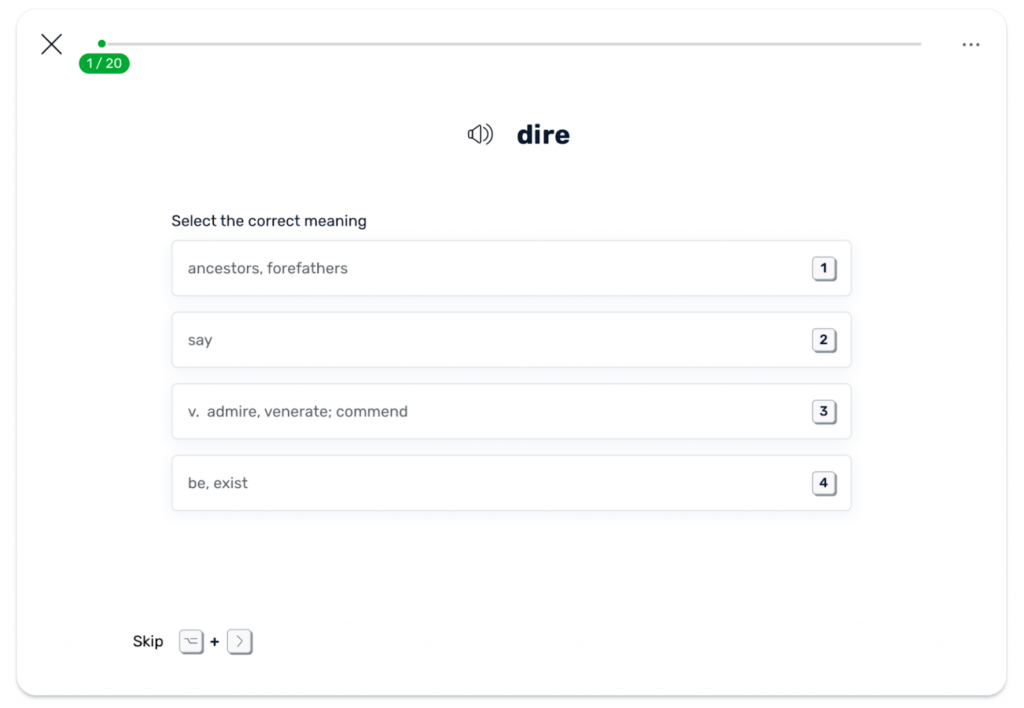 I found this to be similar to using flashcards, although a little easier.
LingQ's Other Tools: Speaking and Writing
LingQ's main focus in its lessons and vocabulary building tools is reading, listening and learning new vocabulary. All this is included in the standard monthly subscription.
LingQ also gives you the option to improve your speaking skills through conversations with native speakers, and to have your writing checked by native speakers. To have a conversation, you're required to purchase LingQ points. For LingQ subscribers, it's $20 for 2,000 points. This gives you one hour of conversation with a conversation partner. You can also earn points by offering your services as a conversation partner in your native language.
I paid for points to try out having a conversation with a native speaker on LingQ.
It's worth bearing in mind that LingQ isn't really a platform where language teachers earn a living. Most people will be speaking with you to earn points, so they can spend these points on their own language learning (not to earn an income, as with other tutoring services).
Consequently, there's not a big selection of conversation partners to choose from. Even so, I found a conversation partner who was available at a time convenient to me, and I found her helpful and supportive.
Points, Challenges, Streaks, and Words Learned
Do you need a little extra encouragement to keep coming back to language learning? LingQ has that covered – and in typical Swiss Army Knife fashion, not just once, but several times over.
First – as with Duolingo – LingQ tracks your streak. You have to use LingQ every day to maintain your streak.
When you learn LingQs, you earn virtual coins. The Streak Indicator (fire icon) changes colour based on your Coins earned over the last 30 days.
You can also join community challenges for your language. With French, there's a monthly challenge where your aim is to create as many LingQs as possible, and a 90-day challenge that sets you targets for how much reading and listening to do, and how many LingQs to learn, during those 90 days. I've not taken part in a challenge, but I can see how it would be motivating.
Finally, LingQ provides a detailed statistical breakdown of what you've studied – including how many hours of listening you've done, and how many words you've read. This is a great way to track your progress and to see how much you've learned.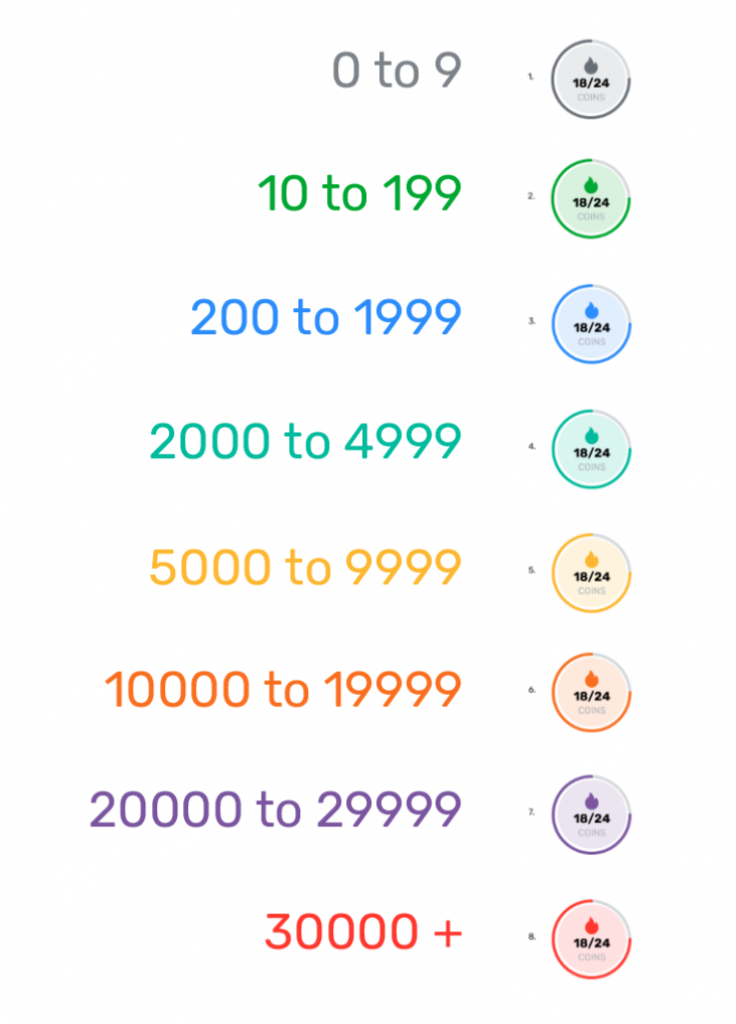 Learning on Your Smartphone or Tablet with LingQ
In addition to the desktop site, LingQ is available as a downloadable app for smartphones and tablets. This allows you to complete LingQ lessons and review your LingQ flashcards.
So far, I've preferred using the desktop site as it gives me more flexibility to explore LingQ's wide variety of features. But I found the app easy to use, and an effective distillation of LingQ's core features.
My Honest Opinion on LingQ
I love LingQ!
There are so many good things to say about it.
The lessons are my favourite part of LingQ. They're very similar to the Assimil approach, in that you pick up the language through immersion. You're thrown in at the deep end, and you're expected to pick up grammar and vocabulary as you go. Also like Assimil, they combine listening and reading, which I find an especially powerful way of learning.
What's better about LingQ compared to textbook-based courses such as Assimil is that it's interactive. A key part of the lessons is letting LingQ know the new words you've encountered, so you can add them to your flashcard deck. To me, that's an additional safety net that makes sure I'm getting as much as possible from the lessons.
I also really appreciate the wide variety of lessons available. As much as I love learning a new language, fresh learning materials are important in keeping me engaged in learning. And with LingQ, there's always something new to discover.
I like that you're in charge of your own learning. You choose what you learn, and follow your interests. This lines up well with the language hacking approach we advocate at Fluent in 3 Months.
What's not to like about LingQ? Not much.
I got confused about the difference between coins (which are earned through activity and inform your streak and daily goal target) and points (which pay for speaking lessons and writing critiques). But these are only small niggles in an overall amazing system.
As I've said a couple of times already, LingQ is a bit like a Swiss Army knife. It attempts to provide everything you could ever need to learn a language. And all the tools it provides are good quality and effective.
But what's really impressive to me is that LingQ's core tools (lessons and vocabulary building) are among the best I've found. It's a bit like having a Swiss Army knife that also happens to be one of the best standalone knives – not to mention all the other great tools that come with it.
From the number of tools available at LingQ, it's clear that they have a strong focus on investing in developing the site and the tools on it.
I should also note that their customer support is excellent, and they gave a prompt and helpful response when I contacted them.
I would always recommend using a variety of tools and courses to learn a language. That said, if I had to pick just one, it would be LingQ. As long as you're motivated and willing to create your own learning path, it will take you a long way.
Highly recommended.