How I got over my fears to finally speak Russian
---
Today's post is by Lauren, my partner on the blog and in life! After successfully learning Esperanto last year to get her started in language learning, she has decided to make Russian one of her goals for 2015.
She had a false start at first, that I'm sure many of you can relate to. But then one day she got busy and made it her "day 1" to speak from. Shortly after she said she'd never be able to do it, she spent 52 entire minutes speaking only in Russian. She didn't use a single word of English, her first time ever speaking the language!
I was so proud of her, as well as impressed! It just goes to show that such feats are not just performed by experienced polyglots, but also by newbies to language learning. If she can do it, so can you! Here is her account of how she did it.
---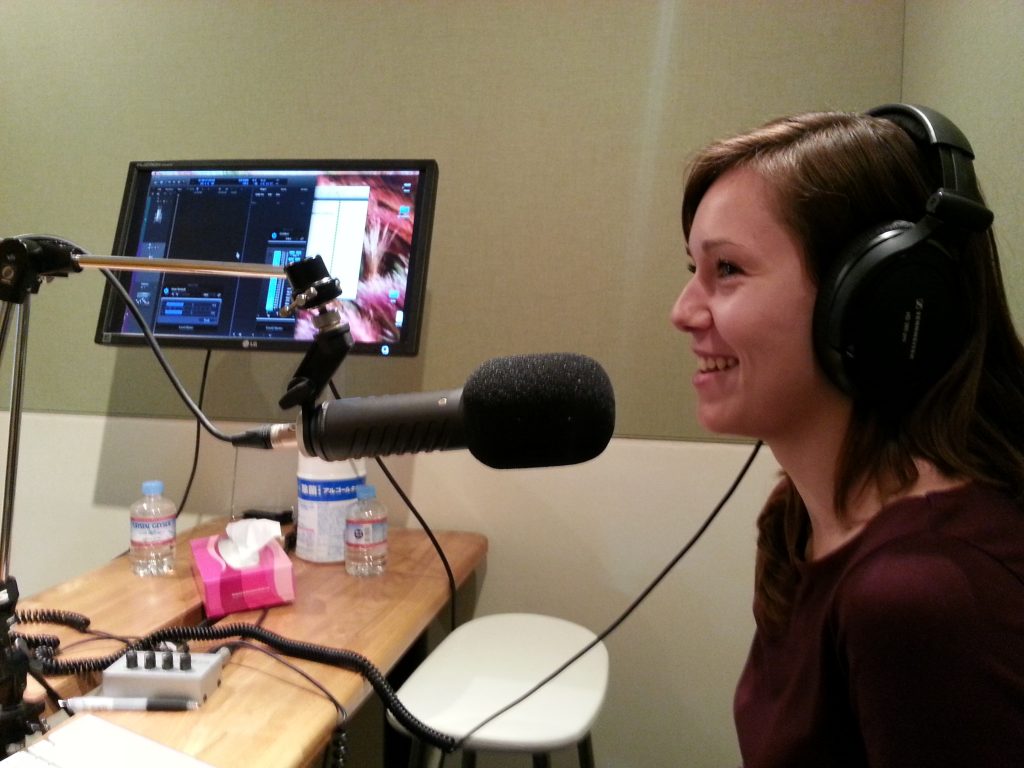 A while back, I decided I wanted to learn Russian. And I decided I was going to learn Russian the "Speak From Day 1" way, by speaking the language on Skype, from the start, to see what it would be like. Benny talks a lot about how he's spoken his new languages on the first day, often referencing his famous Polish in 1 hour project, but I still wanted to know what it would be like, what it would feel like (terrifying? easier than I'd thought? a disaster?) for me.
Here I'll share how I recently started my own Russian project, suffered a false start, but then ultimately had my first conversation with a native Russian speaker – entirely in Russian – after only a few hours of studying phrases.
Learning Cyrillic
I started my project with the intention to speak it right away, so I began creating a "starter script" of the things I thought I'd need to say during my first few conversations. My plan was to decide on the phrases I wanted in English, then translate them to Russian.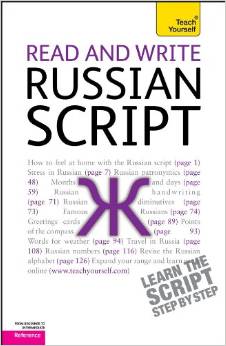 But there was a problem. I didn't read Cyrillic, and it was useless building a script if I couldn't read or type in the language. So I put my script aside and studied Cyrillic for a few weeks.
My Cyrillic study went really well, and it was fun to be able to start pronouncing new Russian words by sight. Russian letters look intimidating at first but they're actually pretty easy to learn.
To learn Cyrillic, I used Memrise and a little book called "Read and Write Russian Script" by Teach Yourself.
Memrise was good for helping me come up with mnemonics for weird-looking letters, but if you are having trouble putting the letters together to read and pronounce bigger words, I highly recommend this little Teach Yourself book. It teaches you letters in the context of actual words, so you're learning to read Russian, not just memorizing what individual letters sound like.
I read through it and completed all the exercises in 3 sittings, and I have a very short attention span. By the time I was done the book, I could confidently (but slowly) read and pronounce Russian writing.
Overcoming Distractions
After I learned Cyrillic, I got distracted for a few months with work and I sort of… abandoned my Russian project. Shameful, I know.
Part of the problem was that I felt frustrated with developing the starter script I knew I'd need to talk in Russian on Skype. None of the phrase lists I found online or in books were helpful for that purpose. To speak on Skype, I'd need to know how to say "Thank you for talking with me" and "Could you please type that out?" and things like that. And figuring out how to say all of these things correctly in Russian was time-consuming and frustrating.
I solved this problem by enlisting the help of a native speaker. I told her the Russian phrases I wanted to learn in English, and she helped me create Russian versions of them in a cheat sheet! Once I had my Russian phrases, I had no more excuses.
Finding a Russian Teacher
It turned out to be extremely important for me to start out with the right teacher. Because I wanted to use the Speak from Day 1 method, I knew I'd be talking very slowly for a while. This would require an extremely patient language partner.
When I started looking for my first teacher, I went on italki and browsed through all the profiles of the Russian native speakers. There were a lot of them, and it was kind of hard to decide who to choose.
Benny suggested I read their student comments and look for the word "patient," or to look for reviews from other beginners, and that's exactly what I did.
But more importantly, I sent out messages to each of my potential teachers and told them I was a beginner, an absolute beginner who is practicing my first few phrases. This was so vital. Some teachers wrote back saying that I wasn't right for them. Some even told me bluntly that they get impatient with beginners! But this was a good thing – It's so much better that I find these things out before my first class with a native rather than right in the middle of it.
In the end, I wrote to 5 teachers and only moved forward with 2 of them. Narrowing it down to the right teachers was a really important step for me.
Speaking Russian From Day 1
I scheduled my first Skype conversation with a Russian native three days after I received my list of Russian starter phrases. …And then of course I procrastinated and didn't actually start studying those phrases until the day of my Skype lesson… so what ended up happening was that I started learning Russian phrases and had my first Russian conversation on the very same day.
Let me tell you about what was going on in my mind all of that morning.
At first, I was confident. I had hours ahead of me! And I had the phrases I needed right there in front of me. How hard could it possibly be just to memorize a simple script?
But as I studied, the words were not sinking in as fast as I'd liked. I realized that it wasn't as simple as reading words on a page. Even though I do read Cyrillic, I read it slowly, and when I see a word it takes me a few seconds to pronounce it, sound-it-out style.
I started to get very nervous. As it got closer to the time of my Skype call, I started to get seriously cold feet. None of the Russian phrases I was practicing were sticking to memory. It took me several tries to pronounce even a single phrase. I started to realize that I wasn't going to have memorized nearly any of them. I started thinking, How can I expect another person to listen to me pronounce simple sentences, syllable by syllable, letter by letter? Who on earth has that kind of patience?
At some point I started reevaluating all my life choices. Do I really want to learn Russian? Can I just not learn Russian, even though I told everyone I was going to learn it… and maybe no one will notice? I started daydreaming about ways to get out of this phone call. And finally I told Benny, I'm not ready, I need more time to study, I have to cancel the call.
But of course he talked me out of it. He told me that all of his first sessions always involve him pronouncing words syllable by syllable, too. And that his teacher would always simply wait for him to finish. He promised my teacher would be patient with me.
So I decided maybe I can go through with this thing.
My First Conversation in Russian: What it was like
One of the things that helped me push through my nerves was that my Skype appointment with my Russian partner was only scheduled to be 30 minutes long. And I thought, even if it's horrible, and my mind goes completely blank, it will be over in a half an hour. I can survive anything for 30 minutes!
And then my Skype call started.
Looking back now, the conversation was really funny.
The first thing that happened was that she spoke Russian to me (of course), which kind of shocked me a little bit for a second. And I did not understand her even a little bit. Not a bit! I had a sort of deer-in-headlights reaction.
Something else that happened is that I learned a lot about what was missing from my starter script. For example, one of the first things she said to me was "Kak dela?" (How are you), and I had somehow managed not to include this phrase or a potential answer in my starter script! How embarrassing. What did I do? I just ignored her question and started saying one of my prepared phrases instead.
And you know what, it was fine! I just decided that I was going to practice the phrases I had prepared, the best that I could.
Because I couldn't understand anything she said to me, I often asked her to type out what she was saying, and she did. I also used the Russian word for "hold on" a lot, while I put her text into the translator. But I said everything in Russian, which was a huge win.
Some of my favorite moments from the call:
1) She asked me where I live. I have prepared for this! The question of where I live is sort of complicated since we always travel, so to make it easy on myself I prepared just to say New York. We will be living in New York this year, so it's not that untrue.
So I say "I am from Baltimore, but now I live in New York" in Russian – a phrase I've prepared. Yes! And her response is, of course, "Me too! Which part do you live in?" And since I know nothing about New York, I then have to say "I don't live in New York" in Russian, and totally confuse her, and not be able to explain myself because I don't have the words. Facepalm.
2) After 30 minutes in, I reminded her that our time was up (I looked that up in Google Translate). She then asks me if I want to continue the lesson. Another deer in headlights moment. I have not prepared for this, and I don't know how to say "Oh, I thought we were only talking for 30 minutes…" in Russian, and I don't want to say just "No" out of context and seem rude, so I just say "Da" (yes) and we proceed to talk for another half hour!
In the end, we spoke for 52 minutes. If you ask me how I did it, I would say I really don't know other than that she was just really patient with me, and I was really patient with myself. We used a translator a lot, and after a while I started to notice certain words being repeated again and again, and she helped me correct my pronunciation on the few words I did know.
It was fun, and honestly it matters a lot that I picked the right teacher. And I'm actually looking forward to our next session 🙂
Week 1 Learning Russian
Here's everything else I did in Week 1:
After my first conversation, I spent the rest of the week mostly practicing my listening and pronunciation skills with RussianPod 101.
Towards the end of the week, I decided I wanted to expand my study by practicing writing (typing) in Russian, as well as adding variation to my study through a more traditional course.
To practice typing, I started by installing a Russian keyboard into my Mac, and then adding Russian letters to my keyboard. You can buy pretty Russian keyboard stickers on Amazon, but since we're traveling right now and can't really order things online, I made mine for free using a sharpie marker and a lint roller.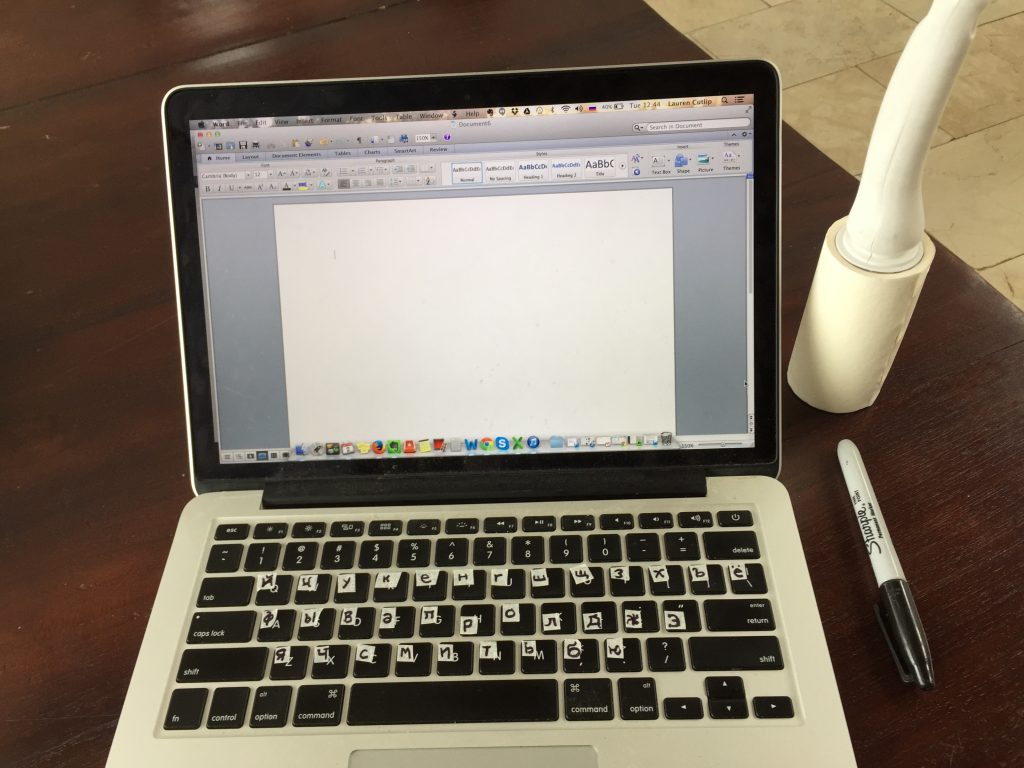 As for the course I started, I'm trying Assimil right now because next to Teach Yourself, it's one of Benny's favorite courses, and also it came highly recommended by a reader who previously learned Russian. But I've only just started it, so I won't include it in the resources for today's post because I haven't used it long enough to decide if I really like it.
Moving forward, I plan to alternate my learning time more with mnemonics and other strategies, and I'd also like to learn the lyrics to Let it Go in Russian, because I love singing as a language learning tool.
But most importantly, I will be speaking Russian regularly online as often as I can. Doing this really helps me to make my study time count, because every time I sit down to study I have in my mind that I'm preparing for an actual conversation that I'll have soon. I've found this to be both extremely motivating as well as very useful in that I get to practice what I learn immediately with a native.
What I Learned By Speaking From Day 1
Here are the mistakes I made starting out:
First, I created a WAY overly complicated starter script. I was preparing to use long, perfect phrases like "Could you please type that out?" when for now, all I really need to say is "Type, please?" or even just "Type?" I know now that I'm not going to seem impolite with my teacher when I say this. She clearly sees that I'm a complete beginner struggling to practice simple phrases.
I also had totally unrealistic expectations for what I should be able to accomplish right away. After the call ended, Benny made a big deal about the fact that I talked for 52 minutes, but I kept saying "Yeah, but we talked mostly through translation" or "Yeah, but I didn't understand her at all."
But that's not true. I did understand some things she said towards the end. And I learned several new words, and now I know more about the words I'll need to prepare for Skype chats in the future. I think it's really important to recognize these little steps as progress, because they are progress.
So for my next few conversations, my goals are going to be very simple: Use a few new phrases, try to understand a few new phrases, and keep the chat in Russian (which I did do for my first Skype chat, I'm glad to say!) And I really think that's all I need to ask of myself right now.
Resources
To recap, these are the resources I used to start with during Week 1:
To Study
To Speak with a native:
For backup:
Homemade keyboard letters
Google Translate
Russian keyboard for Mac