The bumpy road of travel, and the benefits that come about from it [First week in Japan]
---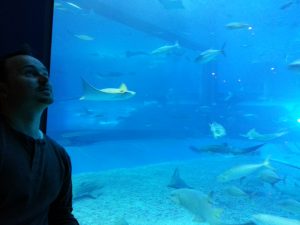 Time to give you my update from Japan!
I got into Okinawa just over a week ago, and have been settling in, exploring that beautiful island paradise, and have just got into Kyoto, where I'll be spending the next 2 weeks.
While Japan is wonderful, and in this post I can tell you some fantastic experiences I've had since I got here, you may have noticed the blog (and my Facebook, twitter, Instagram etc.) has been quiet lately, and with good reason!
In the last few weeks, I have managed to:
Get food poisoning and feel absolutely miserable, incredibly sick and stuck indoors
Have my computer, the most essential item I travel with, die on me for good… while I was on an island far from someone who could repair it, or even a place to buy a new one
Lose some cherished possessions, including the hat you've seen me wear in my videos/photos since I started the blog!
Take a 3AM flight to Japan, and arrive so exhausted that I could barely check into a hotel in Japanese (that's lesson 1 in every course!)
Realize that I have 5 minutes to find a specific building or I'll be sleeping outside that night
Another day, find the right building but have the police called in and forbid me from entering it, and be stuck out in the cold at 1AM with nowhere to go
Have the most ridiculous work backlog (no computer, constant travel and a sickness will do that!) that thousands of emails are awaiting a reply, all while I'm launching a published book, and supposed to be intensively wrapping up the last 2 weeks of intensively learning Japanese
Each one of these is not that big a deal in itself, and almost always turns out to be a funny story, or be a cloud followed by a very silver lining, but while it's happening, the glamorous travel lifestyle doesn't feel that great!
It puts things in perspective, and right now I'm appreciative to be in good health, have my own computer again, not be so tired, extremely glad to not be alone for when times get rough, and be confident that I'll have a roof over my head (for at least the next week…)
So let me share some of these anecdotes with you, and we'll see how they turned out not that bad in the end!
First task in Japan: Buying a new laptop
As I said above, you'd expect the "first" thing you do in a country to be getting a taxi, checking into your hotel, or buying food, but for me it was the somewhat more complex task of buying a new computer.
While I was in Thailand, the computer I've had for the last 2 years finally decided that it's had enough of being shoved into backpacks, dropped, used non-stop for days, forced to render half hour long 1080p HD videos, and more, so it just died unceremoniously.
Fixing it where I was turned out to be impossible. Waiting until I got to Japan wouldn't have helped; the spare part I needed would take a month to ship there too. I had to sell it and work off a Bluetooth keyboard from my smartphone.
So of course, a priority task as soon as I got to Japan was to get me some of that Japanese technology! I got my 3AM flight from Phuket to Okinawa (the only affordable flight time, with a 6 hour layover in Shanghai), arrived incredibly tired and still recovering from food poisoning, and could barely think with lots of Thai and even now some fresh Mandarin rolling around in my brain. I did a miserable job of getting a taxi and checking into the hotel, using nothing resembling Japanese.
But after I dumped my bags off, the first thing I did was go to the computer store! I knew the laptop I wanted, after heaps of research, and even knew how much this store would charge me. Somehow, in the sleep deprived daze I was in, it had slipped my mind that the computer would be in Japanese (Kanji and all) though, so I had to hang around a while longer.
This was my first true experience using Japanese in person! I worked with the store clerk to change the computer's language settings, he ran through all parts of the computer to confirm it worked and listed off all the technical specifications that I had to confirm were what I wanted. Buying a high-end computer is no time to nod politely and feign understanding, so I had to tune in and make sure I understood everything. I asked him to repeat a few times and was glad to hear a lot of Katakana words that resembled English to help me.
And then I left the store with my shiny new computer. Success!
The kindness of strangers
The hotel was just to settle in – what I was really looking forward to, was renting a car and driving around this gorgeous paradise island.

Picking up the car was easy, but driving it off just had the confusion that the indicator and the window wiper were in the opposite position to what I was used to. Driving on the left is fine (that's how we do it in Ireland; I go from left to right no problem between where my license is from, and where I've done road trips), but it took me a few minutes to get used to not cleaning my window when I wanted to just let someone know I was going to overtake them…
The island was so gorgeous that you can't help but pull over and marvel at its beauty, and that's precisely what we did!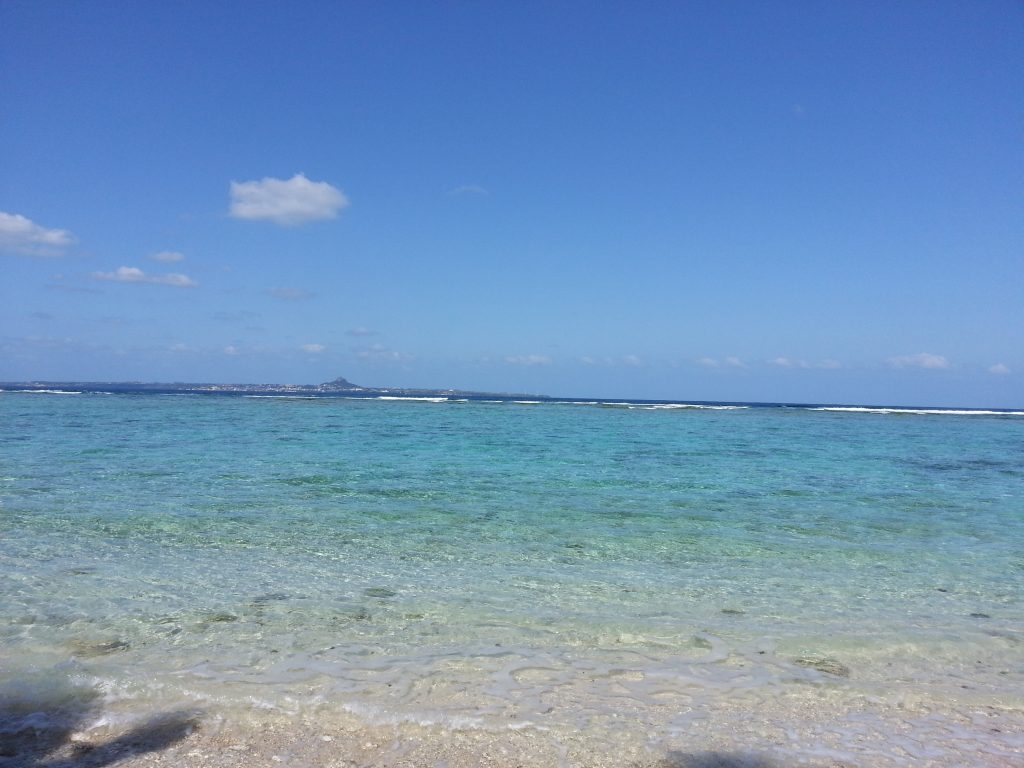 But then I re-read my notes and realized that the place I had booked – a cheap apartment rental for a couple of days, would have its reception in a different building close at 6pm. At 5:30pm, we pulled into the town, and a lack of Internet (data-enabled SIM cards are a bit of a hassle to get temporarily in Japan – although I found out when I was returning the car that I could have rented it with 4G enabled wifi… doh!) meant that we had no idea where the street it was on was actually located.
We pulled in and walked around a little to ask some people. Nobody had heard of the apartment rental company, but they had heard of the street. It turns out it was still quite a drive away. They explained how, but their explanations had so many turns and street names to remember that I felt dazed just listening to it.
I looked at my SIM-less phone to see that I now had five minutes to get to that building, or I'd be stuck on the north of the island far from hotels, hostels or any kind of tourist-friendly accommodation. I had a map of the general area, and wanted to vaguely know which road it was on, and my Irish charms in Japanese must have pulled through because a very kind lady said that she'd drive ahead of me to show me exactly where it was!
After following her across a bridge, down a road several minutes and then through multiple turns, there's no way I would have been able to remember it from directions. I arrived just in time to see the guy closing up and he gladly gave me my key and I had a place to stay for the night!
From that base we explored the island, and agreed that it was the only paradise we had been to that wasn't trying to be a paradise. There were very few tourists, and yet the sea was incredibly blue, the land was fantastically green, and the people were so friendly. It also has a spectacular aquarium worth checking out. It was a wonderful experience!
There is also a lot of culture to discover. This is the island where Judo was born, and Okinawans have their own culture and language, but unfortunately the few days I had weren't enough to dive into this.
From rags to riches in Kyoto
I also should mention that Okinawa was nice and warm, since it's a totally different climate to mainland Japan. That's why when our flight touched down in Kyoto I was hit by the reminder that it was indeed still winter in a lot of the world!
A confused taxi driver dropped us to where I was supposed to be, and through a serious of unfortunate events (at least I can say none of them were our fault! That's a story for another day) 3 hours later we were still outside, still tired from travelling all day, and now shivering in the cold and being interrogated by local police.
When I was learning how to share my travel plans through Japanese over Skype, this wasn't quite the situation I had in mind to get to demonstrate those skills…
Definitely not a great start in Kyoto! There was a problem with the apartment we were supposed to stay in, and the owner felt so bad about all the hassle that he upgraded us (no extra charge) to a penthouse apartment with a view over the city, balcony and tonnes of space for our time in Kyoto instead. A shitty first night in exchange for an amazing 9 days? I'll take it!
The Japanese project
All of this chaos over the last month has eaten away at the time I was supposed to have free to get back into Japanese. I had done about 2 months of intensive work last year and was supposed to wrap it up before getting to Japan, but with travel, work, book launch logistics, health and other issues, that just didn't happen.
As such, I'll have to travel Japan (starting a national week-long train ride from next weekend, absolutely needing to work for the next week now that I have a computer again, so that I can focus on enjoying the country fully in a week) with advanced beginner or lower intermediate Japanese rather than having had the full three months to push myself on to fluency. I'm really sorry to everyone who was waiting for my level to go up, but for now it's going to remain at about the level you saw me converse in over Skype in this video.
After I finish some work I must do, I want to use all my time in Japan to appreciate the country, rather than studying the language. I'll have to use what I have now, and see how far it takes me!
If anyone ever asks me what the hardest part of learning Japanese was, my genuine answer will be "3AM flights, food poisoning the week I was supposed to be studying again, health issues again earlier in the project, launching a published book taking up most of my time, and my computer crashing so I couldn't Skype any more". And you thought I'd say Kanji 😛
While this is frustrating, I can say that my 2 months' worth level of Japanese has helped me charm locals to driving out of their way, give sufficient information for a police report (no, I'm not quite on Japan's most wanted list. I've had enough run ins with the law in other places!), discuss technical specifications of a computer I was going to buy, and tell a few locals how much I appreciate their kindness.
I look forward to exploring the country and seeing what other adventures I end up having! I should hopefully record another video or two before I leave Japan, over the next weeks!
---
And in case you were wondering, I lost my hat when I was travelling hectically and left several things behind somewhere (not sure which city, or even country, at this stage!) – but it was old and battered, and I whimsically found a new similar one anyway, which you can see me wear in my book (UK/US) intro videos. 😉