Japanese Pod101 Review – The Best Japanese Podcast Out There
---
What is JapanesePod101?
JapanesePod101 is a library of audio and video lessons, flashcards, word lists, tutors that's part of a series with over 500 million downloads.
what it's for:

Listening, speaking, learning vocabulary

---

languages:

Japanese

---

level:

Beginner-Advanced
+ PROS
Lots of content! Hundreds of Japanese lessons at all levels

Good explanations of how Japanese works

There are lessons on a wide choice of topics, so you can focus on what you want to learn

Listen to real conversations between Japanese native speakers 

Free 7-day trial so you can test it for yourself

Options for every budget
- CONS
Newer lessons are better quality than the older lessons

Upsell banners when you buy the basic package

Lots of explanations in English
How good is JapanesePod101? Is JapanesePod101 free? Can you really learn Japanese with podcasts?
The short answer: yes. And spoiler alert: JapanesePod101 is awesome.
I've used JapanesePod101 on and off throughout my studies, from absolute beginner to advanced lessons. I used it to help me prepare for my Japanese Language Proficiency Test, and I still use it now for upper-intermediate and advanced lessons.
JapanesePod101 is an invaluable tool for Japanese learners. And it's definitely the best podcast to learn Japanese out there.
If you're curious how JapanesePod101 works, how much it costs, and what you'll learn… Well, stick around!
We'll be covering:
JapanesePod101: The Best Podcast to Learn Japanese
Can You Really Learn with a Japanese Podcast?
Japanese 101: From Beginner Japanese Lessons to Advanced
How JapanesePod101 Works
Is JapanesePod101 Free?
JapanesePod101 Review: Pros and Cons
How to Use JapanesePod101 Effectively
Let's get on to the review.
JapanesePod101: The Best Podcast to Learn Japanese
Why should you check out JapanesePod101? Because there's no other tool like it. JapanesePod101 was the first language learning podcast from Innovative Languages and founder Peter Galante.
Peter has turned his little Japanese podcast into a massive language learning tool. It has audio and video lessons, flashcards, word lists, tutors, and so much more! They now have podcasts in more than 30 languages.
Why should you care about that?
Because they've put in the time, effort, and research to make this the best yet, and JapanesePod101 is the original. That means it's gotten the most time to grow and the most lessons.
Even though it's a podcast, JapanesePod101 has enough resources to help you learn to speak, read, and write — not only listen — in Japanese. That's what makes it the best Japanese podcast out there.
Can You Really Learn with a Japanese Podcast?
Can you really learn with Japanese podcast lessons? Absolutely! In fact, it's one of the best ways to learn Japanese.
That said, if you think you can pop in your earbuds, listen, and master Japanese… well, it's not that easy.
JapanesePod101 gives you a lot of info and tools to learn. But it's up to you to take advantage of them.
If you only listen to podcast lessons and do nothing else, you won't master Japanese. But if you listen, take what you learned, and apply it by speaking and writing — then yes! You will learn Japanese.
In fact, I have some pointers for how to make the most of JapanesePod101 below, so keep reading.
Japanese 101: From Beginner Japanese Lessons to Advanced
JapanesePod101 categorizes all its episodes into seasons by difficulty. There are 5 main levels: Absolute Beginner, Beginner, Intermediate, Upper Intermediate, and Advanced. Each of these levels has various seasons and topics to help you learn, including culture classes.
For example, here's what's in the Absolute Beginner category:
3-Minute Japanese lessons
Basic Bootcamp
Culture Class
Extensive Reading
Survival Phrases for travelers
Top 25 Japanese Questions You Need to Know
That's besides the Newbie Seasons where you learn the bulk of your vocab and grammar!
Each season has about 25 lessons, especially the newer seasons. Some of the older material has more episodes than that. And lessons themselves are around 10-15 minutes in length.
How JapanesePod101 Works
When you sign up for JapanesePod101, they'll ask you your level – Absolute Beginner, Beginner, Intermediate, or Advanced. Don't worry if you aren't sure, you can change it later.
Once you sign in, you'll see your assigned learning path on your dashboard.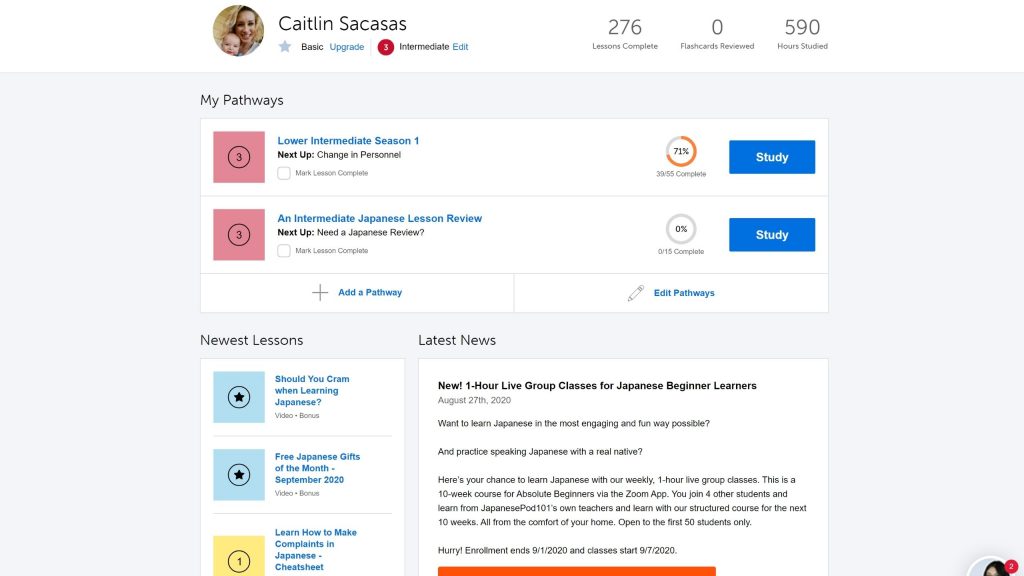 You don't have to follow the learning path, but it's quite helpful. (I tend to jump around quite a bit myself.)
The learning path is a lesson plan that helps guide you through the podcasts and immense bank of material so you're learning what you need to know as you progress.
Each lesson follows the same format:
The hosts introduce themselves (usually a native Japanese speaker and an English speaker)
They'll have you listen to a short dialogue
The dialogue gets broken down in slow Japanese, then with English translation
The hosts discuss what happened in the dialogue, and add any insights or culture points
They review the vocabulary, breaking it down in slow Japanese and natural speed
There's an explanation of the lesson's main grammar point
The hosts talk about a cultural tip or give a short quiz to answer about the grammar point
A replay of the dialogue
After you've listened to the lesson, you can review what you learned in the lesson notes PDF. If you have the Premium or Premium+ plan, you have the option to use extra tools. These include the bonus dialogue-only track, line-by-line audio, lesson quiz, vocab list, and more.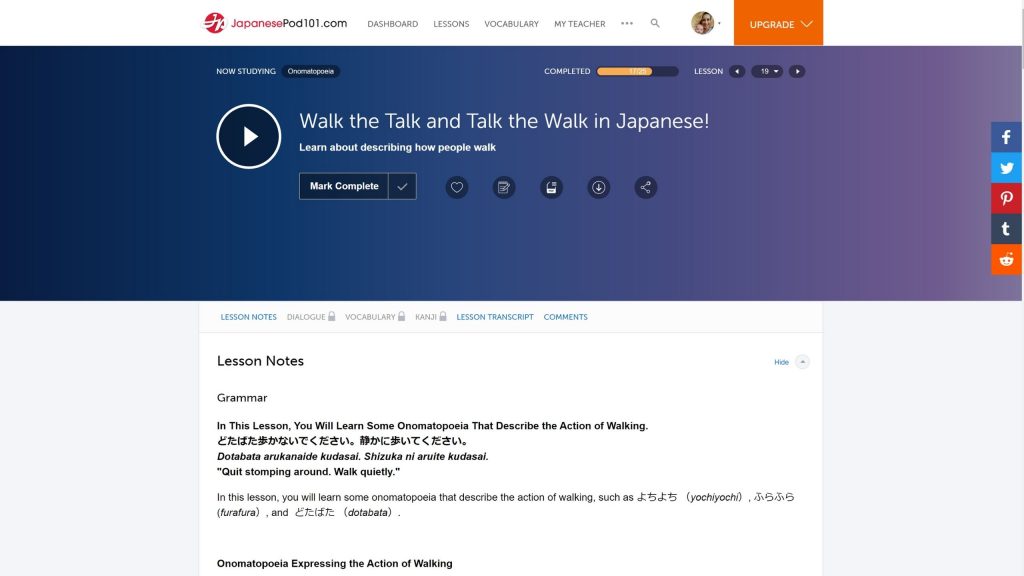 Is JapanesePod101 Free?
So… How much does JapanesePod101 cost? Is JapanesePod101 free or not?
Well, it's a freemium website.
What that means is, some material is free. This is usually their free word lists as they rotate, and some other helpful PDFs and a few audio lessons. The free audio lessons are the newest ones, and they stay available for free for three weeks before being moved to the premium lesson library.
But most of the best stuff, especially the lesson plans, are paid features.
However, it's very reasonably priced. JapanesePod101 costs as little as $8/mo with a month-to-month basic subscription. But, if you look at their site… the pricing is a little confusing.
Depending on how long you purchase for, depends on the price and package. And the price they initially show you is based on a two-year subscription.
Now, don't get me wrong. JapanesePod101 has plenty of material to last you two years if you're a beginner. But it's still a great price even if you get a shorter subscription.
They also have Premium and Premium+ options, which are more of an investment but come with quite a bit more than the Basic plan.
The Basic plan pretty much just includes the audio and in-depth lesson notes.
The Premium plan includes the Word Bank, videos, line-by-line audio, core 2,000 word list, flashcards, and more. The Premium+ plan includes all that, plus 1-on-1 learning with a tutor.
So, the cost depends on what you're looking for and how much you're willing to invest.
I've always gone with the Premium option in the past because I like the extra tools and videos. Right now I have a Basic subscription because I mainly listen on-the-go. If you don't have someone to help you learn Japanese, you may consider the Premium+ option.
JapanesePod101 Review: Pros and Cons
There's a lot to like, but there are a few cons, as well. Here's what I like about JapanesePod101:
Pro: Straightforward, Well-Laid-Out Lessons
While there are some older lessons that aren't as good about this, all the newer material is very straight-to-the-point. As a busy working mom, I appreciate that.
You go into each lesson with a clear learning goal and topic, and the format is always the same. So it makes it very easy to follow along and learn!
Pro: A Lesson For Every Topic and Need
This is the #1 reason why I love JapanesePod101. There are lessons on slang, regional dialects, daily activities and hobbies, culture, and so much more. If you're only learning for travel, there are sections for that, too.
A huge chunk of my Japanese culture knowledge has come from JapanesePod101 culture lessons. They're incredibly in-depth and insightful, and my favorite podcast episodes to listen to!
Pro: Tons of Tools and Resources
There are a lot of ways to learn with JapanesePod101, making it perfect for every type of learning. Flashcards? Got it. Transcriptions of the lessons for those who want to understand every word? Included.
Plus, they carefully choose dialogue and vocabulary that you'll actually hear in Japan. Then, you can add those words to your word bank to review!
Pro: You're Given a Language Roadmap
You don't have to guess what you'll need to do next. With their assigned language path, you can go step-by-step toward your goals.
You'll waste no time trying to figure out where your focus should be. You know exactly what to study.
Pro: The Pricing is Great
In my opinion, it's one of the most accessible language learning resources out there. No matter your budget, they have a plan and price to make it work.
Compared with college classes and textbooks (which aren't as in-depth) or Rosetta Stone (which doesn't work)… JapanesePod101 is a steal.
Pro: Japanese You'll Actually Use in Real Life
A lot of what I learned in Japanese textbooks wasn't useful to me at all, especially vocabulary. But JapanesePod101 teaches you real Japanese, that you'll actually use. You can start speaking right away, even after an episode or two.
Okay, and now for what I didn't like:
Con: Some of the Older Lessons are Far Too Long and Chatty
I mean, when you consider the time these were recorded (they started in 2006!), podcast recording was a very different thing then.
So while their newer lessons are excellent, their older episodes could use updating. You'll come across them from time-to-time in your language path, or just browsing the lessons.
While some of the former hosts are really endearing (Sakura-sensei!!), the chatter distracts from the learning.
Con: Upsale Banners
This only applies if you're on the basic package, and you access the lessons through your web browser. To be honest, I almost exclusively use the mobile app, so I don't see a lot of the banners for sales and promos on more premium packages.
But if you get on the website, or even in your email, they're there. That's kind of annoying, but it's not a deal-breaker for such an excellent course.
Con: There Could Be More Japanese
Yeah, I know this seems ironic, especially for a "learn Japanese" podcast. But a lot of the instruction is taught in English — although this is something I notice getting better in new lessons.
How to Use JapanesePod101 Effectively
So, what's the best way to use JapanesePod101? Here are my thoughts and language hacking strategies I apply while using the podcast.
Listen to the audio more than once. You'll pick up something new each time, and smooth out what you may have struggled with.
Repeat OUTLOUD. So important! Get used to how Japanese sounds rolling off your tongue.
Listen often. Japanese podcasts are one of the easiest ways to fit study time into your day. I listen to them while cleaning or driving!
Make full use of all their resources. When you finish a lesson, don't just move on. Add the vocab to your flashcard decks, listen to the bonus tracks, and review the lesson notes.
Don't stick to JapanesePod101 only. Venture outside the app, too. Try creating sentences with the Japanese grammar and vocab you learned, and write it down. Find a Japanese language exchange partner to speak with and practice. Watch Japanese movies and listen for words and grammar you studied.
You can totally learn Japanese fast with podcasts if you make use of these strategies!
In Summary: JapanesePod101 is Well Worth It
I broke it all down for you and laid out the pros and cons. And over the years that I've been using it, JapanesePod101 has just gets better and better.
JapanesePod101 has helped me learn so much about the Japanese language and culture. It's one of my favorite Japanese resources, and I highly recommend it.