Rocket Languages Review: Can It Launch Your Language Skills To the Next Level?
---
What is Rocket Languages?
Rocket Languages offers courses in 13 different languages through an immersive website and app. Our favorite feature: You'll learn the language as you'd actually use it in real life.
what it's for:

Vocabulary, phrases, pronunciation, listening skills, immersion

---

languages:

English, Spanish, French, German, Korean, Japanese, Italian, Chinese, Russian, Arabic, Portuguese, Hindi, American Sign Language (ASL)

---

level:

Beginner to Intermediate
+ PROS
Material is accessible online and with an app, with the option to download

Lifetime access to purchased courses – pay once and that's it

A gamified system to motivate learners to keep coming back

Interactive activities that include flashcards and dialogue practice

Learn real-world phrases that are relevant to everyday life
- CONS
Lack of human-to-human interaction

Higher up front cost than other comparable resources
Quick verdict: I feel confident in recommending Rocket Languages as a good resource for language learners, and I appreciate its practical approach to learning. If it's within your budget, it's definitely worth a look.
Alice here from Fluent in 3 Months! I'm back with a new language course review, and this time I'll be looking at Rocket Languages.
When I analyse a language learning tool, I compare it to what I consider the most effective learning method: living with and in the language! I learned both Spanish and English through full immersion (my native languages are Italian and French).
Immersion is the main criteria I've used to examine the Rocket Languages courses while using them over the period of one week. After all, their main claim is "Others try to teach you a new language. We immerse you in it."
I have kept proof of my findings in the form of screenshots and snippets of information. My insider perspective helped me build a solid case.
So what exactly makes me think Rocket Languages is a 4.5 star language learning tool and deserves a Fluent in 3 Months badge of approval?
Let's dig in!
What Is Rocket Languages?
Rocket Languages is a language learning platform that offers language courses for 13 different languages. It uses interactive activities and lessons and recorded content to create an immersive experience for learners.
How Does Rocket Languages Work?
Courses on Rocket Languages have between one and three levels, each divided into several modules. Each module is then divided into Interactive Audio lessons and Language and Culture lessons.
Interactive Audio lessons look like this: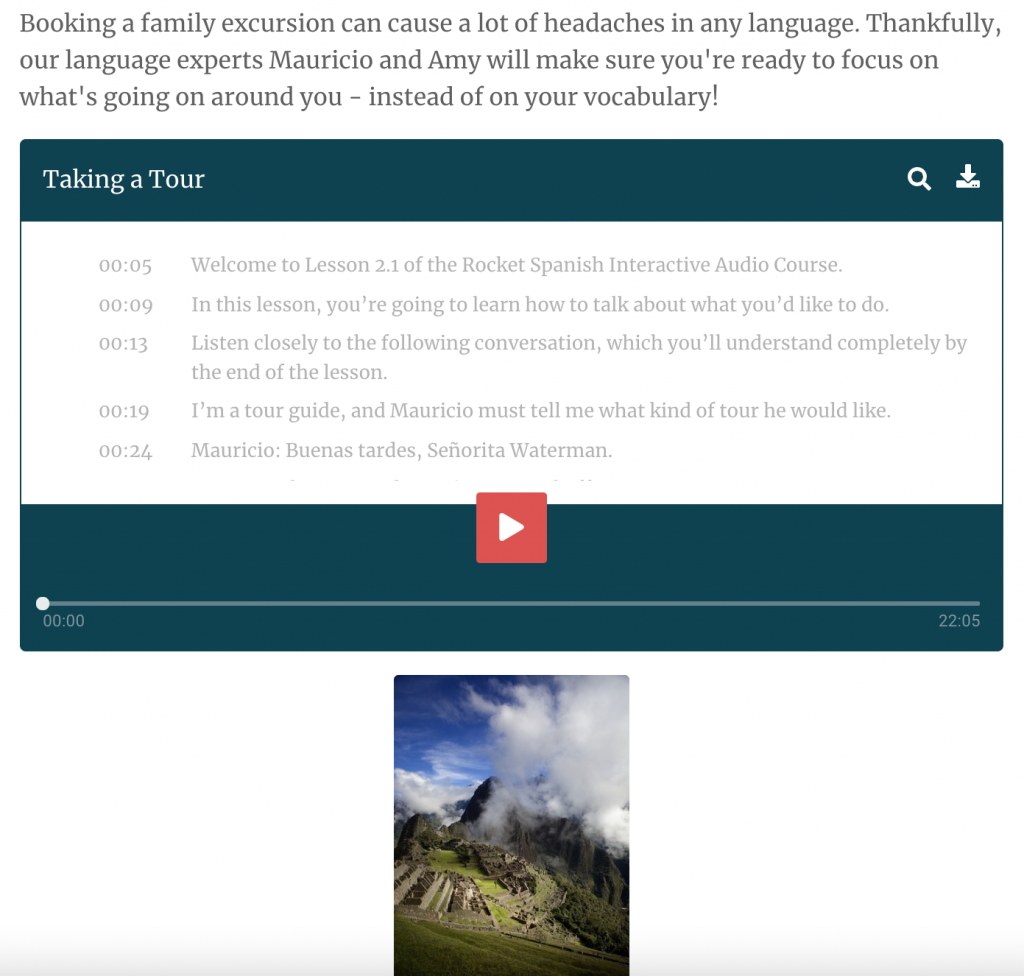 Culture and Language Lessons are primarily grammar and conjugation lessons, but they always include relevant culture information and tips.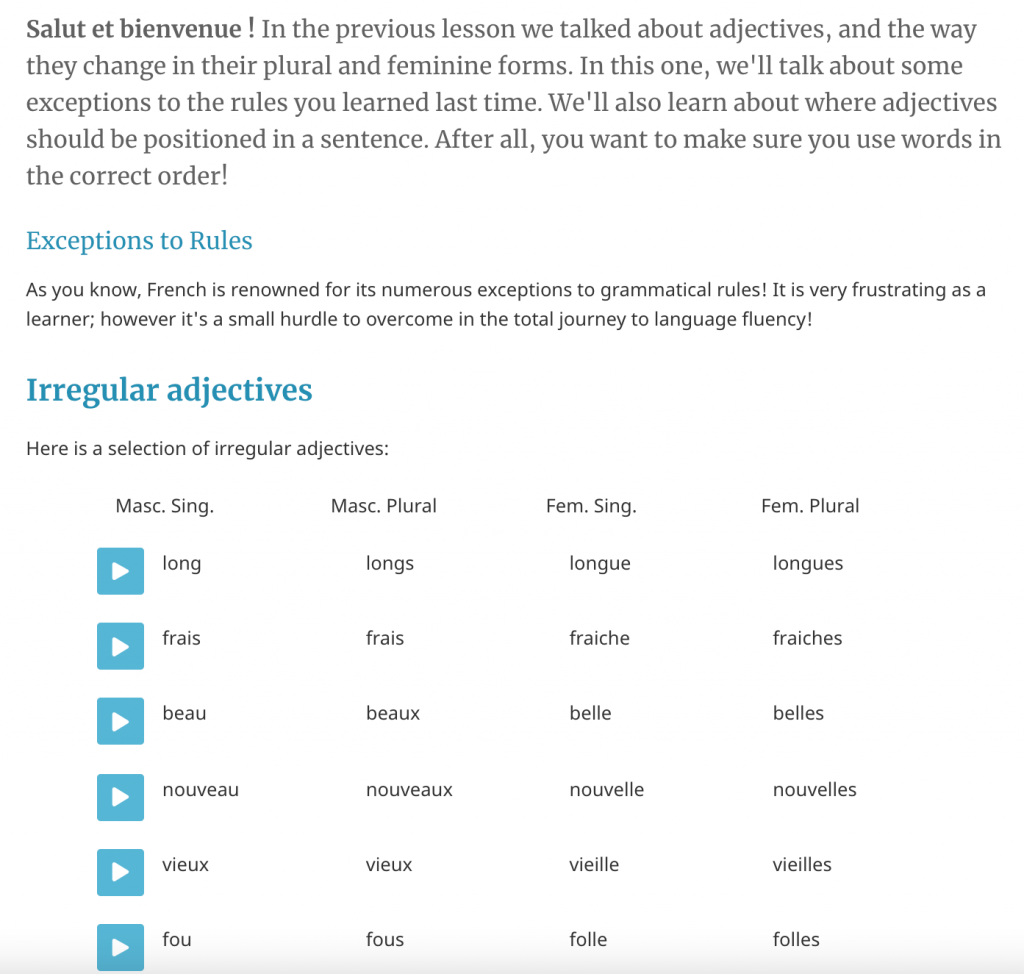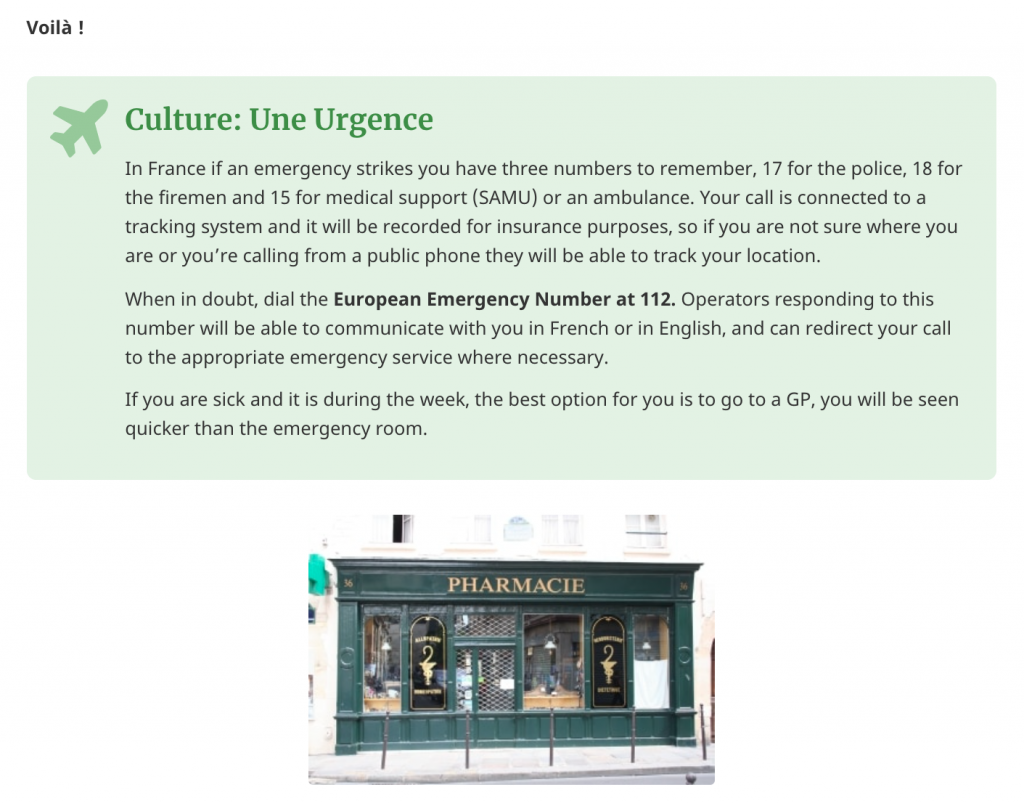 Topics range from "Introducing Yourself" to "Meeting the Family" to "Describing Words: Adjectives."
Among other things, lessons contain:
Recognition voice exercises
Flashcards
Listening exercises
Writing exercises
Vocabulary lists
Cultural tips
How Many Languages Does Rocket Languages Teach?
I had a look at the Spanish, German, and French courses, but here's the list of all the language you can learn with Rocket Languages:
American Sign Language (ASL)
Arabic
Chinese
English
French
German
Hindi
Italian
Japanese
Korean
Portuguese
Russian
Spanish
All these courses (13 in total) are taught in English. Spanish speakers can also learn English with a course in Spanish.
How I Tested Rocket Languages
To write this review, I used all the Rocket Languages features, both on the website and app versions, for a week.
I used three of Rocket Languages' courses:
Rocket Languages French
French is my native language, so I checked whether:
Vocabulary, sentences, and audio are what French people really use
The pronunciation is clear and accurate
The topics are relevant to beginner and intermediate learners
The grammar and conjugation ae explained well, with all the details you need
The bonus content is culturally correct
My native intuition for the French language noticed anything that seemed "off"
Rocket Languages Spanish
I am fully fluent in Spanish, it's one of the languages I learnt when I was 13.
By using the Spanish course, I compared my learning struggles as a teenager and what worked for me to Rocket Language's course structure and material.
Rocket Languages German
I don't speak any German, so this was my first experience with the language.
Unless you count Ich liebe dich ("I love you") in a terrible accent and a rather impolite sentence that a friend taught me in middle school (I won't repeat it).
Testing the German course helped me evaluate:
How motivating and engaging Rocket Languages can be to absolute beginners
Whether the explanations are simple enough for learners to understand
If the audio was easy to hear
Whether the teaching methods work
How much you can actually learn
So What Makes Rocket Languages Worthy of a Fluent in 3 Months Badge of Approval?
Based on my experience with the course, I've given Rocket Languages 4.5 stars.
Here are the pros and cons:
Pro #1: High Quality Audio Makes Listening a Breeze
A course that relies heavily on audio must have high quality recordings of native speakers. Rocket Languages doesn't disappoint. The audio is clear and the accents are precise and easy to understand.
What's even better is that each audio comes with a voice recognition button, meaning you can work on your pronunciation by repeating every word and phrase.
Lessons are comprehensive and well structured, grammar is explained in depth (the higher the module, the deeper grammar gets). At the same time, the course maintains a light tone with easy-to-follow explanations.
Pro #2: The Gamified System Keeps You Coming Back for More
I love learning when I'm having fun. And I've been having fun with Rocket Languages.
Learning German hasn't been at the top of my priority list, but Rocket Languages got me interested. The score keeping and the leaderboard stats gave me a nice rush of adrenaline. Plus, the streaks had me returning everyday.
This resembles the method that Duolingo uses to keep you coming back. However, Rocket Languages doesn't require you to complete levels or lessons to go on to the next one, so you can pick what's right for you. No need to learn all the colors in a language just so you can talk about your family.
This means you can focus on what we call "me-specific" vocabulary rather than learning unnecessary words and phrases that you'll never use.
Pro #3: You Choose What You Want to Learn So You Can Skip What's Not Relevant to You
Once you buy a Rocket Languages course, you get lifetime access to it. What's even better is that you can jump from one lesson to another without having to follow an order.
If I need to learn clothing vocabulary for a business trip, I might get impatient with Duolingo because it requires me to learn fruit names before I can get to clothes. With Rocket Languages, you can open the lesson of your choice and start immediately.
This is also valid if you want to choose between Interactive Audio lessons or Culture and Language lessons.
Pro #4: Testing Tools Make New Words Stick in Your Mind
Not only do Rocket Languages' lessons come in different formats, but the exercises are far from being the usual fill-in-the-blank.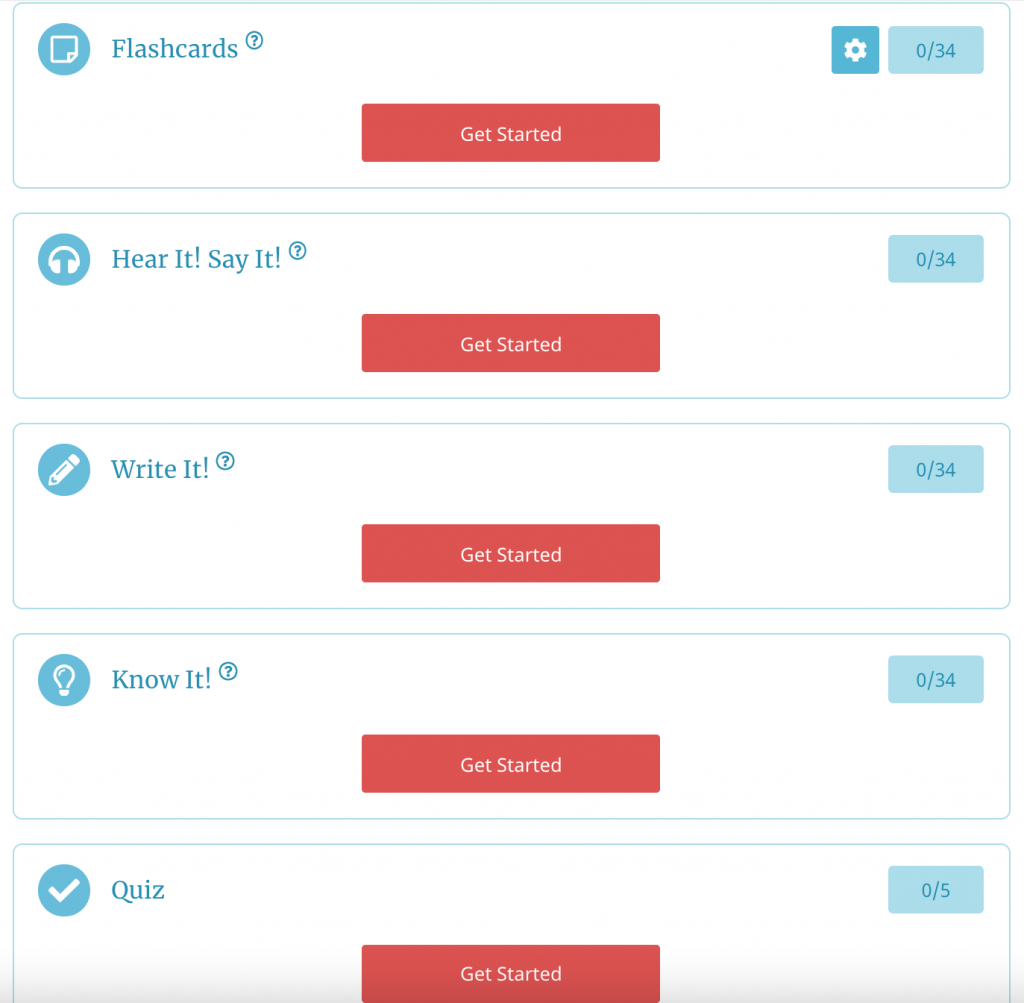 After each lesson, you can test your knowledge with:
Flashcards
A listening exercise
A transcription exercise
A speaking exercise
A quiz
Interactive audio lessons also come with an exercise called "Play It".
Although Rocket Languages lacks human interaction (which I'll talk more about in a second), it has tried to replace it with a lot of voice recognition exercises.
One of them is the "Play It" exercise, in which you can choose the character you want to be and modify the settings to choose how much guiding text you want to see.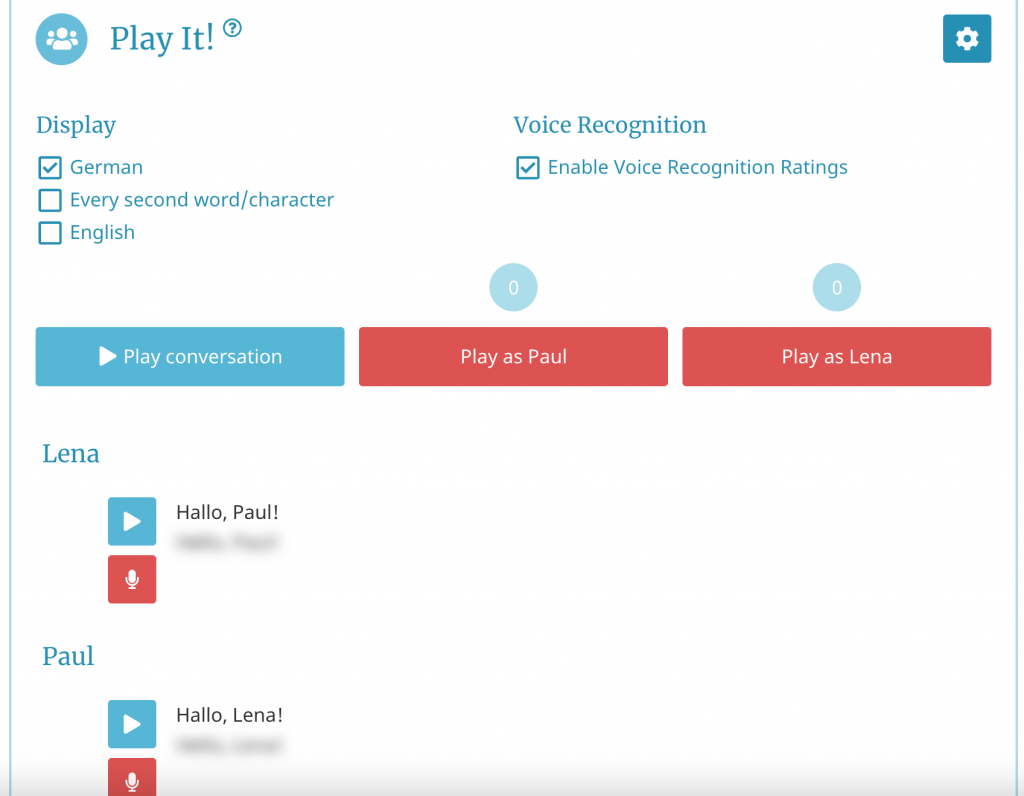 This somehow resembles having a conversation script. This is something that Benny Lewis, founder of Fluent in 3 Months, recommends doing to have your first conversations as a beginner.
Creating a conversation script before you interact with someone in your target language helps you have an idea of the vocabulary you will use to avoid the typical beginners' frozen I-forgot-all-the-words-I-learnt state.
Pro #5: Survival Kits and Real-Life Vocabulary
When you learn a language in the comfort of your home (or even the relative comfort of a classroom) it's easy to forget all the basic vocabulary and phrases you might need when visiting or living in a new place.
Believe it or not, when I moved to the Dominican Republic, knowing how to talk about age, school subjects, and hair colour didn't help much. And yet it's what I spent time on in Spanish class at school!
Depending on the course, Rocket Languages' survival kit includes lessons on:
Days, months, and seasons
Drinks, breakfast, lunch, and dinner
Life in the city
Clothing
Workplace vocabulary
Household items
There are even lessons called "Lost Passport", "Scratching the Rental", and "Currency Exchange" that teach you all the vocabulary you should know in this type of tricky situation.
As I've already said earlier, you can jump to any of the lessons in the course you've purchased at any time, so you can start working on the vocabulary you will really need as soon as you want.
For me, this is the most attractive feature about Rocket Languages. Sure, many courses out there give you the vocabulary you need to "survive" in emergency situations. But most of the time, you have to piece together the vocabulary and conjugation you've learnt in different lessons to come up with phrases yourself.
It's so much easier when you get relevant dialogue material all in one lesson.
Rocket Languages: What Could Have Been Better
Con #1: Lack of Human-to-Human Interaction
Even though Rocket Languages offers interactive dialogues with audio recognition (a feature I really like), it still lacks human interaction.
A planned dialogue doesn't fully prepare you for having a conversation with another person. Your conversation partner's answers can vary from those you expect. They might speak more quickly than you're used to, or have an accent you're not familiar with.
The good news is that there are plenty of ways to make up for this by using another website or app alongside Rocket Languages.
I'd recommend you check out iTalki or Preply to find native tutors in your goal language. HelloTalk is another good option to find language exchange partners.
Con #2: Higher Upfront Cost than Comparable Resources
When you buy a Rocket Languages course, you pay a one-time fee and get access for life. In many ways, that's a lot better than subscription-based comparable products like Babbel, where you have to keep paying every month, as long as you want access.
That said, with Rocket you do need to find the funds up front.
It's good to see that Rocket has a monthly-payment plan, which makes it easier for those on a budget.
I discuss payment a little more in the first FAQ answer below.
A Quick Rocket Languages FAQ from Around the Web
My answers to some of the most frequently asked questions about Rocket Languages.
How Much Does Rocket Languages Cost?
Rocket Languages courses come at different prices depending on the course you buy, the levels you want to get, and whether you want to pay with a plan.
You can find more information if you visit Rocket Languages's pricing page.
Among notable features that form part of the pricing, there is a 60-day guarantee and a free trial available. I'd recommend taking advantage of this free trial to see if it's right for you. I enjoyed getting a feel for several different courses with the free trial option.
To be completely honest, I found it a bit pricey. If you're on a tight budget, you might want to consider Duolingo or Babbel as alternatives, because they have monthly subscription options.
However, with Rocket Languages you get lifetime access once you buy the course. You pay once and then never again. Rocket Languages is also higher quality than free alternatives like Duolingo.
Does Rocket Languages Make You Fluent?
If you really want to become fluent in a language—and Benny will agree with me—speaking practice is extremely important. And not any speaking practice: conversation practice.
This means you ideally need some human interaction in your target language in order to become fluent.
While Rocket Languages does not cover this aspect of language learning, you can complement the courses by using other language learning tools.
At Fi3M, we're particularly fond of Preply and italki, two platforms where you can find online language tutors to chat in your target language. We've even got a guide on how to find the perfect match for your classes.
An alternative to language tutors is language exchange partners, which you can find for free on apps like HelloTalk.
Can You Log In to Rocket Languages as an App?
Yes! You can access your courses from the Rocket Languages app, which is available for both Android and Apple.
This makes it easier to use the microphone features (or maybe it's just me who prefers to speak to my phone rather than my laptop).
But it's also helpful to learn even when you're away from your laptop, or in your downtime. Benny often does this, and he talked about it in his Time Hacking webinar.
Here are some screenshots from the Rocket Languages app.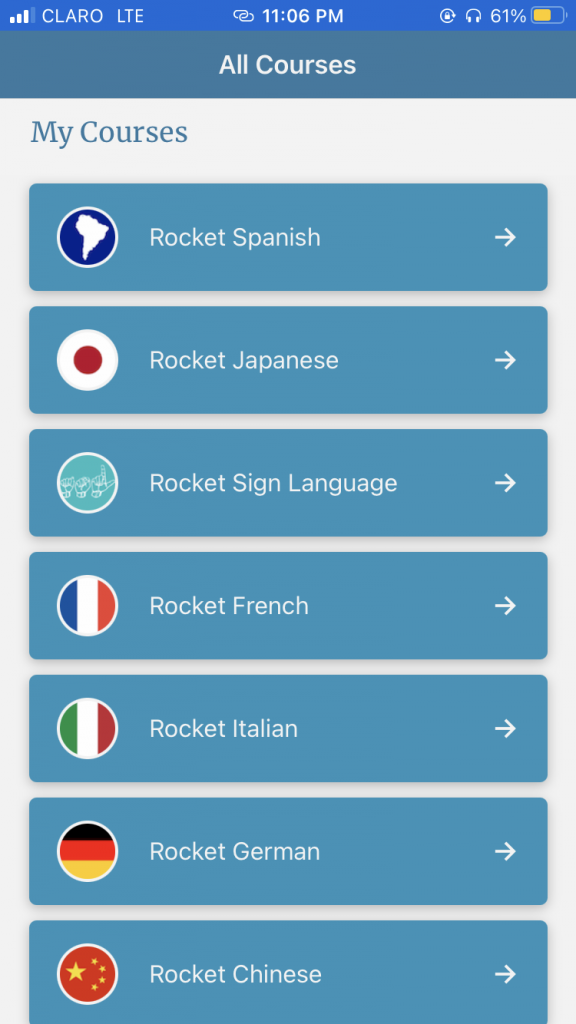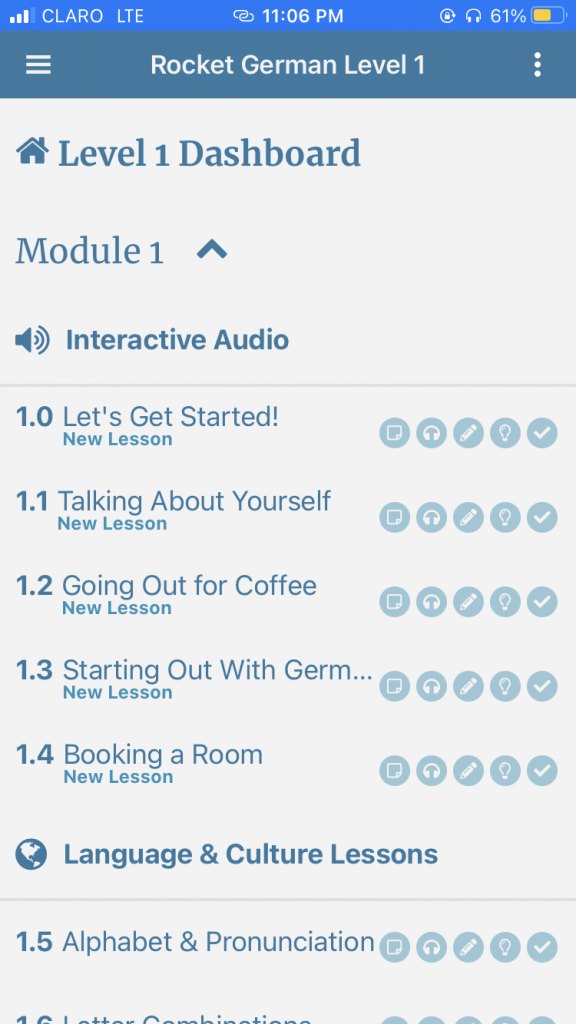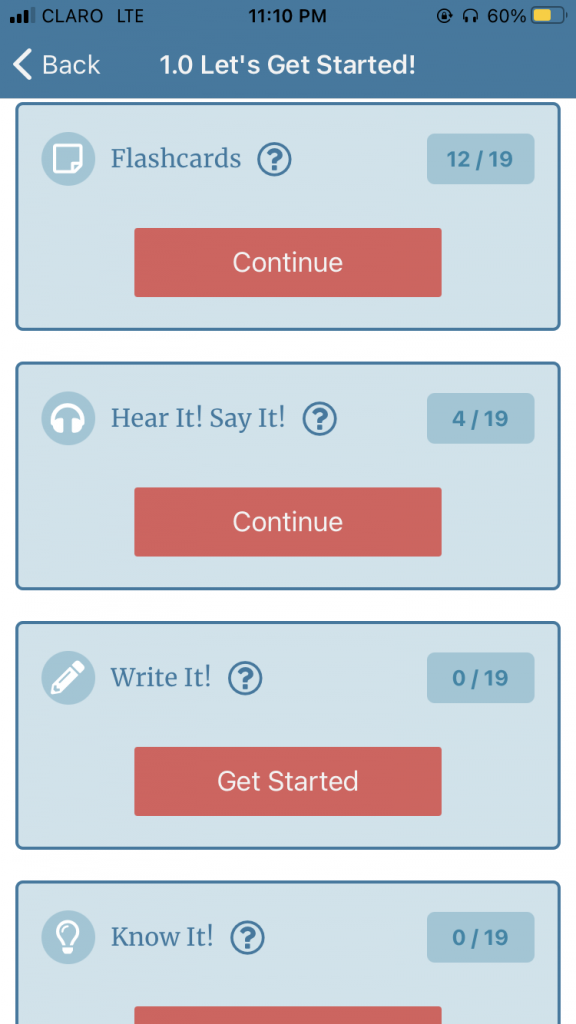 In Conclusion: Rocket Languages is a Solid App that Deserves 4.5 Stars
After my Rocket Languages investigation, I feel confident in recommending it as a good resource for language learning for the languages I've tried.
As I've already mentioned, I would pair it with a resource that allows you to find native speakers to chat with in order to cover the lack of human interaction.